Standalone VGA Grid
User Guide
To stream content to a CDN using RTSP announce
Login to the Admin panel as

admin

. See Connect to the Admin panel.
From the Admin panel, click a

Channel

; the menu expands.
Click

Streaming

; the channel's Streaming page opens.
Scroll to the

Stream to a server

section of the page.
From the Admin panel, scroll to the Publish Stream menu option. The Publish Stream page opens.
Click the

Publish

drop-down menu.
Choose

RTSP announce

from the drop-down menu.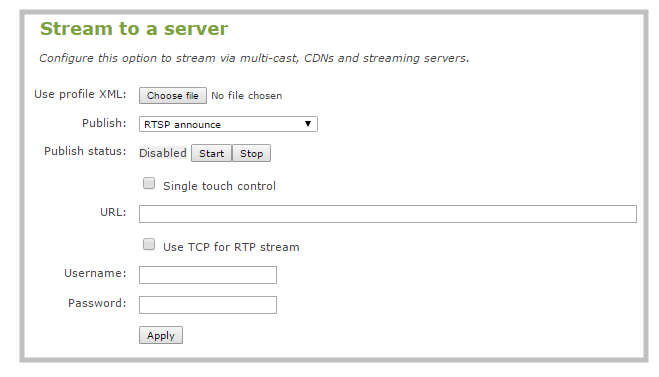 If there are no Start and Stop streaming buttons on-screen, click

Apply

; the page refreshes and the Start and Stop streaming buttons appear.
If streaming is enabled (started), click the

Stop

streaming button (next to the Publish Status label); streaming is disabled.
Enter the ingestion point

url

provided by the CDN or media server.
Check the

Use TCP for RTP stream

checkbox. Verify which transport protocols your CDN provider supports.
Enter a user name and password.

The CDN provider assigns a user name and password to authenticate the publisher. Contact the CDN provider for your log in credentials.

Click

Apply

.

When ready to begin streaming, click Start. See See Controlling streaming and recording using Epiphan Live for instructions on streaming control using the Epiphan Live control interface.