Standalone VGA Grid
User Guide
You are here:
Capture
>
What is a source?
What is a source?
A source can be an image, video, or audio from a camera, a computer screen or any device that provides any HDMI, DVI, VGA, SDI video signal and audio signal output.
You can also connect RTSP sources such as IP cameras to your Standalone VGA Grid over a network using the Admin panel. See Connect an RTSP source.
Video sources
The Admin panel automatically discovers all video source ports and displays them in the Sources section of the Admin panel. RTSP sources need to be added manually to display in the Sources section (see Connect an RTSP source). When an RTSP source is added, a corresponding audio sources is always added to your custom layout editor (regardless of whether or not the RTSP stream actually contains any audio). See Add an audio source (custom channel).
Video sources are also displayed on the Epiphan Live control interface. See Monitoring video and audio sources for more information.
Each video input on the back of the system is a frame grabber. Input sources are identified by their frame grabber serial number. Each frame grabber has one DVI port, one SDI port, one S-Video port, and one audio port. DVI ports are listed with the suffix .vga, SDI ports with the suffix .sdi, S-Video inputs are listed with the suffix .video, and audio inputs are identified by the word audio. Video sources include a preview of the images they are capturing. It is a good practice to view the images from each source to confirm what is captured. See below.
When a source is connected, the system automatically detects and adjusts the image capture settings at start up and continues to adjust every 60 seconds during operation (interval is configurable). The system's goal is to produce the best quality captured image given the source equipment used. Generally no further configuration is needed.
If there is no source connected to a specific port or no input stream being transmitted from a connected RTSP source, then the default "No Signal" image will display in any channel where the source is used. You can use Standalone VGA Grid.'s default "No Signal" image for your sources, or you can create your own custom "No Signal" image for your channels to enhance branding and add professionalism to your display. See Add a No Signal image to a source .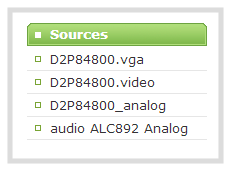 Audio sources
Standalone VGA Grid's Admin panel also automatically discovers all audio sources displays them in the same section, with the exception of RTSP audio sources. When an RTSP input stream is connected to your Standalone VGA Grid, a corresponding audio source is automatically added to the list of audio sources for your channels, even if there is no audio in the RTSP stream (see Add an audio source (custom channel) for more information).
Audio input devices such as a microphone and portable music players can send audio signals to the Standalone VGA Grid using the TRS audio input ports at the back of the system. Audio is also supported via HDMI and SDI.
DVI2PCIe cards do not support audio over HDMI. Standalone VGA Grid systems with DVI2PCIe cards will not be able to capture audio through HDMI sources.