Standalone VGA Grid
User Guide
Choose files to include in AFU
When configuring automatic file upload (AFU) you need to tell the system which channels and recorders you want included in the upload schedule.
When you log into the system and attempt to configure your desired type of AFU you see the following warning in the Automatic File Upload configuration page if no channels or recorders are configured to be part of AFU.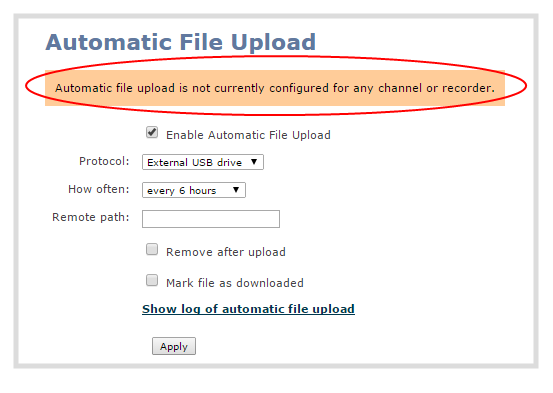 For each channel or recorder you want to add to your AFU schedule:
Login to the Admin panel as

admin

. See Connect to the Admin panel.
For a channel recording:

Click the desired channel; the channel menu expands.
Select the

Recording

link for the channel; the Recording page opens.

For a recorder:

Click the desired recorder link from the Recorders section; the recorder configuration page opens.

Select the

change

link under Recorder Setup; the recorder setup section expands. (The setup page looks slightly different for Recorders, but the options are the same.)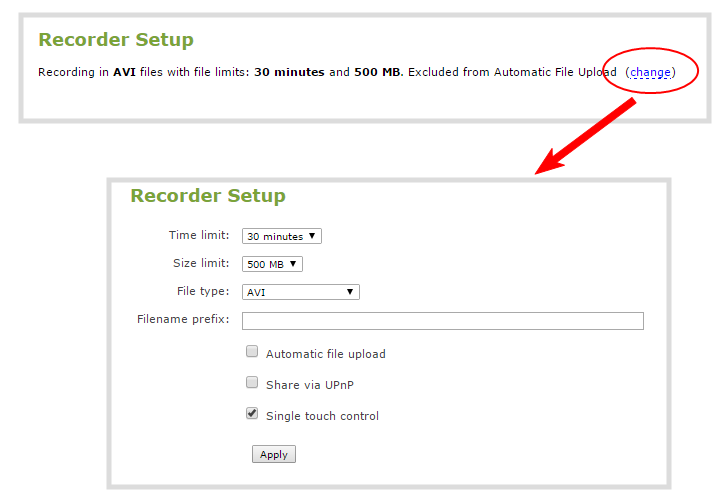 Check the

Automatic file upload

check box.
Click Apply; the Recording page is refreshed and the new settings are reflected.

Now that AFU is enabled for your desired set of files, enable AFU and configure your desired mechanism.