Standalone VGA Grid
User Guide
Delete a recorder
When you no longer need a recorder, you can delete it.
Deleting a recorder deletes all the recorded files for the recorder. Be sure you have a copy of any important recorded files.
To delete a recorder:
Login to the Admin panel as

admin

. See Connect to the Admin panel.
Select the desired recorder link from the Recorders section; the recorder configuration page opens.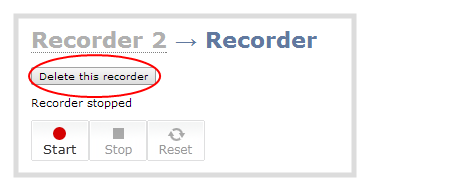 Click the

Delete this recorder

button at the top of the page; a confirmation dialog reminds you that deleting the recorder will delete all recorded files.
Click

OK

on the confirmation dialog; the recorder is removed from the list and all its related files are deleted from the system.