Live video streaming is thriving as a medium. Every year, we like to take a moment to reflect on the trends of the year past and also try to predict the video streaming industry trends of tomorrow.
At the beautiful junction of improved connectivity and technological advancement, live video is accessible to virtually everyone. This democratization of live video has introduced enormous opportunities for experimentation, which has given rise to various trends. And there's more to come: Cisco projects that live video will account for 17 percent of all Internet video traffic by 2022. That's a 15-fold increase from 2017 to 2022.
It's an exciting time for the industry, and it's equally exciting to consider what's on the horizon for live video streaming. Let's dig into the top live video streaming industry trends of today and tomorrow.
Top live video streaming industry trends of 2019
1. More industries are leveraging live video
With live video as accessible as it is, many industries are using it for both internal and external purposes. Educational institutions, enterprises, governments, healthcare providers, and other organizations are all live streaming for a variety of reasons. Overwhelmingly, live video is helping organizations enhance their workflows and improve communication, driving efficiency overall.
Live streaming is changing the way students learn. According to Kaltura's 2019 State of Video in Education report, 53 percent of educational institutions live stream conferences, school events, and lectures. This figure has grown steadily over the past few years and is projected to soar even higher. Remote access to lectures and events helps students better retain knowledge, comprehend material, and take part in school events wherever they are.
Businesses are increasingly using webcasting for large-scale communications. Kaltura's 2018 State of Video in Enterprise report found that 80 percent of large companies broadcast events live. Enterprises also use live video for internal communications, employee training, webinars, live event broadcasts, and town hall meetings.
Similarly, healthcare organizations are using live video for telemedicine, conference streaming, and staff training. Governments are streaming court hearings, town hall meetings, and mandated sessions. This trend is projected to grow even further as more organizations add live streaming to their arsenals: Brandlive's 2019 Video Solutions Benchmark Report found that live video capture is a top priority for companies evaluating video solutions.
2. Consumers are cutting the cord in favor of OTT services
Any discussion about streaming video today wouldn't be complete without mention of OTT (over-the-top) video platforms. OTT refers to any streaming media service offered directly to viewers over the Internet (rather than through a satellite or cable provider). Consumers across the US – in greater numbers each year – are cancelling their TV subscriptions entirely (aka "cutting the cord") in favor of OTT services like Hulu and Netflix. The choice to switch only makes sense: traditional broadcast TV bundles are often overpriced and available on a limited number of devices. Services like Roku and Apple TV offer much more flexibility in terms of pricing and device support. To stay competitive, many broadcast networks are launching their own OTT platforms (e.g., Disney+) and partnering up with popular online video platforms like YouTube to appeal to younger audiences.
While many consumers have in fact cut the cord, others are still reluctant to do so. One of the major issues with online streaming is latency. Internet live video is often a minute or more behind its TV broadcast counterpart, which can cause annoying spoilers for fans. As Limelight highlights in its 2019 State of Online Video report, 58 percent of consumers would be more likely to watch live sports online if there was no delay compared to the TV broadcast.
OTT platform providers are always looking for new ways to incentivize viewers to pick and stick with them. This includes producing original content and providing as much content variety as possible. This, however, introduces a new dilemma for consumers: what to watch? It can be hard to decide with so many streaming services to choose from and so much new content being produced daily. AI and machine learning can help here by creating personalized viewer experiences. Using algorithms, platforms can analyze vast amounts of user and video metadata (viewing history and other preferences) and make educated guesses as to what a viewer might be interested in watching, keeping them engaged for longer.
3. Live video is a fixture in marketing plans
Live video is reinventing the way brands think about marketing and e-commerce. It has already proved itself as an essential marketing tool, helping brands grow and better engage their audiences.
Today, we see brands going live regularly on social media and other content delivery networks (CDNs). During these streams, they promote products, interact with viewers, answer questions. All of these activities build a strong community around the brand. Thus, by introducing the element of authentic human interaction, live video helps brands come across as more transparent and approachable.
Knowing this, brands are zeroing in on live video more than ever. A 2018 study by Brandlive and IBM reported that about 95 percent of companies consider live video to be an important part of their marketing mix for the upcoming year, and 25 percent agreed that "live content will be a top priority, edging out pre-recorded video." Over 50 percent said their budgets for live content will increase compared to the previous year.
4. Social media is driving live video adoption
We've witnessed the rise of live video journalism on social media, capturing life-changing events in the most polarized parts of the world. We're seeing gaming and eSports live streams constantly break viewership records. Many online creators today are able to make a living going live. Thousands of houses of worship are streaming their services, connecting people together in prayer and in spirit.
Live video apps like Periscope and Snapchat have skyrocketed in popularity, especially among younger audiences. Sending live video clips to communicate with peers feels natural to this generation. Perhaps just a decade ago, we felt awkward jumping on a video call. Similarly, we sometimes felt embarrassed watching someone else's poorly produced live video. We are now more forgiving (and much more appreciative) of the more natural, genuine human behavior that comes across in live media.
Top video streaming industry trends of tomorrow
Many of our predictions are extrapolations of current trends. Others we believe will come about by combining streaming with other emerging trends and technologies. Here is where we believe live video streaming is headed in 2020:
1. 360-degree video, VR, and AR will pick up steam
Just a few years back, 360-degree video, virtual reality (VR), and augmented reality (AR) seemed to be off to an explosive start with alluring features like hologram video chat on our phones. In retrospect, these technologies haven't taken off as quickly as initially hoped. Adoption has been slow. Although AR has found a lot of success with mobile social streaming apps like Facebook, Instagram, and Snapchat, live VR still has a long way to go. It's a struggle to provide sufficient frame rate for a quality user experience with existing mobile bandwidths and codecs.
That said, we still believe this technology is bound to continue its stride forward. With 5G Internet and efficient codec support just around the corner, it's only a matter of time before AR/VR and 360-degree streaming find their way into practical applications beyond social streaming. One such example is remote customer support. To assist their customers, companies might ship a VR or 360-degree camera kit that the customer is to set up. Once deployed, this support kit will act as the remote specialist's eyes and ears on the ground. This kind of remote customer support could save companies a lot of time and money on personnel travel.
2. More of the live video experience will be automated
Machine learning (ML) and artificial intelligence (AI) will continue to be top trends in live video streaming. They hold the key to providing outstanding results when it comes to streamlining encoding workflows, managing content production and distribution, and personalizing the viewer experience. In a world where the amount of video content grows exponentially, AI will help create, organize, and distribute more content to more viewers with less human effort (and money). The once manual tasks of metadata tagging, facial recognition, live transcription, and translation will soon be done by ML and AI.
AI will detect specific cues within videos (changes in lighting, facial and speech recognition, etc.) to automate live video production, including switching, recording, and graphic overlays. "Smart" live video can start streaming automatically as soon as it recognizes a specific voice or person in frame. This technology will help track indexed moving objects, keeping them in focus (think presenter moving across a stage). Once the stream is done, the technology can automatically generate and upload highlight reels of the event based on cues like audience applause and lighting. AI will also play an important role in regulating unauthorized content by detecting copyrighted material in real time.
Additionally, AI could be leveraged for more efficient encoding of streaming media. (Case in point: at IBC 2019, the company iSize announced a new codec enhancement technology that uses AI to optimize compression.) AI and ML will continue to play an instrumental role in applications like per-title encoding (i.e., encoding video streams and even individual video fragments differently based on aspects like pace of action and subject matter).
3. 8K will enter the mainstream
There's been no shortage of 8K products at recent trade shows and exhibitions. At IBC 2019 alone, multiple 8K cameras and TVs were unveiled. Still, some argue that true adoption of 8K is a ways away: 8K TVs are not yet widely affordable, and there isn't much 8K content being produced.
However, at its current growth rate, it's only a matter of a few years until 8K becomes a standard top-tier encoding ladder offering from broadcasting networks and subscription video-on-demand (SVOD) platforms. Adequate encoding technology is available (i.e., HEVC codec, though some kinks around new codec royalties still need to be worked out) and ready to provide efficient compression and lower bandwidth usage. And with 5G speeds, delivering 8K content to home TVs will be easier than ever. The first true exhibit of the power of 8K streaming will be at the 2020 Olympics in Japan, where 8K screens all around the venue will be streaming high-pace content in the highest quality available today.
4. Remote production will become the norm for live video
Remote production is on a clear path to becoming the prevailing way to produce live video content. The transmission of live audio and video signals over IP is a strong competitor to analogue AV transmission. Using AV over IP to produce live events remotely has the potential to save organizations huge amounts of valuable resources. We see a future where more organizations – including media, live event producers, corporate offices, and even higher education institutions – will choose to transmit and produce all audio and video through a network infrastructure.
Remote video production is cost-effective, scalable, and highly secure. One use case that stands out is remote production video studios for enterprise. High-ranking executives, who may need to appear on live TV often, stand to save a lot of time if they could go live from the comfort of their offices rather than having to travel to each TV network.
In an effort to optimize and streamline live production workflows, more live broadcasting companies will move to a remote video production model. Instead of bringing an outside broadcast (OB) truck full of production crew to an event venue, companies will send a small team of technicians to set up audio and video equipment. Potentially, this equipment could be set up permanently, especially at larger venues. All signals would travel through a robust IP infrastructure, and live production would be handled remotely from a well-equipped production facility.
For more thoughts on this, be sure to check out our 2020 video streaming industry trends predictions episode of the Live @ Epiphan show below!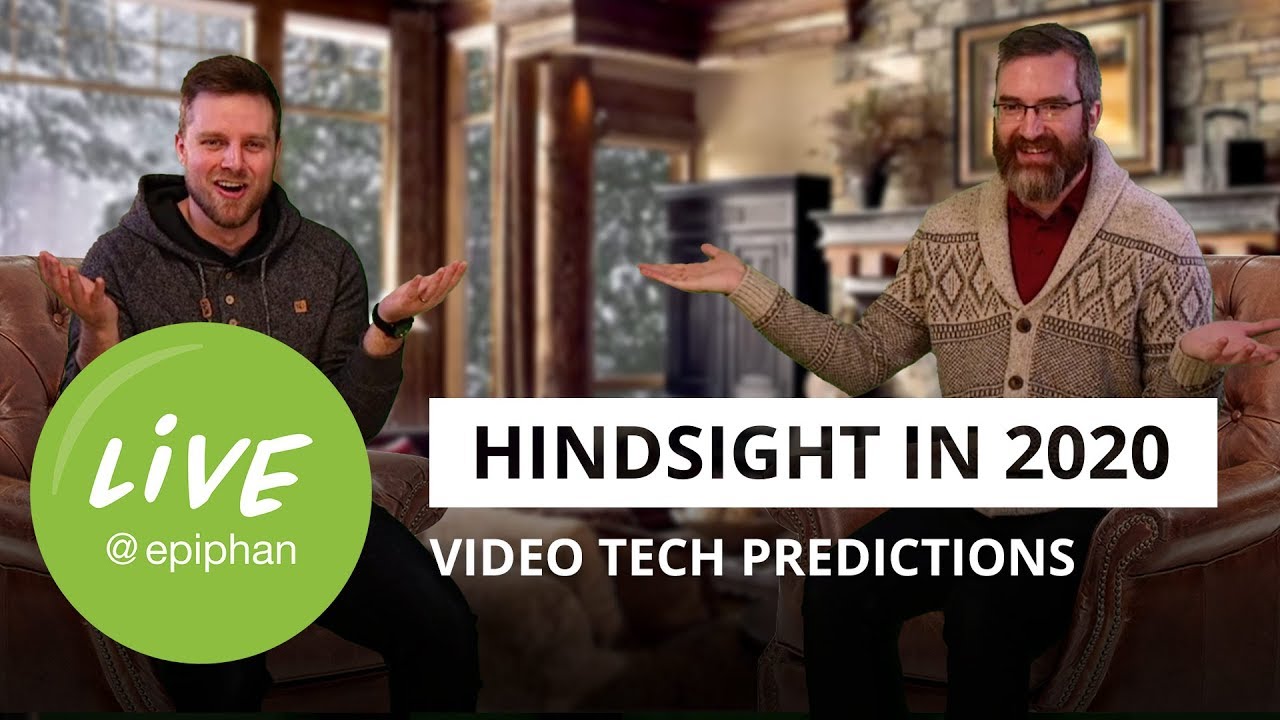 Hindsight 2020: Video Technology Predictions
Looking ahead
Live video has changed how we learn, collaborate, market products and services, and consume news and entertainment. As new technologies emerge and existing ones develop, the impacts of live video on our lives will only deepen. It will further streamline and improve workflows across numerous industries, change how we access technical support, and make participating in events remotely feel realer than ever.
What do you think will be the top video streaming industry trends of 2020? Let us know in the comments!