The transmission of live audio and visual data over IP is becoming more and more common, gradually pushing out analog AV transmission. Media, live event producers, corporate offices, and even higher education institutions are choosing to transmit audio, video, and control signals using a network infrastructure.
This incredibly flexible and scalable technology holds the potential to save organizations vast amounts of money and energy. AV over IP could be used in different workflows, including webcasting/streaming, VOD environments, or a broadcast setup. Additionally, AV over IP makes the concept of remote video production possible. In our opinion, remote production is on a clear path to becoming a prevalent way to produce live video content.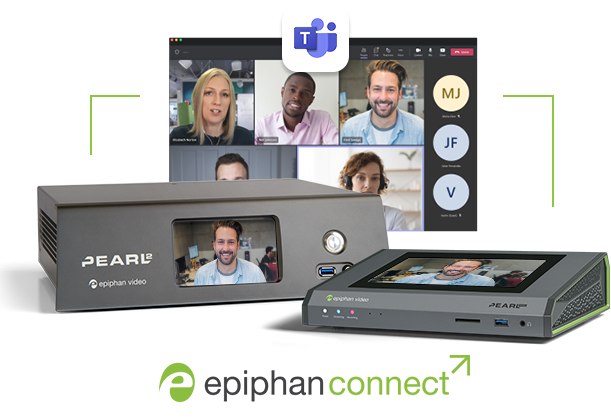 Your complete MS Teams production toolkit
Did you know you can capture broadcast-quality video from any MS Teams meeting directly into a Pearl encoder? Learn how with Epiphan Connect.
Discover Epiphan Unify
What is AV over IP?
AV over IP stands for Audio-Visual over Internet Protocol. It refers to the transmission of audio, video, metadata, and control signals over a network cable infrastructure (e.g. WAN, LAN, a 5G network, public Internet). Traditional analogue AV environments use point-to-point (or "baseband") cable connections and matrix switches in order to transmit AV data. In comparison, AV over IP uses Ethernet cables and network switches to transmit the same data. This greatly increases the input–output capacity as it is possible to expand the system by adding IP switches and it isn't limited by the number of available physical inputs.
It's important to understand that AV over IP is not a jump from analog to digital transmission, but a transition to packet-based traffic. This traffic requires encoding (the compression of audio-visual data) because there just isn't enough bandwidth today to transmit raw footage quickly. To do this, AV over IP workflows will use encoders (replacing conventional AV transmitters) and decoders (replacing AV receivers) at network switch endpoints.
Otherwise, the general workflow in analogue and AV over IP is quite similar. However, there is a lot less cabling to worry about with AV over IP. The multifunctional Ethernet cable is able to replace many (though not all) of the previously used SDI, S-Video, composite video, and other cables.
There are various ways to transport audio and video over the network; currently, there is no one dominant standard. Some telecom manufacturers aim to establish standard transport protocols – SDVoE, AVB/TSN, and Dante AV are some of the available formats – in order to create a uniform ecosystem. However, it is also possible to combine available technologies of transporting encoded data over IP (e.g. VoIP, RTSP, SIP) to successfully build and control long-haul transmission.
What is remote live video production and how does it work?
AV over IP makes remote video production a possibility. Teams of skilled professionals can work on producing live (and VOD) content at a distance from the actual event.
Here is how it works: first, AV equipment (cameras, microphones, mixers) is set up at the live event venue. All AV equipment is set up to feed into encoders. Encoders then transmit the AV data through the network using IP. On the receiving end, producers are able to see and hear everything that's happening, control equipment remotely, add graphic overlays, and edit the footage. The production team is able to control the equipment remotely using PTZ and IP camera technology.

They then send the produced video content off to its final destination (TV station, CDN, etc.). The remote editing studio can be located miles away, or it could be a control room located in the same building as the event. The main point is that all audio-visual data is sent through the network. This is why it's crucial to make sure the network is setup correctly and there is plenty of bandwidth.
Why do we believe remote live video production is important? Because it has the potential to save companies a lot of money and effort.
Benefits of remote video production
Lowered costs: For many venues, Ethernet cabling is already in place. This means there is no need to invest in cabling. In addition, crews don't have to travel as much, which minimizes travel and lodging costs.
Efficiency: Since less travel is required, it becomes possible to produce more events with the same number of people. This also makes the equipment use more effective since it is online and operating for longer periods of time (instead of spending time being transported back and forth). Additionally, AV setup/teardown takes less time than with conventional AV.
Scalability: Because a local network is infinitely scalable, adding more equipment to your AV setup becomes more cost effective and simpler. Adding IP switches easily expands the setup. The production can be as small or as big as you want (as long as there's sufficient bandwidth).
High security: Since AV over IP networks are controlled by software, it's possible to use encryption, firewalls, and authorization methods to ensure security. Compared to analogue systems, there is much less risk of tampering involved.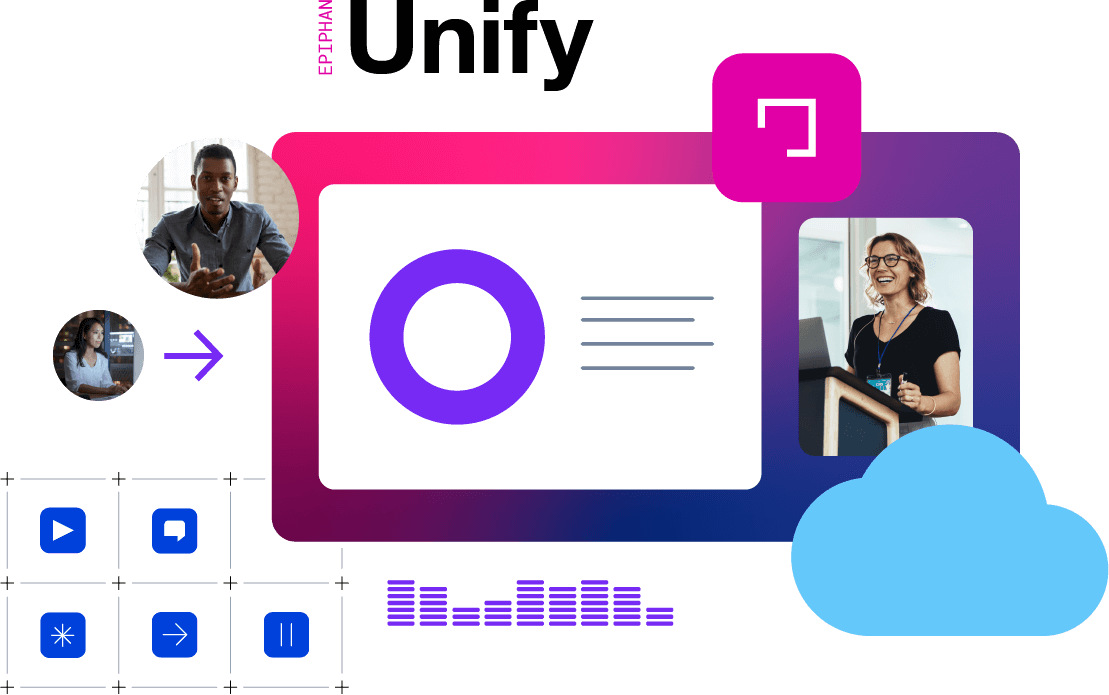 Experience limitless remote production
The cloud-powered Epiphan Unify offers the ultimate flexibility to record, switch, mix, and restream content whether you're on-premises or off, alone or working virtually alongside others. It's the perfect platform for webinars, town hall meetings, hybrid events, executive messages – whatever content your company needs.
Discover Epiphan Unify
Sample applications of remote live video production
1) IP Live Broadcasting
As an alternative to analogue live TV productions, media companies are moving away from using large and bulky OB trucks and choosing to transmit audio, video, and control signals using a network infrastructure. This is especially useful for longer distance and more complex live TV productions such as concerts, conventions, and sports matches.
Instead of bringing in an OB truck full of production crew to an event venue, a small team of technicians is sent to set up audio and video equipment. After the setup is complete, the on-site team of technicians passively monitor the equipment. At the same time the production team handles the video production of the event from a well equipped remote production facility. The remote team receives, switches, graphically enhances, and transmits the final video to a network/broadcasting station or online.
In this example, the production company is able to save money by not renting the OB truck and not having the crew travel out of office. The crew is also able to increase overall efficiency by producing more events back-to-back (since they don't have to physically travel).
Here is a great video example of how this works:
2) Remote monitoring and live stream production
Many live event streaming companies are able to "be in many places at once," streaming multiple events simultaneously without being present physically. The way they achieve this is by shipping pre-configured remotely controlled hardware encoder units to their customers and having them do some basic setup. In this scenario, the client already has audio and video equipment set up on site; they just need a way to capture, encode, and send the program feed onto the network.
This is where event streaming companies like MSAVi PRO come in. MSAVi PRO ships out a pre-configured encoding unit. The client correctly connects the unit to AV sources and a network, MSAVi PRO is able to connect to the encoder remotely, control the image, and produce the live stream.
3) Live production studios for enterprises
There is an increased demand for live video broadcasting in enterprise. Companies use live video to communicate internally and externally on a daily basis. Internally, an organization may need to stream training videos, executive messages, internal webcasts, and conferences. Externally, they might conduct live product reveals, product training, investor updates, and much more. Additionally, CEOs can give interviews and participate in panels on national television from the comfort of their office.
In the past, companies would hire AV production crews to record and live stream events. However, with the development of AV over IP, other ways become available. Enterprise companies are choosing to install a permanent video studio in their meeting rooms and conference halls and let the video production happen remotely. A team of trained professionals can control the cameras and other equipment remotely as well as produce the live stream.
Using these remote live production studios brings a lot of benefits to corporations. Corporate event managers and AV staff no longer have to take time out to deal with hiring a production crew and coordinating the event production. All they have to do is enter their designated video space and conduct their event as usual. And for TV interviews, CEOs can stay in their office and complete more interviews in one day. All of this adds up to save time, money, and effort.
Last word
Thanks to the continuous evolution of Internet Protocol technologies, we are seeing concepts like remote video production becoming possible. AV over IP is breaking distance barriers, making it possible to produce a remote broadcast without having an entire production crew on site. In the age of high demand for live video content, AV over IP holds the potential to lower costs and increase efficiency. As the live event industry continues to grow and the cost of technology reduces, we predict that AV over IP will establish itself as the primary way to transport audio-visual content, and remote video production will become the industry standard.