Fine-tuned for your productions
Pearl Nano offers the ultimate blend of portability and versatility with a refined yet robust feature set that includes ingestion, encoding, HDMI pass-through, and recording. Use Nano as a powerful and reliable video distribution device or contribution encoder, or leverage the device's streaming and recording functions as part of a more complex setup with additional production capabilities.

Small size, big capabilities
Front screen for monitoring and easy config

HDMI and SDI video inputs

HDMI pass-through and program out

XLR, RCA, and USB audio

Custom layout builder

SRT encoding and decoding
Front screen for basic configuration/control and confidence monitoring
Video inputs for HDMI and SDI
Audio inputs for line-level XLR, RCA, and USB
HDMI program out and pass-through for zero-latency content display
Custom layout builder for a tailored video program
Intuitive browser-based UI and local console
Cloud-based configuration and control via Epiphan Cloud
SRT, HLS, MPEG-DASH, RTMP, and RTMPS streaming protocol support
Comprehensive integration with Kaltura and Panopto
Power over Ethernet Plus (PoE+) and DC power
Save recordings directly to an SD card (user supplied)
Expansion bay for user-supplied M.2 SATA SSD
Automatically transfer recordings to a USB drive or networked server
802.1x network access control
Lightweight Directory Access Protocol (LDAP)
Integration with Crestron Systems
Secure Sockets Layer (SSL)


"When they asked about lecture capture and recording we'd pointed them to the Pearls. Even before our project went live, we were recommending them as the preferred unit for us to go forward with."
Jeffrey Levesque, Senior Information Technologist at URI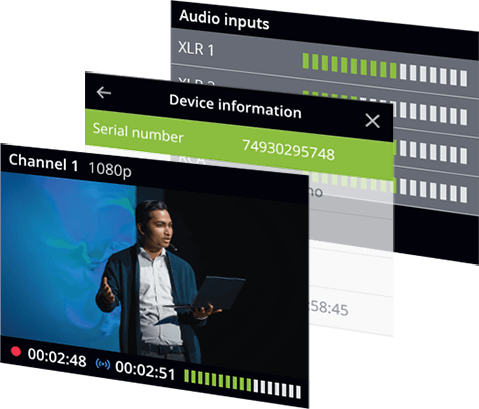 Control Nano your way
Use Pearl Nano's front screen for basic configuration and control, jump into the browser-based interface or local console to access all the features this small but mighty encoder has to offer, or centralize configuration and monitoring with Epiphan's cloud-based platform.
Key functions at your fingertips
Nano's front screen offers quick access to essential functions including basic configuration and easy streaming and recording. During events, the built-in screen serves as at-a-glance verification of your audio level and video program for production peace of mind.
Cloud-based configuration and monitoring
Streamline the configuration and monitoring of multiple Pearl Nanos and other Epiphan devices with centralized access to key device statistics including operational status, system load, unit temperature, available storage, and overall health.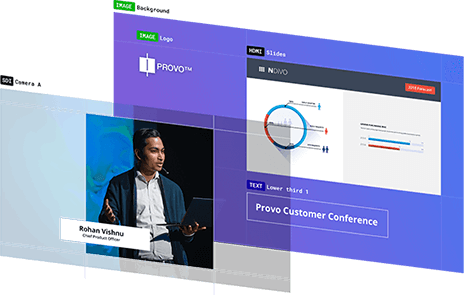 Elevate your productions
Build a beautiful layout for your video program with Pearl Nano's powerful custom layout designer. Create anything from simple picture-in-picture layouts to eye-popping compositions featuring dynamic backgrounds and other custom graphics – whatever suits your event best.

Ideal for SRT contributions
The compact and lightweight Pearl Nano supports Haivision's open-source Secure Reliable Transport (SRT) protocol for secure, high-quality, low-latency video streaming over any given network.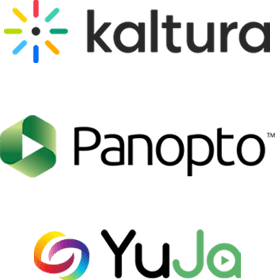 Enhance your CMS workflows
Deep integration with Panopto, Kaltura, and YuJa lets you automatically start and stop streaming or recording at scheduled times. For added efficiency, Pearl Nano can push recordings to your preferred platform after events.
Learn more about Pearl's Kaltura, Panopto, and YuJa integrations

Integrate with your Crestron system
It's easy to add Pearl Nano to your Crestron AV system as a secure and reliable video capture device. Most of the coding is done for you with the Crestron-developed Control Module for Pearl encoders, and you can build on Crestron's robust code base to enable secure API control over HTTP or HTTPS.

Set up and stream

Built-in video and professional audio inputs
Simplify your streaming and recording setup with the ability to directly connect HDMI and SDI video sources and audio using XLR, USB, and RCA.
HDMI pass-through
For easy confidence monitoring or content projection, Nano's HDMI pass-through can display video sources on in-room monitors with zero latency.
Broad streaming protocol support
Stream to any content distribution network or streaming server using modern protocols like SRT, HLS, or MPEG-DASH, or more common ones like RTMP or RTMPS.
Power over Ethernet Plus (PoE+)
Streamline your setup even further with the ability to power Nano over Ethernet in addition to DC power.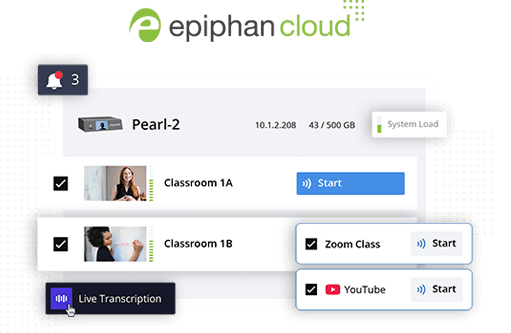 Control and monitor your device using Epiphan Cloud™
Epiphan Cloud centralizes the configuration and monitoring of all the Epiphan hardware you own. Remotely log in to and operate Epiphan devices with a host of time-saving features and tools including:
Full operation and device control via remote login
At-a-glance web interface for basic configuration and monitoring
Convenient batch actions (e.g., multi-device firmware upgrades)
Real-time alerting of any production issues
A perfect fit for key applications
Compact encoder for live production

Use Nano as your perfect-fit encoder for small-scale live events. Built-in inputs for video and professional audio, HDMI pass-through, and PoE+ make setup a breeze.

Add on to your production setup

Leverage Nano's advanced and easy-to-use streaming and recording functions as part of a more complex setup that includes additional production capabilities.

SRT contribution encoder

Thanks to its small size, SRT encoding and decoding capabilities, and end-to-end control, Nano is an ideal contribution encoder for remote guests.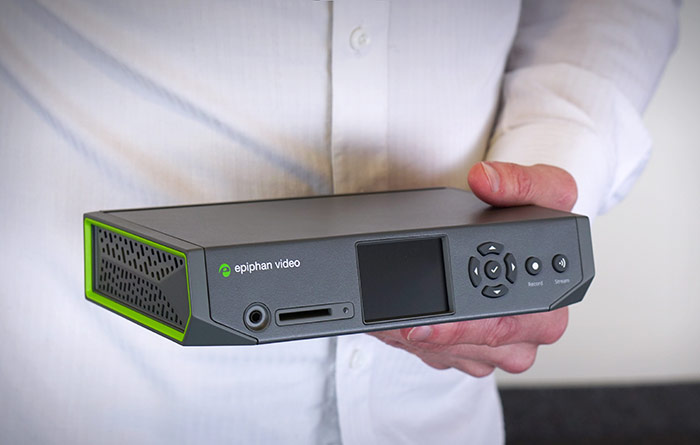 Flexible storage
Nano makes it easy to record, transfer, and back up files with a variety of storage options.
SD card

SD card slot on the front of the device for storage.

Attached storage

Nano can automatically transfer recorded files to a USB drive, local server, or network-attached storage device.

M.2 SATA SSD

Need more local storage? Just add an M.2 SATA SSD to Nano's expansion bay.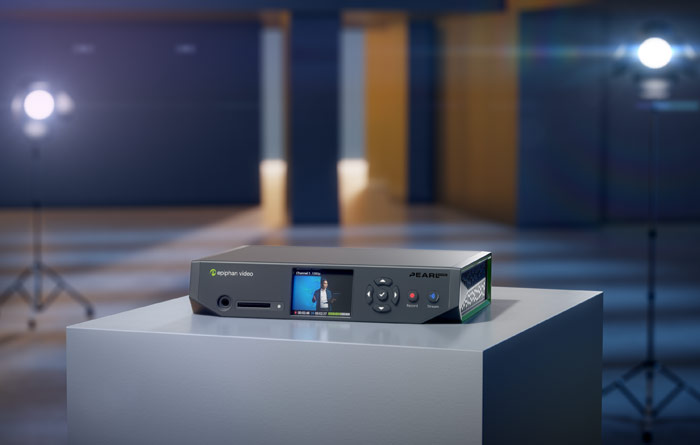 No-fuss networking and security
Easily add Pearl Nano to any network and prevent unauthorized access with a bevy of security features including DHCP and LDAP support, role-based access control, 802.1x network access control, and SSL.

Much more in store for Pearl Nano
4K streaming and recording, HEVC/H.265 encoding, USB audio and video support, and more are planned for Pearl Nano's future.
What's in the box?
Pearl Nano comes with all the cables and connectors you need to encode and record your video.
Book a live demo
Meet with an Epiphan product specialist for a one-on-one demo and get expert answers to your questions.
Schedule demo
Get pricing
Send us your contact details to get pricing in your region.
Get pricing