We've introduced Epiphan Pearl Nano as the newest and most compact member of the Pearl family of encoders. We've put a lot of hard work and rigorous testing into ensuring Pearl Nano adheres to our core values of reliability, versatility, and ease of use. We are truly proud of the end result, but we might be just a little biased.
What's it like to use Pearl Nano? What do users think about the features? How does it perform under pressure? Is it everything it claims to be? We gathered some video reviews from industry and tech experts for their unbiased opinions about Pearl Nano.
Disclaimer: None of these content creators were paid for providing their opinions about Pearl Nano.
Level1Techs – Insight from seasoned techies
On their channel, Level1Techs share their knowledge about technology, science, and design. With over nine years on YouTube and over 320K subscribers, the channel has a reputation for delivering trustworthy reviews with passion and a bit of dry wit.
They tend to go beyond simply listing the tech specs, offering rich insight based on years of experience. In this Pearl Nano review, Wendel shares his thoughts on using Epiphan Cloud for easy device management and configuration, API integrations, and Nano's rugged physical design. He notes the device as a fool-proof solution for secure reliable transport (SRT) remote contribution:
"I could program [Pearl Nano] and mail it and a decent audio solution to different people that I want to interview, have them set it up, and do interviews. Can you do the same thing with OBS and a crappy laptop? Yes, you absolutely can, but it's going to age you prematurely because supporting that is going to take a lot of your time. The technological debt of building a solution like that is not going to be pretty."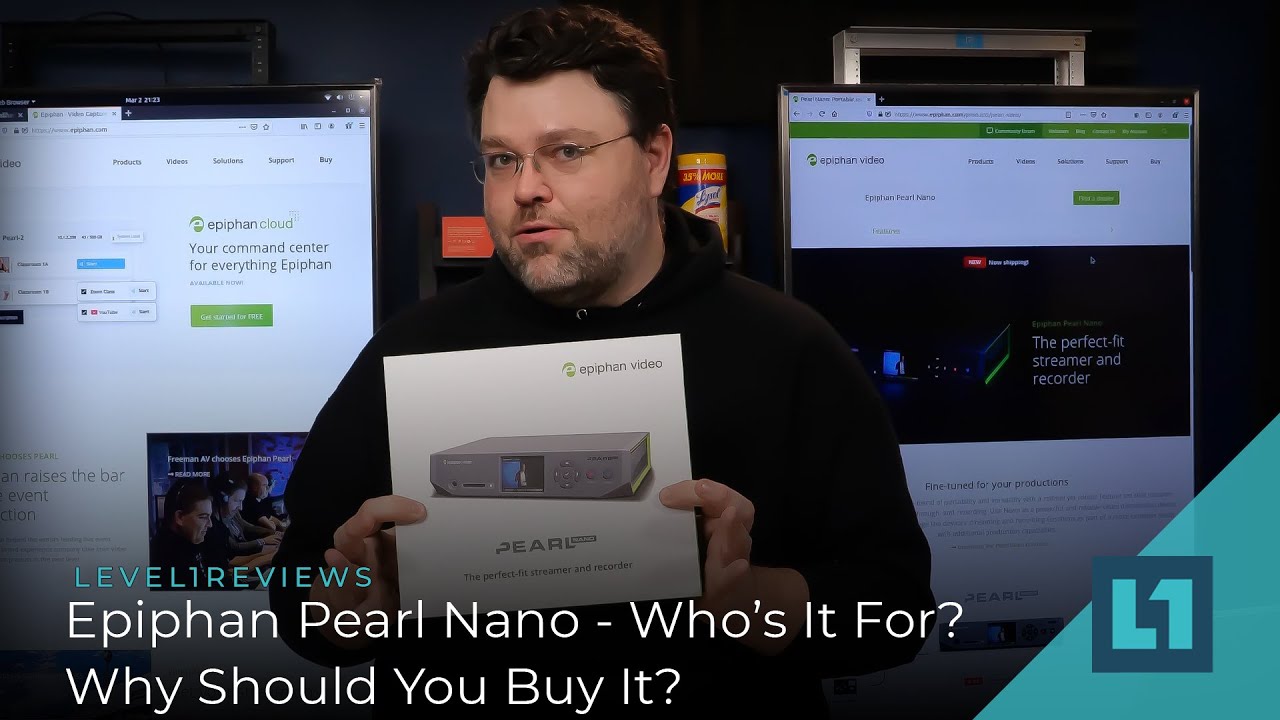 Curtis Judd – Best indexed video
Curtis Judd is a filmmaker, photographer, and live streaming enthusiast. Curtis runs his own YouTube channel, "Learn Light and Sound," where he gives useful tips on choosing audio gear, lighting, as well as live streaming setups. We were lucky enough to host Curtis on Live @ Epiphan. He gave some great insights into live video production – definitely worth checking out as well.
In his review, Curtis takes an in-depth look at Pearl Nano as a single-channel video encoder for corporate and education environments. He dissects every feature and use case in amazing detail, resulting in the most detailed video index we've ever seen!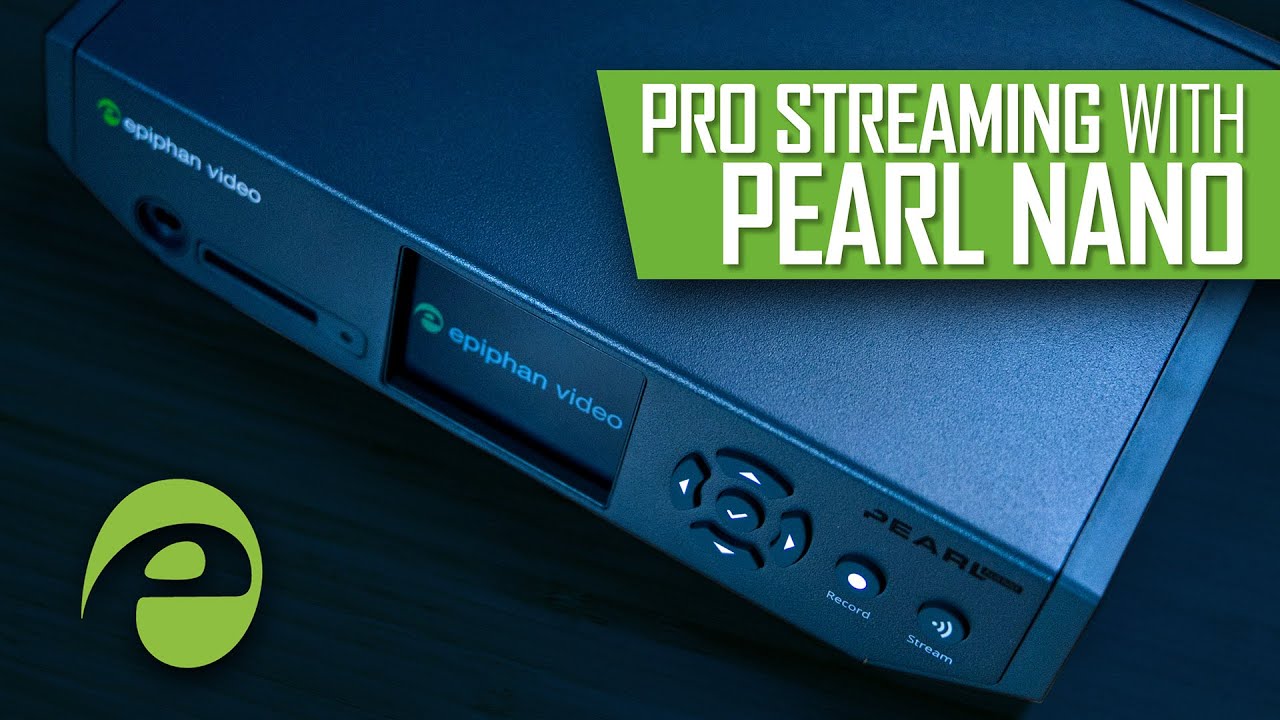 Aaron Parecki – Short, sweet, and straight to the point
Aaron's channel is all about helping his viewers improve their live video production skills. In just seven minutes, Aaron covers everything from Nano's broad streaming protocol support to its streaming and recording functions. In Aaron's opinion, Pearl Nano is the perfect video encoder for worship and education-type settings because it's easy to use:
"I can tell you for sure I would not set up an ATEM Mini in a classroom and expect people to know how to use it without a bunch of training. The Pearl Nano on the other hand is set up for one-button or automatic recording, streaming, and even uploading of content in classrooms and meeting rooms."
Geeky Nerdy Techy – A geeky, nerdy, techy review
On his channel, Shane covers many different technology-related topics, including live streaming. In just 14 minutes, he manages to go over most features of the Pearl Nano video encoder (including detailed video chapters for quick navigation). Shane points out that while Pearl Nano is not a solution for live switching, it is a great video encoding solution for those interested in using SRT or need CMS integration for streaming and recording.
"The Pearl Nano replaces a computer when it comes to encoding, so you don't need to have everything going through the computer, then out to the web, or then being recorded externally in another way. This will handle all that for you"
Shane is excited to continue using the device as well as the upcoming 4K streaming support feature.
John Moore – Expert opinion from a Microsoft MVP
Cerner Lead Technology Architect and Microsoft MVP John Moore knows a lot about using Pearl Mini in a remote work environment. We chatted about it with him on Live @ Epiphan.
Now, John shares his first impressions using Pearl Nano. He gives an overview of the capabilities of the device, his personal setup, and a few ideas on how the device can fit into a live event production workflow.
VideoGuys – The unboxing video
Fans of unboxing videos rejoice. VideoGuys video production specialist Adam Noyes methodically goes through every item in the box, unveiling the included quick-start guide, cables, outlet adapters, and, of course, Pearl Nano itself. For exact device measurements, Adam brings out a measuring tape and demonstrates: it is really as compact as we say.
"This system is the perfect set-it-and-forget-it unit built for one channel live streaming! The Pearl Nano is amazing for – but not limited to – your house of worship, or school environment for mixed or online classes."
Holdan – Best visuals
Here is a review from Holdan, a pan-European technology distributor for the professional video, broadcast, and media industry. Holdan has built a reputation for a friendly and honest approach, and this video is a prime example.
The Holdan team prides itself on knowing the products they represent and understanding the customers that use the equipment. Holdan product demo videos are detailed and visual, yet approachable and easy to understand. Watch Kriss dive deep into Pearl Web UI and Epiphan Cloud UI features, and set up and show you how to configure an SRT stream in under a minute. Here is likely one of our favorite Epiphan Pearl Nano reviews from a visual standpoint: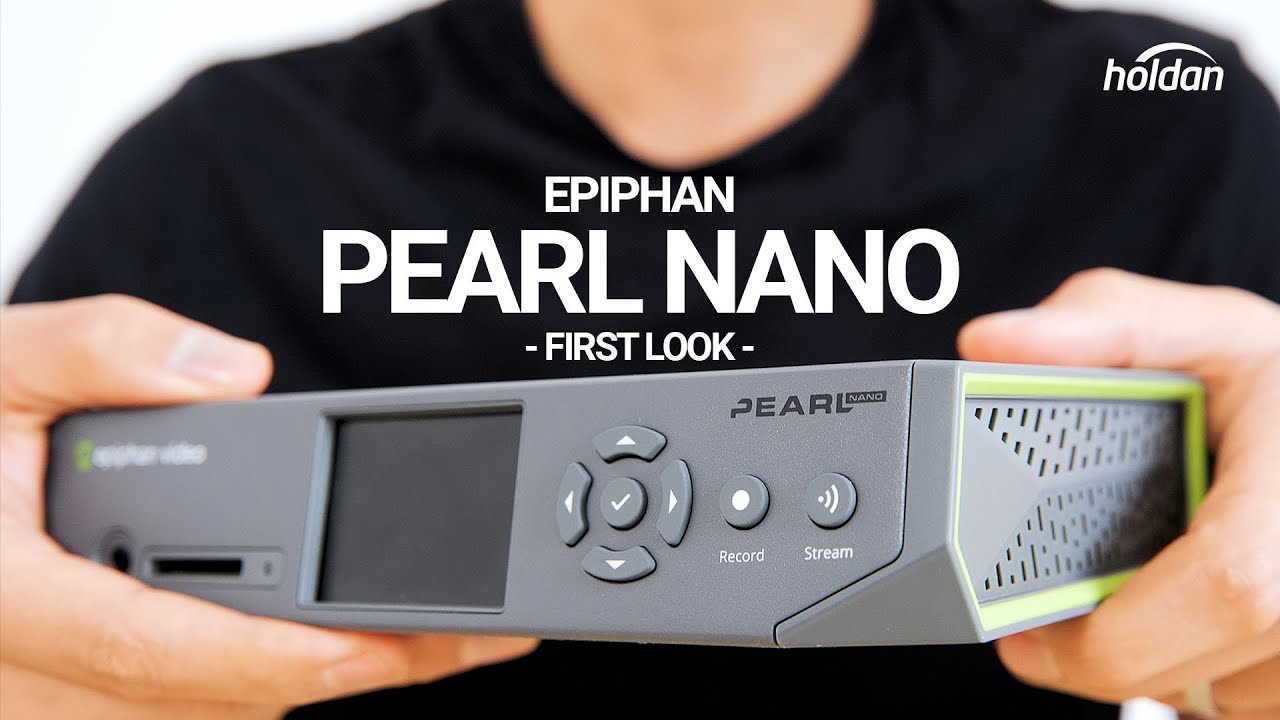 HuddleCam and Pearl Nano – A powerful tech combo for education
This short, four-minute video presents Pearl Nano as the perfect companion to the HuddleCam SimplTrack2 Camera for use at schools and universities for automated, hands-off lecture capture, streaming, and recording.
In a bonus video, Paul Richards (HuddleCam, PTZ Optics, StreamGeeks) chats with Epiphan's George Herbert, expanding on the possibilities of using Pearl Nano with SimplTrack2 Camera.

Bring Pearl Nano to your productions
Pearl Nano offers the ultimate blend of portability and versatility with a refined yet robust feature set that includes ingestion, encoding, HDMI pass-through, and recording.
Get product details
There we go! We hope you found these Epiphan Pearl Nano reviews helpful, informative, and resourceful. Don't hesitate to reach out to us if you have any questions about Pearl Nano's broad streaming protocol support, streaming and recording functions, or anything else.