Lots of schools use a video content management system (CMS) like Panopto or Kaltura for lecture capture. But many are missing out on big benefits like improved performance, reliability, and affordability. How can your school gain these advantages? With one change to your lecture capture system: shifting from software encoding to hardware encoding.
If you're wondering what's so special about hardware encoding, you're not alone. Many schools see no reason to bring in a hardware encoder when they've been managing just fine with custom-built PCs and recording software like Panopto Recorder or Kaltura Recorder. That's because a lot of people aren't aware of the many perks of hardware encoding.
It's true that lecture capture can be as simple as perching a laptop on a podium, running a slide deck, and capturing the lecturer via a built-in or USB webcam. But today's students are huge media consumers and will recognize when a video's quality is lacking. To keep students engaged, and to compete with other schools fighting for enrolment, professional-grade video and audio equipment are must-haves. At the very least, that means an HDMI camera and professional audio equipment. For bonus points, you can throw in a second camera to add another perspective to lectures, such as an audience shot or a wide-angle view.
What is a hardware encoder?
As dedicated appliances, hardware encoders are tailor-made for video recording and streaming. All the components in a hardware encoder were handpicked for this purpose and the underlying software specially designed for it. Compare this to a software encoder – an application running on a computer made of multi-purpose parts and alongside dozens of other processes – and you start to understand why a hardware encoder is the better option.
Why hardware beats software
Hardware encoders offer major advantages over software encoders that any school would benefit from:
Better performance
Hardware encoders perform better than their software counterparts. Why has to do with the major difference between the two noted above: hardware encoders are designed from the ground up for video streaming and recording. They're able to dedicate more computing power to the job of encoding video and audio, whereas software encoders have to compete with resource-hungry operating systems, apps, and processes. The performance gap widens when you throw in more video or audio sources, or stream to multiple platforms.
More flexibility
Fewer resources to dedicate to video and audio encoding isn't the only limitation of software encoders. Without a capture card, software encoders can't work with non-USB video signals. They're also limited to USB or 3.5 mm microphones unless you have a separate audio interface, and can typically only capture audio from a single source.
Hardware encoders offer far more flexibility with multiple inputs for video (e.g., USB, HDMI, SDI) and professional audio (i.e., XLR). This versatility creates a lot of possibilities for lecture capture. For example, our Pearl Mini all-in-one video production system includes inputs for USB and HDMI, along with combined XLR/TRS audio inputs and stereo RCA. A lecturer can capture a presentation running on a laptop while an HDMI camera and professional microphone record them in high-definition with crystal-clear audio.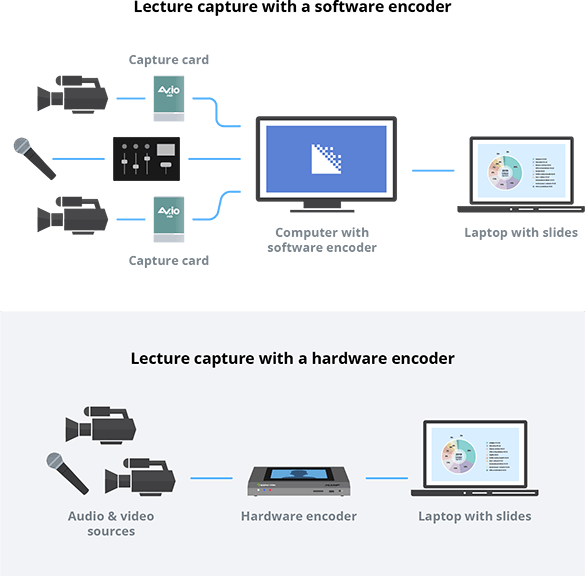 Superior reliability
You've probably seen at least one video of an ill-timed Windows update or system crash during a broadcast or live stream. The same can happen during lecture capture, resulting in a fractured or incomplete recording. Hardware encoders running a non-Windows operating system such as Linux are much less prone to these kinds of interruptions. Adding to their reliability, hardware encoders also need fewer cables and components to do the same job as a custom-built PC – which means fewer points of failure. With this added peace of mind, users can focus more on their lecture and less on the technology capturing it.
Simpler installation and management
The benefits of pairing a hardware encoder with a CMS go beyond the lecture hall. It's much easier for IT staff to set up and manage a fleet of hardware encoders than it is to update and maintain numerous custom-built PCs with their operating systems, recording software, and capture card setups. Adding to these maintenance woes, all the parts required to turn a PC into a capable video and audio encoder probably come from different manufacturers.
Hardware encoders require occasional firmware upgrades, which you can often install remotely. Computers need frequent updates to the operating system as well as to applications that have nothing to do with streaming and recording but are nevertheless critical (e.g., antivirus programs). Simplifying this process with a hardware encoder frees up IT resources for other projects that are important to your school.
Greater affordability
When it comes to large-scale lecture capture, hardware encoders offer better value at a lower overall cost compared to custom-built PCs. For one thing, opting for a hardware encoder eliminates the expense of operating system and software licenses broad enough to cover every lecture capture PC on campus. Schools that use software with a CMS may also be contracted to update their workstations every two or three years, which can cost a couple grand per unit.
Certain hardware encoders can also capture footage from multiple rooms, lowering capital expenditures for schools eager to equip every classroom with lecture capture technology.
Easier operation
Some hardware encoders include CMS integrations that can greatly simplify lecture capture. For instance, our Pearl Mini and Pearl-2 hardware encoders are fully integrated with Panopto and Kaltura. Users who register Pearl to either platform can create, start, and stop unscheduled events via Pearl's built-in touch screen, authenticate to the CMS from the touch screen to automatically upload recordings to their folder, and more.
CMS integration can turn a hardware encoder into a hands-off lecture capture solution. Whereas an operator must launch and interact with a software encoder to start or stop a recording or stream, a hardware encoder with CMS integration can trigger these events automatically based on a defined schedule. Combined with automatic file uploading, the result is a far simpler workflow with less administration required after each lecture.
Optimize your school's lecture capture
Check out the Epiphan website to learn more about how our Pearl hardware encoders can help your school master lecture capture. If you have any questions, let us know. One of our product specialists will be happy to help.