Video is more engaging than text and has been shown to help students retain material for longer. In that respect, rethinking the traditional classroom structure to incorporate more video makes perfect sense. That's exactly what the flipped classroom model aims to do.
What is a flipped classroom, and how does it help students learn better? Read on for all the details.
What is a flipped classroom?
The flipped classroom is an instructional strategy that moves activities, including those that may have traditionally been considered homework, into the classroom. Here, students complete the instructional portion at home on their own time and work on problem-solving during class time.
Why? The pioneer of this style, Aaron Sams, believed that direct instruction is not the best use of class time. Instead, he argued, that time is better spent engaging in meaningful discussion, applying learned concepts, and collaborating with peers. In the flipped classroom learning environment, students learn new concepts pre-class and then check their understanding during various class activities.
Students consume the instructional material at home, primarily through video. The teaching staff prepares the video lessons in advance. These may include presentation slides, video clips, images, notes, a recording of the teacher, or voiceover narration.

Create stunning video lectures for your flipped classroom
Epiphan Pearl hardware encoders are powerful and easy to manage. They're perfect for recording content to support the video needs of your flipped classroom.
Discover solutions for education
Benefits of the flipped classroom model
The flipped classroom model holds the potential to positively impact student learning and development. How?
Flipped classrooms accommodate different learning styles and speeds
Each student is free to learn at their own pace and at a time that works best for them. With recorded lectures, students can pause, replay, speed up, or slow down the video as they see fit. Additionally, the flipped classroom model gives teachers more class time to address specific student questions, creating a more individualized learning environment.
They help build higher-level skills
Studies suggest that not only does the flipped classroom model aid student understanding of course material better, but also helps develop valuable life skills like leadership, problem solving, and critical thinking.
Because the flipped classroom approach provides more opportunities for in-class active learning, it exercises more forms of student engagement, including oral, visual, auditory, sensory, practical, and intellectual problem-solving. Additionally, students often work together during class, which encourages interaction and the development of communication skills.
They promote deeper understanding
The flipped approach offers more opportunities for hands-on activities, asking questions, and working through complex problems together with others. This gives students the opportunity to get a deeper grasp of the material compared to a more traditional approach (i.e., listening to a traditional lecture during class and completing exercises on their own at home).
They teach self-directed learning
The flipped classroom model expects a high level of participation during class. Students are expected to come to class prepared, otherwise they cannot fully participate. This encourages students to be more responsible when it comes to completing assignments on time.
Get Inspired: How NC State unlocked 200+ classrooms
NC State outfitted over 200 classrooms with seamless video capture technology, giving students an opportunity to review lectures whenever they needed it. The lecture capture is fully automated, requiring no setup from professors or intervention from students. Find out how NC State created flipped classrooms at an unprecedented scale.
Effective lecture capture and video management tools for flipped classrooms
As you can imagine, all this video can be a lot of content to manage. Perhaps for a single semester course we are talking about recording, uploading, and distributing a few dozen videos. But as you start multiplying that by the number of simultaneous flipped classroom courses, things can start growing exponentially.
Without proper video management tools in place, applying the flipped classroom model can become a logistical nightmare. If teachers begin focusing more on how they are going to create and deliver the video lecture to their students, the process may become a burden, taking away from the benefits of the flipped classroom model.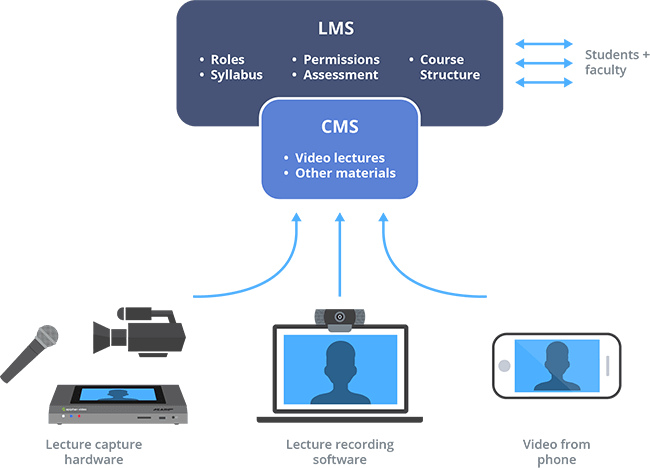 To maximize the effect of using video for flipped classrooms, the process of creating, distributing, and managing videos for teachers – and consuming the same videos for students – has to be as simple as possible. To do this, here are a few things your school should consider having in place:
An infrastructure for lecture capture – This may include lecture capture software installed on every teacher's computer, a separate lecture recording studio, or it could mean equipping rooms within the school for lecture recording.
A learning management system (LMS) – An LMS is a web-based portal where students can access content for courses they're enrolled in, submit assignments, see their grades, and so on. An LMS may include tools for managing and delivering educational video content. Examples of LMSs include Google Classroom, Acorn, Blackboard Learn, and Moodle.
A content management system (CMS) – A CMS is a web portal used to store, manage, and distribute video content. Deploying one of these is a must for schools that create lots of video content. Many CMSs include features like screen capture, video editing, and analytical tools that provide actionable insight into how students are engaging with your video content. Examples of CMSs include Kaltura, Panopto, and YuJa.
If you want a deeper dive into these tools and how lecture recording works, check out our lecture capture blog.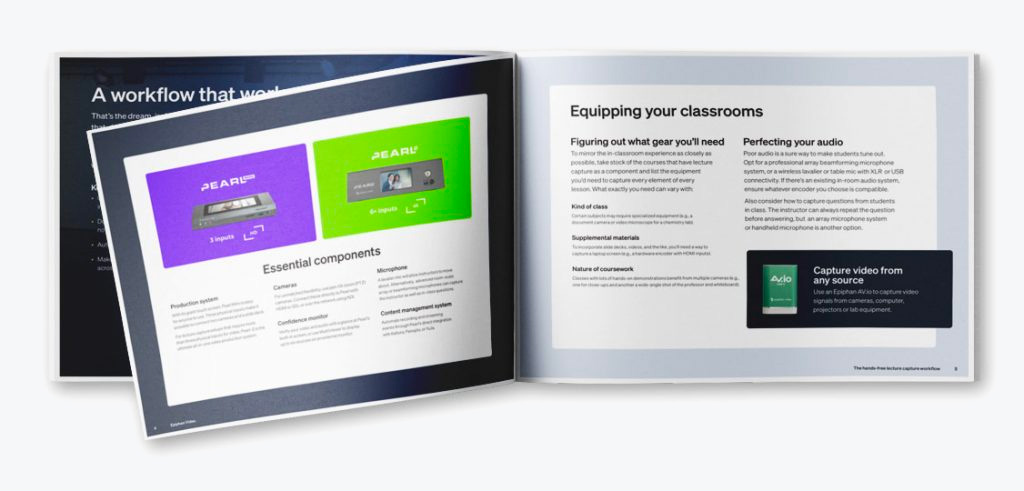 Get our lecture capture design guide
Learn how to deploy user-friendly solutions that anyone can grasp and create high-quality lecture recordings that engage your students. Download now!
Record stunning video lectures for your students
For lecture capture, flipped classroom content, remote learning, or any other application for video in education, Epiphan Pearl Mini is a reliable hardware solution trusted by many professionals in the industry. Pearl Mini's one-button operation and giant touch screen make it easy for anyone to understand and operate. The system also integrates seamlessly with Kaltura, Panopto, and YuJa CMS, making your video production workflow even easier.
To learn more about Pearl Mini and our other products and services, check out our dedicated page on Epiphan solutions for education.