Once again, Amsterdam hosted the yearly International Broadcasting Convention (IBC), drawing over 1,700 exhibitors and 50,000 visitors from around the world from September 13 to 17. And once again, Epiphan Video was happy to take part in the experience.
We love going to IBC because we get to see and talk with our partners, integrators, friendly companies, and, of course, our customers. We also enjoy all the exciting announcements, releases, and demonstrations the convention brings each year. Here are 19 that impressed us at IBC 2019.
1) iSize Technologies demonstrates AI-based pre-encoding technology that reduces image size
This small, London-based company really impressed us with their Advanced AI Cloud Encoding. iSize's new technology promises to reduce streaming bitrates by up to 60%, boost video quality in low-bitrate environments, and even prolong device battery life by saving energy on encoding! Essentially, this means that you can live stream from your smartphone at lower bitrates for longer periods of time – with great image quality. The coolest part? You can use it with any video codec and/or video container.
2) Manfrotto presents its new quick-to-deploy Fast carbon fibre single- and twin-leg tripods
Boy, do these tripods fly! The new locking system lets you set up these tripods with a single movement. While there is only one lever for each leg, the tripod remains incredibly rigid. The Fast single-leg tripod comes with a 75mm ball that is compatible with a 60mm attachment, while the twin leg version comes with a 100mm half ball compatible with a 75mm adapter. Both systems are available with a middle or ground spreader attachment.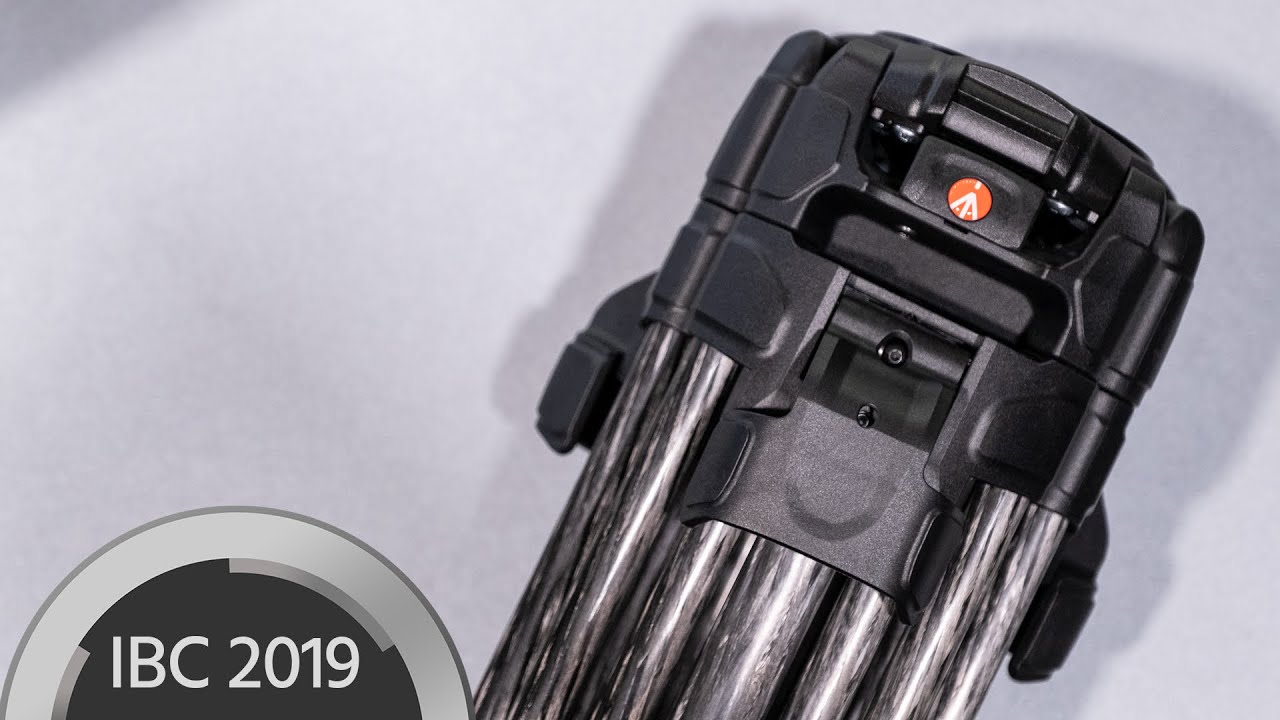 3) LaCie shows off Rugged SSDs for photographers and videographers that can even withstand a swim!
You can drop them in water, you can run over them with a motorcycle, and they will still work (much like our AV.io capture cards!). LaCie released two incredibly cute-looking SSDs designed specifically for working on-the-go with photo and video files. The first one, the LaCie Rugged SSD, can write RAW 4K at speeds of up to 950 MB/s and provide up to 2 TB of storage. The other, the Rugged Boss SSD, has speeds of up to 430 MB/s, capacity of up to 1 TB, and a built-in touchscreen for quick file review as well as access to the LaCie Boss App for mobile file transfer. Both include Seagate Secure encryption technology and password protection.
4) Tentacle Sync announces Track E, a pocket-sized synchronized audio recorder at IBC 2019
German-based Tentacle Sync's Track E syncs over Bluetooth and has a controller app for iOS and Android for wireless configuration. Track E records to SD cards and can function as a standalone recorder or be synced with another Track E/Sync E device. It's very small and portable, making it perfect for on-the-go use. Track E uses 32-bit floating point technology for recording, which enhances the dynamic range with no digital clipping. What a sweet little thing!
5) LiveU and Griiip show unique data-driven platform for motorsports live viewing
Watching live race broadcasts is a completely different experience with LiveU and Griiip's new media solution platform. Imagine having a live view from the driver's cockpit with live-stat overlays showing exactly where the driver is on the course, what position they're in, their current speed, and lots of other live data. This solution provides a much more exhilarating live viewing experience for fans – thanks to AI-driven performance analytics.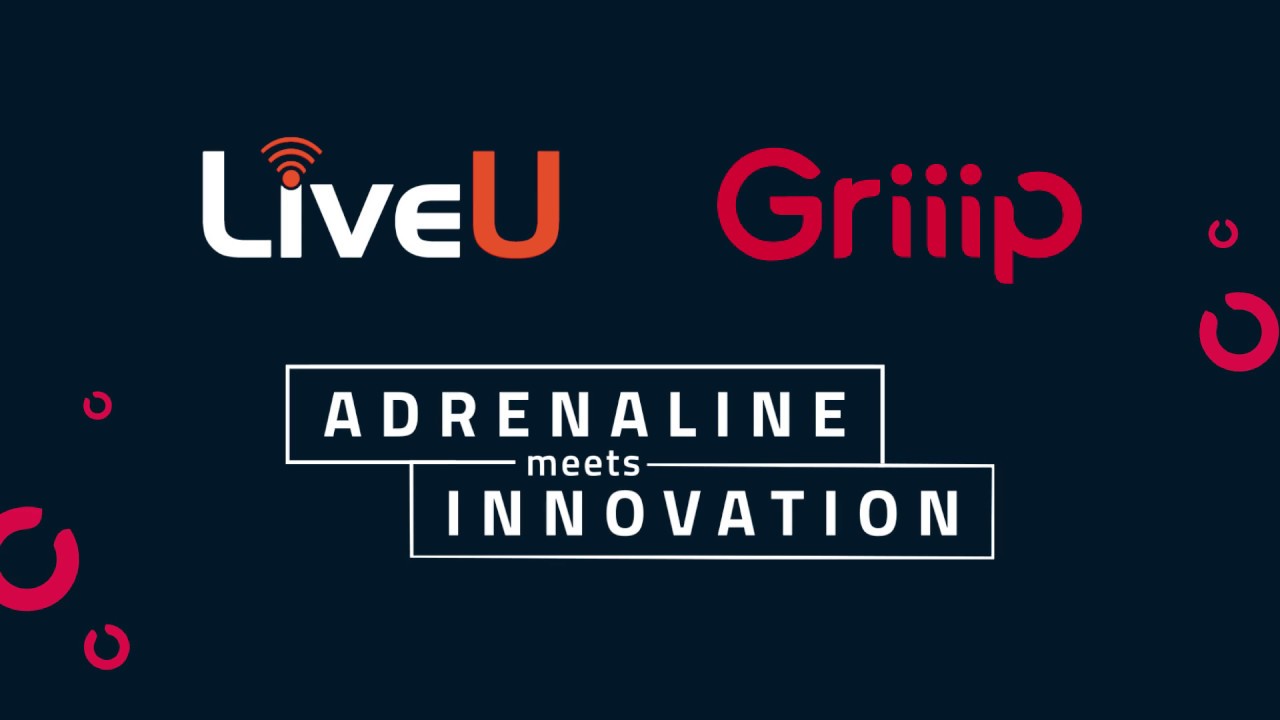 6) BirdDog unveils new 4K NDI® PTZ camera and BirdDog Cloud product
BirdDog P4K is a 4K full-bandwidth NDI PTZ camera. The BirdDog P4K features a 1″ Sony Exmor R CMOS backlit sensor with 14.4 million pixels. The P4K will support a wide range of formats including NDI, NDI HX2, H.264, HEVC/H.265, and RTSP. The genlock feature enables users to synchronize multiple cameras.
BirdDog Cloud is an NDI delivery platform for sending encrypted video over public Internet with SRT. This makes high-quality audio and video delivery possible despite poor network connections, all with very low latency! This is pretty impressive as it makes it possible to fully control video studios remotely from anywhere in the world. The BirdDog P4K camera supports BirdDog Cloud directly, removing the need for additional computers.
7) SanDisc details CFexpress cards
They're finally here! SanDisc announced the release of Extreme PRO CFexpress cards. Why all the excitement? Well, these cards are going to be unprecedentedly fast. The 128GB, 256GB, and 512GB models are rated at 1,700 MB/s read and 1,200 MB/s write, while the 64GB model comes in at 1,500 MB/s read and 800 MB/s write. So much speed in such a compact form factor will unlock new capabilities for current and future camera releases. This makes CFexpress cards perfect for keeping up with 4K video recording and quick file transfers, yielding a smoother experience for filmmakers.
8) Canon demos new cinema camera at IBC 2019
Canon came out with a gorgeous full-frame 5.9K sensor camera, the EOS C500 Mark II. This is Canon's first model that can write to the above-mentioned CFexpress cards. The C500 Mark II is designed to be "small, but extremely versatile" for cinema and high-end broadcast. The modularity of the camera allows it to be "dressed up" and "dressed down" depending on the use case. This is the first camera to use the new Digic DV7 processor and supports 2.1 GB/s Cinema RAW Light and 810 MB/s 4K 4:2:2 10-bit XF-AVC recording. Other features include electronic image stabilization and user-changeable lens mounts (EF, Locking EF, PL), and five-axis sensor stabilization. The camera also provides extra connectivity with a small extension for genlock/sync, remote control and Ethernet, or a larger module including a V-lock battery mount.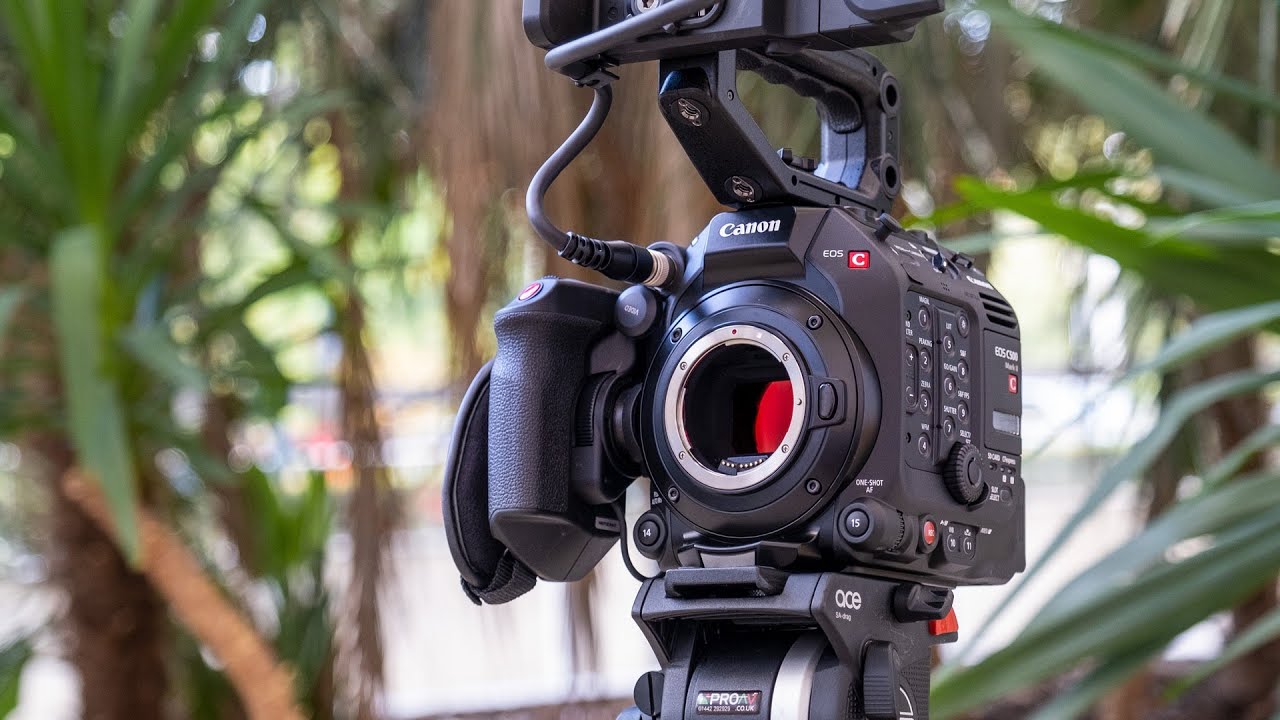 9) Sony reveals full-frame pro video camera
The PXW-FX9 pro camera from Sony can in many ways be closely compared to the Canon C500 Mk II. It also offers a 6K full-frame sensor, though it can only record in 4K 4:2:2 10-bit. This move was intentional: the large 6K sensor can provide a superior-quality picture when recorded in oversampled 4K. Other features include enhanced fast hybrid autofocus with 94 x 96% image coverage, electronic variable ND filter, dual-base ISO (ISO 800/4000), 15 stops of dynamic range, and many others. In this camera, the company wanted to combine the cinematic appeal of full-frame with advanced professional filmmaking capabilities in a package that's extremely portable.
10) Irix releases ultra-wide-angle Cine lens
The Swiss-Korean company Irix followed their Cine 150mm T3.0 lens success with the ultra-wide-angle Irix Cine 11mm T4.3 at IBC 2019. This lens is designed specifically for capturing ultra-panoramic, cinematic video with full-frame sensors like Canon EF, Sony E, Micro Four Thirds, and Arri PL (special mounts will be available for each brand). The lens has an extremely short focal length rectilinear image projection, while the geared focus rings rotates a full 180 degrees, allowing for ultra-precise manual focus. The lens offers a large maximum T (a more precise aperture measurement for video than f-stops) number of 4.3, which can be reduced to T22 thanks to the rounded shape of the iris blades.
11) Deity Audio shows new HD-TX transmitter
Deity Audio's new Deity HD-TX audio transmitter/recorder is capable of both transmitting and recording 24-bit/48-kHz uncompressed lossless signal. Interestingly, the version sold on the U.S. market will only be able to do one or the other due to a certain U.S. Zaxcom patent that restricts simultaneous recording and transmitting. International models will not have this limitation. The company's mission has always been to provide quality devices at an affordable price, so at just $250, the HD-TX is a great choice for a portable transmitter/recorder.
Deity is also on the verge of releasing a versatile and feature-packed pencil microphone. They teased it heavily at IBC 2019, and they don't even have a name for it yet! It will feature various capsules, including an omnidirectional, cardioid, and an all-new hypercardioid capsule. The brass-body RF-resistant mic promises to be a great indoor boom microphone.
12) Xeen introduces ultralight CF lens
Xeen announced their light and compact CF cine lenses just before IBC 2019. The casing is made from carbon fiber, which is much lighter than metal but just as durable. This and the compact design will help shed pounds off video rigs, perfect for gimbal and drone usage. Naturally, in addition to being light and compact, the CF lenses promise fantastic image quality. The lens will be available in 16 mm T2.6 aperture as well as 24, 35, 50, and 85 mm T1.5 versions.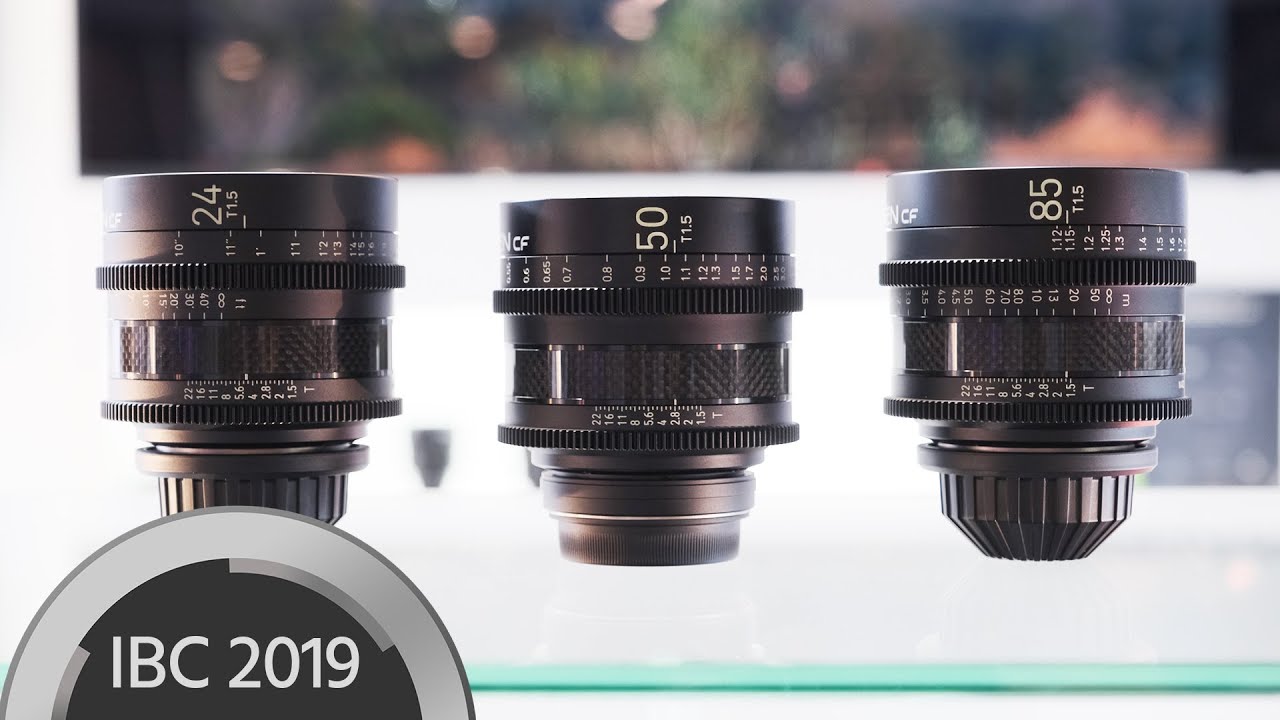 13) Aputure unveils 600d light, the brightest LED light out there
With 600 watts of raw output, Aputure's 600d point-source LED light is the brightest one out there, says Chief Brand Officer Ted Sim. The light provides steady 5600K daylight with dimming and built-in effects like strobe, fireworks, lightning, and more. These and many more features can be controlled via the Aputure app. The product is light enough to be rigged up on a standard C-stand and also incredibly silent because of the new highly-efficient cooling system. This single light can fill up an entire room, making it possible to cast an ultra-wide light with an 8×8 lightbox, for example. The light is not available for purchase just yet, but the company is working very hard on making it happen by February 2020. Hopefully, we will be able to see it at the 2020 National Association of Broadcasters (NAB) Show!
14) Adobe shows off Adobe Auto Reframe for seamless aspect ratio adjustment
Adobe Creative Cloud unveiled an incredibly powerful and useful feature designed for Premiere Pro called Auto Reframe. It automatically adjusts shots to fit any aspect ratio (including square and vertical formats). This will save editors an enormous amount of time: taking original widescreen content and converting it into other aspect ratios will now happen automatically, powered by Adobe Sensei machine learning technology. Overlays like titles are also reframed and resized for each aspect ratio.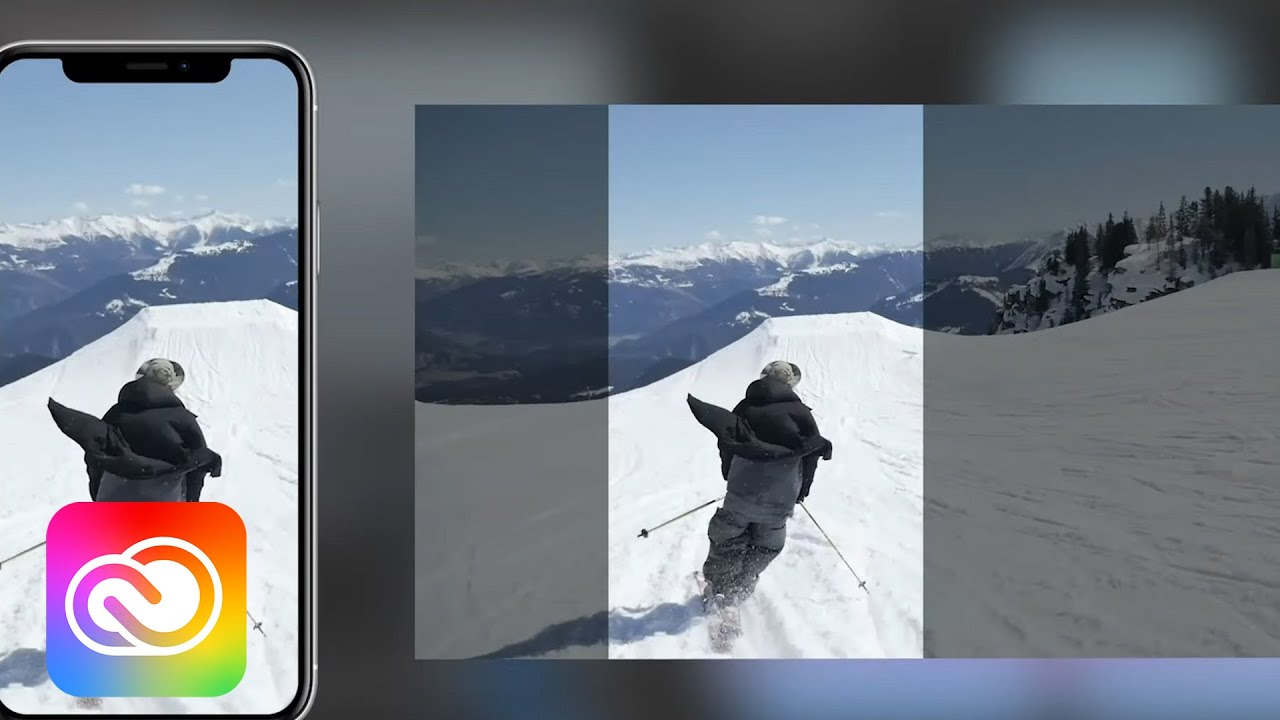 15) Facebook shows new live and interactive tools for publishers
The broadcasting community has been asking Facebook for some changes, and Facebook listened. Updates to the live platform include:
Trimming enables publishers to trim the (often idle) beginning and end of a Live video.
Through the Live API, users are now able to go live for up to eight hours (four was the previous limit) as well as simulcast to multiple live platforms (Facebook did not allow stream sharing earlier).
Rehearsal mode allows publishers to "test-stream" only to Page admins and editors, making it simpler to test new production setups, interactive features, and show formats.
Users can now schedule Instagram/IGTV content up to six months in advance.
Watch Party feature now allows scheduling an event in advance to build anticipation, support for "replays", and the ability to tag business partners in branded content.
16) Facebook, Google, Tencent Cloud, and Netflix talk new codecs at IBC 2019
The main question of the panel discussion was why aren't HEVC and AV1 codecs more widely implemented for streaming yet? The answer boiled down to this: decoder support isn't quite there yet. Even though these new and more efficient codecs are widely available, many user devices simply don't support them yet. Additionally, most of Facebook's and Google's users aren't rushing to watch 8K videos, which is the main marketed appeal of HEVC and AV1. Panelists agreed that a majority of their users would be more interested in lowering video consumption bandwidths without sacrificing quality than increasing streaming resolutions.
17) YouTube makes compelling case for TV broadcasters to actively use the platform
"YouTube is an adjacent business to TV," said YouTube's Head of EMEA Cécile Frot-Coutaz during her opening keynote at IBC 2019. She argued that in fact, YouTube does some things better than Traditional TV. First off, YouTube does a much better job at attracting younger audiences. For many young people, YouTube is television. Second, YouTube relies on its army of content creators to drive engagement and high viewership. In the last year, YouTube has seen a 70% increase in the number of users who follow and interact with the creator channels.
Achieving this kind of engagement would be spectacular for any TV network. YouTube encouraged TV broadcasters to take advantage of the platform's ability "to reach younger audiences, to increase engagement, and to raise awareness." By streaming their content on YouTube, TV broadcasters could reach new audiences as well as promote their other shows and make revenue from ads. In order to be relevant TV broadcasting networks had to understand how to use YouTube, Cécile Frot-Coutaz insisted.
18) LiveU Unveils the First Integrated 5G Cellular Bonding Unit for Live Coverage
LiveU announced its new fully compliant 5G LU600 solution for live streaming. With internal 5G modems, and high efficiency antennas covering all sub 6GHz frequencies for 5G and 4G, integrated with LiveU's 4K HEVC technology, the company promises to offer customers the most powerful, reliable, and future-proof cellular streaming solution. Supporting worldwide 5G cellular frequencies, the LU600 5G will enable users to enjoy all the benefits of the new networks, including lowest delay, the highest video quality and resolution, and fast file uploads, even in congested areas.
19) Pearl-2 and Pearl Mini video encoders by Epiphan Video are big hits at IBC 2019
We must admit – the high interest in our own products pleasantly surprised us as well. Visitors got to see and experience: the Pearl Mini all-in-one video production system and the larger capacity, 4K-capable Pearl-2 – both now fully integrated with Panopto and Kaltura Content Management Systems; the Crestron-developed control module for Pearl encoders; the social media live streaming Webcaster X2 encoder; our robust AV.io 4K capture cards; and our cloud-based video production service, AV Studio. Some of our guests even got a sneak-preview of our automatic live captioning technology, which will be coming to Pearl systems soon.Thanks to everyone who stopped by our booth for a chat! It was great seeing you, and we look forward to meeting again at NAB New York, October 16 to 17, 2019!