Is live streaming worth your company's time? Will the popularity that live video saw during the pandemic wane? Where will live streaming trends go next?
We've gathered a few key live streaming statistics (and shared a few takeaways) that will help you understand the current state of the industry and anticipate future trends. Read on to learn more about the value of live streaming in 2022.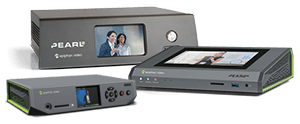 Create engaging live video content
Capture video, record, and produce top-tier live streams with an intuitive and trusted Epiphan Pearl hardware encoder.
Discover Epiphan solutions
The live streaming market is booming
As an industry, live streaming is already worth billions of dollars – and it's only expected to grow. According to various projections, including one by Grand View Research, the live streaming industry is expected to climb from $70 billion in 2021 to almost $224 billion in 2028. That's a projected three-fold increase over seven years!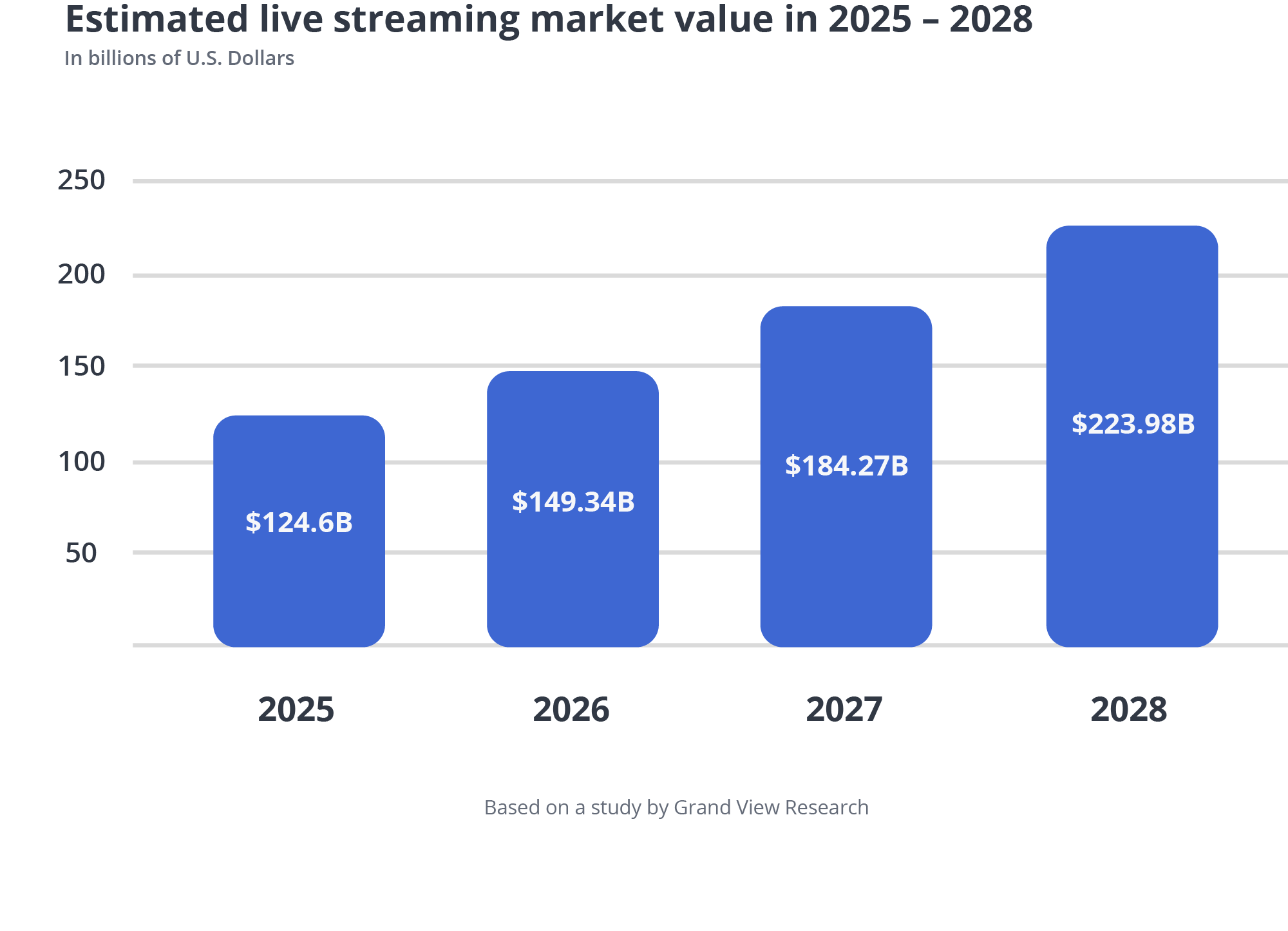 Unprecedented demand for live video content is driving this growth. Consider:
63% of people ages 18–34 watch live streaming content regularly (Source: Statista).
Live content earns 27% more minutes of watch time per viewing than video on-demand content (Source: Conviva).
People watch live video 10 to 20 times longer than on-demand content (Source: Forrester).
According to a 2021 survey by Forrester, brands expect to invest more than $100 billion on video content by 2023.
Live streaming is a powerful marketing tool
If you're not live streaming today, is it worth making it part of your marketing mix? Absolutely. Consider these live streaming statistics from Livestream:
80% of consumers prefer to watch live videos from a brand than read a blog, and 82% prefer a live stream over reading a social media post.
67% of audiences who watched a live stream purchased a ticket to a similar event the next time it occurred.
45% of live video audiences would pay for live, exclusive, on-demand video from a favorite team, speaker, or performer.
Marketers have taken notice of the power of live streaming, citing a number of compelling benefits, citing a number of compelling benefits according to Go-Globe:
79% say live video facilitates a more authentic interaction with an audience, according to Go-Globe.
61% say live streaming video creates content that can be viewed or repurposed later.
60% say getting real-time audience feedback is a key benefit.
Live video marketing isn't just a pandemic trend, either. In fact, 91% of marketers who were live streaming during the pandemic said they will continue even after it ends.
Live video quality matters
When it comes to live video, a low level of latency can entice many viewers to tune in to a live stream, while poor production quality is apt to drive more than half away:
Gaming is the king of live streaming
Esports is a big driver of live streaming:
54% of all live streaming content on the Internet is about gaming/esports (Source: Restream)
In 2020, YouTube live streaming saw watch time from video game live streams grow to over 10 billion hours. (Source: YouTube)
Of all the gaming platforms out there, Twitch is currently the most popular:
Twitch boasts 30 million daily visitors, over 9.3 billion hours of live streams consumed in 2019, and a market share of 73%. (Source: Statista)
In January 2021, Twitch hit a record of 9.89 million monthly active live streamers. Since then, this number has been consistently fluctuating between 7 and 9 million active live streamers each month. (Source: Statista)
Twitch has more than 15 million unique daily visitors and three million content creators, as well as more than 500,000 active daily streamers (Source: VentureBeat).
You might be tempted to dismiss gaming as an activity for teenagers. In truth, esports is a giant industry that includes and caters to people of all ages, representing a huge live streaming market share.
Is live streaming worthwhile in 2022?
Bottom line: live streaming is a powerful tool for marketers, and there are plenty of reasons your business should consider live streaming.
Live video is a dynamic, fast-growing industry that presents tremendous opportunities to businesses of all sizes. We hope you find these live streaming statistics helping in creating your own live video strategy.
Looking for more inspiration? There are plenty of examples of brands using live streaming effectively to increase brand awareness and build trust with their audience.
Deliver flawless live streams every time, to any platform
As live streaming statistics show, production quality matters to viewers. That's why it's important to devote enough attention to making your live streams look their best.
With Pearl hardware encoders, you can produce stunning, high-quality live streams every time. Pearl systems can send live video to any platform, including social media platforms like YouTube, Facebook Live, and LinkedIn Live. Maximize your reach by simulcasting to several platforms at once.
Learn more about Epiphan solutions for corporate and discover how the Pearl family of hardware encoders can improve your live streaming strategy.