Comparing Panopto vs Kaltura is like comparing two high-end automobiles with plenty of muscle under the hood wrapped up in different packages. Both offer extensive feature lists and deserve their place as top contenders in the arena of large-scale video solutions for education and business.
When looking for a Video Content Management System (VCMS) for your university or business, two big names jump out: Kaltura and Panopto. Both offer rich video management solutions that deliver Cadillac services with plenty of bells and whistles from interactive quizzing and multiple-source recordings to accessibility features like captions and in-video searching. These video solutions do it all.
This article unravels the Kaltura out-of-the-box features and add ons for education and business, then dives into the Panopto video solution to give you more insight into these VMCS solutions.

What is Kaltura for business and education?
The Kaltura video solution consists of a video platform and a wide range of products that enable users to create and edit videos, manage video assets at scale in a searchable library, securely share videos across the organization and out over the Internet, as well as do deep video analytics.
Kaltura's out-of-the-box video solution is easily customizable for a branded experience. There's an extensive selection of add on products to custom fit Kaltura to your specific video workflow needs, including integrations with popular Content Management Systems (CMSs) and Learning Management Systems (LMSs). Products are available for live streaming and other interesting functions like transcribing. Kaltura's platform is fully integrated with global tier-1 CDNs such as Akamai, AWS, and Tata Communications or a CDN of your choice. There's also an eCDN solution.
Equip your campus with best-in-class video solutions
Meet your school's video production needs with a lineup of flexible and scalable hardware for video capture, streaming, and recording – all centrally managed. Perfect for lecture capture, online learning programs, and more.

Kaltura can record meetings and lectures from any office space or classroom. Multiple source recordings can be automatically published to LMSs. Uploaded content can be enriched with features like like captioning, video quizzes, and advanced metadata using the integrated Kaltura platform and products.
The Kaltura SaaS Edition video solution is hosted in the cloud with various licensing options. For high security applications, Kaltura also offers a full On-Premise Edition, which supports flexible hybrid SaaS/On-premise deployment options. A free, self-hosted version called Kaltura Community Edition is also available for developers willing to integrate Kaltura using the available open source code. In addition, there's an API-based Video Platform as a Service (VPaaS) solution for developers and tech platforms to build their own video solutions using Kaltura's APIs, SDKs, and developer tools. Of course, for anybody not wanting to invest in developing their own video solution, the out-of-the-box Kaltura SaaS video solution is the deployment option to go with.
The core Kaltura video platform manager
Video content management is the core of the Kaltura video platform. It consists of what you need to create, manage, and distribute video across your organization and beyond.
Kaltura Management Console (KMC)
The backbone of Kaltura's video solution is the Kaltura Management Console (KMC). It's an HTML5-based platform that enables content administrators to upload video assets in bulk, set the video thumbnail, trim, clip, publish, and distribute assets using the KMC. In-video searches across the entire library can easily be performed. Some of the many features available include support for unlimited automatic captioning (ASR), comment moderation, syndication management, analytics, as well as customizing the Kaltura video player. It's even possible to schedule recordings and webcasts.
All the asset management functions you need are available from the KMC. You can change the video asset owner, limit who can access videos, assign co-publishers and co-editors, manage categories, playlists, tags, and metadata. The list of administrative functions goes on, like creating custom user roles, limiting entitlement to applications like Kaltura MediaSpace, managing Kaltura account settings, integrations, configuring ads, and assigning an asset's viewing schedule.
There are built-in analytics that show statistics like top performing videos, number of unique viewers, watch times and bandwidth usage. You can even transcode and convert videos into multiple flavors to optimize viewing on various devices (more on analytics later).
Security features include SSO, SSL, DMR, HTTPS, and various encryption options to protect the content library and while content is streaming. Session control and tokenized expiring CDN URLs are also supported.
Analytics
Kaltura's advanced analytics provides in-depth insight into content engagement and simplifies real-time Quality of Service (QoS) troubleshooting. The Usage Dashboard provides different report types, such as an overall monthly usage breakdown, as well as access to a host of other Analytics and a Services Dashboard. Analytics are certified compliant with the IMS Global Learning Consortium's Caliper analytics standard. They also integrate with xAPI and can easily feed into Open LRS, Watershed LRS and any other open standards based LRS or BI systems, to analyze video analytics in the larger context of the overall organizational data.
Player Studio
The Universal Player Studio is a built-in tool used to create custom branded, cross-platform video players that also supports customizable CSS files. Accessible directly from the KMC header bar, player studio makes it easy to change skins, add monetization features, widgets, and more. You can create custom players that allow your viewers to do things like browse through Kaltura generated chapters, perform in-video keyword searches, answer quizzes, and switch between PiP, side by side, and single views.
Kaltura out-of-the-box products, features, and plug-in integrations
Here are the key out-of-the-box Kaltura video products with plug-in integrations that are available.
Kaltura MediaSpace (KMS) Video Portal
This is the main video library/web portal where video assets get uploaded and shared in categories, channels, and playlists – like a corporate YouTube. The portal is a customizable, responsive web-based interface. Users can do deep, in-video searches across the library for text in titles, descriptions, tags, subtitles, and text that appears on screen. Administrators can configure parts of the library as public or restrict it for authorized members only, as well as set role-based access with different entitlements. Single Sign On (SSO) and user authentication integration with existing management systems are supported. There's also a free, mobile version called MediaSpace Go available.
Contributors can upload videos in bulk, as well as schedule recordings and webcasts directly from MediaSpace. The built-in Kaltura Video Editor can trim heads/tails of multiple synced video streams, create clips, and add interactive quizzes. Other in-platform video editing functions let you add/disable commenting, enable chaptering, add slides as part of the video content, manage captions, add attachments, and edit metadata for SEO optimization. You can even replace media to retain the asset's original URL, metadata, and analytics. Posting comments, likes, and sharing assets can be done right from MediaSpace.
Recording from a laptop is easily done using the built-in Kaltura Express Capture without any additional software. For better quality videos, however, hardware encoders like the Epiphan Pearl Mini or Pearl-2 can be selected from MyCalandar for multiple-source, HD recordings and live streams. The Pearl family of encoders are fully integrated and allow login for unscheduled ad hoc recordings and live streams directly from the encoder's touchscreen and recordings automatically uploading to MyMedia.
Kaltura Personal Video Capture
The replacement for Kaltura CaptureSpace, Personal Video Capture is a downloadable app that is fully integrated into MediaSpace. Use it to capture multple-stream recordings synchronized with PowerPoint presentations and screen captures from your laptop. Personal capture automatically detects slides, adds chaptering, and recommends tags. Personal Video Capture allows creators to add annotations, draw arrows, and highlight mouse clicks. Videos upload directly to user's My Media folder and are available in MediaSpace, as well as any integrated Learning and Content Management Systems (LCMSs). You can also record content offline for future upload. Windows and Mac versions are available.
Video quiz creating wizard
Built right into the Video Editor in Kaltura MediaSpace, the easy-to-use quiz creating wizard lets you add multiple choice questions, yes/no or true/false questions, and add pauses for reflection or to point out something in the video. You can determine actions like showing users their scores, showing correct answers, and whether questions can be skipped. Results are automatically sent to your LMS gradebook.
Kaltura's Multiple-view video player
You can customize the multiple-view Kaltura video player using Universal Studio in the Kaltura Management Console and embed the branded player on your corporate website. The video player has adaptive bitrates for multiple platform support and viewers can switch between picture-in-picture, side-by-side, and single views, as well as search keywords and jump to specific areas in the video. The player is interactive so viewers can answer quizzes or click calls-to-action using the player.
Enterprise content management video plugins
Enterprise content management video plugins integrate Kaltura with existing Content Management Systems (CMSs) for seamless access to the Kaltura video library and features – essentially turning your CMS into a VCMS. Employees can record, upload, edit, and publish videos directly from within their Content Management System environment. The Kaltura enterprise CMS plugins support existing user management, roles, and workflows. Plus it conforms to accessibility standards (VPAT). Free enterprise CMS plugins are available for: Sharepoint, IBM Enterprise Content Management, IBM Digital Experience, Drupal, and WordPress (at the time of writing this article).
Learning Management System (LMS) video plugins
LMS video plugins seamlessly integrate the Kaltura library and features with Learning Management Systems (LMSs) and virtural learning environments. Teachers, students, and administrators can record, upload, edit, add quizzing, and publish videos directly from within their LMS environment using Kaltura. Managing video assets using Kaltura plugins offloads all that video content processing from the LMS. Kaltura LMS video plugins are Learning Tools Interoperability (LTI) certified, Caliper compliant, and conform to accessibility standards (VPAT). You can secure media files using LMS/VLE permissions. Free LMS video plugins are available for: Blackboard, Brightspace, Canvas, Moodle, and Sakai (at the time of writing this article).
Kaltura add on products and services
Value add on products and services are available to expand the functionality of the core Kaltura platform and products.
Kaltura Webcasting and Live Events
With the webcasting and live events add on, you can live stream to an unlimited number of concurrent viewers both within and outside your organization with eCDN options (see below). Video conferencing solutions like SharePoint, Zoom, Webex, and others are supported, as well as all the common streaming protocols. You can incorporate interactive features like moderated Q&A, announcements, and polls, as well as create a customized central events portal. Real-time analytics let you monitor and troubleshoot the Quality of Service. You can even track individual viewer engagement. Kaltura offers remote event production services to help with deployment, training, and event production. There's also White Glove production services to provide professional, end-to-end production and streaming management as a complement to the existing platform support services with standard and premium-level options.
Kaltura eCDN
The Kaltura eCDN add on extends your Kaltura video portal and live webcasting solution into your enterprise network for scalable and secure video delivery behind the firewall. The secure Kaltura eCDN makes the video library available to an unlimited number of users locally and remotely without impacting the performance of your LAN/WAN network. It allows both internal and external audiences to stream over the eCDN and to a public CDN at the same time with entitlement controls based on location and entitlement. There are also plenty of advanced real-time analytics available to monitor Quality of Service and engagement with the live dashboard for live and webcasting events.
Kaltura REACH
Kaltura Reach lets you order captions, transcriptions, and translations for your videos from within MediaSpace or integrated LMS/CMS to comply with regulatory accessibility requirements. It has automatic machine generated transcription (ASR) capabilities that can transcribe from 22 languages, plus an editor to do it yourself. Ordered human captioning and translations can be automatically delivered within the Kaltura interface. A dashboard is available to monitor usage and billing. All captions, transcripts, and translations are searchable within Kaltura and are available in Kaltura's unified applications and players.
Kaltura Interactive Video Paths
Create interactive videos using the Kaltura interactive video paths add on and let viewers "choose their own adventure." This drag-and-drop application embeds interactive video paths within your videos and fully integrates into your LMS, MediaSpace video portal, or any other Kaltura Application Framework (KAF) application. You can create an immersive experience that can be tracked and then analyze your user's choices from the dashboard.
Kaltura Pitch
Kaltura Pitch lets you create personalized video messages embedded in emails, then track exactly when your videos are watched using the customized player, attachments and custom thumbnails. Real-time alerts let you know who's watching your video emails and track viewer interactions. You can collaborate with others on your team to create curated playlists using any video asset in the Kaltura libraries while using Kaltura's built-in capture tools to create and edit the content. Pitch can also be used to automatically create branded landing pages.
Kaltura Enterprise Social Business Suite
Enterprise Social Business Suite adds the ability to search, watch, create, edit, publish, and share videos directly within your current social business environment. Users can easily create and share videos with synched slides and documents for media-rich presentations directly from the device of their choice. Interactivity features let viewers like, share, and comment. Analytics and access controls are also available. This add on has cloud and on-premise deployment options. Plugins are available for Jive, IBM Connections, and Microsoft Teams.
Kaltura Video Marketing Toolset
The Kaltura Video Marketing Toolset enables you to integrate videos from the Kaltura library directly on website landing pages and syndicated social media platforms, as well as add video to automated marketing campaigns and emails. Add in-video calls-to-action and forms, then gauge interest levels with video scoring. Deliver video emails with A/B testing and track viewer engagement using your email campaign system. Create video galleries and easily replace videos without having to change the embed codes. Use video SEO to help reach a greater audience with visitors watching on branded video players. You can even create a centralized video hub that plugs straight into your CMS. Marketing automation video integrations are available for Eloqua and Marketo. CMS video integrations are available for Drupal and WordPress.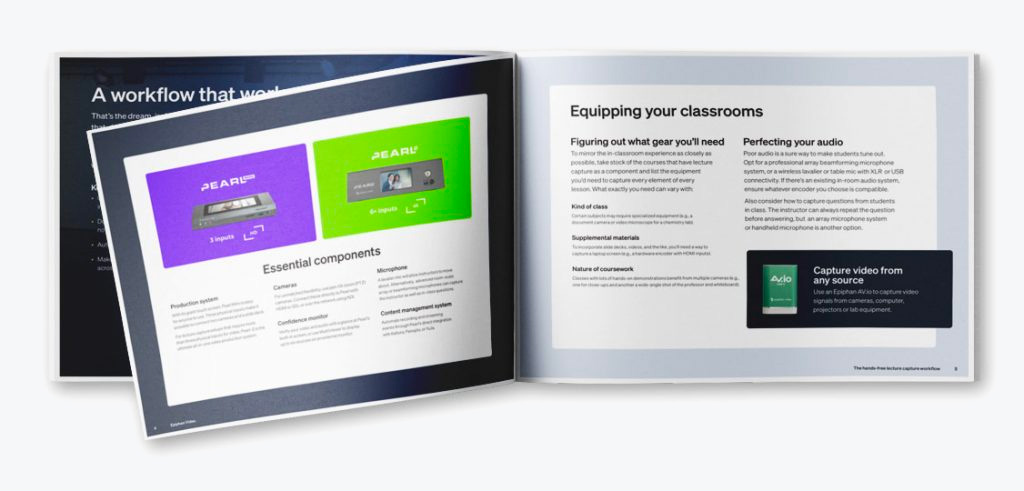 Get our lecture capture design guide
Learn how to deploy user-friendly solutions that anyone can grasp and create high-quality lecture recordings that engage your students. Download now!

What is Panopto?
Panopto is an industry-leading SaaS Video Content Management System (VCMS) / online video portal for businesses and educational institutions. It's hosted in the cloud and supports elastic scaling, which adjusts as usage and storage needs change. Use it to record, live stream, edit, manage, and distribute video content securely across organizations and on the Internet. Features include in-video Smart Search of all video assets across the library, multiple-source recording, webcasting, customizable interactive multiple-view player, auto-synchronization and indexing of slide presentations, custom thumbnails, a video editing tool, quizzing, captions, analytics, bulk uploads, and more. Uploaded content is saved in Panopto's secure servers where administrators can define content access rights and privileges. Panopto has built-in integrations for popular LMSs, CMSs, and CRMs.
Panopto is an "all-in" video solution that's packaged as a single web-based application, whereas Kaltura offers a suite of "pick-and-choose" add ons for a customizable video solution. Free mobile apps are also available. There's the Panopto Mobile app for iPhone and iPad, as well as the Panopto for Android app.
Panopto features out-of-the-box
Here are the key Panopto features included in the core product.
The Panopto VCMS
Panopto's Video CMS is an end-to-end video platform solution that offers a secure, web-based video portal in the cloud where users can create, manage, and live stream video content. It features video creation and editing, in-video searches, drag and drop video uploading, transcoding, live streaming, interactive video players, quizzing, video analytics, captioning, and the ability to custom brand your video portal.
Recording video
Recording multiple video sources directly from within Panopto. Choose from an unlimited number of camera sources, slideshows, and capture a live computer screen in full HD. For all video recordings, a table of contents with video thumbnails is automatically generated for easy navigation. Content from slide presentations, notes and comments are also automatically indexed for search. You can schedule recordings or start unscheduled ad hoc recordings at any time. External hardware encoders like those from Epiphan Video are fully supported for better quality capture. When your session ends, recordings upload automatically to your folder in Panopto. Pre-built video conferencing integrations let you record and share video assets from these video conferencing solutions: BlueJeans, GoToMeeting, Skype for Business, and Zoom. Panotpo administrators can setup single sign-on (SSO) ID management to control access to the recorded content, including: Google Apps, oAuth, SAML, and Active Directory. Other integrations are also available for a seamless video recording experience.
Live streaming
Live stream multiple sources to an unlimited audience who can watch using any web browser. Panopto automatically synchronizes all sources and records the stream as it broadcasts. Webcasts are transcoded and made available for on-demand viewing in the library. All the common streaming protocols are supported, as well as secure streaming. Distributed recording of live streams from presenters in different locations is also supported. You can restrict access to specific people or groups in your organization, and require viewers to log in before watching the stream. Free integration with Hive Insights for real-time network monitoring during a live stream is available as a download to troubleshoot Quality of Service issues.
Uploading and automatic transcoding
You can upload existing videos and audio files to the Panopto video library using drag and drop, or upload assets in bulk. There are currently no file size limits. Videos are automatically converted for searchability and transcoded for multiple bitrates to optimize VOD playback on different devices and HTML5 web browsers. Supported upload file formats include: AVI, MP4, MPG, WMV, MOV, QT, ASF, 3GP, WMA, MP3, and M4V.
Panopto Smart Search
Smart Search lets you search inside videos across your entire library. Search for any spoken word or text on the screen. Words contained in PowerPoint or Keynote slide presentations are also indexed, including the presenter's notes. Any notes viewers take while watching a video using the interactive video player are also indexed and can be searched. Smart Search indexes every video added to the content library using automatic speech recognition (ASR), optical character recognition (OCR), and slide content ingestion – so there's no need for manual tagging. The Smart Search engine works seamlessly with systems that are integrated with Panopto. Nine languages can be indexed and searched: English, Spanish, German, French, Japanese, Korean, Portuguese, Dutch, and Polish.
Interactive & customizable video players
Panopto includes interactive HTML5 video players that you can custom brand and embed on websites. For multiple-source VOD recordings, you can choose which content stream to watch and the layout. All content is synced. Panopto's interactive, embedded, and mobile video players support full HD and 360⁰ video playback. Adapative playback rates adjust the output based on factors such as available network bandwidth capabilities. Other features of the video player include:
In-video searches on any spoken word or text shown on-screen.
In-video navigation using the Panopto generated table of contents with thumbnails.
The ability to take time-stamped notes that are saved as personal bookmarks for review later.
Variable playback speed controls.
Interactivity to participate in quizzes, and polls.
Multi-language caption support.
Rating and sharing videos via email and on social networks.
Built-in video editor
The online video editor lets you do basic, non-destructive edits so the original recording is preserved. You can trim heads/tails, create clips, switch between different video sources in multi-camera recordings, show machine-generated transcripts as closed captions and edit them for accuracy, and create new video assets by combining different recordings. The editor lets you sync additional slides, embed quizzes, polls, and surveys. It's even possible to embed links to web-based content like a Google Doc, as well as videos and clips from YouTube.
Interactive Quizzing
Using the built-in online video editor, creators can add quizzes to their videos like multiple choice, checkbox, and true/false questions to their videos. Enable options like displaying results and correct answers, including explanations, and whether viewers can retake quizzes. The Panopto video players support all interactive features and enhancements.
Integrations and APIs
Panopto offers free, pre-built integrations for Learning Management Systems (LMSs), CMSs, and video conferencing systems with the ability to integrate with any LTI-compatible LMS. At the time of writing this article, Panopto LMS integrations included: Blackboard, Bridge, Brightspace, Canvas, Cornerstone, Moodle, SABA, Sakai, and SAP. Pre-built video conferencing integrations are also available for BlueJeans, GoToMeetings, Pexip, Skype for Business, and Zoom. Other integrations include Hive Insights for managing live events, SharePoint, Salesforce, and InPlayer to monetize your videos.
Security
Panopto includes security protocols to protect video assets and live streams. There's login security, access controls within the video library, and secure live streaming. The login credential types supported are OAuth, SAML 2.0, Active Directory, plus some integrated LMS ID providers. Panopto also offers their own single-sign on (SSO) feature. Panopto administrators can set role-based access rights and privileges to video assets, folders, and playlists for groups and individuals to control who can view, record, live stream, upload, publish, and schedule sessions. Other security settings include strong password enforcement, password expiration, two-factor authentication with SSO, and session timeout. Panopto is hosted on a redundant cluster of networked Amazon Web Services (AWS) servers with state-of-the-art security for their data centers. Panopto also complies with EU General Data Protection Regulation (GDPR) regulations.
Analytics
With Panopto, you get video analytics and detailed reports for audience engagement and viewing behavior. From the dashboard, you can monitor the health and size of your video library. You can also connect Panopto with Google Analytics. A free integration with Hive Insights provides dashboards to monitor the quality of your live streams and audience participation. It's also possible to use Panopto's API to integrate with any existing analytics system. It's also possible to export Panopto analytic reports as spreadsheets.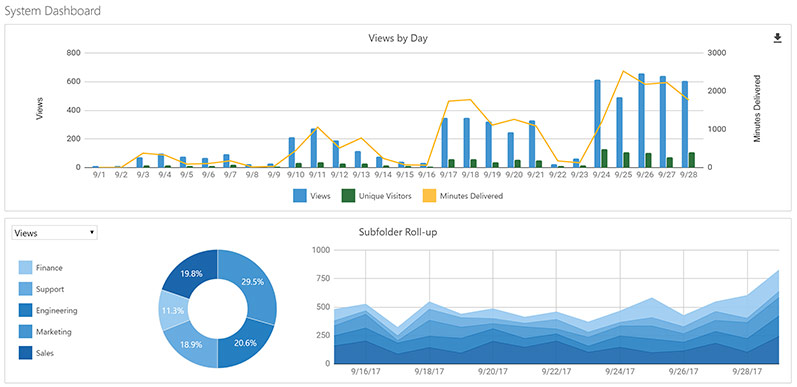 Panopto vs Kaltura cost
The cost of both Panopto and Kaltura solutions are tied to the number of users and the cost decreases as the number of users increases. For actual pricing, it's best to contact their sales teams.
Panopto vs Kaltura final word
Both Panotpo and Kaltura offer features people want in a VCMS solution. The biggest difference when comparing Panopto vs Kaltura is Panopto's "all-in" architecture. Kaltura's suite of "pick-and-choose" add ons for a customizable video solution is flexible, but also adds a layer of complexity. Simplicity in this regard weighs in Panopto's favor, along with a slightly more intuitive user interface. But if you need something other than what comes pre-packaged in the Panopto solution, then Kaltura definitely offers more options.
Both solutions offer 24/7 online support and an online knowledgebase of documentation and video tutorials. Panopto offers in-person training, as does Kaltura as part of their package. Kaltura also offers a range of training packages including on-site sessions, remote training, and weekly office hours. In terms of the documentation and knowledge base, Kaltura did have the advantage. I couldn't find pdf user guides for Panopto and had a "hit and miss" experience searching their knowledge base. I felt more confident with the level of detail and scope of the Kaltura user guides.
I hope this comparison of Panopto and Kaltura features and capabilities helps you navigate the breadth of features these video solutions offer. If you're looking for a hardware encoder that's fully integrated with Panopto and Kaltura that deserves top grades for easy recording and live streaming, see the Epiphan Video line of Pearl all-in-one video production systems.