Students in higher education don't just want on-demand access to lectures for study, course selection, or accessibility purposes – they expect it. That's a lot of pressure if you're still getting to grips with the technology or are wrestling with lecture capture solutions that just aren't working.
Are you feeling it? No problem. Read on to learn everything you need to deliver exceptional lecture capture for your educational institution.
If you're starting from zero, check out our lecture capture primer first to learn about lecture capture technology, learning management systems, and more.
Stand out with best-in-class lecture recordings
Epiphan Pearl hardware encoders are powerful and easy to manage. They're perfect for lecture capture, online learning programs, school event streaming, and many other applications for video in education.
Discover Epiphan solutions
Choosing the right lecture capture solution
There are countless ways to set up and configure a lecture capture system. Here we present example setups for simple, intermediate, and advanced levels of complexity. Which is right for you will depend on a few things:
How much time you have for deployment
Your institution's budget for lecture capture
The format of the courses you're capturing
Where the lecture is taking place (e.g., in a classroom, an on-campus studio, or an instructor's home office)
Not every course will be a candidate for lecture capture. Lecture capture typically takes place in classic classroom learning environments, with a single instructor delivering course content with the support of a slide deck, possibly using a whiteboard or chalkboard to write out key concepts, formulas, or calculations.
Tutorials and labs don't translate as well since they're more interactive and ask students to apply their knowledge directly. That's not to say it's impossible to adapt these to a virtual format – just that such a solution would fall outside the scope of lecture capture. For the purposes of this blog, we're sticking to the definition of lecture capture as the recording of live lectures for students to watch back (or for the first time) later.
Though we're taking the narrow view of lecture capture here, keep in mind that many lecture capture solutions lend themselves to other applications as well – for example, creating content for courses that use the flipped classroom format. (Not sure what that is? Check out our blog on the question of what is a flipped classroom.)
Simple setup: Get started quickly
The simplest of lecture capture solutions, all you need here is:
A webcam (depending on your lecture capture software, a camera-equipped mobile device might be an option)
A microphone
A computer or laptop for recording
Chances are you already have all this, making this setup ideal for meeting imminent lecture capture requirements in the absence of a more sophisticated solution.

There are definite drawbacks, though. The quality of your lecture recordings will suffer with a webcam and USB microphone, and you'll have far less flexibility when it comes to framing your image. It may be suitable for an instructor who teaches from their home office, if they're seated right in front of their computer.
Need a place to host your lectures? Check out our list of the best video platforms for education.
Bottom line
This is the minimum gear you need to enable lecture capture, but it won't come close to replicating the in-classroom experience. Consider a more advanced setup as you get more comfortable with lecture capture, and when time and budget permit. This will help you better engage students and enhance their learning experience.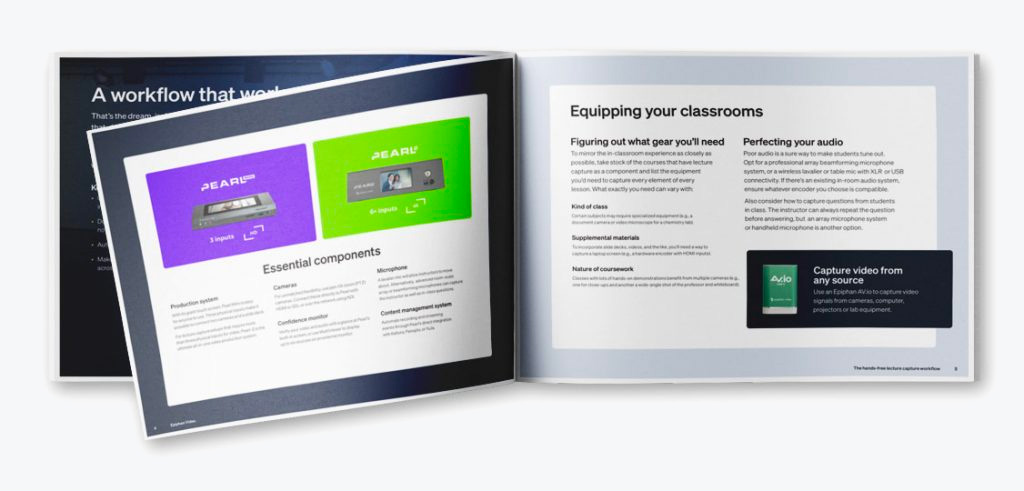 Get our lecture capture design guide
Learn how to deploy user-friendly solutions that anyone can grasp and create high-quality lecture recordings that engage your students. Download now!
Intermediate setup: Make your lecture recordings look great
Not happy with the quality you'd get from a webcam? Feel limited by a USB microphone? There are components you can add to your lecture capture solution that will increase costs but make the resulting recordings more engaging and enjoyable for students.
You'll need a:
Non-USB camera (mirrorless, camcorder, PTZ, etc.)
Wireless lav microphone
Tripod (if your camera isn't wall mountable)
HDMI-to-USB capture card
Computer or laptop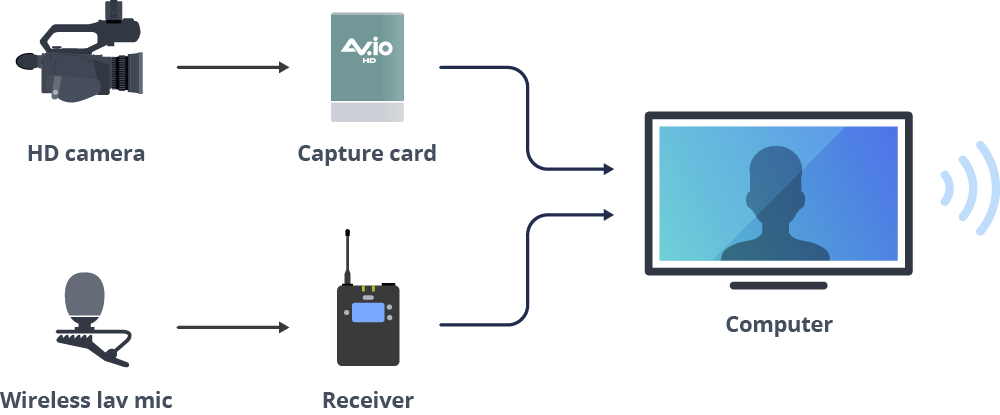 This setup will significantly boost the quality of your lecture recordings with the addition of a capture card and a higher-end camera. The wireless lavalier microphone will give instructors more mobility – essential if they make heavy use of a whiteboard or are prone to pacing as they speak.
An HDMI-to-USB adapter such as the Epiphan AV.io HD or AV.io 4K capture card will let you bring non-USB video signals into your recording program. For added flexibility and a more dynamic production, you can add a second capture card and camera to achieve, for example, one wide-angle shot of the teacher and another close-up of the whiteboard or a hands-on demonstration.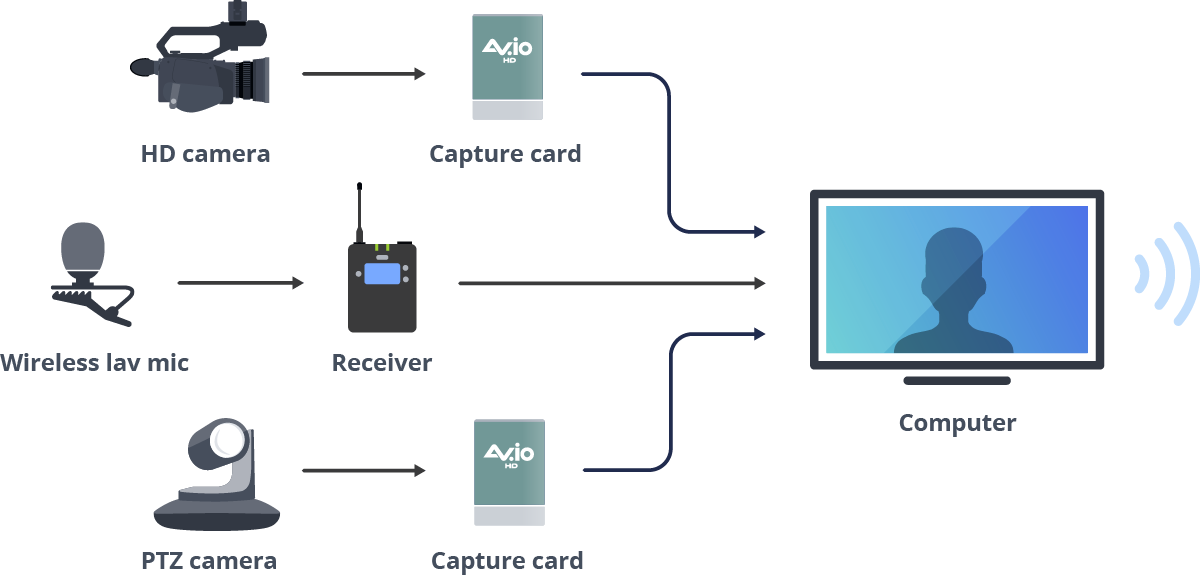 Bottom line
With much better video quality, students will likely find your lecture recordings more engaging. This setup also gives you much more flexibility in terms of video equipment you can use, making a wider range of content possible.
Advanced setup: Stand out with best-in-class lecture capture
Today's students have high expectations for professional video, whether what they're watching is published by a news agency, a media production firm – or their school. Superb image quality, crystal-clear audio, and anywhere, anytime access are table stakes. How can your institution deliver?
You'll need:
Two or more cameras (mirrorless, camcorder, PTZ, etc.)
Tripods (if your cameras aren't wall mountable)
Professional microphone, wireless lav, or room-scale array or beamforming microphones
Hardware encoder

This setup includes a hardware encoder, a device built from the ground up for recording and/or streaming, rather than a software-based platform. The advantages of using a dedicated appliance for lecture capture rather than a general-purpose computer system are numerous. Be sure to check out our blog on the subject of hardware vs. software encoding.
Effective video management will be key as your lecture recording library grows. Some encoders directly integrate with video content management systems (CMSs) like Panopto, Kaltura, and YuJa. This can speed up deployment in a big way with readymade workflows that unlock capabilities like fully automated lecture recording.
Centralized device management is another potential benefit that matters especially for schools with campus-wide lecture capture systems. Invest in video encoder hardware that's part of a cloud-based ecosystem and you can significantly simplify your lecture capture solution management. For example, think of all the IT time you'd save with the ability to upgrade the firmware across your encoders, rather than having to log into each one individually.
Bottom line
It's an investment, but this lecture capture solution will make your recordings much more dynamic and engaging. With the right encoder, a hardware-based lecture capture solution can transform your school's lecture capture environment and leave you in great position to pursue digital learning programming in the future.
The best lecture capture solutions for higher ed
The Epiphan Ecosystem offers everything your college or university needs for institutional video at scale. Pearl video encoders come in several models to fit any campus space and integrate directly with Panopto, Kaltura, and YuJa. LiveScrypt can make your programs more accessible and engaging with automatic real-time transcription. And Epiphan Edge centralizes management to save you tons of IT time.
To discover Pearl and other Epiphan products and services, check out our dedicated solutions for education page.