So you've decided you need a hardware encoder. It's a reasonable conclusion, given the many advantages of hardware vs. software encoding. But with the large number of options out there, investing in video encoder hardware can be tricky.
Knowing exactly what should guide your selection when investing in a video encoder for live streaming and recording doesn't come naturally. That said, there are a few key attributes that really matter when it comes to your productions. Our video encoder hardware buyer's guide will help you understand them so you can invest with confidence.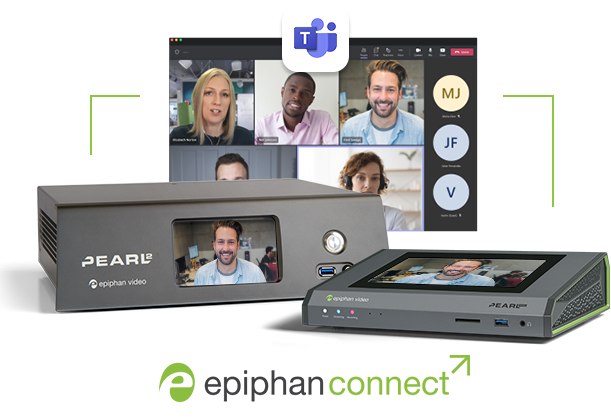 Produce engaging MS Teams events with Pearl hardware
Epiphan Connect allows you to effotlessly capture broadcast-quality video from Microsoft Teams meetings and send it directly to a Pearl hardware encoder for production.
Discover Epiphan Connect
Five key attributes for video encoder hardware
A hardware encoder can be a big investment, especially if you're searching for a professional-grade system. But it's a smart one, and by far the superior way to encode video.
What system is right for you will of course depend on your target applications and the other elements of your video production setup. But whatever the situation, there are a few guiding principles you can follow to zero in on a device that will meet your needs.
1. Features and flexibility
Pay close attention to this one, even though it's really obvious. Take the time necessary – however much that may be – to ensure you're 100 percent clear on this: Can the video encoder hardware you're considering fully support your video production plans?
To get to an answer, list out all your production needs, whether those are features (e.g., the ability to stream in 1080p at 60 fps, or to use a codec like H.264) or qualities (e.g., long-term reliability). For example, you might ask of a hardware encoder:
Will it work with your existing gear? (For example, does it have HDMI and/or SDI inputs for cameras and other video sources, XLR and/or TRS for a mixer or in-room PA system?)
Does it support streaming protocols you want to use – beyond standards like RTMP and RTMPS – such as SRT, HLS, and MPEG-DASH?
Can it stream to multiple online video or social media platforms at varying levels of video quality? (E.g., the live streaming encoder offers the processing power to stream to YouTube, a streaming service, and LinkedIn Live all at once.)
Will you need a platform for remote access and control or multi-device management?
Does it feature direct integrations that will make it easy to use with your other systems, e.g., content management systems (CMSs) like Panopto, Kaltura, and YuJa?
Then, it's just a matter of poring over the relevant product pages and tech specs tables and counting out any contenders that can't deliver on your key features.
Take this a step further by considering if the system has the flexibility to support your future needs. If a solution is vendor locked or has any other restrictions that could hamper your ability to alter your workflow down the road, be sure you're clear on these before buying.
2. Ease of use
There are some systems that feel as though they weren't developed with the user in mind. That's certainly true of certain hardware encoders. Complexity can act as a big hurdle to the success of your productions – and not just during the time it takes to learn how a new system works.
Cluttered interfaces, labyrinthine menus, and unclear features can all slow you down during both setup and showtime. Especially during a live production, you don't want to have to fuss about with buttons or scour menus for that one feature you know exists.
Depending on your situation, you might also have to take into account more than just your own level of technical expertise. If you're looking to purchase video encoder hardware for a shared-use environment, like a corporate video production studio or a classroom, whatever solution you choose must be user-friendly enough for anyone to use, no matter their technical background.
Be sure to give any UI elements a hard look when assessing a potential purchase. Look for solutions that appear intuitive and are clearly geared toward an excellent user experience. Product reviews or testimonials are often good indicators of this. Demo videos on the company's YouTube channel can also give you a glimpse into how a device works. Some companies will even give you a live demo if you request one.
3. Reliability
Improved reliability is one of the major differences between hardware and software encoding. As dedicated appliances, hardware encoders do away with many of the interruptions and errors common with software encoders running on general computer hardware. Untimely OS updates, antivirus pop-ups, and unrelated software crashes just aren't factors with hardware – which is why so many AV pros and professional broadcasters insist on it.
But be careful: Not all hardware encoders are built to the same standards.
Video encoder hardware that's made with cheap materials or features poorly coded software is likely to give you just as much trouble as streaming software running on a standard operating system like Windows. For this reason, you'll want to pay close attention to the reputation of any hardware encoder on your "maybe" list.
The key question is: Are these systems trusted for high-stakes, mission-critical applications – the kinds of situations where "sorry" just won't cut it? Product reviews, customer testimonials, and case studies are great places to look for this kind of information.
4. Customer support
If you've ever had a frustrating experience getting help or support for a product, you know the value of buying from a company with a track record of excellent customer service.
Especially if it's a product you rely on – and that's frequently the case when it comes to professional-grade live streaming hardware – you don't want your time taken up by a frustrating and ultimately fruitless customer support experience.
Good customer support means that, if you have any questions or your hardware needs servicing, the experience is fast and frictionless. Often you can find out this is true of a particular company from product reviews or testimonials.
Also be sure to look into warranty terms and service plans. If available, a service plan is a sound choice especially if you count on your hardware for professional applications.
5. Innovation
This attribute is somewhat abstract and harder to gauge than the others. In any case, it's worth thinking about if you have plans to scale or expand your operations to include more units, or might in the future.
The question to ask is, Does the company whose product you're considering appear to value innovation? Evidence that points to "yes" includes what the rest of their product offering looks like, and how they've maintained or updated those products over time. Have they brought new features to existing products, adding value to their customers' initial investment?
These days, when you purchase a sophisticated device like a hardware encoder, often you're buying into an ecosystem. That ecosystem can come into play right away or in the future as your needs change. If it's there, be sure to acquaint yourself with what's on offer. It could open doors to opportunities you never considered.
Power your productions with Pearl video encoder hardware
Epiphan Pearl systems are versatile, intuitive, and reliable, and backed by rock-solid customer support. They feature comprehensive integrations with Panopto, Kaltura, and YuJa, and support a wide range of streaming protocols including Secure Reliable Transport (SRT). And with Epiphan Cloud, you can access and control Pearl devices from anywhere there's an Internet connection.
Check out our Pearl product pages for more information.

Invest in the best video encoder hardware
Epiphan Pearl hardware encoders deliver all the innovative features you need to produce high-quality video content that's sure to impress and engage your audience.
Discover Pearl systems