In 2020 the music may have stopped, but the show had to go on. Webcasting platforms, live event companies, and live video producers had to step up to keep the world connected remotely. How did they adapt to the new reality? And what will happen after the dust settles?
Remote video production and virtual events aren't new concepts. Even before the pandemic, both offered real benefits but were widely seen as niche solutions. But in the context of a global pandemic, virtual event and remote production services became essential. Companies engaged in video production, live streaming, webcasting, and event production – as well as new players – all rushed to help translate in-person events to virtual ones. In 2020, they invested heavily into developing remote workflows, defining their offerings, and managing client expectations.
Key players in the remote production industry and their pandemic journeys
Online webcasting platforms
Self-service virtual event platforms like ON24, Crowdcast, Socio, and Hopin arguably had the smoothest transition to the "new normal." These platforms were already established with a web-based infrastructure to host virtual events with remote participants and stream live video to a large online audience.
At the beginning of the pandemic, virtual event platforms were the first place businesses turned to stay connected with customers through online summits, virtual conferences, and webinars. Because of the sudden influx of new users, some platforms experienced stream interruptions. Reputation matters, so service providers that were able to scale up fast enough to meet demand saw the most success.
After the initial rush, webcasting service providers began looking at ways to expand their offerings. Some started offering run-of-show and production assistance services. Others focused on improving the overall social experience and viewer engagement. For example, a company called Sococo introduced a visual way to represent virtual breakout rooms, making them feel more like a real office.
The initial pandemic surge gave online webcasting platforms a huge boost. To maintain the positive trend, service providers will need to focus on improving the customer experience and expand their feature sets. A few ways to do this is to offer more advanced approaches to video production and video quality and look at more reliable methods for remote contribution. Timing is key, so instead of building from the ground up, webcasting platforms should expand their integrations and partnerships to help meet these needs.
Independent event streaming producers
Independent event streaming producers are niche operators that focus solely on providing professional live production services for in-person, online, and virtual events. One such company is MSAVi Pro. For over seven years, this company has been honing its skills to deliver high-quality live video to clients without fail. Historically, MSAVi Pro had often worked in tandem with video production companies to render streaming services for events of various sizes.
Besides on-location live video services, MSAVi Pro offered network-based solutions, including remote live switching and remote contribution. To guarantee the highest quality of remote contribution, it shipped pre-configured Epiphan Pearl systems to clients for easy setup.
At the onset of the pandemic, MSAVi Pro was the first place existing clients and video production partners turned for help translating in-person events to virtual ones. In 2020, the biggest challenge for MSAVi Pro was scaling quickly enough to keep up with massive demand while maintaining the same level of professionalism and managing client expectations. Thanks to the company's previous experience with remote production workflows, it was much easier for them to adapt to the new reality.
To continue growing, independent event streaming producers should be prepared to scale their operations up (and down) to keep pace with demand. They should also be focused on continuing to bridge the gap between client expectations and the realities of network-based production.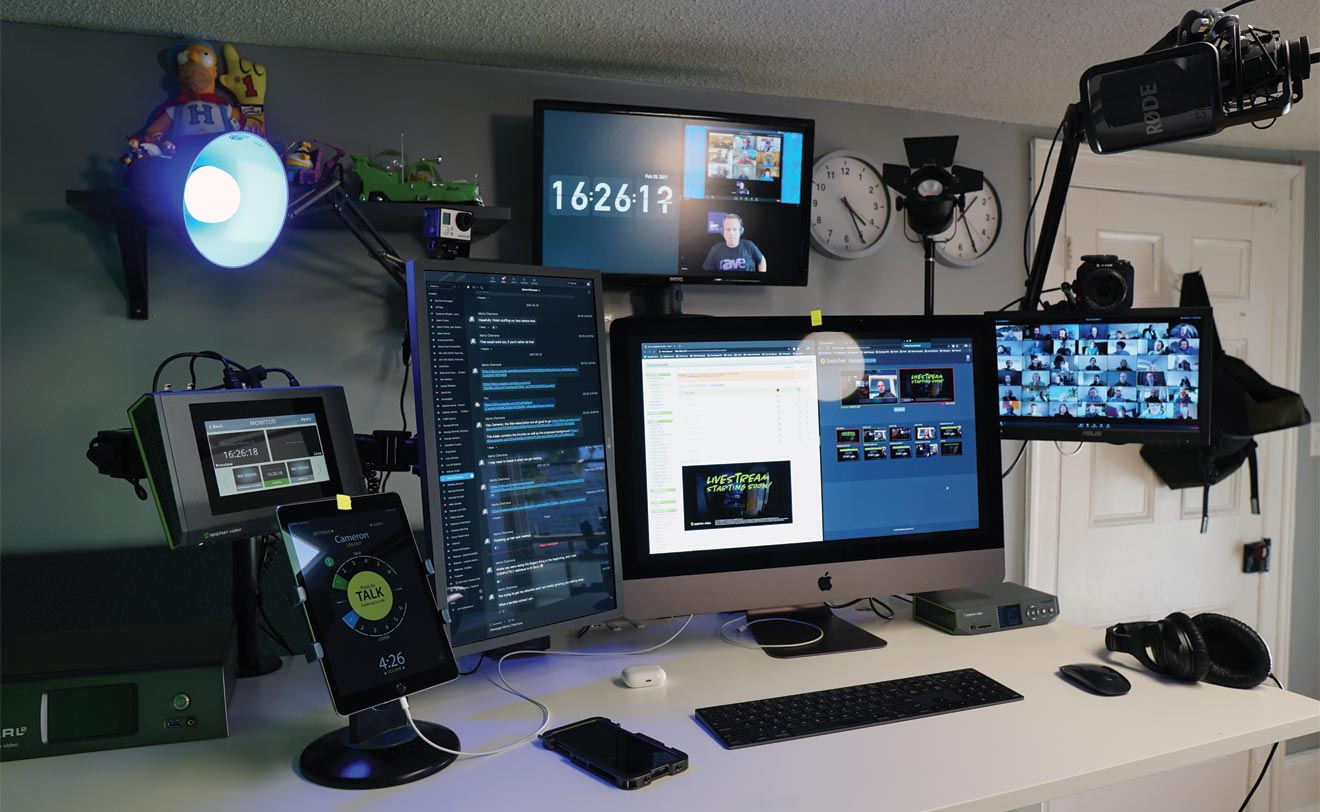 Broadcasting companies and studio productions
Before, broadcasting and video production companies relied heavily on physical studio assets and full on-premise AV teams to produce live news and other shows for broadcasting and streaming. Shelter-in-place restrictions hit these productions hard. Companies had to find ways to decentralize their production suites and allow AV staff to work remotely.
To accomplish this, crew members set up workstations at home and collaborated online. When it wasn't possible to relocate equipment, staff operated their equipment remotely. On-screen talent set up at-home filming sets complete with professional lighting and green screens. A robust system of backchannel communications was key to keeping everyone connected during shoots. As time went on, small groups of essential personnel were allowed back on the physical set, but the majority of staff continued to work from home.
Existing AV-over IP technology made switching to decentralized remote workflows easier. Individual production roles like sound mixers, GFX and EVS operators, and producers now had full workstation access from home. Crew members remotely contributed to a central production hub.
One early challenge was controlling remote contribution video quality and signal reliability. Some companies addressed this challenge by shipping all-in-one production kits with network bonding capabilities to remote guests.
Broadcasting companies were pushed hard to adapt to remote workflows. However, during this process, they realized what tremendous savings are possible by decentralizing their staff and virtualizing their studios. It would be wise for studio productions to continue to reap these benefits even after the pandemic. Under this decentralized paradigm, the main goals will be to continuously refine remote infrastructures and optimize internal team communications.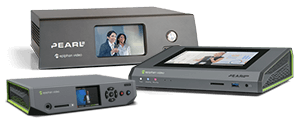 Trusty remote live video production workhorses
Pearl hardware encoders make remote contribution easy. Pearl systems support SRT streaming protocol, which can reliably stream high-definition video even over unpredictable networks.
Get product details
Live event production companies
Before the pandemic, event production companies like Freeman AV and M Events focused on creating powerful event experiences at large venues. These companies were the one-stop shop for organizers with an appetite for grand events. Providing live streaming services was just a small part of their overall offering.
Event production companies relied heavily on in-person conferences, trade shows, and conventions to provide services. The sudden cancelation of these events dealt a significant blow. Nevertheless, event technology companies implored their tried-and-true "make it happen" approach and began helping existing clients adapt to virtual events. They first thought about ways to translate the sensory richness of an in-person event to deliver the best possible virtual experience. Then, they identified the tools and services that were suboptimal or missing, including video conferencing integration, an online event platform, remote run-of-show services, and remote contribution kits, and added them to their toolbox.
Undoubtedly, pivoting efficiently was the biggest hurdle for event technology companies. But sticking to what they do best was what brought them success. Learning how to find reliable partners, embrace integrations, and outsource missing services to guarantee an excellent customer experience is where they should be headed. This wealth of experience running large-scale virtual events will prepare these companies for hybrid event production, which is likely to be a significant part of future event offerings.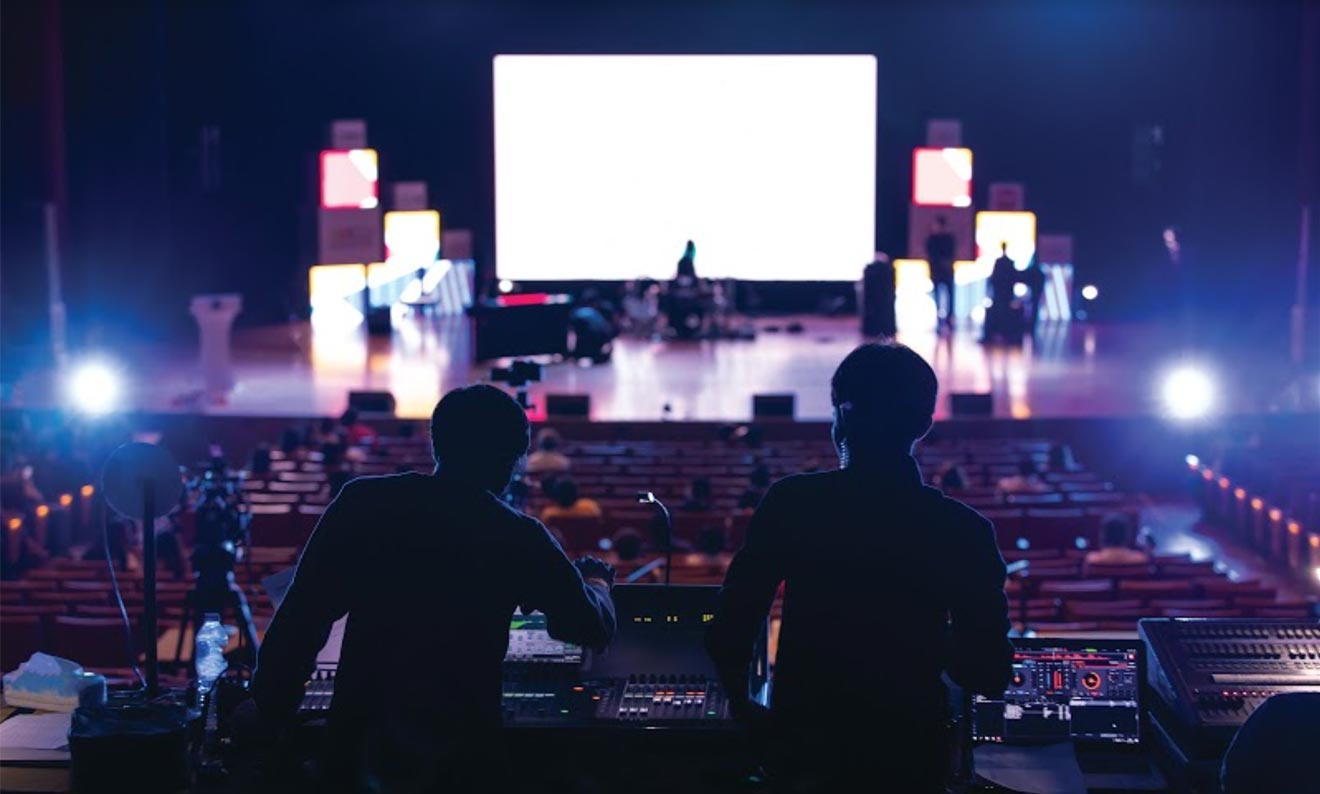 New players
In times of change, new players will enter the market by identifying unique pain points and offering custom solutions. In this case, new product and service providers responded to the acute pain of large businesses looking for custom remote live production and virtual event solutions.
As they say, necessity breeds invention. Rookie production startups began to disrupt the market by offering hassle-free remote production experiences. These products and services included anything from mail-in remote contribution kits to full-service remote production studio installs. A lot of these solution providers came from the in-person video production industry, which means they brought with them tremendous expertise.
Many established companies were successful in meeting client expectations. Still, others came up short. Seasoned industry professionals began hearing stories of failed streams. In one case, a large company lost a virtual event stream because the producer didn't account for the audience size, which eclipsed the capacity of their content delivery network of choice.
New players will have to work twice as hard to compete and succeed in an established industry. Their short-term goal might include learning how to critically evaluate their ability to deliver. It's also clear that there is a lot of potential to introduce truly innovative remote production products and services that may someday become industry standard.
When the dust settles
The process of going back to in-person events will be slow and gradual. Virtual events – as well as remote production – are likely to stick around for a while. And as we leave the pandemic behind, the knowledge gained about the benefits of remote participation will inform the future of event planning. It's fair to say hybrid formats are lined up to become a fixture of mainstream event offerings.
Although the timeline is uncertain, it is clear service providers will need to adapt and leave room to scale. They'll need to continue to refine their offerings, be open to new partnerships and integrations, and invest in reliable tools. Investing in solutions that support remote production and can fit a variety of cases can keep service providers ahead of the game.