How does your organization create new video assets? The process likely starts with planning the message and finding a film crew. Then come price negotiations, location scouting, and lengthy equipment setup, finishing off with a hectic shoot. The point is that this process can be complicated and stressful, and it's an even more difficult puzzle with restrictions on in-person gatherings.
What if, instead, you had access to your own video studio fully staffed with production professionals? And what if, rather than working in the studio, these staff were operating all the equipment remotely? All you have to do is walk in, step in front of the camera, and begin delivering your message. Sounds pretty convenient, doesn't it?
Enter the remote video production service, a turnkey solution designed to optimize an organization's video production workflow. It starts with an on-premises professional AV gear installation followed by full-service remote video production, providing an entirely hands-off experience for the client. It's a cost-efficient, hassle-free, and safe way to record, stream, and broadcast video.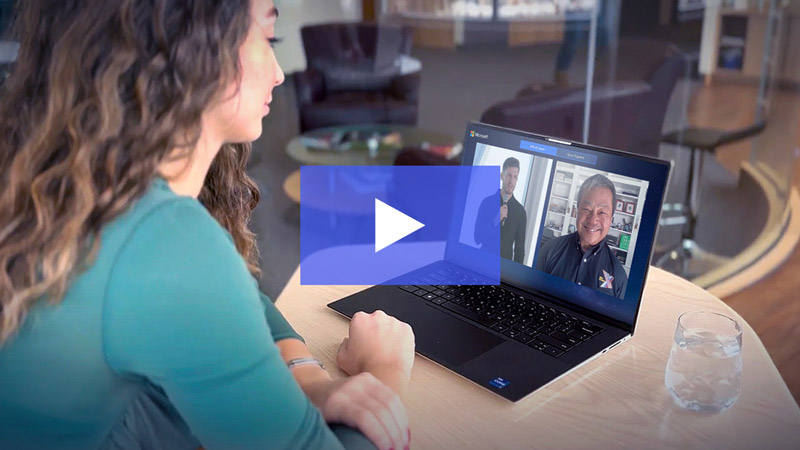 Hybrid event production at Microsoft
Learn how Microsoft leveraged Epiphan Connect to elevate its global all-hands meeting into an engaging hybrid experience.
Watch the video
Four benefits of remote video production for your business
1) Safe and secure
With the global pandemic in full swing, the demand for remote video production workflows has skyrocketed. Organizations are looking for ways to create a lot of video quickly – but, most importantly, safely.
A key feature of a remote production service is a dedicated, isolated space for talent to create video. By signing up for such a service, organizations can meet all their video production needs safely and without bringing additional people onto the set.
In addition to complying with physical distance guidelines, the service can also be protected digitally. The client can configure remote access through a secure VPN connection, so even organizations with the highest security standards can feel safe.
2) Cost effective
Creating video content is expensive, both in terms of time and financial investment. Organizing video shoots requires hours of planning and coordination. Travel times between locations also add up.
Remote video production eliminates any travel costs associated with travelling for both talent and crew. In fact, there's no need to hire a physical crew to shoot the video. You get access to the professional expertise of remote producers – for both filming and post-production –without any added costs.
3) Flexible and scalable
Committing to a large-scale solution or a contract with a single video producer is limiting. In addition, your demand for video production can grow and evolve over time, and many existing solutions may fail to adapt quickly enough.
A remote production service can be customized to fit the exact needs of each organization. It can be as large or small as needed, installed in a home residence, an office space, or conference hall. If your organization's video production demand grows, additional production facilities can be added quickly.
Remote video production fits a wide variety of cases, including those in education, corporate settings, and government. Hybrid classes, distance learning, remote interviews, and live executive addresses are possible with remote video production. Recording, streaming, live broadcasting, and post-production services are all available as part of the solution.
4) Fast and efficient
Coordinating with filming crews and awaiting final video assets can be a lengthy process. At the same time, many organizations count on delivering video communications daily.
A remote video production service is intended for frequent, daily use. Because the video creation process is streamlined, you can expect shortened production times and quick turnarounds.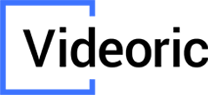 See a remote video production service in action
Videoric is a turnkey remote video production solution that can deliver all these benefits and more to your organization.
See how it works
What is Videoric?
Videoric is a turnkey remote video production solution that eliminates the need for a filming crew, offering a much safer environment for video creation when it comes to social distancing guidelines. Using Videoric is like having access to a professional, always-on video studio – without the hassle of installing and managing the complex equipment.
Along with professional support from remote producers, Videoric is also assisted by artificial intelligence (AI). The AI technology greatly improves the video production process and eliminates many manual tasks.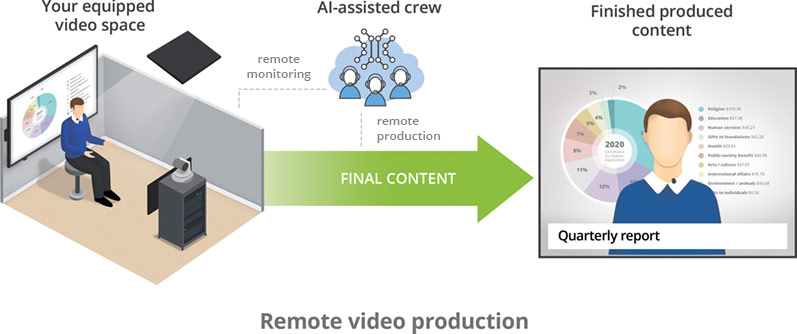 Videoric is designed with ease of use in mind: there is absolutely no production knowledge required on your part. Anyone can walk into the dedicated recording space and get started right away. The remote production team will assist and direct the on-screen talent.
Videoric introduces a convenient and straightforward booking process: scheduling a time is as easy as creating a calendar event. The always-on filming studio and remote staff are always available and ready to go.
Lastly, by taking advantage of Videoric's subscription-based service model, you can avoid costs associated with purchasing and maintaining expensive AV equipment, eliminating capital expenditures.