At Epiphan, we value customer feedback and always design new features and products with your needs in mind. Our flagship streaming and recording system, Pearl, is no different. Building on the past successes of our portable streaming and recording appliances, we created an all-in-one solution that captures, switches, streams and records at an affordable price without compromising on professional-level quality.
Customer response to Pearl has been amazing: it's a hit! With all its success, we're of course still on the lookout for feedback to make Pearl everything you've ever needed in a live video production system. Improvements can include technical upgrades, new features or even hardware redesigns. If you have a suggestion, let us know! Leave us a comment below, or get in touch with us.
One thing we've observed about Pearl users is that some use our optional rackmount shelf to place Pearl in their AV closet or rack, others carry Pearl around between various live events, some use Pearl in a portable rack they freight ship to events, while still others have a need for a setup that facilitates the use of more than one Pearl. Our users who install Pearl in racks (both fixed and portable) asked us for a better solution for rackmounting. They were looking for easier front-mounted access to power and USB and an integrated power supply that was better suited to rack installation. This prompted us to create two new Pearl models.
Here is the new Pearl lineup:
Pearl
Pearl Rackmount
Pearl Rackmount Twin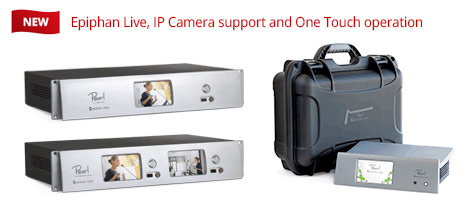 Our three unique Pearl models integrate perfectly into any existing or future AV setup you might have. The two new models all share the same features and technical capabilities as the original Pearl model – the differences are in the physical design. We've fine-tuned the exterior of Pearl to make sure it works with different types of Pro AV setups.
Pearl Rackmount
As the name implies, Pearl Rackmount is optimized for use in an AV rack. Its 2U form factor ensures it fits perfectly into your rack while the front-mounted power button and USB port make for easy access once your Pearl Rackmount is installed.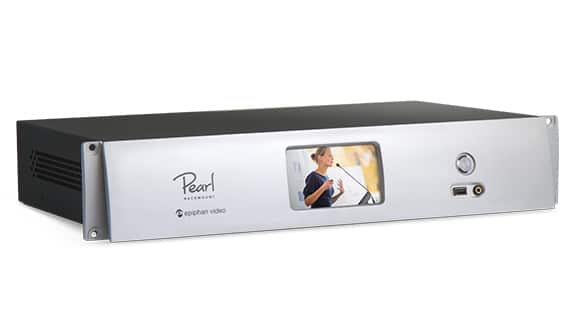 This new rackmounted format offers the same professional-level capturing, switching, streaming and recording quality you've come to expect from Pearl.
Pearl Rackmount Twin
Like Pearl Rackmount, Pearl Rackmount Twin is designed with rackmount use in mind, sporting the same 2U form factor, front mounted power buttons and USB port and sleek visual appeal. However the key difference is that Rackmount Twin contains two separate Pearl units each with its own set of video inputs, power supplies and networking interfaces.
Having "two Pearls in one" offers plenty of new video capture opportunities. With Pearl Rackmount Twin, you can:
Take advantage of the additional video inputs from your second Pearl to capture from more video sources and create multiple unique streams/recordings from the same live event
Use the second Pearl as a backup system for the first Pearl to ensure peace of mind while live streaming/recording
Record full-sized, high-bitrate ISOs on one Pearl while performing live switching, cropping and streaming from the other Pearl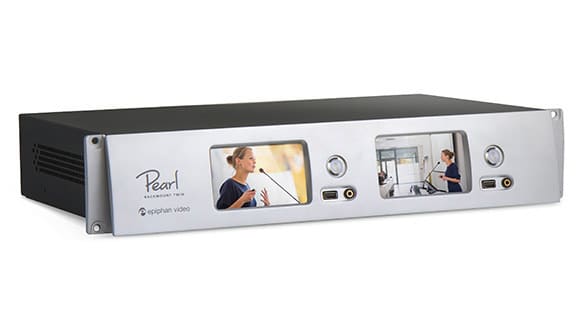 With Rackmount Twin you'll benefit from the power of two individual Pearl systems while saving valuable space in your AV closet or rack.
Pearl (portable)
Our original Pearl model offers the same live production mixing firepower as its Rackmount cousins – except in a smaller package! Its compact nature and hard-shelled carry case make Pearl the ideal companion for use when travelling to stream or record offsite live events.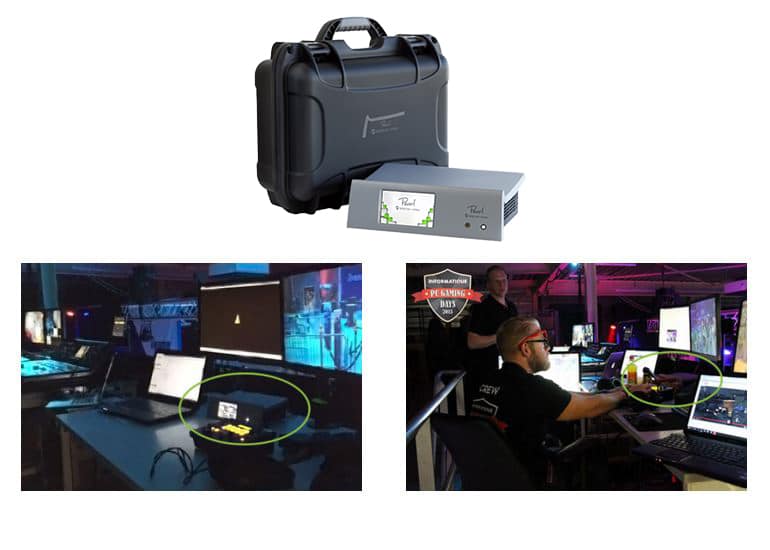 Summary
There you have it! The three different models: Pearl, Pearl Rackmount and Pearl Rackmount Twin, each suited for different AV setup requirements based and created with feedback we received from customers like you.
If you'd like to learn more about the three Pearl models, be sure to check out our updated Pearl product page and Pearl model comparison table.
Happy capturing!