It's easier than you think to live stream your EasyWorship schedule to YouTube and Facebook. In fact, you can stream any live-produced worship or broadcast program with Webcaster X2.
These days, many churches are looking for new ways to connect with their congregation. Whether you want to reach your existing members, grow your church, or simply modernize, live streaming to Facebook or YouTube can be the answer. For more information on choosing where to live stream, see our blog post.
I went to WFX (Worship Facilities Expo) a while back and met with members of the EasyWorship team. They have a really great product for creating visual worship presentations that are displayed by projectors or TVs in a church. At the time, we hadn't released our Webcaster product to discuss it with them, but I knew immediately that it was the perfect companion to their solution.
Using software like EasyWorship, many churches and houses of worship have beautiful visual presentations shown locally, but lack a simple way to get this out to the Internet. Your live streaming goals may be to share your normal Sunday service with congregants who are unable to come to the church. Or they may be to build and share extra material such as follow-up sermon notes, Bible studies, youth productions, and prayer requests or news with church members outside normal celebration hours. Regardless of your reason for live streaming, the key to success is a simple workflow. This is where Webcaster X2 comes in. Let's take a look at how it works.
First, build your program in EasyWorship, or other software.
EasyWorship 7 software lets users build custom visual presentations called "schedules" for their worship service. Included in a schedule are presentations, scripture, songs, and video.
I created and live streamed a quick test video using a combination of features available in the EasyWorship demo asset bundle. It was very straightforward to put together my presentation slides, then add scripture and music to my schedule. With a simple drag and drop, I added templates that automatically configured my output and made everything very beautiful.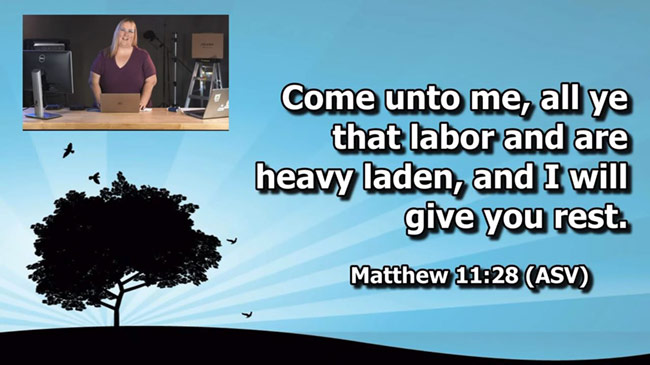 EasyWorship 7 also lets users add web cameras through their "Feeds" panel. Our Epiphan AV.io Family of external capture cards works perfectly here and let me add a much better quality HDMI™ or SDI camera to the presentation. I added my Sony α6300, connected to my AV.io HD™ by setting it up in the EasyWorship Feeds section. I then edited items in my schedule to include it. In some cases, I created full-screen camera sections to simulate a focus on the minister, special speaker, or choir. In others, I added the camera to an existing slide for a picture in picture effect.

Next, split the output and stream! It's as easy as that.
EasyWorship 7 is configured to automatically send your worship schedule to a display or projector connected to your computer. If needed, you can even configure which attached monitor is used.
To allow me to use both Webcaster X2 and a local monitor (or projector or TV), I used an HDMI splitter. I connected the splitter to the HDMI output from my laptop, then connected that splitter to a local monitor and two Webcaster X2 devices (one for streaming live to Facebook and one for streaming to YouTube).

Unlike other solutions that require you to copy and paste RTMP codes for each stream, Webcaster X2 uses a one-time pairing code to connect with your account. It takes just 2 minutes and you're paired. Webcaster X2 remembers that pairing even when you reboot the device, so there's no need to go through the process a second time, and the person or volunteer using Webcaster X2 doesn't ever need your Facebook or YouTube/Google password.
Pro tip: Before your presentation, configure your Webcaster X2 by setting titles and descriptions for your live streams.
When it was time to go live, I pressed the Live button in EasyWorship 7 and pressed the multi-function power button once on each of my Webcaster X2 devices.
Facebook and YouTube each take a different amount of time to process the stream and make it live, so the best time to do this is a few moments before your service starts. I suggest starting with a static welcome slide or a countdown timer in your EasyWorship schedule.
It's your turn: live stream your worship services and events.
It doesn't matter if you're using EasyWorship or some other software/hardware to build your local presentation. If you can get a 720p or 1080p HDMI output with embedded audio, you'll be able to live stream it to YouTube or Facebook with Webcaster X2.
With one-time pairing and no RTMP code to configure each week, this really is one of the easiest ways to live stream your produced live worship stream.
One final thing to consider when streaming to two different destinations at the same time is how much bandwidth you'll need. Doing two live streams with two encoders means you'll need double the bandwidth. Check out this Live @ Epiphan episode for five ways you could multi-stream to YouTube and Facebook. It'll help you understand the differences between using more bandwidth versus a paid re-streaming service like Switchboard Cloud.