Physical events with virtual components have grown in popularity in the past couple of years. So-called "hybrid events" add flexibility to the program, but they also introduce complexity, requiring a production approach that may be quite different from what you're used to.
So, what are the keys to successful hybrid event production? Read on to discover our three steps to a winning hybrid event.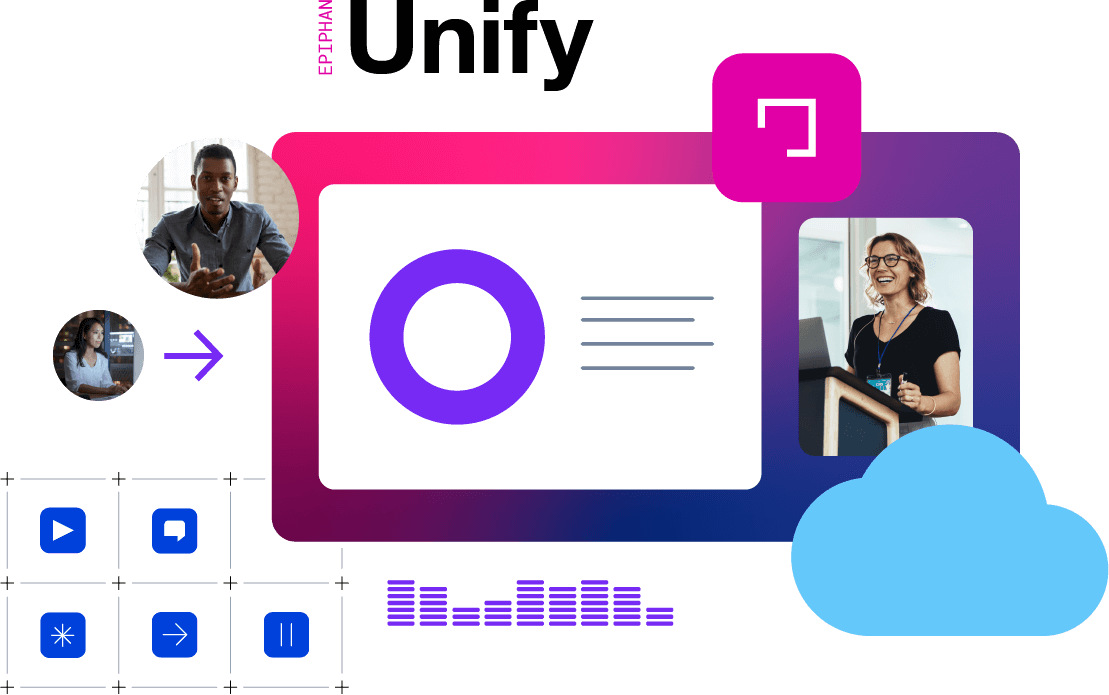 Make hybrid look easy
"Hybrid" doesn't have to mean "headache." With its user-friendly interface and open-platform architecture, Unify streamlines hybrid production so you can stage frictionless multisite hybrid events that will wow any audience.
Discover Epiphan Unify
What is a hybrid event?
Hybrid events blend virtual and in-person elements – on the viewer side, contributor side, or both. With hybrid events, you can reach audiences worldwide and accommodate contributors and attendees who can't (or won't) travel.
Another advantage? A venue's maximum capacity no longer has to dictate the number of attendees!
But there's more to it than just deciding to "go hybrid". First, you'll need to figure out what you're trying to achieve.
Step one: Get clear on your goals
Take some time to clarify what you're trying to accomplish with your event. Specifically, ask yourself what you mean by "hybrid event," and what you want the features of your event to be.
There are three important areas to consider.
Contributors
For the purpose of this blog, a contributor is anyone who adds content to the event. Where they are as the event is happening will have important implications for production.
The question is: Will your contributors be in-person, online, or a blend of both?
Viewers
Viewers are people who attend the event as it's happening. Will your viewers be in-person, online, or a blend of both?
Do you want them to be able to interact with other viewers or contributors, such as asking questions or chatting among themselves as your event unfolds? Or will they merely receive information from your contributors?
A "captive" audience might make production easier, but make sure your audience is getting what they want from your event whether they're in the room or in front of a computer screen.
Outputs
It's equally important to consider the content you're putting out with this hybrid event. Where will this content go? Specifically, where will viewers tune in? Facebook or YouTube? Both? A specialized hybrid event platform?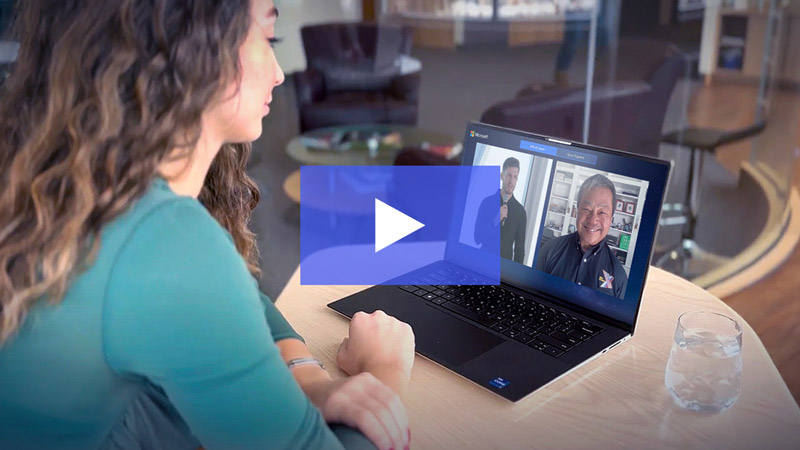 Hybrid event production at Microsoft
Learn how Microsoft leveraged Epiphan Connect to elevate its all-hands event into an engaging video experience.
Watch case study video
Step two: Ensure you have the right components
Based on what you found out in step one, your hybrid event should be taking shape. For example, maybe it'll just be the contributors who are remote, and all the attendees will be in person. Whatever the case, the specifics of your contributors, viewers, and content output will impact what gear and resources you'll need to pull it off.
There's a further three areas to consider here.
Team
The organization of your team will play a big part in deciding what components to use. Here's a few questions to think about:
Who is producing the event? One person, or multiple people?
Where will they be located? On-site, or off (i.e., working remotely)?
How will your team communicate?
Network
Here's a key component that's often overlooked – with disastrous results. You can plan the slickest event in the world with 4K cameras, lighting, and professional audio mixing. But if the venue's network can't handle that much bandwidth, you'll be reduced to a choppy stream full of stutters and stops.
How best to avoid this outcome? Plan ahead, and know your venue. Are you providing the network, or is the venue? If it's the venue, are you sure it's robust enough?
Equipment
This is where the features of your hybrid event come into play. For example, if you want viewers to be able to ask questions in real time via text, you'll need a platform with a chatroom feature. You could further enhance this by displaying their questions as titles via NDI or another method. Also, if you're planning to send your content to multiple platforms at once, you'll want to make sure you have an encoder with the processing power to handle simultaneous streams – not to mention the bandwidth.
If your production crew is remote, make sure they have what they need to take control of your hybrid event from a distance. That means a cloud-based platform like Epiphan Edge, a VPN, a network tunnel, or other remote control solution.
Complex audio routing may also be necessary, for example, if there are in-room participants or an in-room audience who needs to be able to hear your remote contributors.
Choose your encoder wisely
Of all the gear contributing to your production, the most important is your encoder.
Hardware and software encoders have different advantages. While software can have a lower upfront investment, we believe that hardware encoders are the right choice for hybrid event production.
Whatever you choose, make sure it has the specs to deliver based on your requirements. Check out our primer on hardware vs. software encoding for more about this.
Step three: Choose a production setup that fits your goals
So now you know what you're doing and how you plan to do it. This next and final step is all about defining your exact hybrid event production setup.
Hybrid events can have unique demands:
Multi-encoding – Do you need to stream to multiple platforms? If so, do you have a system capable of this, and one that can send streams of differing qualities if need be?
Broad integration and protocol support – Can you support the correct protocols, like Secure Reliable Transport (SRT)?
Remote access and control – Must someone be at the venue to control switching? Or is there the need for them to work off-site?
Discover Pearl systems for hybrid events and more
Power your hybrid events with Pearl systems, which support a broad range of streaming protocols and are accessible anywhere there's an Internet connection through Epiphan Edge.
Discover Epiphan solutions
Sample production setups
These sample setups may work for your hybrid event production, depending on your goals. Note that Pearl devices are used in the examples, but these setups could work with other encoding devices as well.
Hybrid event space
In this example, the producers are on-site using Pearl-2 to handle live switching and other production tasks. On location are multiple cameras, mixed audio, and a laptop with a slide deck. Remote contributors are sending an NDI feed from Zoom Rooms to Pearl-2.
Wondering how to use Pearl with Zoom Rooms for live production? Check out our blog on Zoom NDI for details.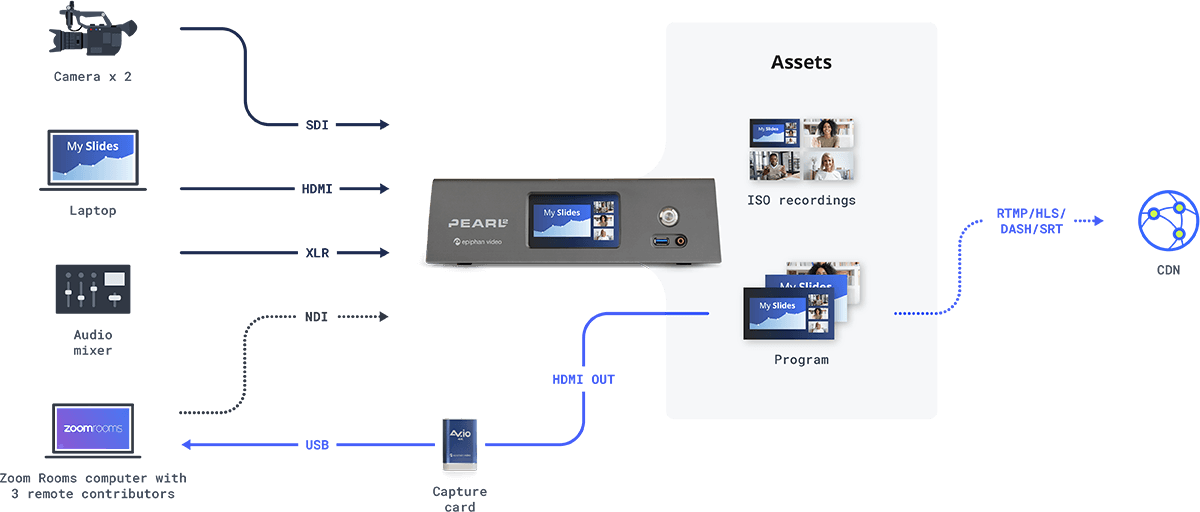 Off-site production environment
This is an example of a hybrid event setup where the producer is remote. Using Epiphan Edge, the off-site producer or production team can bring in remote contributors over SRT and also switch between the in-room sources and any layouts you've prepared.
Plus, not only can Pearl-2 record individual contribution files for post-production, it can even send a video back to remote contributors for confidence monitoring while the producer switches layouts remotely.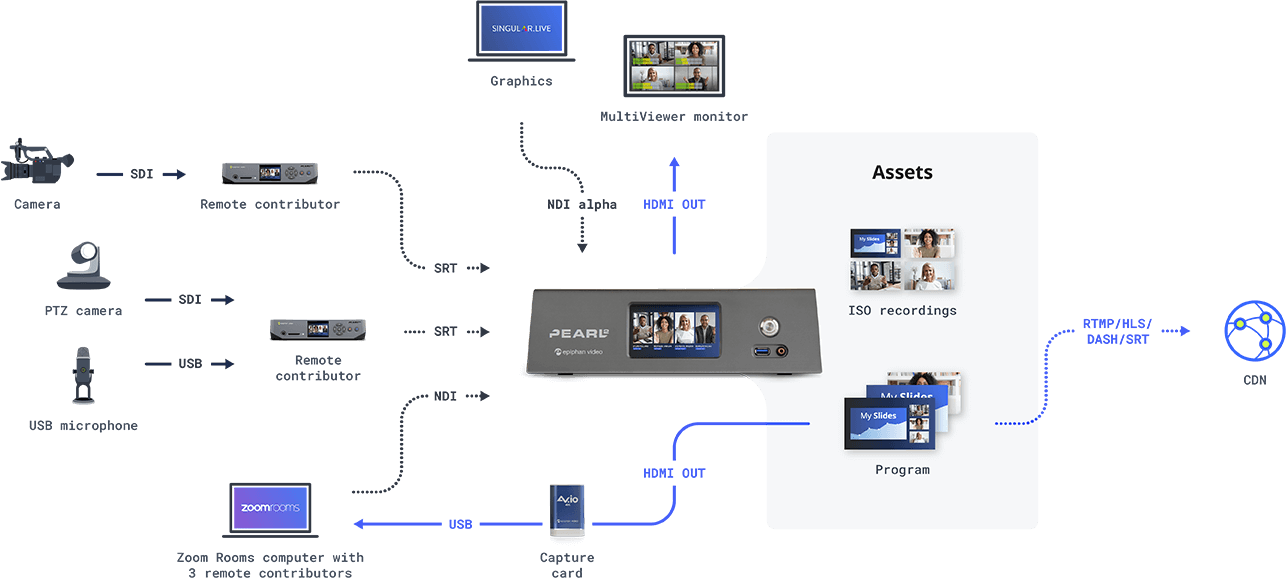 Sample contribution setups
It's important to plan for any remote contributors' setups as well. Your contributor may be an expert when it comes to the subject matter of your event, but they're likely not familiar with remote video production.
A little planning and preparation here can prevent major headaches during a live event. At the same time, the right contributor setup will ensure your contributors' video and audio quality match the rest of your content.
Basic contributor
A contributor could go even more basic than this sample setup by just using their laptop webcam. But then you'll be dealing with subpar audio and video that will detract from the professional quality of your hybrid event.
A contributor's network might also be a factor. If it's not robust enough to support a high-quality output, it could hurt the quality of their feed. This is why we strongly recommend using SRT for remote contribution, which is designed to deliver high-quality, low-latency video over any given network. (Be sure to check out our blog on what makes Pearl Nano the best SRT encoder for remote contributors.)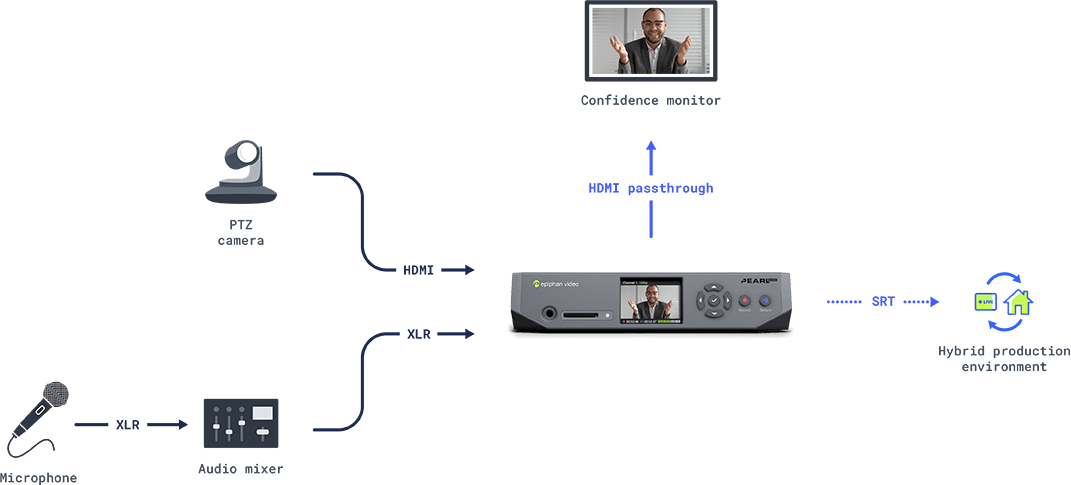 Hybrid event contribution studio
Here we have a more sophisticated contributor setup. Two cameras, a microphone, and a laptop are all feeding into a Pearl Mini, which supports SRT just like Pearl Nano. For multi-camera hybrid event contribution, Pearl Mini is the best solution.
A remote contributor can switch between sources or layouts themselves, or a hybrid event producerproduction team can do so for them remotely. If a contributor does want to handle their own multi-camera switching, Pearl Mini makes it simple with a giant touch screen for maximum ease of use.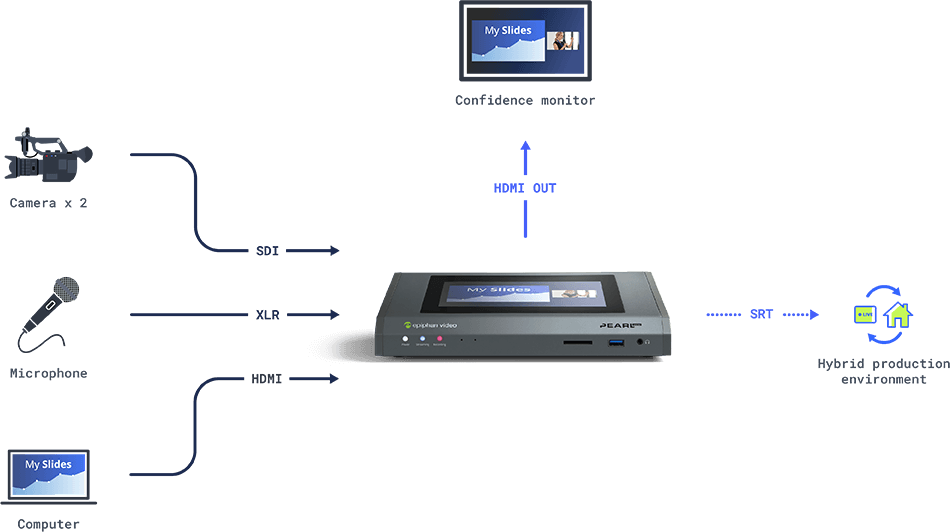 For seamless hybrid event production, choose Pearl
It's best to choose a hardware encoder like Epiphan's Pearl devices for your hybrid event production instead of a software encoder. You're better served using a system that was built from the ground up for live streaming and recording instead of general-purpose hardware full of parallel software and processes competing for resources.
And with features like easy remote configuration, versatile streaming options, and the ability to multistream, Pearl offers everything you need to produce a successful hybrid event.
Check out our Pearl comparison page for details on which Pearl devices might be right for your next event.