One of the keys to a successful observational study is being able to observe unobtrusively.
Traditionally this is done by a trained researcher watching through a one-way mirror or by recording via a video camera. Although this has been the staple for market researchers and user experience experts, technology available today in multi-input recorders like Pearl-2 make consumer trial sessions even more valuable and flexible.
Technology makes observation effortless
Combining and synchronizing multiple cameras and video outputs with an added timestamp into a single view improves both live observation and post-process review. There is only one screen to look at and only one video recording to sort through for all related data. And live streaming means observers don't even need to be present at the test facility. They can view from wherever they are located.
For products that have a digital display or for desktop software and mobile applications, video capture further sweetens the deal by capturing software interactions directly. For example, a mobile app company can have a single observation view with synchronized cameras showing the subject's face, a camera with showing the subject's hands interacting with the tablet or phone, and a screen capture of the device itself.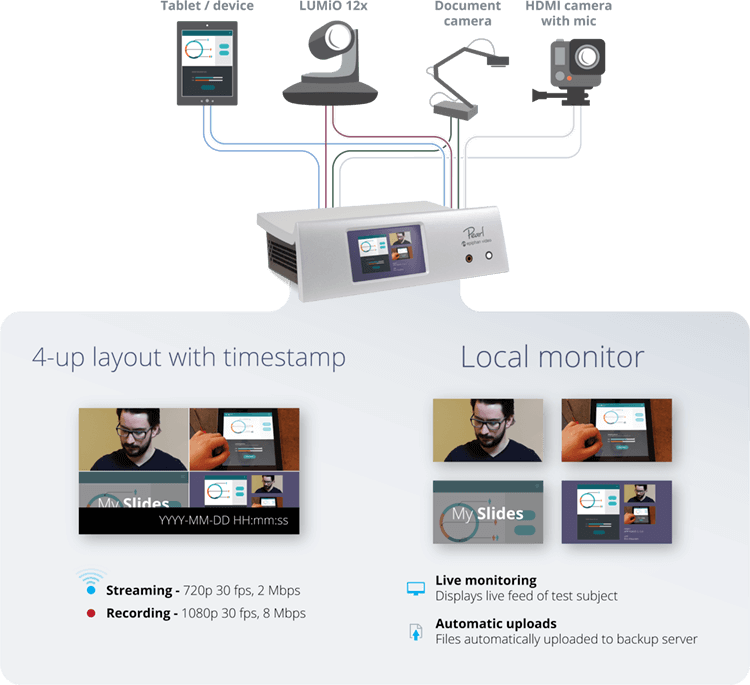 Organizing your observation space
Whether you are leveraging existing focus group / observation spaces or building new innovative facilities, it's easy to incorporate Pearl-2 into your workflow.
If you're already recording video (directly to on-camera media), you'll simply need to connect a cable from the HDMI™ or SDI output of the camera to Pearl-2. Most newer digital cameras (and nearly all digital video cameras) support this feature. If you're using USB web cameras, you can connect those directly to Pearl-2 as well. Audio is supported through HDMI, SDI and USB cameras as well as through analog inputs such as mixing consoles.
I suggest putting Pearl-2 in the observation room where your researcher can access it, but you can alternatively put it close to all your sources and access it remotely. Either way, you will need one or more long HDMI cables. Consider HDMI signal boosters or something like HDMI over fiber optics if you need to go longer than 50 feet.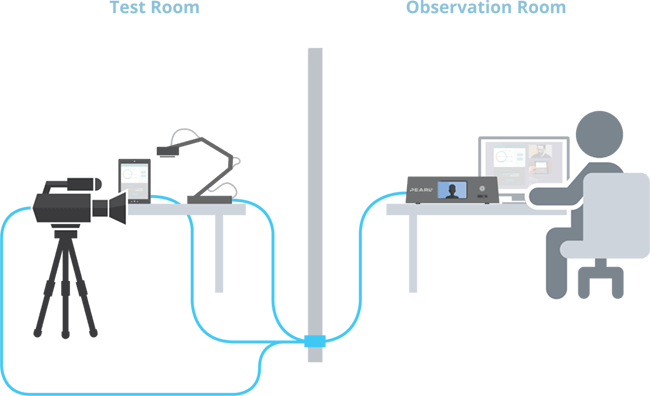 Make the play
It's simple to get your multi-camera observation room started using Pearl or Pearl-2.
Connect your cameras and other audio or video sources to the ports on the back of Pearl-2. (You can also include up to two web cameras or RTSP network cameras with Pearl-2, or with Pearl, one web camera or network camera instead of another source.)
In Pearl-2's Admin panel, create a high resolution, high bitrate channel with a 4-up matrix as the only layout. Add a timestamp.
Configure one of Pearl-2's HDMI output ports to display this channel and connect this to your observation monitor.
Stream a lower quality version of the stream to offsite viewers. To do this, create a second channel with the same layout as the first, but with a lower overall frame size and bitrate. Configure the streaming settings for your remote viewers (stream to a CDN, to a corporate streaming server, or have viewers connect directly to Pearl-2 to watch and RTSP stream).
For easy backup storage of your sessions, configure Pearl-2's automatic file upload (AFU) to automatically copy the recordings to a server.
When it's time to observe your subjects, start streaming and recording from the observation room with Epiphan Live. No need to disrupt the user.
Get even more from Pearl
To have a more interactive experience for your observer, create multiple layouts that can be used when the observer wants a close-up or specific angle. Or create a layout with an overlay image that can be used as a reference point indicator when an interesting interaction occurs.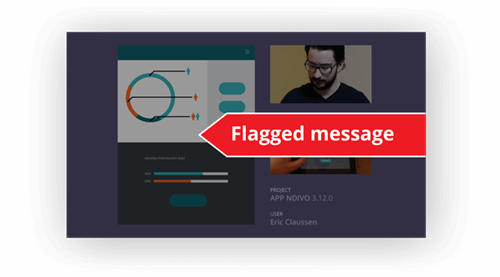 Pearl-2 is powerful enough to run 6 independent 1080p channels at once, meaning you can also record all your sources at full size/resolution. If you have more than 4 inputs, consider using Pearl-2 Rackmount Twin!
Read more about using Pearl and Pearl-2 for your UX and market research activities.