A couple weeks ago, I gave a short primer on the different kinds of camera technology capable of filming in 4K for professional live productions. (Check it out here!) This week, I go deeper into the 4K camera theme and present a list of just a few of our top picks for the best 4K video cameras.
Given the huge variety of 4K cameras on the market today, this list barely scratches the surface. However, it's a great starting point if you're in the market for a 4K video camera or just wondering what people are saying about the latest professional 4K cameras! So grab one of these best 4K cameras (numbered in no particular order), plug it into your 4K-ready encoder (like our Pearl-2 4K live production switcher device) and get capturing, streaming and recording in 4K!
1. Panasonic Lumix DMC-GH4
Touted as a "true hybrid" camera, the Lumix is a small, compact mirrorless-type digital camera that can capture both professional-quality stills as well as 4K video. This camera is acclaimed by reviewers for its durable, weather-resistant design and its convenience through portability. Camera operation is also simplified, with many users extended their praise for the ease of use in navigating the camera's feature-packed menus.
The Lumix films 4K UHD at 30 fps and 4K DCI at 24 fps with 4:2:2 color sampling at 8 or 10 bits per sample. Video is output via micro HDMI. The 4/3" type sensor is big enough to capture at a shallow depth of field but is modest enough to allow the use of lighter, more compact lenses (compared to cameras containing larger sensors!). However, the small sensor size makes filming in low-light somewhat difficult and may require correction in post-production.
At an affordable MSRP of $1,500, the Panasonic Lumix DMC-GH4 is an excellent choice for value-conscious customers who require a portable and durable camera for capturing both professional-quality stills *and* 4K live production video.
Learn more about the Panasonic Lumix DMC-GH4.
2. Sony PXW-Z150
Next on our list is Sony's PXW-Z150 professional 4K camcorder. Solid but also lightweight, this 4K camera is known for feeling comfortable in your hands. With its excellent zoom range, effective stabilization and quick, intelligent autofocus, the PXW-Z150 is highly effective for capturing all the action in your live 4K production.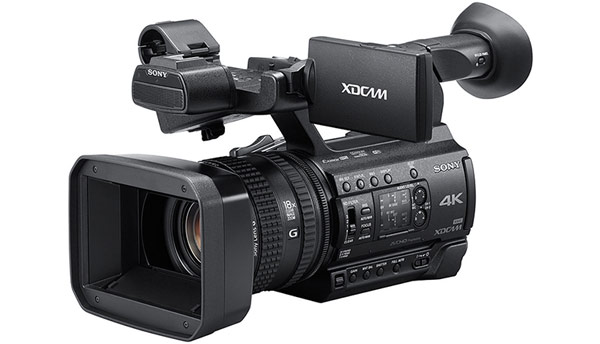 This camera captures 4K UHD at 24 fps and HD video at up to 120 fps for those movement-heavy shots with 4:2:2 color sampling at 8 bits per sample. Video is output over HDMI, 3G-SDI or composite. Featuring a newer-generation 1-inch "stacked" type sensor for enhanced low-light capability and faster sensor data readout, the PXW-Z150 has everything you need to film a professional-quality 4K live production. The popular Sony G parfocal lens offers 12x optical zoom and ensures focus is maintained even when focal length or magnification is adjusted.
Like most Sony cameras, many users complain that the menu system has a steep learning curve and that some of the buttons placed in non-intuitive positions, but once you spend some time with the camera, you'll be configuring settings with ease in no time.
Costing in the ballpark of $3,000, this camera is a great selection for the price and an excellent addition to our list of best 4K cameras. Users who only capture 4K video for their live productions (no stills) should definitely give the Sony PXW-Z150 a deeper look.
Learn more about the Sony PXW-Z150.
3. Panasonic AW-UE70 4K Integrated Day/Night PTZ Indoor Camera
The Panasonic AW-UE70 is a 4K pan-tilt-zoom (PTZ) camera that is highly versatile and easy to operate. PTZ cameras like the AW-UE70 are typically contained within a solid physical housing with a flat base for attachment to a table, floor, ceiling, tripod or any other flat surface. These cameras are often controlled remotely for precise horizontal (pan), vertical (tilt) and zoom/focus movements.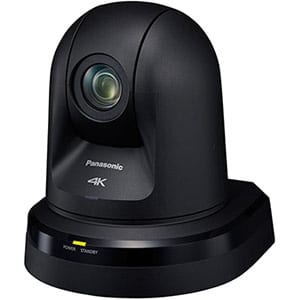 The AW-UE70 captures 4K UHD at either 29.97 or 25 fps over HDMI, USB or IP (other non-4K formats include 3G-SDI, HDMI, USB or IP) and is powered over Ethernet (PoE+), meaning the camera only needs one LAN cable for its power supply, control, and video output with embedded audio (when connected to your encoder via IP). With a 65.1° horizontal wide-angle of view and optical image stabilization (OIS), you can capture all the action in your live production with additional protection against external vibrations when filming.
While a versatile camera in many ways, the AW-UE70 is less ideal for those who require advanced configuration options, such as interchangeable lenses and configuration control through a screen on the camera itself.
Priced at $5,200, the Panasonic AW-UE70 is a good choice for 4K live production professionals who value ease of use or who have minimal camera operator staff on hand. Control one of these cameras using the included remote control device, or buy a separate Panasonic Remote Controller (an additional ~$2,000) to control up to 5 Panasonic AW-UE70 cameras simultaneously.
Learn more about the Panasonic AW-UE70.
4. Sony PXW-FS7 XDCAM Super 35 Camera System
If you're looking for a high-end 4K camera that shoots in cinematic quality at a reasonable price, then the Sony PXW-FS7 should fit your criteria well. Ergonomic and highly customizable, many reviewers compare the image quality of the Sony PXW-FS7 with that of top-of-the-line digital motion picture cameras, such as the ARRI Alexa.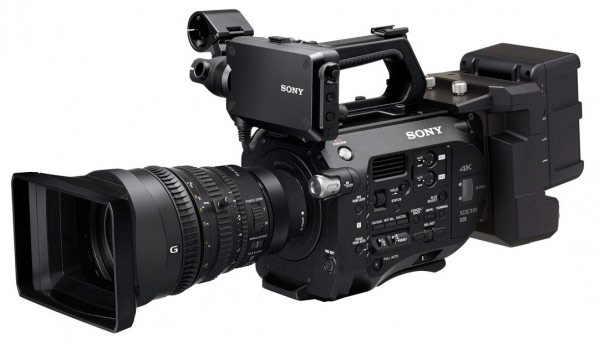 With its Super 35 mm sized sensor, the Sony PXW-FS7 aperture captures 32% more image area than a standard 35 mm film size. Film in 4K UHD or cinematic 4K DCI in 4:2:2 10-bit sampling at frame rates up to 60 fps (or HD resolutions up to 120 fps!) with HD/3G-SDI or HDMI output. Whether you need to film "run and gun" style or prefer a traditional stationary cinema style, the Sony PXW-FS7 can adapt to any live production situation. Customize your Sony PXW-FS7 as you see fit: add a lens plate for quick lens changes; attach a shotgun mic, wireless receiver, battery plate, matte box; use the built-in LUTs (Look Up Table) to give your footage a stylized film look—and lots more.
While all of these options are fantastic for the seasoned live production veteran, newer users may find the extensive customization confusing at first and may require an extensive learning period before becoming fully comfortable with the camera.
If you are in the market for a camera that can comfortably live in both the live production and cinema world, the Sony PXW-FS7 is an excellent choice in the "under $10,000" category at a price of roughly $8,500. (The quality of captured video content also makes this camera good selection if you do a lot of recorded live production editing in post.)
Learn more about the Sony PXW-FS7.
5. Nikon D500 DSLR Camera
The Nikon D500 is a small, portable DSLR digital camera that captures both still images and 4K video. Praised for its intuitive button layout and menu system, the Nikon D500 is simple to quickly set up and operate for either professional-level photography or live event production purposes.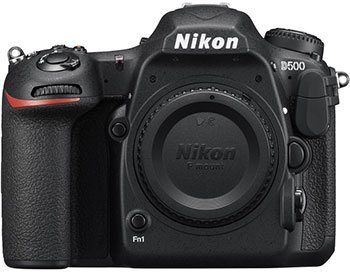 With a 20.9MP DX-Format sensor (which is essentially another name for the relatively common 24x16mm APS-C sensor used in many other mirrorless or DSLR cameras), the Nikon D500 is said to be highly effective at capturing in low-light conditions. The D500 also makes for an excellent choice for shooting in a variety of settings due to its broad range of ISO selection and fast focus capabilities. Many users love the D500's 10 fps burst shots, making it a popular choice for any action photography, such as sports or wildlife.
While built primarily with photography in mind, the Nikon D500 makes for an excellent 4K video source as well. Stick one of these cameras on a tripod, swap out your camera lenses to get the perfect video shot and capture your live production video in 4K UHD at 30 fps. Video is output in 4:2:2 at 8-bit via micro HDMI to a 4K encoder, such as Pearl-2. Despite the D500's versatility and ease of use, battery life is said to be less-than-perfect, so ensure you're fully charged before filming your live production and take extra care to additional battery packs on hand.
At a MRSP of roughly $2,000, the Nikon D500 camera is a safe, reliable and affordable choice for photographers who are looking to explore the field of 4K live production, or who already own a good number of Nikon full-frame lenses.
Learn more about the Nikon D500.
So there you have it
These are our top five best 4K cameras for live production based on our research and the opinions and reviews of AV enthusiasts like yourself.
There are plenty of other highly-rated 4K cameras out there, with lots more in development for the upcoming year. So whether you're a hybrid photographer/videographer, newbie, or seasoned pro—there's a 4K camera out there for you.
What do you think of our list of best 4K cameras? Which is your favorite? Is there a particular camera we missed?
Let us know in the comments!