Pearl, our flagship live video production mixer, packs a whole lot into a small package. As you probably already know, Pearl takes lets you combine four HD video sources (SDI, HDMI™, DVI or VGA) and accompanying audio sources (or balanced stereo TRS audio) into multiple custom configurations, called channels. In fact, Pearl can record and stream four 1080p channels at 30 fps.
Did you know however, that Pearl does more than recording and traditional multicast and CDN streaming? Here are five ways I think Pearl might surprise you!
1. Live video switching
Well, this one may be obvious because I already gave away the fact that Pearl is a live video production mixer. But what does that term mean with respect to Pearl? It means that you can take your four HD video (and audio) inputs and create a dynamic live stream that switches between the different sources, and even between custom layouts using those sources.
For example, if you were running a live event, you could record (and simultaneously stream):
a layout showing your speaker, her slides, and close up of the speaker
then switch to the slides alone
then switch back to the layout of all three
switch a view of just the speaker
and so on and so on.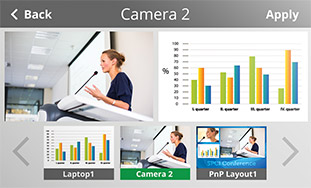 See our user guide for more details about live video switching, and stay tuned to our blog for an upcoming post with some examples.
2. Lower thirds
In traditional broadcast mediums, specialized hardware is used to add a graphic across the lower part of a screen. These graphics (also known as chyrons, supers, "cg", captions or Astons) range from a simple colored bar with the name or location of the reporter to complex motion graphics and tickers with stock feeds or late breaking news. While Pearl doesn't have a traditional post-production lower thirds rendering, you can still achieve the same look using its live switching feature along with transparent png graphic overlays or video source cropping.
For example, both these screen captures are from recordings made with Pearl (the left one uses a png file with transparency, the right uses a cropped video source playing a ticker tape):

I'm planning a how-to post on this topic soon. Follow us on Twitter or Facebook to see our notification when the next post comes out. I'm also toying of the idea of making that post a video how-to. If you think a video would be the best way to show this, please leave a comment below to let me know.
3. Three models to choose from
If you've been following us this month on social media or through our website, you know that we recently released two new Pearl rackmount models to complement our original Pearl solution. As a result, you can now choose to use our original lightweight portable model, its rackmount cousin (Pearl Rackmount) or double your streaming and recording capacity with Pearl Rackmount Twin.
I'm pretty excited about these new models that bring Pearl's functionality to even more users. If you're not sure which model is best for you, get all three! Or, more seriously, I'm sure one of our three models will suit your needs best. Read this blog post to help you make your decision.

4. Portable configuration presets
Have you ever had to manage a group of hardware devices? Whether it's PCs, cameras or video production switchers, fleet management is easier if you have tools that let you configure things once, then copy that configuration across to the other device in your set. For Pearl, configuration presets do exactly that.
For example, if you have a group of Pearl systems (they can be a mix of any of the three Pearl models) that you want to set up with all the same networking (DHCP), passwords and automatic file upload settings, you could create a configuration preset with these settings on one Pearl, download it and load it onto all other Pearls.

The best part is that configuration presets only overwrite the settings that are saved in the preset. So uploading a configuration preset that has network + afu + system settings won't overwrite channel layouts, EDIDs or video output ports configured on your other systems. Read more about portable configuration presets in this great blog post.
5. Streaming to Smart TVs and digital signs
Did you know you can use Pearl to stream your content to local smart TVs and set-top boxes? Pearl achieves this by acting as a UPnP AV media server, serving live and recorded video streams to UPnP clients on your network.
Most smart TVs, set-top boxes and media server applications support UPnP as an incoming stream type, and setup for streaming is really simple. For example, with my Samsung Smart TV I have to do only two things. First, turn on UPnP sharing for the channel I want to share on Pearl. Second, pick Pearl as my input source on my smart TV.

The result? My video stream is displayed on my smart TV. Perfect for watching and listening to a presentation in an overflow room, showing advertising on a screen in a retail space, or even a digital menu!
Wrapping things up
I hope these five surprising Pearl features gave you a good taste for the flexibility and freedom you have with this powerful streaming and recording platform! What is your favorite thing about Pearl? Is there a feature that you love surprising people with? Let me know in the comments below.