VGADVI Recorder Pro
User Guide
Stream to Wowza Streaming Cloud
To set up streaming via Wowza Cloud, you first need to sign in to the Wowza Streaming Cloud web site and create a new Live Stream (when asked to select a camera or encoder type, select Epiphan).
Once the stream is created, you'll see a Connection Code on the stream's Overview page; this code is required to complete the streaming set-up process.
Login to the Admin panel as

admin

. See Connect to the Admin panel.
From the Admin panel, click a

Channel

; the menu expands.
Click

Encoding

; the channel's Encoding page opens.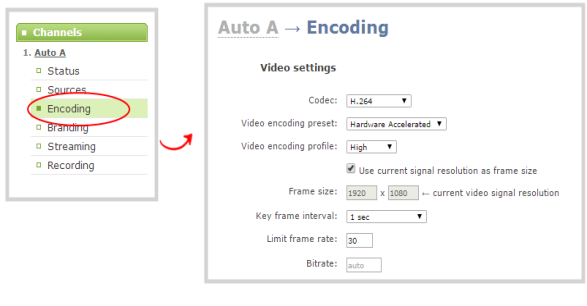 Configure Encoding settings accordingly, ensuring the

Codec

selected is H.264.
Configuring audio is optional. Supported formats are limited to MP3 and AAC. Due to RTMP restrictions, MP3 48 kHz is not supported.
Click

Apply

.
Under the selected channel, click

Streaming

; the channel's Streaming page opens.

Click the

Publish

drop-down menu.
Select

Wowza Cloud

from the drop-down list.
Click

Apply

; the page refreshes and the Wowza configuration fields appear.
Streaming (publish status) must be stopped before proceeding. If streaming is enabled (started), click the

Stop

streaming button (next top the Publish Status label); streaming is disabled.
Enter the connection code obtained from the Wowza Streaming Cloud set-up into the

Connection code

field.

Click

Set

to pair the channel on Epiphan's encoder with the live stream on Wowza Cloud; an icon appears to show you the connection is validating. Once validated, the stream name you configured in Wowza Cloud appears.

When ready to begin streaming, there are two steps to take.

Click the Start Transcoder button. The state changes from

stopped

to

starting

, then to

started

. If you log into your stream on Wowza Cloud you'll see the stream is started, but there is no video detected. (You can also start the transcoder through the Wowza Cloud interface, by clicking Start Stream.)

This action commences your session charges with Wowza Cloud.

To start sending video to the Wowza Cloud, click

Start

. (See See Controlling streaming and recording using Epiphan Live for instructions on streaming control using the Epiphan Live control interface.

When the connection to Wowza Cloud has been established, the stream name appears on the channel's

Status

page.

After clicking either Transcoder or Publish Start buttons, there can be a short delay before the stream is established.
Stop streaming to the Wowza Streaming Cloud
When you are done streaming, be sure to stop the Wowza Transcoder by either returning to the channel's streaming page and pressing the Stop Transcoder button, or by logging into the Wowza Cloud and stopping the stream. Charges from Wowza continue until the Wowza Cloud stream is stopped in one of these two ways.
Stopping the stream publish through the, Stop or Epiphan Live Publish button does not stop the charges applied by Wowza.