VGADVI Recorder Pro
User Guide
Connect an RTSP source
You can connect RTSP sources such as IP cameras to your VGADVI Recorder Pro over a network using the Admin panel.
RTSP video encoding is supported with H.264 video codec and MP3 or AAC audio formats.
Decoding a 1080p RTSP signal at 30 fps consumes approximately 10% of your VGADVI Recorder Pro's CPU power. If an RTSP source is connected but unused in any channel, VGADVI Recorder Pro decodes only key frames to preserve CPU resources.
To synchronize timestamps between your RTSP source and your VGADVI Recorder Pro, the same time synchronization server should be used for both devices. It is recommended that you configure an NTP server on your VGADVI Recorder Pro and use VGADVI Recorder Pro as a time synchronization server for your RTSP source. See Configure synchronized time (NTP, PTP v1 and RDATE).
Due to the nature of external encoding devices such as RTSP sources, it is possible for the timestamps between your VGADVI Recorder Pro and your RTSP source to gradually become out of sync. If there is a 2500 –3000 ms timestamp difference between your RTSP source and your VGADVI Recorder Pro, then a "no signal" image will display and your RTSP source will not stream any audio. Re-connecting your RTSP source resets any time synchronization issues.
To connect an RTSP source to your VGADVI Recorder Pro:
Login to the Admin panel as

admin

. See Connect to the Admin panel.
Under the

Source

header, click

Add source

to open the IP sources page.
Click

Add RTSP source

to open the source configuration page.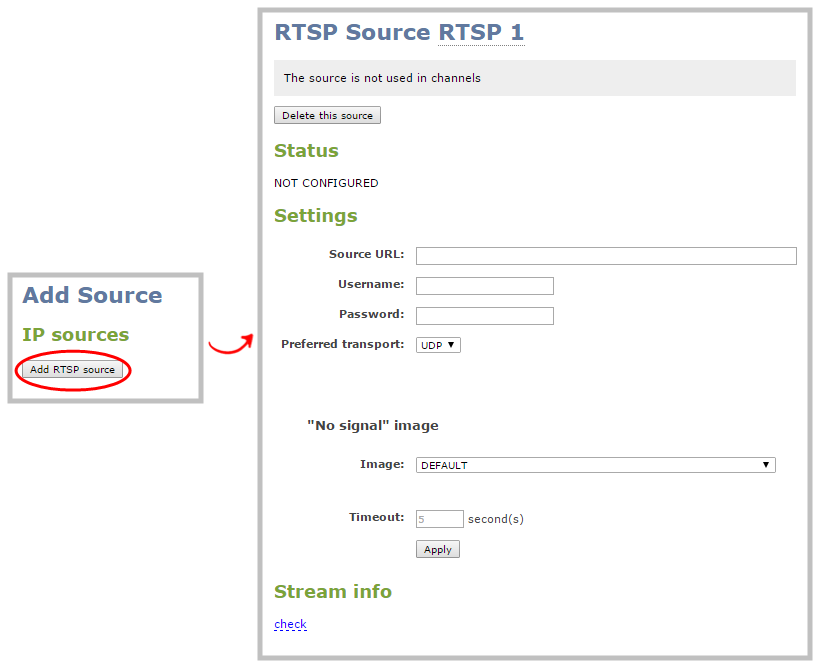 You can rename the source by clicking on the default source name at the top of the page ("RTSP 1" in the screenshot above). See Rename a source for more information.
Under the Settings header, fill out the

Source URL

,

Username

and

Password

fields with information configured from your source RTSP device (see List of tested RTSP-based IP cameras for source URL syntax and credentials specific to IP cameras we at Epiphan have tested), and select either UDP or TCP from the

Preferred transport

dropdown menu.

Optionally, you can also fill out the "No signal" image settings, if desired. See Add a No Signal image to a source for more information.
See Stream content using HTTP or RTSP if using another VGADVI Recorder Pro as an RTSP source.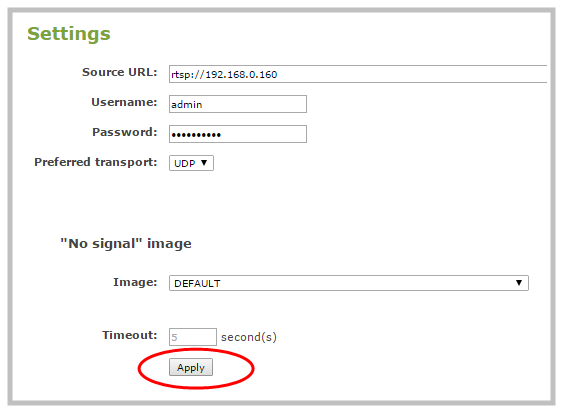 Click

Apply

to save your settings and connect your RTSP source.
Once your RTSP source is connected, you can view its basic video and audio signal information and packet loss statistics under the Status header at the top of the page. If there are any warnings or errors associated with your RTSP stream, they are also displayed here.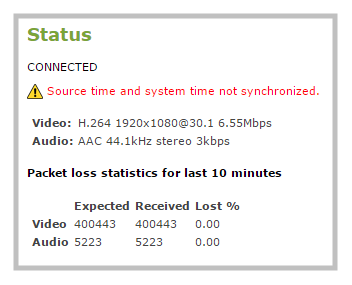 Alternatively, you can view stream connection information by clicking the check link under the Stream info header at the bottom of the page.