VGADVI Recorder Pro
User Guide
Start and stop streaming to a CDN
Once you have your CDN streaming configured for RTMP, RTSP, Wowza Streaming Cloud, or Original Livestream, you can control when streaming is enabled and disabled through the Admin panel or Epiphan Live.
Start and stop streaming
To start (enable) or stop (disable) streaming using the Admin panel:
Login to the Admin panel as

admin

. See Connect to the Admin panel.
From the Admin panel, click the link for your

Channel

; the menu expands.
Click

Streaming

; the channel's Streaming page opens.
Scroll to the

Stream to a server

section of the page (your screen may look different depending on the streaming type you have configured).
Set up your stream by clicking

New stream

and following the instructions for how to Stream to a CDN
If Publish is set to disabled, streaming is stopped and cannot be started until you configure a publish type. See the other topics in this section.
If streaming is enabled (started), click the

Stop

streaming button (next to the Publish Status label); streaming is disabled.
If streaming is disabled (stopped), click the

Start

streaming button (next to the Publish Status label); streaming is enabled .
Start and stop streaming using Epiphan Live
You can control the streaming (and recording) of channels directly from the Epiphan Live Dashboard interface. (See Accessing Epiphan Live for information about logging in to Epiphan Live.)
Streaming (and recording) control buttons are located under the Channels heading.
For each channel, the stream control is the left-most button containing the "signal" icon, and the recording control is the right-most button containing the circle icon.

When a channel is not being streamed or recorded, the streaming and recording buttons are gray in color and their respective timers are set to 00:00:00. If streaming has not been configured in the Admin panel, the streaming button will display the text "Not set". See Stream to a server to learn how to configure streaming in the Admin panel.
You can preview a channel by clicking on its name to display a small dropdown thumbnail view.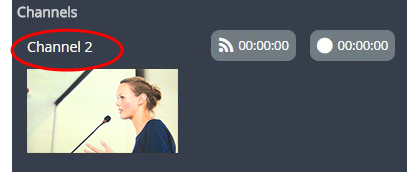 To start streaming and recording a channel, simply click (or press) the channel's streaming and/or recording buttons.

When clicked, the streaming button turns blue in color and the recording button turns red. The timer contained within each respective button also begins to count upward.
Alternatively, you can also control streaming and recording of a channel via the Dashboard's monitoring panels. See Configuring Dashboard panels for visual confidence monitoring for more information.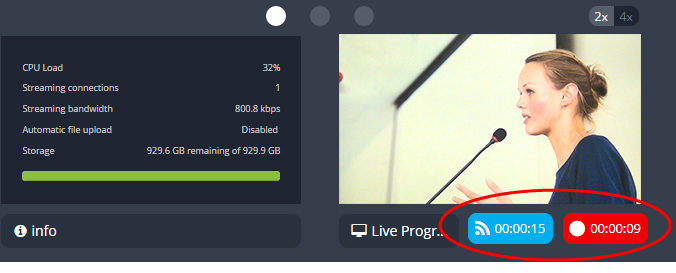 If a stream is not able to publish, the streaming button for that line flashes blue and displays "ERROR". The stream can be fixed in the Admin panel.

In this case, check the streaming configuration settings for your channel in the Admin panel. (See Stream to viewers
To learn more about the Epiphan Live control interface, see Epiphan Live.