VGADVI Recorder Pro
User Guide
Add channel metadata
Using the Branding feature, you can apply a logo to your channel and specify the following meta data that the media player displays for your viewers:
title of the presentation;
company website;
presenter's name;
copyright date or other labels such as proprietary information, preliminary etc; and
additional information about the broadcast, such as time of the broadcast, or change to the schedule.
To apply channel metadata:
Login to the Admin panel as

admin

. See Connect to the Admin panel.
From the Admin panel, select a channel; the menu expands.
Click the

Branding

link for your channel; the Branding configuration page opens.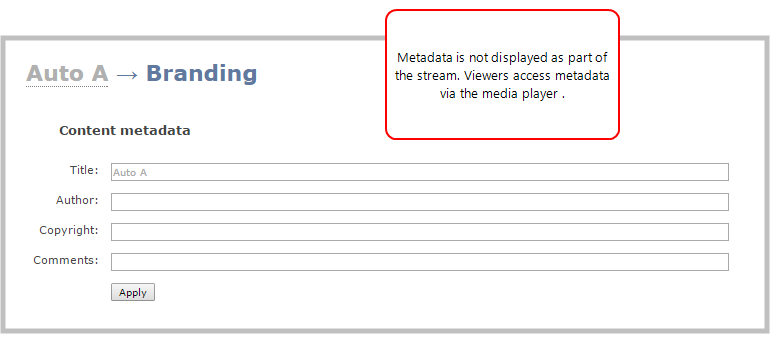 Enter metadata such as: presentation title, presenter name(s), any copyright dates and additional information about the broadcast that you want the viewer to know. How metadata is displayed depends on the media player. For example VLC stores the metadata in a media information file, while other media players scroll the text horizontally from right to left along the bottom of the media player window, similar to a ticker message bar.
Click

Apply

.