MSAVi PRO provides live streaming services for high-level events. They've recently streamed a large concert in Las Vegas, Nevada for nearly 200K live viewers. The artist – the band Imagine Dragons, a world-famous American rock group. With such a prominent artist and such an important production at stake, the MSAVi PRO team knew that they had no room for error. The live stream had to be absolutely flawless.
The MSAVi PRO team chose to use Pearl-2 all-in-one encoders to stream and record the concert online. Epiphan's Pearl-2 encoders have been their go-to hardware for quite some time. As Mike Salas, Managing Member at MSAVi PRO, LLC shared with Epiphan, he found Pearl devices to be highly reliable under heavy workloads in mission-critical situations.
There is no wiggle room for failure. Epiphan Pearl devices haven't failed us once.
The live video of the concert was considered a huge success by the client and fans alike. This was the first time this group has streamed one of their concerts live, giving unprecedented access to their avid fanbase. The concert went live on the band's Facebook page, Youtube page, Periscope, as well as QQmusic, a Chinese music platform. Over 200,000 people have watched the live stream; about 160,000 of them were viewers from China.
The challenges of live streaming to China
The performing band has a huge fanbase in China. However, because of some government regulations, getting a live stream to China proved to be a considerable challenge. MSAVi PRO was able to resolve this by sending dual RTMP feeds to China through Akamai and Wowza streaming servers. MSAVi PRO had to work with the Chinese government to be given whitelisted access to send dual streams into the country (primary & backup) for redistribution via QQMusic channels.
Ensuring maximum reliability for mission-critical streams using multi-level path redundancy
In order to produce the concert live stream, MSAVi PRO teamed up with Sweetwater/NEP video productions, who were responsible for the AV production of the show. During the show, both companies were working side-by-side in a single control room. The Sweetwater/NEP team was feeding the combined out program to the MSAVi PRO team. From there, the MSAVi PRO team used two Pearl-2 systems to stream and simultaneously record the concert.
MSAVi PRO is a company that values its reputation above all. With such massive projects on the line, it puts considerable time and effort into making sure the live stream never fails. To ensure maximum reliability, the company always uses a system of backup path redundancies, one at every potential failure point. This level of redundancy is able to differentiate the company from its competition, making it head and shoulders above the rest.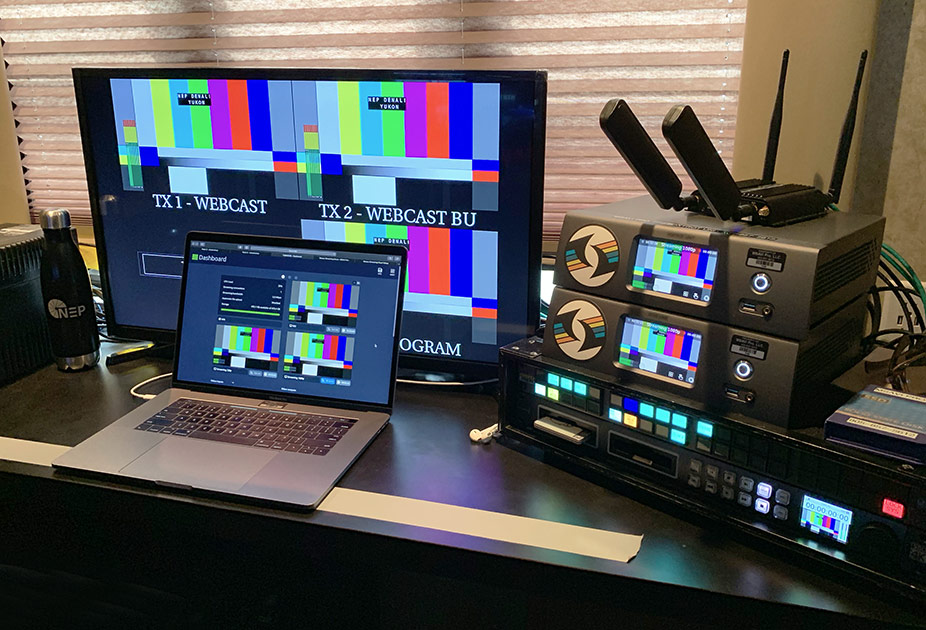 This concert stream was no exception: MSAVi PRO had backup paths on 4 levels: program feed, network connection, streaming server, and encoder levels. They ran two Pearl-2 systems simultaneously to stream and record the event. The two Pearl-2 units connected to two different network access points. The team used redundant wired networks with switch diversity, as well as a backup in-line cell-bonded modem, with automatic switching in the event of a network failure. Additionally, each Pearl-2 encoder unit had its own separate HD-SDI program feed with embedded audio going in, which guaranteed switcher redundancy in a similar way to the network failover system.
Each Pearl-2 encoder was sending dual RTMP streams (a primary and a backup) to Akamai and Wowza streaming server entry points. In case of a server failure, the system would automatically switch over to the backup stream. Essentially, the stream had triple redundancy at server-level. The team also needed to stream to Facebook, YouTube, and Periscope, so they set up an additional Wowza target to stream to these APIs.

I don't think there are many companies that do redundancy the way we do
Streaming for the country's top broadcast network
In addition to streaming large, one-off live events like the Imagine Dragons concert, the MSAVi PRO team has regular customers to whom they provide frequent live video services. In fact, the relatively small team of professionals at MSAVi PRO is able to stream up to 20 events per month. One of their largest clients is the nation's largest broadcast network. MSAVi PRO handles the full live production of its corporate events. This includes shareholders and investor meetings, conferences, conventions, and more. The live audience for these corporate events can be quite large. For example, one of the recent investment meetings gathered about 35,000 live views. MSAVi PRO strives to provide the same level of high reliability through multi-level redundancy for these events as they do for live concerts.
Encoder pre-configurability and remote control
MSAVi PRO chooses to use Pearl-2 systems for these live events as well. In fact, the company has a fleet of twelve Pearl-2 hardware encoders, which means they can be fulfilling multiple different event streams simultaneously. Moreover, thanks to Pearl's configuration presets feature, the company is able to preconfigure the units and ship them out to customers, without having to physically travel to the site.

Mike Salas is responsible for pre-configuring and shipping out the units. He carefully labels all the inputs on Pearl-2, so all the customer needs to do is connect their audio and video sources and Ethernet to begin streaming.
Mike is able to control the Pearl-2 units remotely over the Internet using AV Studio, Epiphan's cloud-based software tool for remote live production. He also uses Epiphan Live, Pearl's own web interface, in order to switch between layouts in real time.
Streaming hardware advantages over software
Before Pearl-2, the MSAVi PRO team tried using streaming software such as GoStream and Wirecast. However, in time they realized that for mission-critical production they couldn't depend on software encoding and needed a more reliable solution. After doing some research, they found that Pearl-2 was pretty much exactly what he was looking for. Here are the main reasons MSAVi PRO choose to use Epiphan's flagship encoder:
Strong multistreaming performance: Pearl-2 is able to produce 6 simultaneous streams, and only use about 30% of the unit's CPU. Mike Salas compares this with Wirecast software, which was only capable of producing 2 streams while eating up 70% of the computer's CPU.
Regular updates to comply with modern technologies: Epiphan ensures that all current security and streaming protocols are supported on the device, frequently releasing firmware with new features.
Creating layouts is fast and easy: Creating picture in picture layouts and adding background images and overlays using the encoder's Web UI is very simple and flexible.
Robustness and design: The MSAVi PRO team appreciates the rugged build of the product, the relatively small size, and the ease of device setup.
Ability to pre-configure the unit: The MSAVi PRO team really enjoys the fact that he can preconfigure an encoder, ship it to the client, and it's ready to go. The client can have zero knowledge of the system, but still operate it.
In conclusion
Using Pearl-2, MSAVi PRO is able to easily deliver high quality results to a vast audience. Not only is the technology behind Pearl-2 reliable, it is also easy to preconfigure and operate with a minimal learning curve.
Thank you MSAVi PRO and Mike Salas personally for sharing your experience with us! We are very happy that our devices satisfy your high criteria. We are excited to keep working with you in the future and helping you bring even more great live events to your customers!
MSAVI Pro, LLC. is based in California and supports global events. We are known for providing world class live streaming services and audio-visual (AV) production support. Their clients include companies like Pixar, Marvel, Lucas Films, ABC Television, ESPN, Sweetwater/NEP Live Events, Amgen.