Ontario-based video production company JEEMAN Productions set up several one-touch video studios to scale and streamline its content production. At the heart of the solution are Pearl hardware and Epiphan Edge, a cloud-based tool for remote production and device management.
The challenge: Too much to create, too little time
JEEMAN Productions founder Jeremy Prudhomme faced an enviable challenge: fast-growing demand for his video production services. More and more clients were coming to him looking for short, vodcast-style marketing videos. There was only one problem: while the videos themselves were short and straightforward, the process of creating them was anything but.
The assigned video producer would either travel to the client's location, or the client would travel to Prudhomme's studio for the shoot. In the former scenario, the producer would spend significant time traveling, setting up gear, shooting the content, tearing down, transferring the recordings from the storage media, and traveling back. In the latter, the set would have to be booked for that client for the entire day, limiting production capacity significantly. Either way, a short, five-minute final cut would typically take five long hours to shoot.
As demand continued to grow, Prudhomme was running out of production resources. He had to find a way to boost production capacity and, ideally, simplify on-demand video creation.
The plan was to build automated, single-touch video studios where clients could go and start recording on their own. Naturally, adequate remote oversight would be essential to ensure the captured footage is excellent quality.
The solution: Flawless remote production with Epiphan Edge
Prudhomme found the remote production solution he was looking for in Epiphan Edge and Pearl devices. Pearl video encoders capture high-quality footage from the studio cameras and microphones, while Epiphan Edge gives full remote access to device settings, controls, and storage.
The team at JEEMAN Productions built several self-serve video studios, outfitting each one with professional lights, cameras, microphones, and a Pearl streaming encoder. Epiphan Edge serves as the backbone for remote production control.
Epiphan Edge gives the team complete remote access to the studio encoders via the public Internet, including Pearl configuration, audio and video source monitoring, and even live switching. Producers can log in to any studio Pearl through Epiphan Edge and configure the device as though it were right there in front of them.

Inside the Epiphan Edge UI for one of JEEMAN Productions' self-serve studios
Producers can make sure the recording is running smoothly by monitoring the process and tweaking settings on the fly. The recorded files are remotely accessible from a connected Pearl's internal storage. Producers can download the footage immediately and begin post-production without any delay.
"I can access the hardware from anywhere in the world. Easy access to files from anywhere is huge for me."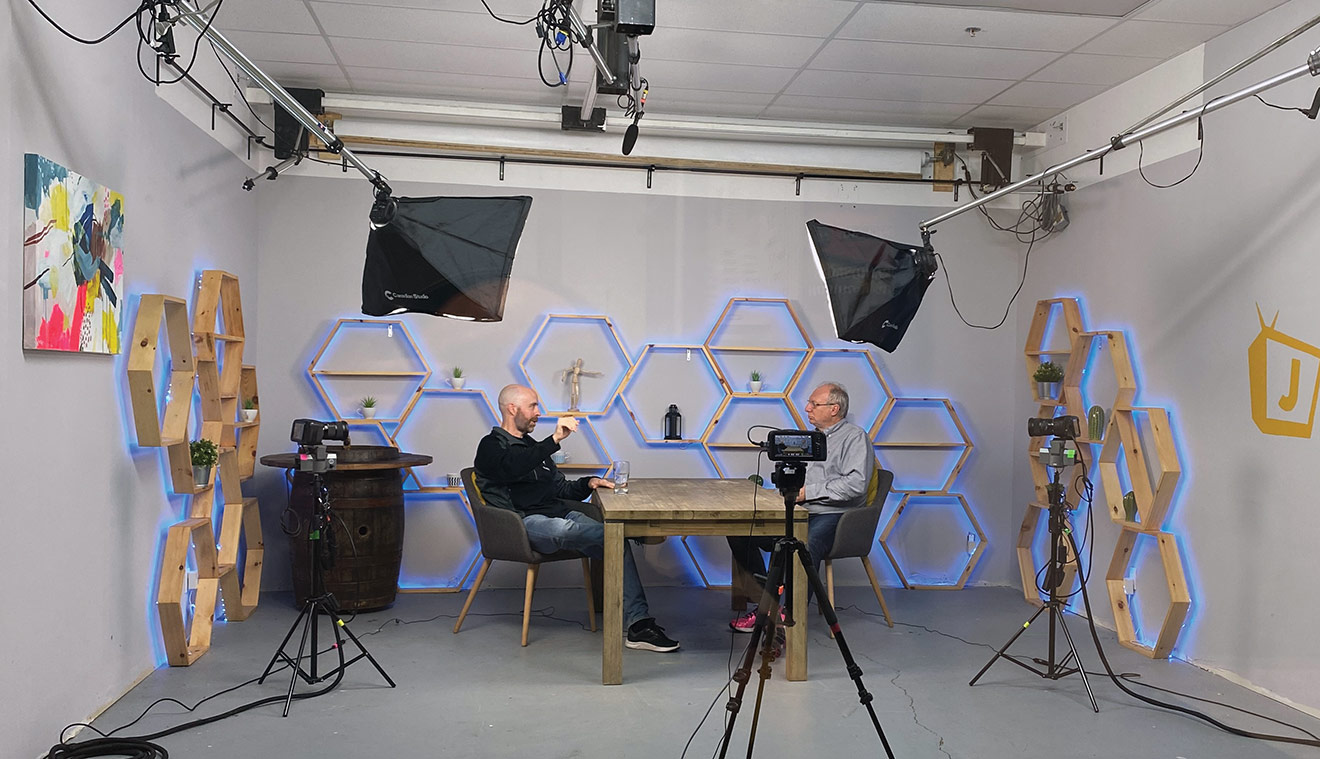 The results: Boosted production capacity with ultraefficient video creation
To date, Prudhomme has launched four self-serve studios and has plans to build more. Thanks to these new automated recording spaces, JEEMAN Productions was able to not only meet the demand for video content but also onboard several new clients.
Aside from helping Prudhomme grow his business, Cloud-powered remote production studios delivered other impressive benefits.
Time-efficient operations
The new studios significantly increased the company's video production capacity. Before, the team members could only travel to one shoot location at a time, whereas now they can receive and edit footage from four different studios simultaneously. The model has potential to continue growing as more studios are added.
Cloud-powered studios take the legwork out of video production. Now there's no need for the producers to travel to the client's location, set up, and tear down equipment.
The team members can work on multiple projects in tandem. With on-site production simplified, producers can focus on efficient post-production. And with video files available from anywhere, Prudhomme can easily outsource to more video editors regardless of their physical location.
"Epiphan Edge embodies the potential and possibilities of easy content creation. It's the future of video creation."
Fast content turnaround
Thanks to Epiphan Edge, producers can download the footage remotely, start editing right away, and deliver the final product faster than before. With remote file download, there's no need to fuss around with SD cards or other storage media.
Full-confidence remote production
With full visibility into inputs and channels on every device, remote producers know they'll get the best raw footage possible. Epiphan Edge's remote switching feature enables the team to produce live and recorded programs from a distance.
About JEEMAN Productions
Founded in 2019, JEEMAN Productions is an Ontario-based creative production company dedicated to creating compelling visual content. JEEMAN Productions' talented filmmakers deliver work of every scale and genre, from single-camera studio interviews to multi-camera, multi-crew commercial shoots. Epiphan Video thanks JEEMAN Productions for being a part of this Epiphan Edge case study.