The challenge: Create a captivating live production of a group motorcycle ride
Capturing high-quality live video from a moving vehicle like a motorcycle is challenging. Live streaming a fully switched multi-camera, multi-rider production is an even more daunting task.
The quality of mobile video sent over unbonded LTE is notoriously unpredictable. And producing a multi-camera program requires a solution for signal aggregation, switching, and mixing content remotely.
The motorcycle club at Epiphan Video sought to overcome these challenges using Epiphan Unify, a cloud-powered production platform that leverages Secure Reliable Transport (SRT) streaming protocol for video inputs.
The solution: Epiphan Unify cloud-powered production
Epiphan Unify offers the ultimate flexibility to record, switch, mix, and restream content from anywhere. In this case, the perspectives of three motorcycle riders were combined into a single program and streamed live to YouTube.
To capture video, each rider used a smartphone with a wearable or handlebar mount. The phones streamed video to Epiphan Unify through Softvelum's Larix Broadcaster mobile app. Like Epiphan Unify, the app supports SRT streaming protocol.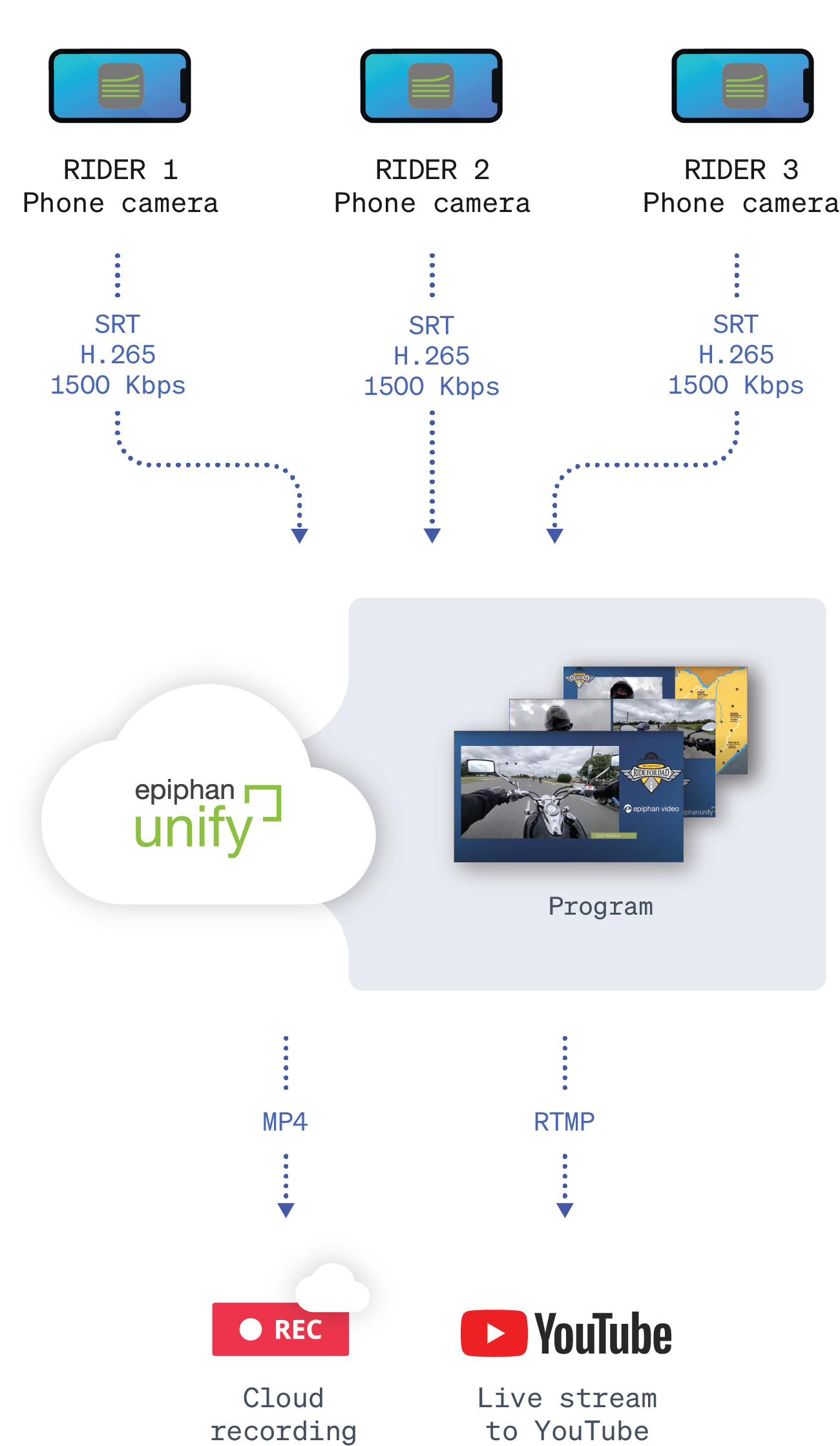 Ride for Dad stream setup
SRT can stream high-quality video over unpredictable networks thanks to features like configurable latency and packet recovery. Furthermore, SRT is compatible with H.265/HEVC codec, capable of reducing the required bandwidth by half compared to H.264/AVC codec. This powerful combination of SRT and H.265/HEVC allowed the riders to stream high-quality HD video directly to Epiphan Unify at a bitrate of just 1.5 Mbps and a configured latency of only 700 ms.
From there, a remote operator mixed these video sources in Epiphan Unify to create a polished multi-camera program complete with PIP layouts, branding, and titles. The program was then streamed to YouTube while simultaneously recording each ISO video source and the program itself.
The remote operator first configured the program using Epiphan Unify's intuitive web-based interface, then managed the stream and switched between layouts using a smartphone.
Remote operator switching the live program through the cloud. Easy operation from a computer, tablet, or mobile device.

Epiphan Unify's cloud switcher interface lets you live switch between layouts while streaming and recording.
Results: An engaging multi-camera live event video with minimal effort
The live program streamed to YouTube for nearly two hours without any interruptions. Viewers were engaged by opening speeches at the event and a variety of multi-camera layouts that provided the exciting POV perspectives of the three motorcycle riders. Branded graphics and YouTube links encouraged viewers to make a donation to Ride for Dad and the titles let viewers know which rider's perspective they were viewing at any given moment.
As the riders ventured to rural areas and passed through areas with spotty cellular coverage, there were several short disruptions to their camera feeds, however the SRT streams quickly recovered without requiring any adjustments. The Epiphan Unify operator could simply switch layouts to whichever rider's stream was available in these moments, creating a seamless experience for the viewer and ensuring the program remained consistently engaging.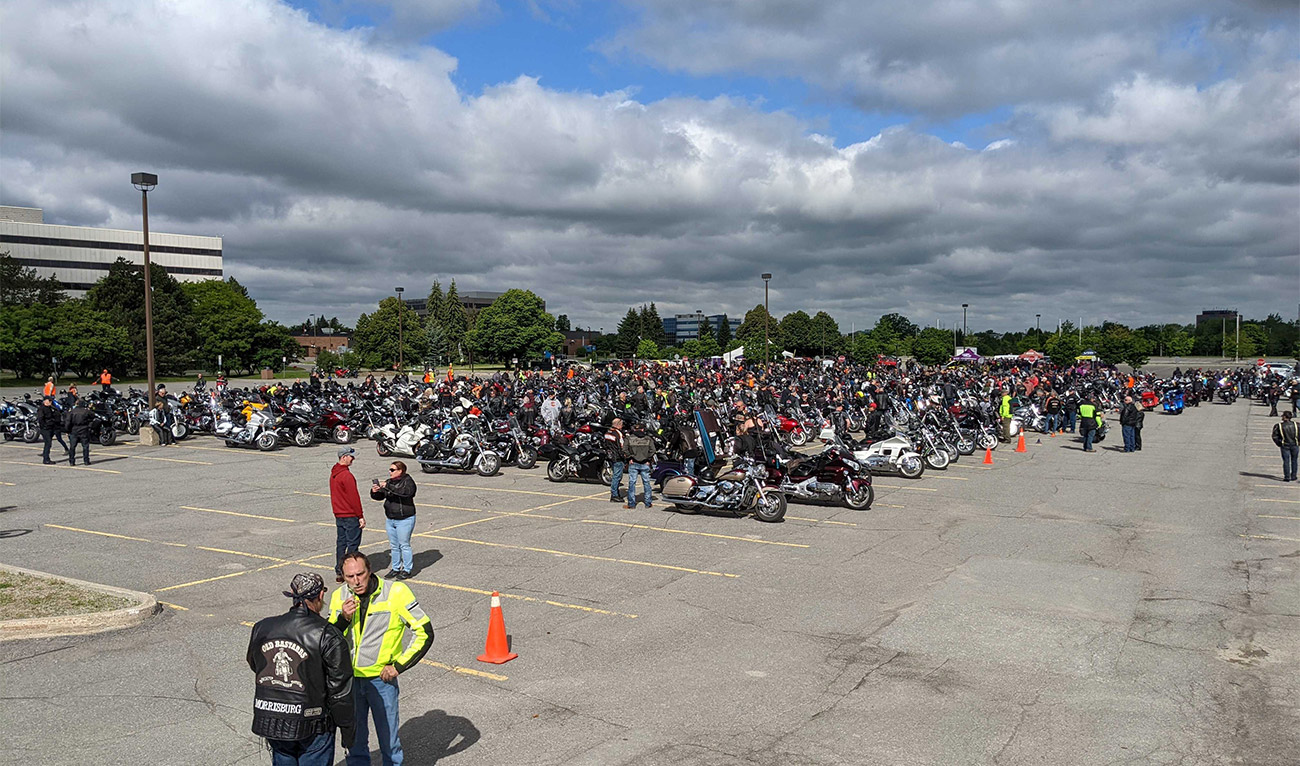 The instantly available recordings of each rider's ISO and the program made post-production of highlight videos from the event fast and easy.
We received lots of positive feedback from the stream viewers, including Ride for Dad participants from other cities who praised the video quality. The Epiphan Video team raised $1,757 for this great cause and will continue to participate in future events.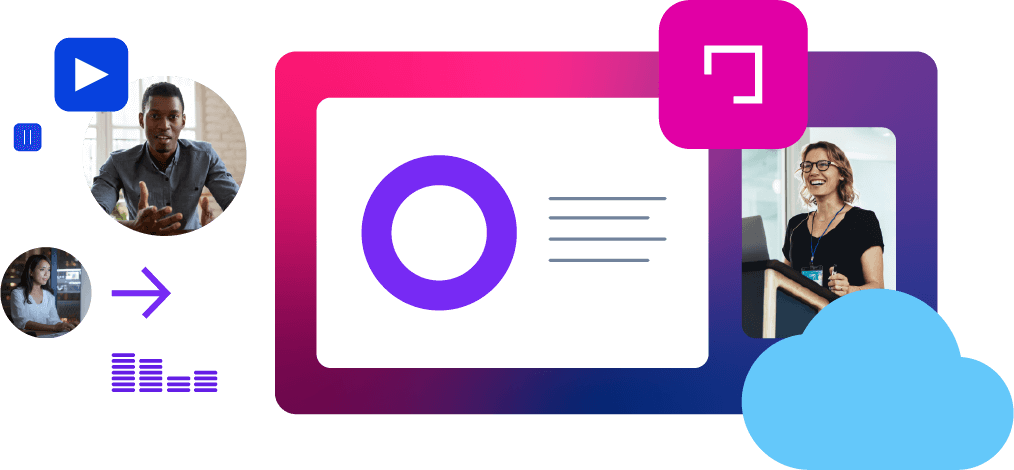 Cloud production without barriers
No matter where in the world your video source is, you can bring it into your production in real time and create a stunning live program with Epiphan Unify.
Established in 2000, the Ride for Dad initiative has raised over $37 million for the fight against prostate cancer. The proceeds from their annual events go to ground-breaking cancer research and life-saving public awareness campaigns about the disease and the importance of early detection.