Digital technology company Extra helps brands every step of the way with their live events, from initial planning and venue organization to live production and distribution. Always looking to optimize their services, the team at Extra identified an opportunity to minimize the risk of streaming failures by changing one key component of their workflows: the all-important encoder.
The challenge: Searching for a dependable dedicated encoder
It's the stuff of nightmares for AV professionals: a steady-going live stream brought down by an untimely software update or computer malfunction.
The team at Extra has lived this. It's a common problem in live event production, where there are no do-overs if something goes wrong. It was a problem Extra was determined to resolve.
The team was quick to identify the issue: entrusting encoding to a standard computer system, with general-purpose hardware and operating system, often leads to poor results. "We needed a machine dedicated to certain tasks because a computer, as we know, sometimes pushes updates or causes malfunctions on our software," says Angelo Casalini, Extra's head of streaming. "As luck would have it, often that happens during an event."
Thus began the company's search for a rock-solid dedicated appliance to handle its live streaming. Reliability and stability of the encoder's underlying software were paramount. Good image and scaling quality was another requirement, as some encoders Extra used in the past degraded the camera image. The winning device also had to be compact to accommodate use cases where there's not a lot of space for bulky gear.

Trusted hardware for high-stakes productions
Epiphan Pearl-2 is the ultimate all-in-one video production system, featuring multiple inputs for video and professional audio, NDI and chroma key support, and the processing power and reliability to support live events of every scale.
Get full product details
The solution: Putting Pearl-2 at the heart of Extra's productions
Past experience with Epiphan products encouraged the team to look into Epiphan Pearl systems, which are trusted for mission-critical applications like live event production. After researching Pearl and discussing their requirements with Epiphan staff, the team invested in two Pearl-2 units.
Like all Pearl systems, Pearl-2 is built and rigorously tested for long-term reliability, making it the perfect encoder to address the live streaming issues Extra was seeing.
Other selling points included the built-in SDI inputs and encoding quality of Pearl-2. Casalini says, "Some other hardware encoders we have tried from other vendors are not the same quality. Epiphan is one of the best-in-class on this side also."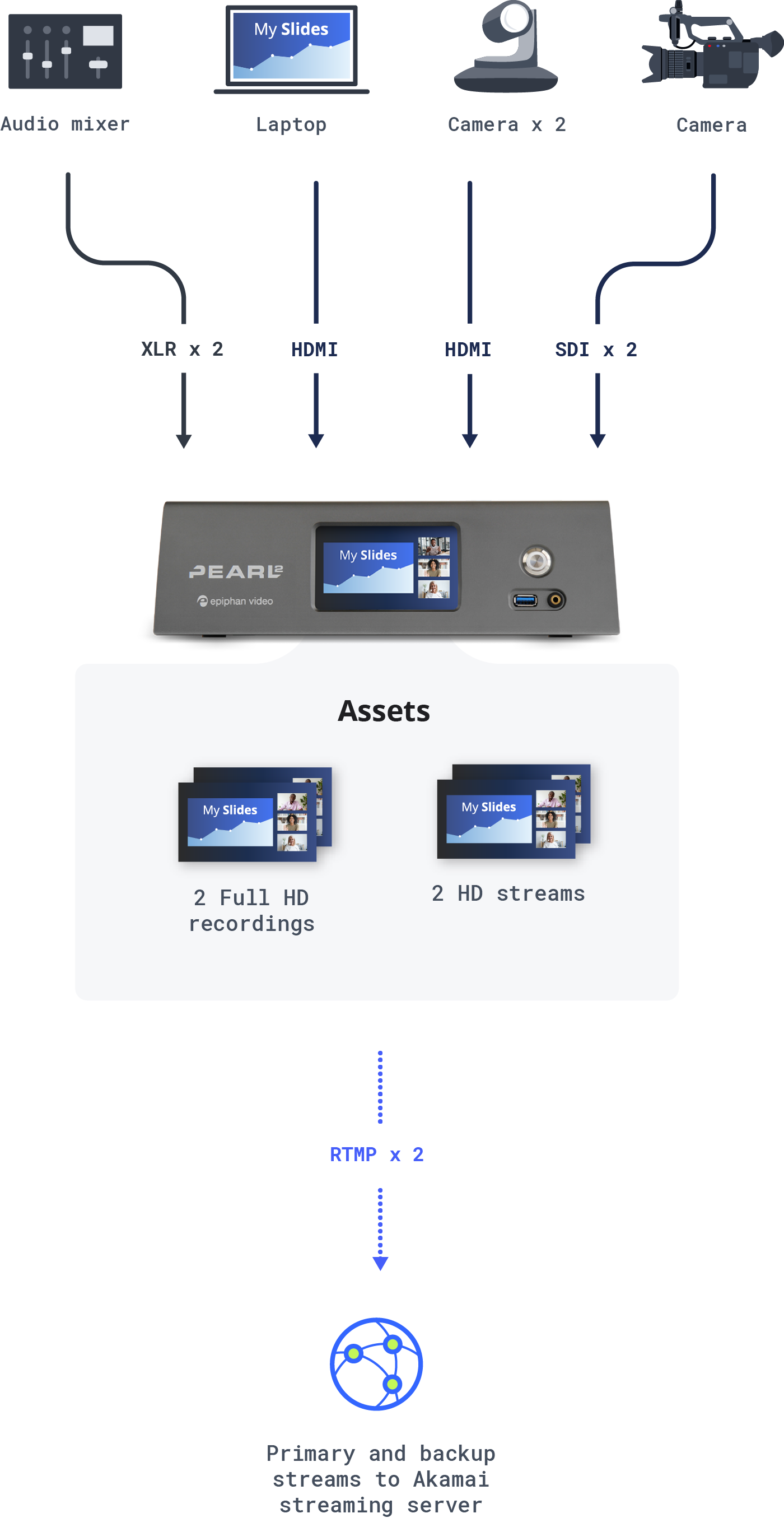 Extra's workflow for surgery streaming
Also ideal was Pearl-2's relatively small size. "Typically, you don't have a lot of space in medical settings, just enough to place a laptop and not much more," Casalini says. "Pearl-2 is small enough that we can work in tight spaces like this."
As a feature-packed video production system, Pearl-2 enables a variety of workflows for events of every scale – sometimes acting as a pure streamer and recorder attached to video and audio mixers, other times handling every aspect of production with switching through Epiphan Live.
For especially high-stakes events, the team uses their second Pearl-2 to enable failover for redundancy.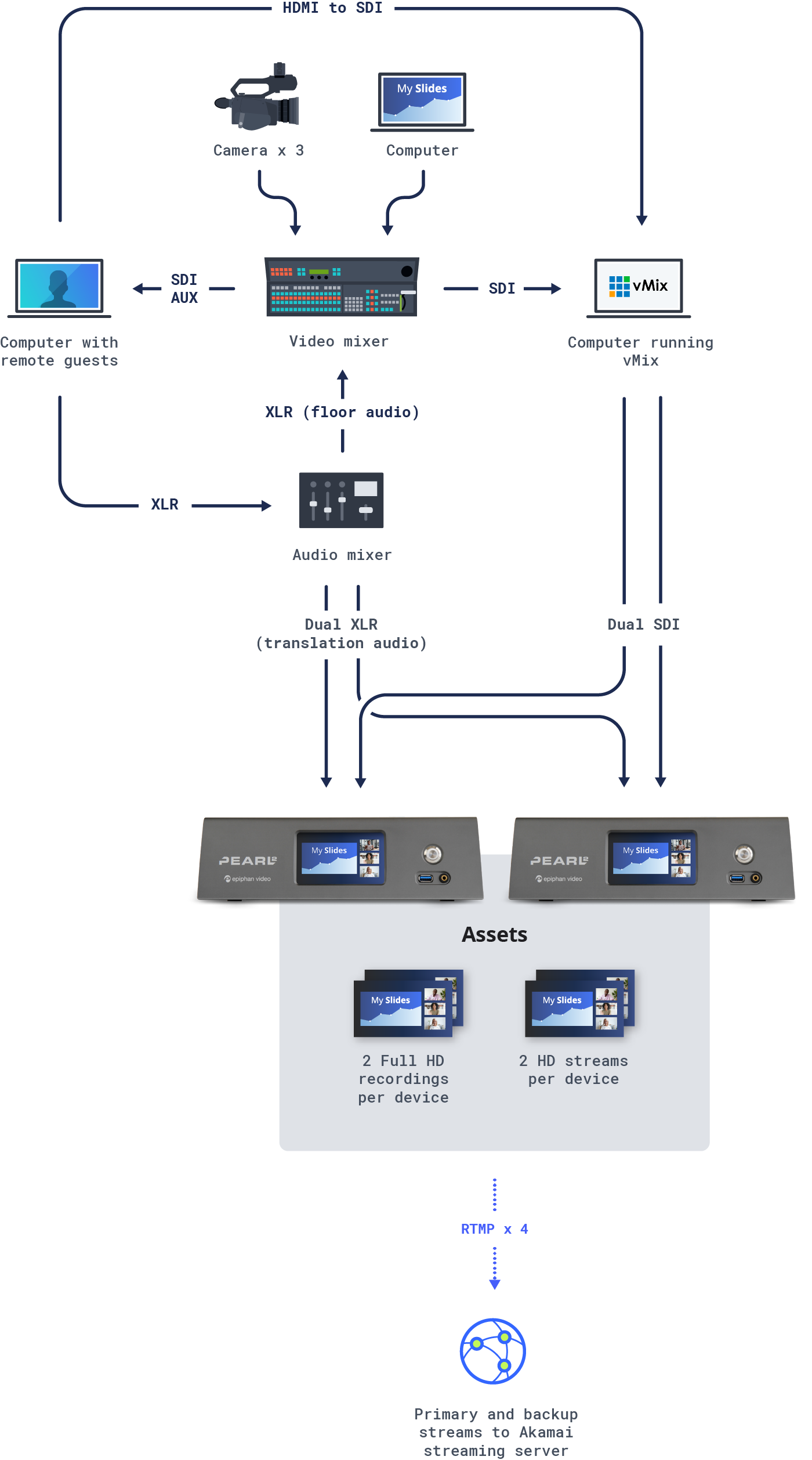 Extra's workflow for corporate events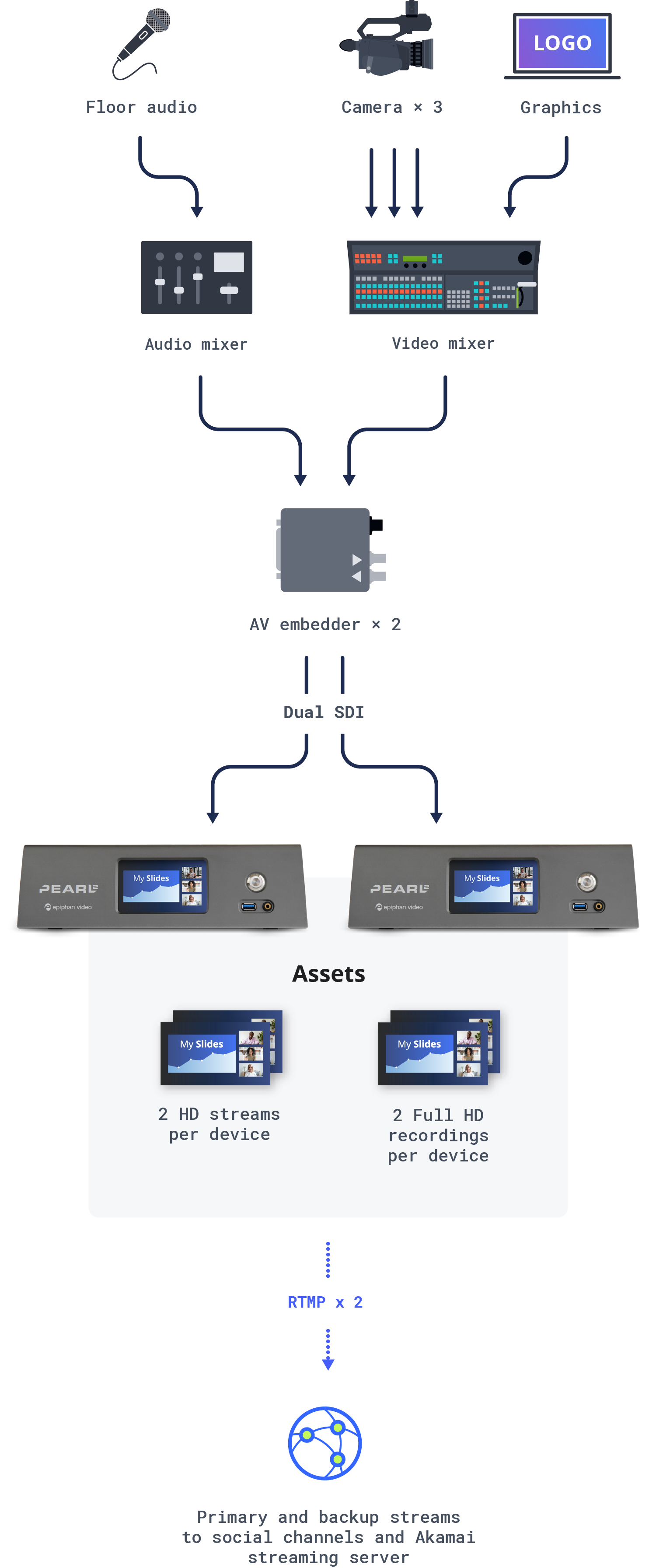 Extra's workflow for music concerts
Much-used features include multi-channel encoding, which allows the team to stream in multiple languages while recording simultaneously, and multistreaming, which makes it possible to broadcast to multiple content delivery networks (CDNs) at once.
With Pearl-2's NDI support, the team can also set up overflow rooms or send outputs to other locations in a venue for real-time viewing. Plus, Extra has made use of Pearl-2's Secure Reliable Transport (SRT) protocol support to bring remote contributors into events in high quality and with low latency.
Results: Worry-free encoding for every event
After about 400 events produced with Pearl, the team at Extra has seen excellent results.
"When we decided to purchase and to use Pearl-2, we found it was worth the money because it really changed how we produce our events," says Casalini. "Now, we don't produce any events without it."
Pearl-2 delivered the reliability Extra was looking for after negative experiences using Wirecast and OBS for encoding. Even when taxed with multiple channels and streams, Pearl's performance is steady. "In one case we had all four channels running at the same time and the CPU was fine," says Casalini. "I have to admit that Pearl is really rock-solid."
When we decided to purchase and to use Pearl-2, we found it was worth the money because it really changed how we produce our events. Now, we don't produce any events without it.
The team uses vMix for switching and mixing, but it's installed on a closed machine: a computer that does only vMix and is vMix certified. This is possible with Pearl dedicated to the encoding.
If a streaming issue does occur – whether it's due to a problem on the network side or some other component – the team uses a custom Pearl layout to inform viewers of the technical difficulties, thanking them for their patience as the situation is resolved. It's a small touch with big impact, adding professional polish to the production and helping keep audiences informed and engaged.
Says Casalini, "I am a really happy customer of Epiphan products. We also use Epiphan's AV.io capture cards and have never had a problem. Ever."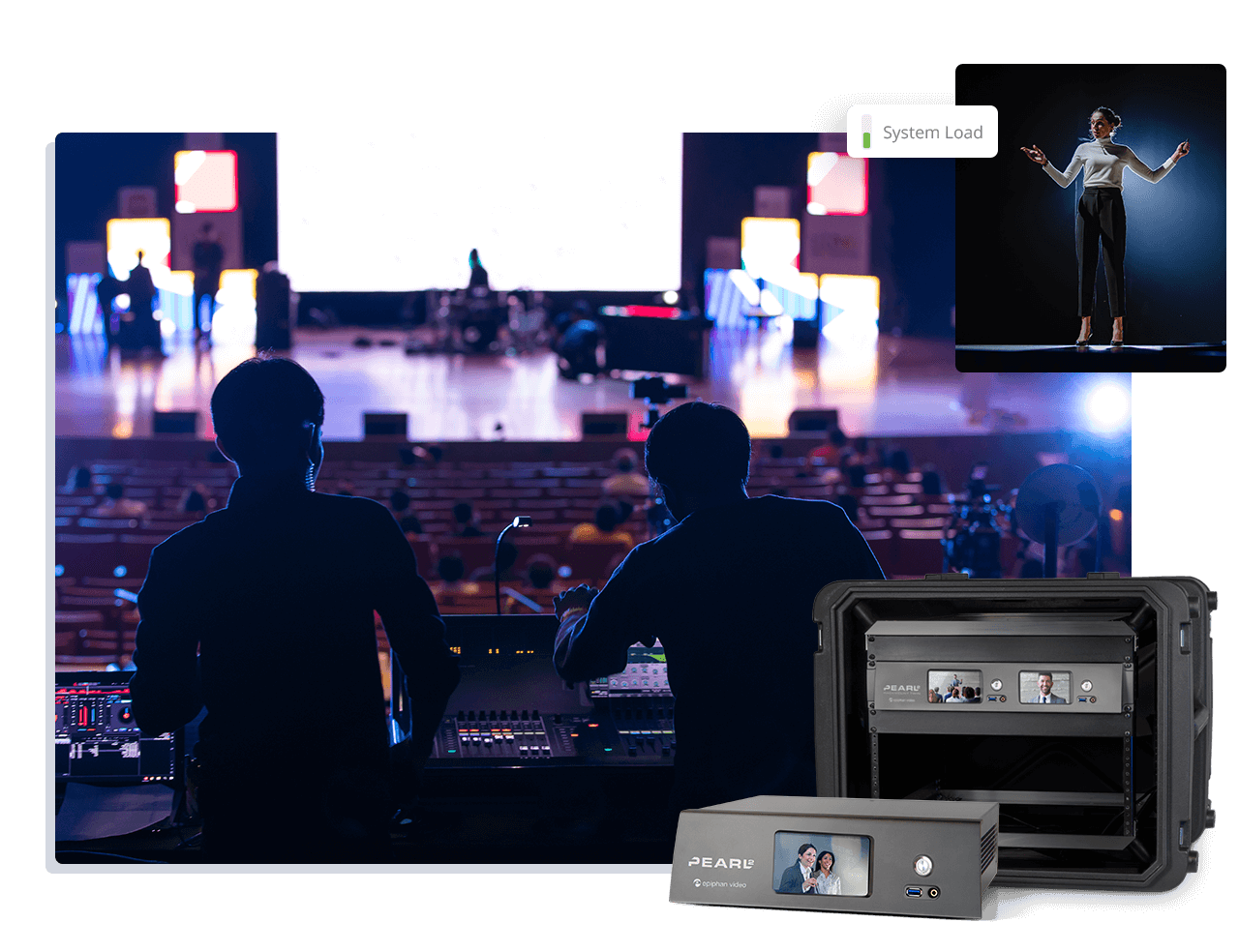 Rest easy with Epiphan solutions
High-stakes productions demand high-performance hardware. Built for pro AV, Epiphan's rugged and reliable hardware encoders let you and your team capture, stream, and record with confidence.
Discover Epiphan solutions
About Extra
Based in Porta Venezia in Milan, Italy, Extra is a digital tech company specializing in the development of integrated communication technologies and services. For over two decades, Extra has supported clients with a range of services including strategic consultation, communications, digital and physical event production, branded content, and digital out-of-home media.