Milford TV enables live broadcasting for local organizations in Milford, Massachusetts. The community access station uses Epiphan LiveScrypt to deliver accurate, real-time, and automatic closed captioning feeds to various physical and virtual display mediums, promoting access for in-person and online attendees.
The need: An accurate, real-time closed captioning solution for concurrent delivery to multiple destinations
Milford TV Executive Director Liz Harkins is passionate about helping her community stay connected through technology and media. One of her main goals as station manager is to give the people of Milford the resources they need to create their own content and share their stories.
The Town of Milford is one of the station's biggest clients. Milford TV has been broadcasting and live streaming from the Milford Town Hall for many years. In preparation for an upcoming meeting, the Town's organizing committee asked Harkins to provide a real-time closed captioning solution to improve audio-visual accessibility for the constituents.
Due to COVID-19 venue capacity limitations, the Town planned to conduct the meeting as a hybrid event. The core group of participants would meet in the upper town hall while all other participants and attendees would join over Zoom. A composite live production featuring dynamic switching between the various cameras and the Zoom meeting would be broadcast to the public access station, streamed live on the Internet, and displayed on local in-room monitors.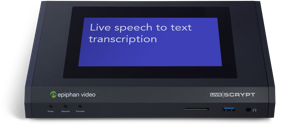 Get live transcription for your event
Increase the accessibility of your live event with closed captioning. Epiphan LiveScrypt is a dedicated automatic transcription device with inputs for professional audio (XLR/TRS) and many more powerful features.
Discover LiveScrypt
For the real-time closed captioning component, the plan was to transcribe the in-person and the Zoom participants' speech simultaneously and display transcriptions as a text overlay on the broadcast, live stream, and in-room monitors. The efficiency of collaborative hybrid events such as municipal meetings relies on timely input from participants, so the closed captioning component had to be as accurate and delay-free as possible.
Another requirement for the solution was ease of use. With limited staff, the station is always looking for solutions that won't require much training and will be easy for others to learn how to use. Finally, it was important to the small local government to stay within budget.
The solution: LiveScrypt, a transcription device with customizable text overlay output
After spending some time searching for a closed captioning encoder, the station's technical supervisor, Daniel Harlow discovered LiveScrypt. Compared to the alternatives, it was more accurate, better priced, and had a feature set that fit the station's needs.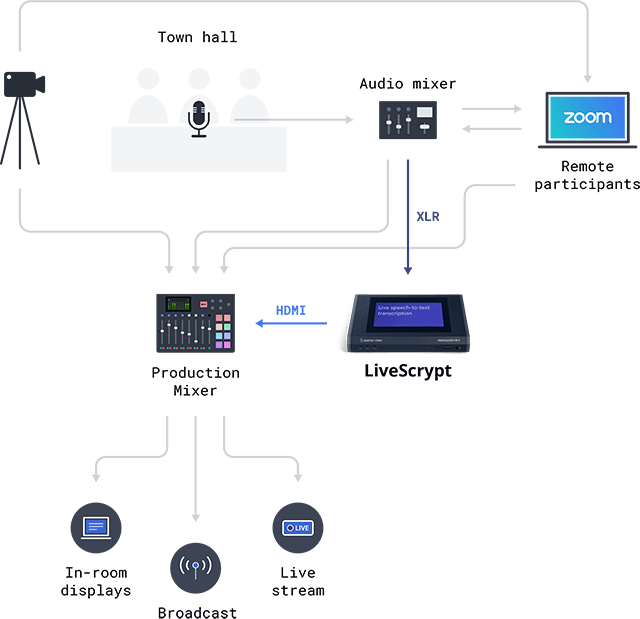 LiveScrypt received the combined audio output from the auditorium mixer via XLR. This signal included the audio from both the speakers in the auditorium and the Zoom meeting participants, allowing the device to transcribe both. Next, LiveScrypt's HDMI output delivered the transcription to a production mixer, where it was added as a text overlay to the online stream, public broadcast, and in-room monitors.
The results: Automatic meeting transcription, accurate captions for viewers
Milford TV first implemented LiveScrypt as the closed captioning solution for the Milford Board of Selectmen meeting. Setting up LiveScrypt was "easy and straightforward," says Harlow. LiveScrypt's user-friendly interface helped minimize training time, allowing Harlow to teach other staff members how to operate the device faster.
LiveScrypt is really straightforward in how it works and it's very easy to set up. We had LiveScrypt up and running live transcription in 10 minutes. Having closed captioning being the least of our problems for a cable broadcast and a town meeting was a wonderful feeling.
It was important for Milford TV to achieve a high level of transcription speed and accuracy during the government stream. The on-screen text overlay was able to follow the audible speech with minimal latency and over 95 percent accuracy, allowing the in-person and virtual attendees to follow the discussion in real-time.
Harlow and Harkins noted the degree of flexibility LiveScrypt offers. For example, LiveScrypt's text customization and output options allowed Milford TV to tailor the appearance of the transcribed text and embed it into Zoom meetings, add it to live broadcasts, and display it on in-room monitors.
I love the functionality of LiveScrypt. The accuracy is fantastic, and the flexibility is where it really hits home. We are able to use LiveScrypt for broadcast and in-person events, all in real-time. If I can use something for more than one purpose in more than one way, I'm drawn to that item.
About MilfordTV
Working under the umbrella of Milford Community Media Center, Inc., Milford TV is a non-profit public access station that offers training in television and a public forum for electronic free expression for the Milford community. The station manages facilities for community access programming on the Public, Educational, and Governmental (PEG) Access channels on Milford cable television systems and related websites.