Corporate Events Online (CEO) is an event streaming service and platform provider that supports high-profile virtual and hybrid events all over the world. The company deploys Pearl streaming encoders for remote operation by local crews, which means CEO specialists don't always have direct access to their streaming encoders.
The problem: Troubleshooting streaming issues from thousands of miles away
CEO provides streaming services for virtual and hybrid training sessions, product launches, national sales meetings, and investor conferences for Fortune 1000 companies across the globe. These are high-stakes events with no room for error. And because they typically take place across multiple venues, the CEO team can't always send a specialist to every location to manage live streaming directly.
The company relies on locally hired operators to set up and deploy preconfigured Pearl units. The trouble is that these operators aren't always familiar with Pearl gear and may require remote support from a CEO specialist. Such remote supervision can be cumbersome, especially in critical situations.
To mitigate the added risk and complexity of the remote layer, CEO needed a way to access its fleet of Pearl video encoders remotely. To manage, monitor, and control their distant Pearl devices, CEO found the perfect solution in Epiphan Edge.
The solution: A powerful online configuration and monitoring platform for all Epiphan devices
Epiphan Edge gives CEO team members full access to key device statistics like system load, device temperature, and storage usage. They can also enter any device's UI via remote login for full access to device settings. The team finds having access to Pearl's network diagnostics tool particularly useful for checking local bandwidth remotely.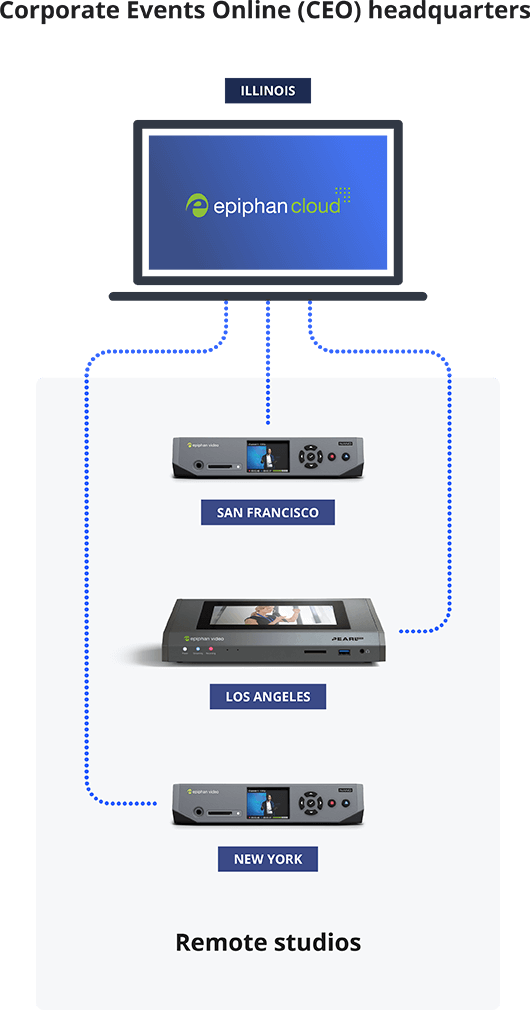 In-app alerts and warnings let the team know if device vitals or stream health are in danger so they can react immediately to fix the situation. "We use alerts a lot," says President of CEO Jim Fiore. "We like that each alert includes enough detail to help us isolate the problem along with a list of solutions so we can take action."
Remote CEO specialists work in parallel with local Pearl operators to troubleshoot issues quickly and efficiently. Local Pearl operators also receive access to Epiphan Edge so they too can leverage the crucial insight it offers into device and stream health.
"We can do all the same things through Epiphan Edge as we could if the device were right there in front of us."
Results: Full visibility, full confidence
Peace of mind
Full remote visibility into its Pearl fleet of encoders has given CEO confidence about the success of their events. The team knows Epiphan Edge's informative and timely warnings will help them address any issue right away. It's like having insurance on your professional reputation.
No local operational knowledge required
With Epiphan Edge, local operators' level of experience and technical proficiency with Pearl is a non-issue. All the remote operator needs to do is get the device online; CEO specialists can take care of the rest.
Multi-event, multi-venue management
Epiphan Edge grants CEO the ability to be in many places at once. In a recent example, a single CEO specialist based in the Chicago area was managing multiple devices during a simultaneous event in California and New York State. By enabling the company to operate at multiple venues at the same time, Epiphan Edge helps CEO run as a small yet efficient team.
Efficient and centralized device management
With CEO's sizeable fleet of 18 Pearl devices, managing each unit individually would be inconvenient and inefficient. Epiphan Edge provides one platform for all Pearl devices, streamlining configuration and maintenance with time-saving tools such as multi-device firmware updates.
"Epiphan Edge puts our eyes and ears on site. It allows us to control the outcome of the event."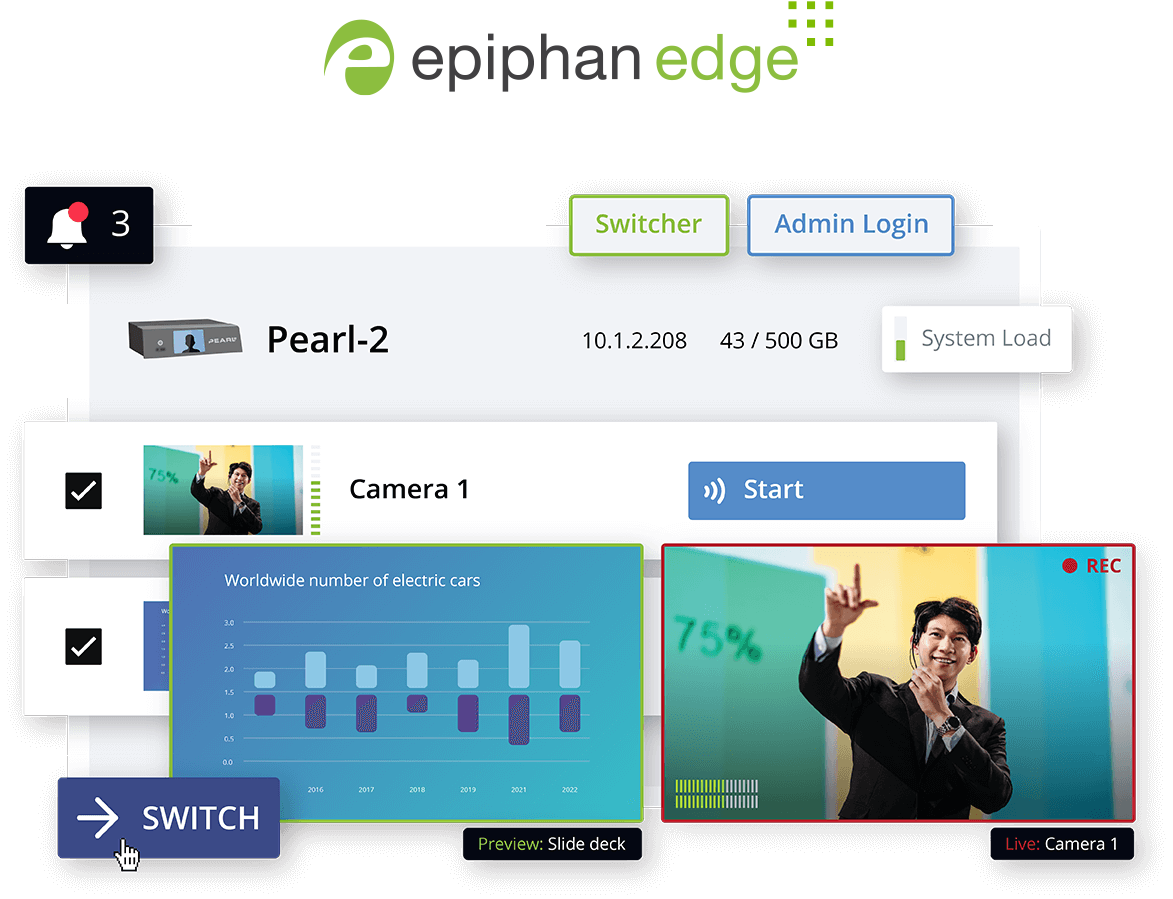 Be there when you can't with Epiphan Edge
Epiphan Edge gives you a window into your Pearl-powered productions wherever you are with full remote control, 24/7 device monitoring, and more.
Discover Epiphan Edge