Remote video production is all about freedom, flexibility, and efficiency. But the way there can be confusing, even if you're an old hand at traditional, in-person video production.
This blog covers all the bases and offers practical advice to help you set up and pull off successful remote live streaming and video recording sessions.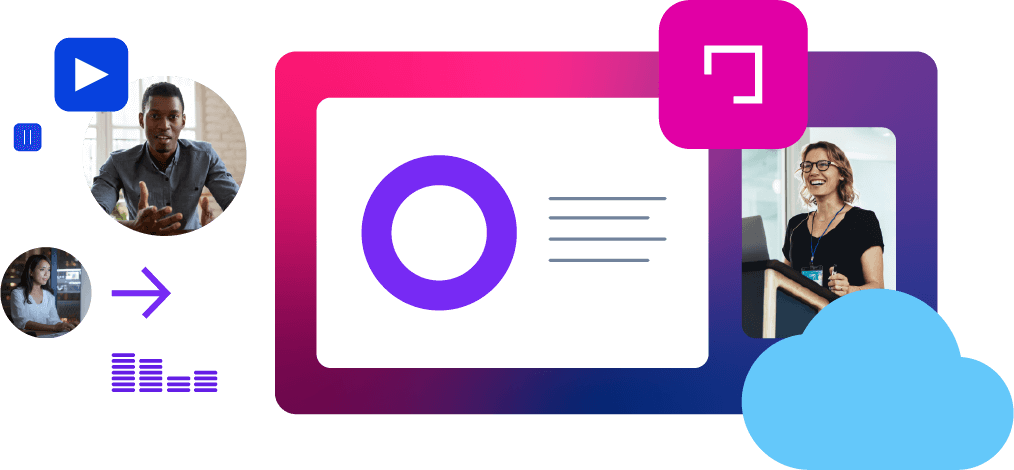 Build a better remote production workflow – in the cloud
Record, switch, mix, and restream content from anywhere, alone or working virtually alongside others, with Epiphan Unify. Tap into all the cloud power you need to create high-quality video experiences that will wow viewers and maximize your impact.
What is remote video production?
Remote video production describes any situation where the producer isn't in the same room, building, city, state, country, continent, whatever, as the people on camera.
Here's an example to illustrate what we mean. Imagine there's a conference underway that's being streamed and recorded simultaneously. The panelists and participants are at the venue, on stage, doing what they do in front of the cameras. Meanwhile, the producer (or production team) could be anywhere: at the company's head office a state away, in a local coffee shop, even their own living room. Not only that, but the producer could be monitoring a separate event happening on the other side of the country, all from the comfort and convenience of wherever they work best.
Maybe that all sounds like a stretch. In fact, it's totally possible with today's technology. Plenty of companies are producing video remotely to cut costs, drive efficiency, and unlock flexibility for their production teams. That's especially crucial these days, when working from home is far more common.
A note about video quality
This blog speaks to remote video production in professional terms, covering contexts where professional-grade video is a must. That means going beyond webcams, USB microphones, and mobile phones or tablets.
If your project doesn't demand broadcast quality – if using webcams or simply streaming out your video conferencing app's UI won't hurt the impact of your video – there are easier ways to go about it remotely. But if building your brand and engaging your audience are your goals, this guide will show you how to do it.
How remote video production works
Video production is quite a different beast when you're doing things remotely: a different production process, different workflows, and different tools if your existing gear lacks remote capabilities.
What goes into your remote production kit will depend on the specifics of your project. For example, your setup might include:
Pro-grade cameras (e.g., mirrorless, PTZ cameras)
A video switcher for multiple inputs/layouts
A remote controlled audio mixer (remotely accessible or with local controls extended through a VPN or remote desktop software)
Lighting with Digital Multiplex (DMX) protocol support
Why the cloud is essential for remote production
It'll come as no surprise that having a robust network is everything here, given that the producer is controlling all this gear remotely. In fact, the network layer is probably the biggest challenge of remote video production. It's an especially persistent anxiety for live video producers, who don't have the luxury of resetting and rolling again after a network hiccup.
Happily, you can mitigate this risk by favoring reliable solutions and using a cloud video service like Epiphan Edge, Epiphan Unify, or Epiphan Connect. Cloud-based services like these have built-in redundancy. And because they run on distributed server farms, they'll keep your live stream online should your producer's Internet take a dip. Even better if you have a backup producer on standby who can log in and take over while any issues are smoothed out.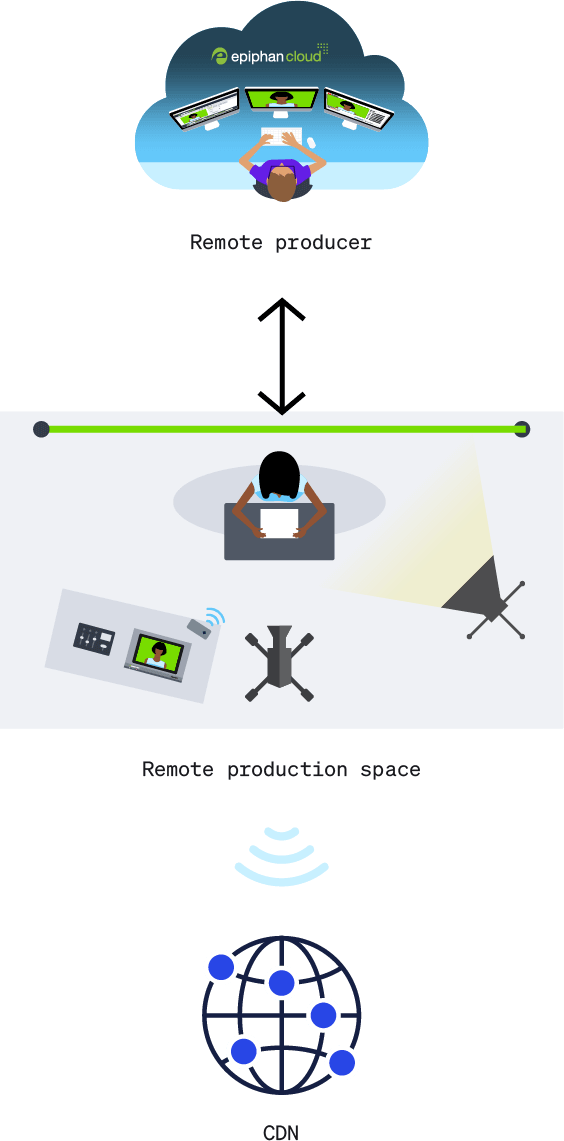 Cloud-based video production also makes it easier to collaborate with others. For example, you could have a producer taking care of the mixing and switching and a supervisor overseeing – both miles away from the venue and each other. It's also handy for post-production because you can more easily transfer files to a video editor, who can then get started on stitching everything together.
SRT: The key to flawless remote contributions
Network issues don't just plague producers. If any or all your contributors are remote, they too can battle fluctuating bandwidth, inconsistent quality, and other network maladies. These sorts of issues aren't just frustrating to deal with; they can also really hurt the quality of your production.
It's why the Secure Reliable Transport (SRT) protocol has been such a breakthrough for remote production. It's designed for high-quality, low-latency streaming over virtually any network. This makes it ideal for remote contribution, since network conditions can vary so widely from location to location.
The best thing about SRT? It's open source and widely adopted, making it easy to find SRT-capable gear (including Epiphan solutions). Case in point, more than 500 companies have signed on to the SRT Alliance. For these reasons and more, SRT should be an key component of your remote production setup.
Three setups for remote live streaming and recording
There are numerous ways to set up for remote production. Here we share three different workflows built on our own remote-capable hardware and cloud video services.
Setup 1: Remote-capable hardware encoders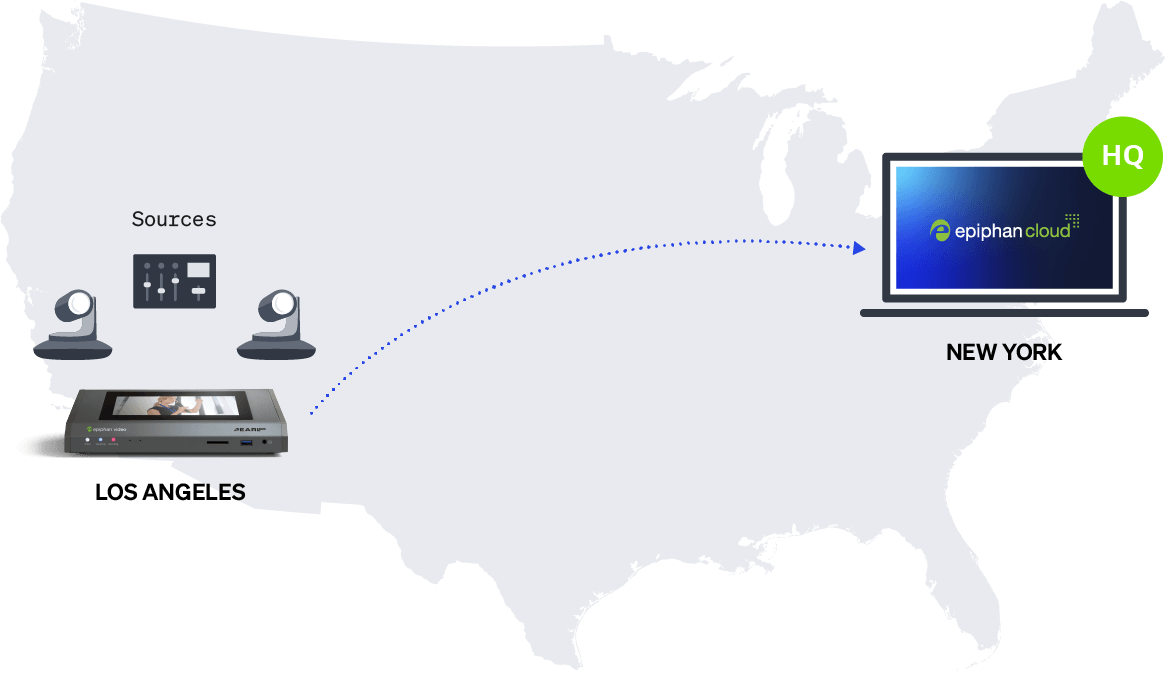 Epiphan Pearl video production systems feature full remote access and control capabilities. All you need is an Internet connection and Epiphan Edge – no VPNs or network tunnels required.
The Pearl product line comprises three systems: Pearl Nano, Pearl Mini, and Pearl-2. They differ in features, form factor, and the applications they're best suited for. For example, Pearl-2 makes a mean production encoder since it offers the most processing power to support advanced features like chroma keying. Plus, Pearl-2 can accept up to six SRT inputs. Then there's Pearl Nano, the best SRT encoder for remote contribution and guests. It's an ultracompact and refined device that's perfect for shipping out to remote participants to elevate the quality of their feeds.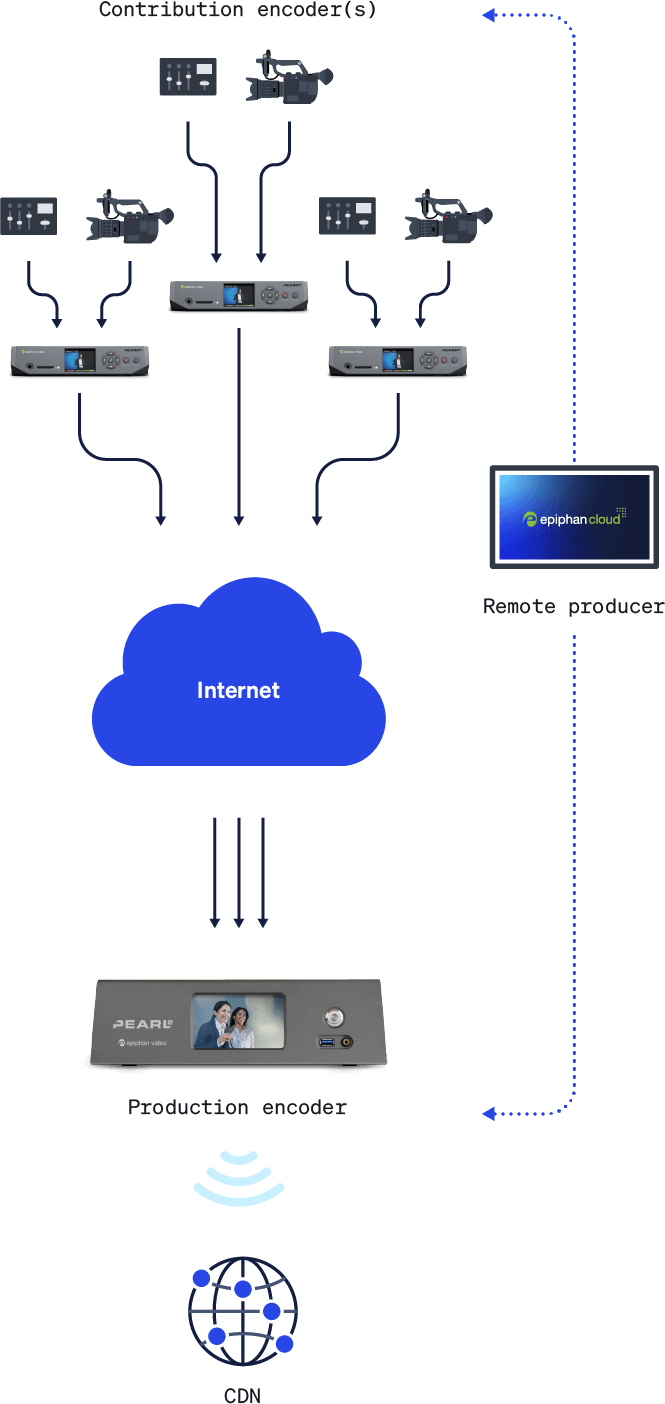 Another great advantage of Pearl-powered remote production: end-to-end configuration and control. From Epiphan Edge's centralized dashboard, you can access and tweak any paired Pearl system. This way, your remote contributors don't have to be video production pros to output SRT. The producer can take care of all the pre-show configuration and testing, minimizing the likelihood of errors.
Create broadcast-quality video anytime, anywhere
Pearl video production systems are reliable, intuitive – and fully remote controllable. Just log in to Epiphan Edge's centralized dashboard to access these powerful edge devices from any location, enabling you to produce exceptional branded video from a distance.
Setup 2: Cloud-powered video production
The cloud is a flexible, convenient, and ever-scalable resource that's the basis for so much of the technology we use and rely on every day. And with Epiphan Unify, you can tap into this unlimited store of power to streamline your remote production even further.
Epiphan Unify empowers you to mix, switch, record, and restream video from anywhere, nixing any worries about local processing limitations. Whatever compute power you need, Epiphan Unify delivers, whether it's for 4K restreaming or a multisite hybrid production with chroma keying.
And Unify can accept SRT signals from anywhere, whether it's an Epiphan Pearl system or another SRT-compatible encoder or camera.
Setup 3: Microsoft Teams signal extraction
Millions of people use Microsoft Teams every day. And not just for video communications: a growing number are looking to produce live events with Microsoft Teams.
Are you one of them? Microsoft Teams is convenient, familiar, and makes it easy to bring people together to collaborate in real time. It's only natural to look at it as a possible solution for remote video creation. If it's a business video you're making, though, simply streaming out the Microsoft Teams UI won't net the results you're after – that is, to elevate your brand in the eyes of your target customers.
Epiphan Connect makes it easy to extract Microsoft Teams participant feeds (and screen-share content) and add them to branded layouts using your preferred production tools, whether that's hardware or software. You can display those extracted feeds in Full HD and with isolated audio, making it feasible to use them for professional-quality live streams and recorded content.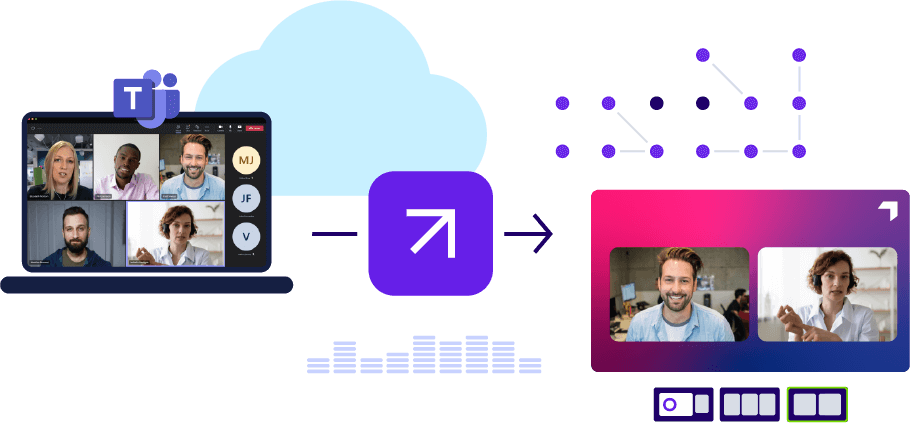 Elevate your video content without sacrificing convenience
Combine the convenience of video conferencing and the quality of professional broadcast with Epiphan Connect. Compatible with a range of video production solutions. Coming late summer 2022.

Make remote video production look easy
Thriving in today's hybrid world demands hybrid production solutions like Epiphan Pearl, Epiphan Unify, and Epiphan Connect. Learn more about them at epiphan.com/products.