Picking a camera for your live stream can be tough. You've probably already looked at a variety of webcams, action cams, DSLR cameras, consumer and professional camcorders, and maybe even PTZ cameras.
If you are asking any of the following questions:
Which type of camera do I need?
What makes for a good live streaming camera?
Can I use the camera I already have to live stream?
Read on, we have the answers.
If you want to see specific models of cameras that are well-suited for live streaming, check out Part 2: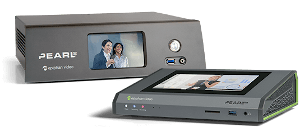 Produce professional live streams with powerful encoder hardware
Pearl all-in-one video production systems make it easy to stream and record with DSLRs, mirrorless cameras, camcorders, and other high-quality equipment to produce live streams that will impress and engage.
Get product details
Types of live streaming cameras
Let's first look at the different types of cameras that are capable of live streaming. When we talk about live streaming cameras, we are primarily talking about webcams, DSLRs, and camcorders (consumer and professional). Less frequently, PTZ and action cameras are also mentioned (these are more specialized kinds of live streaming cameras).
In order to start live streaming from a DSLR, a camcorder, a PTZ, or an action camera through a computer, a capture card is necessary to "grab" the signal. Web cameras are the exception: you can connect them directly to a computer through USB and they will be ready to stream. If, however, you are going live using a hardware encoder like Pearl 2 or Pearl Mini — no external capture card is required. Hardware encoders come with capture cards built in, so you can connect your camera directly to the encoder. Check out our live streaming basics guide to refresh your knowledge of how to live stream from an external camera.
Webcams
Webcams are easy to use, USB powered devices, that connect directly to a computer. Many encoders (such as Webcaster X2) also readily accept webcams as USB video sources. Laptops often come with internal webcams, but these generally have terrible quality. That being said, modern external webcams have come a long way over the past decade, and some of the higher-end ones offer great quality for a very reasonable price. Top of the line webcams can come equipped with extra features like zoom, face recognition, and decent built-in microphones.
External webcams are very popular with gamers for that picture-in-picture layout of the fullscreen gameplay and a small video frame of the player on top. Webcams are also great for narrating lectures, conducting business meetings, or videochatting. Basically, webcams are good for any interior-type application, where autonomous video capture is necessary.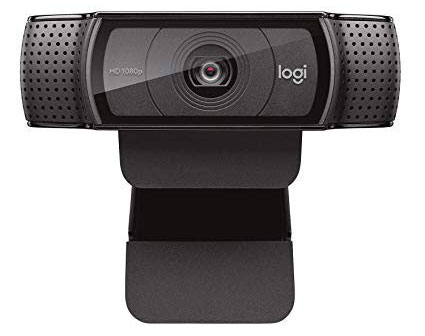 Logitech c920 webcam
One of the most popular webcam models on the market today is the Logitech C920. We like it because it works well with Webcaster X2.
Webcams are good for: video conferencing, gamer streaming, basic lecture capture (for narration of material)
Action cameras
These small cameras are perfect for capturing quick movement like sports. They are easy to mount on a whole variety of surfaces. They also generally have wide-angle lens to capture maximum action. Resistant to the elements, action cameras have been known to survive falls from thousands of feet as well as deep dives into the ocean. Video creators also like using action cams to capture B-roll or secondary angles.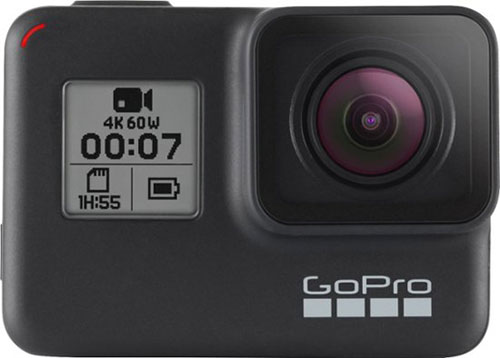 GoPro Hero 7 HD
GoPro Hero is arguably the most famous representative of the kind. Action cameras generally have a mini HDMI™  out and are able to give 1080p resolution video at 60 fps (high frame rate is especially important for capturing sports and quick action). Be wary of the cheaper (knock-off) versions of action cams: they often aren't able to give live video signal at all.
Action cams are good for: streaming on the go, fast paced activity, b-roll/wide shot.
DSLRs and Mirrorless cameras
DSLRs and mirrorless cameras were the digital analogs of film cameras. Originally designed with photography in mind, DSLRs aren't really intended for recording video for long periods of time or live streaming. There is a number of caveats when it comes to capturing live signal from this type of camera:
First off, not all models of DSLR/mirrorless cameras have an HDMI™ out, especially the older models. As obvious as it sounds, the first thing to do is to confirm that the camera has a video out. Second, they sometimes aren't able to give a live video feed or it's "dirty" (meaning it all the UI overlays are visible). In some cameras, a "clean" signal can be accessed through changing camera settings, but in some that's not so. Third, DSLR sensors and processors tend to overheat over long periods of operation. Many DSLRs will show an overheating warning after about 30 minutes of live view mode and shut off. This, of course, is not ideal for longer streams. This seems to be an issue with many Canon DSLR cameras in particular. Lastly, some DSLR cameras shut off after a period of no activity (auto standby) to save battery. This issue usually be resolved by either turning the energy saving timer off, or connecting the camera to AC power.
That said, it's still possible to live stream with DSLRs and many live streamers actually prefer DSLRs to any other type of camera. The first reason is versatility: in addition to video, DSLRs also take great photographs. Mirrorless cameras are generally more compact than camcorders, which makes them more portable. The second reason is picture quality. DSLR and mirrorless camera sensors are much larger than those of camcorders, which makes them better at streaming in poor lighting conditions. DSLRs and mirrorless are also able to give superb picture quality and that "cinematic look" without having to buy a much more expensive camcorder with similar capabilities. Lens play a huge part in this, so when investing in a DSLR/mirrorless, keep in mind that you may also have to invest in different types of lens. Also be sure to research known issues of your DSLR/mirrorless of choice in regards to live streaming.
Mirrorless camera Sony a6300

DSLR Panasonic Lumix GH5
Examples of DSLR cameras that we really like and use in our Live @ Epiphan show include Sony a6300, Canon EOS C100 and George Herbert's personal favorite Panasonic Lumix GH5.
DSLRs are good for: shorter live streams (under 30 minutes).
Digital camcorders
Created as more convenient analogs of their tape counterparts, digital camcorders are pretty much the new standard for video broadcasting. They are designed for convenient handheld shooting for extended periods of time. Digital camcorders range from $200 and can go all the way up to tens of thousands, depending on their feature set. The bottom line is If you want to stream for hours on end in good quality, you should probably get a camcorder.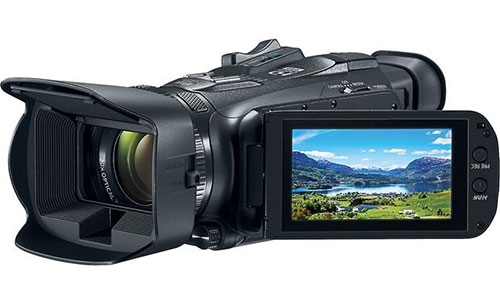 Canon VIXIA HF G21 Camcorder
The most simple camcorder you can start streaming with is the Canon Vixia R800, which goes for about $250. If you want a better image and more functionality, look at something like the Canon Vixia HF G21 (~$900) or the Canon XA11 (~$1300).
Digital camcorders are good for: big live productions of all kinds (concerts, events, conferences, news, sports, etc.) where a camera operator is available.
PTZ cameras
PTZ (Pan, Tilt, and Zoom) are cameras embedded within a solid frame and controlled remotely. These cameras typically have a flat base and can be securely affixed to many different surfaces, such as a ceiling, table or tripod. They are most commonly part of a permanent installation at a venue that does a lot of streaming and recording.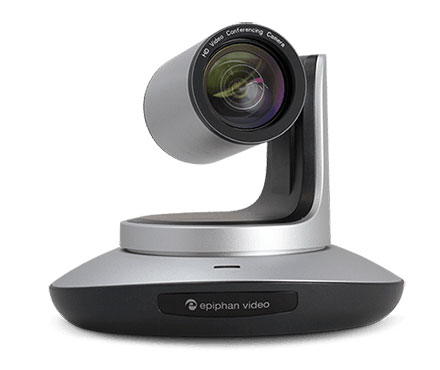 Epiphan LUMiO 12x PTZ Camera
These cameras could be easily controlled remotely from a computer or a remote control, making it possible for one operator to control many cameras at once. PTZ cameras offer great optical and digital zoom. For example the LUMiO 12x offers 12x optical zoom and 2x digital zoom for amazing closeups. Modern PTZ cameras offer 60 fps streaming, making them a suitable choice for sports streaming. To learn much more, be sure to check out our video all about PTZ cameras.
One of the drawbacks of PTZ cameras is that they generally do not capture audio, so you would need to figure out a way to capture sound differently.
PTZ cameras are good for: Set-and-forget type scenario, churches, lecture capture in large halls, concerts (all for remote operation).
Picking the best camera for live streaming
What makes for a good live streaming camera?
1) Provides a "clean" live output his means the camera is able to send video over HDMI or SDI without any UI overlay elements (such as "battery remaining," etc.). Many cameras allow for this setting to be toggled on and off. Some cameras aren't able to provide a live feed from the camera at all (true for some cheaper action cams, DSLRs, and older camcorder models). Be sure to check the camera model online before purchasing.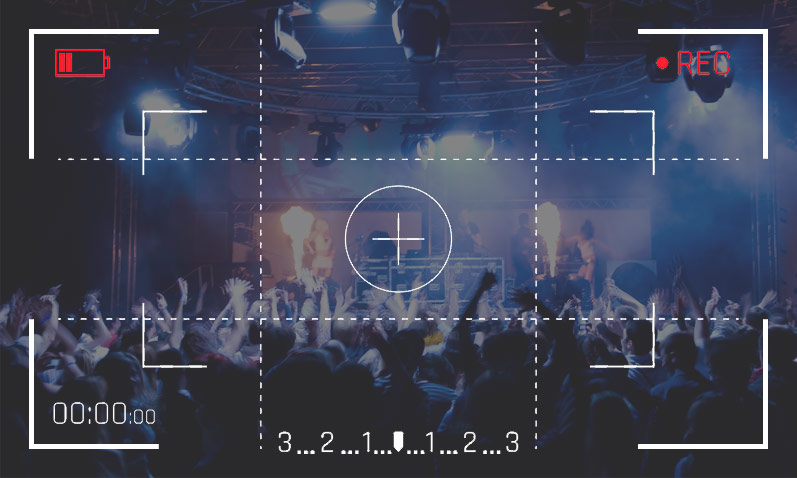 Non-clean output
2) Is able to charge directly from AC power
Live streams can run extended periods of time. To make sure you don't run out of battery in the middle of your stream, it is considered best practice to have your camera connected to AC power. Also, some DSLR cameras go into standby mode (shut off) after a period of non-activity, and the only way to keep them on all the time is to connect them to power using an AC adapter.
3) Doesn't shut off automatically and doesn't overheat
Again, this mostly pertains to DSLR cameras. Some cameras shut off after a period of time in order to preserve battery. This setting can often be turned off, but be sure to check before purchasing. With some DSLR cameras, you must deactivate autofocus (switch to manual) in order to completely resolve the issue.
4) Doesn't overheat
If you are planning a longer live stream, you don't want a camera to overheat and shut off. Some mirrorless and DSLR cameras can overheat, especially when powered over USB. One way to prevent that is to use something called a dummy battery and an AC power adapter instead of USB power. Even so, some cameras are just more prone to overheating than others.
Other important things to consider
Output resolution
Today, a camera should be able to output at least 720p resolution. Most cameras today offer at least 1080p resolution or more. Frame rate is also important to consider, especially if you are planning to stream high speed activity like sports. 30 fps is reasonable for slower-paced activities, while 60 fps is highly recommended for sports. We also feel that progressive signal (p) looks much better than interlaced signal (i).
Adding audio
Consider the path of your audio signal. Will it be going through the camera? Will you be using an external and built-in mic? Look at what type of audio IN the camera has. More basic cameras come with a 3.5mm jack, while the more advanced ones might have XLR audio, and some may have no audio IN at all (action cameras, for example). To solve this issue, you may need to invest in an HDMI audio inserter, a device that joins together your video and audio sources before handing them off to the encoder. It is best practice to bring in audio and video at the same time to avoid sync issues.
Some older camcorders as well as DSLR cameras, while being able to provide a video output on standby, do not pass through a live audio feed. A fast way to check whether your camera has audio throughput is to connect it to a TV set via HDMI™. If you can hear the sound through the TV – your camera has live audio throughput.
Connection type
HDMI™ is a very popular connector type for video. It's important to note that it comes in three varieties: HDMI micro, mini, and full-size (see which one your camera has and be ready to get adapters). However, many users complain that the physical connection is not very reliable. HDMI™ cables can get accidentally pulled out. Also, HDMI ™ cables are able to run for about 100 ft before the signal begins to degrade.
SDI connection is faster than HDMI, offers a locking physical connection, and can run longer (up to 300ft). This is why SDI camcorders cost more than HDMI.
Simultaneous recording and streaming
Some cameras don't allow simultaneous recording and streaming. A quick way to determine whether your camera is able to record and stream simultaneously is to connect it to a TV using HDMI™ and press record on the camera. If you are still able to see the live feed on your TV screen – your camera can stream and record simultaneously.
Rotating display
If you are planning to live stream yourself and wish to have a confidence monitor, look for a camera with a display that can flip all the way around and face you.
Going mobile
If you are planning to go live from a remote location or move about a lot in your live stream, then be sure to look at the camera's battery life (or get additional battery grips). Also consider the weight, size, and shape of the camera. Some DSLRs are difficult to hold for extended periods of time, while camcorders were designed for handheld shooting.
Again, for streaming sports you will need a camera capable of 60 fps output as well as good image stabilization.
Other important gear – lights, tripods, etc.
Not even the most expensive camera can save a scene with bad lighting. Instead of investing in really expensive cameras – invest in a few extra light fixtures. Image stabilization is another thing that isn't solely the responsibility of the camera. A sturdy tripod will go a long way, especially for longer streams. Using a tripod will not only help you position and frame your shots better, but it will also help make your life a lot easier. We have a great guide to building your own live streaming studio, which also contains a lot of tips on how to make your live stream shine.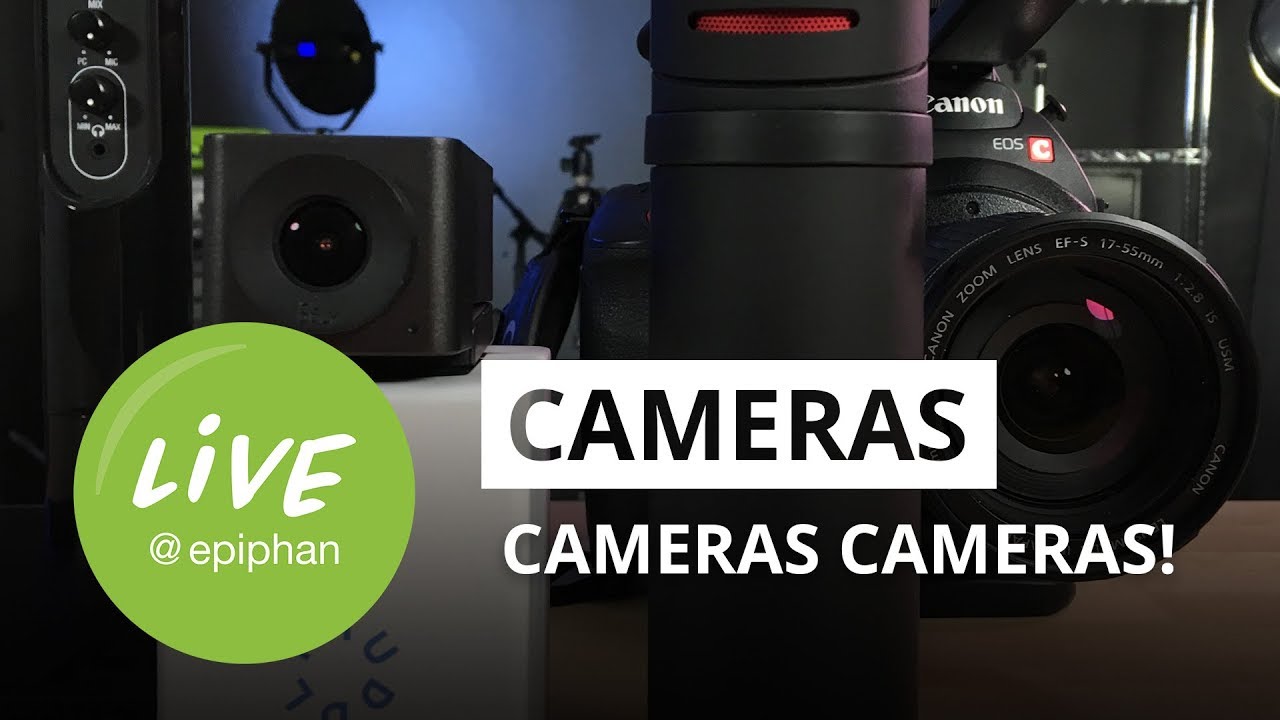 Cameras, cameras, cameras!
Conclusion
Before investing in a live streaming camera, you have to ask yourself: what, where and how are you planning to stream? Your live streaming goals will largely impact your choice of camera. Base your decisions on workflow and requirements. Getting a $2000 professional camcorder for recording lectures or video conferencing is obvious overkill (get a $100 webcam instead).
Key takeaways
Clean HDMI output (no display overlays!)
Can be connected to AC power
Doesn't shut off automatically
Doesn't overheat after extended periods of work
Our advice is to start small and upgrade gradually. Be sure to always do some online research on your camera of choice: investigate known issues like overheating, clean HDMI™ out, and auto shut off. Also be sure to check out the list of cameras we found to be good for live streaming with the Webcaster X2. If you prefer your information in video form, check out this Live @ Epiphan episode on the best cameras for Webcaster X2.
We hope we were able to help clarify the process of choosing a live streaming camera. Stay tuned for part 2 of this article. In it, we will take a look at the best live streaming cameras for any budget. Happy streaming!