Looking to understand the differences between various streaming software options? Trying to figure out which software will work best for you? Want to know what the most popular streaming software options are in 2022? We've got you covered. Read on.
What to consider when choosing streaming software
With so many options available, making a decision can feel intimidating. Before we dive too deep into the software options, here are the key considerations to keep in mind when picking streaming software.
Feature set
First, decide which features you absolutely need and which you can do without. Then, check to see whether your software of choice answers these requirements. Key questions include:
What are your minimum and maximum resolution and frame rate requirements?
Will you be streaming to multiple destinations at once (i.e., multistreaming)?
Are you planning to add on-screen guests to your live stream?
How "professional" do you want your production to look and feel? Will simply including your brand colors and a logo in the corner suffice, or do you need animated graphics and fancy transitions?
Budget
If you are willing to invest in streaming software, be sure to consider the following questions to avoid overspending:
What is your monthly or annual budget for live streaming?
Are you planning to go live frequently, or just need something for a one-off stream? (If it's the latter, a monthly billed plan rather than an annually billed one is likely the better way to go.)
Go through each premium tier offering and pick the one with the features you'll actually use. Don't feel pressured to purchase the top tier; you can always upgrade later if necessary.
Customer support
How comfortable are you troubleshooting issues on your own versus relying on tech support? If having access to support is essential to you, consider the company's reputation when it comes to helping customers. Keep in mind that open-source software like OBS doesn't offer centralized support at all.
Your tech production expertise
How knowledgeable are you (or whoever will be the operator) about streaming? For example, beginners should try more intuitive streaming tools like Lightstream or Restream, while broadcasters with more experience should be considering more advanced tools like Wirecast or vMix.
What is the best streaming software in 2022?
We looked at the various options available, examining the popularity, software stability, price points, and feature sets of each streaming software. Based on that research, here is the best streaming software in 2022:

Looking for streaming software alternatives?
Reliable and easy to use, Epiphan Pearl hardware encoders are the perfect solutions for video capture, mixing, streaming, and recording. No computer required.
See for yourself
Open Broadcaster Software (OBS) Studio is an open-source streaming application built and maintained by a community of enthusiasts. Despite its too-good-to-be-true price tag (non-existent), this free-to-use software is packed with powerful features for streaming and recording video, making it one of the most popular streaming apps in the world and an industry standard. It's available as a desktop application for Windows, macOS, and Linux.

Creating and switching between different layouts in OBS is straightforward. You can capture sources from application windows, webcams, and capture cards, and enhance your image by adding custom graphics and chroma keying. OBS supports streaming to many popular live streaming platforms (e.g., YouTube, Facebook, Twitch) or a custom RTMP(S) destination.
The open-source nature of OBS means there's no centralized customer support. However, there are plenty of tutorials, videos, and support forums out there. Additionally, many plugins are available to enhance the basic functionality of OBS, including by adding live comment aggregation and NDI support.
Pricing: OBS is free to use.
Bottom line: OBS is a price-conscious streaming solution for basic RTMP streaming with plenty of room for customization.
Pros
Free to use
OS agnostic (works on Windows, macOS, and Linux)

Highly customizable via plugins

Community supported
Cons
No centralized support

Learning curve can be steep, especially for beginners

Professional features require plugins

No multistreaming or multi-bitrate encoding
Streamlabs is a streaming software that borrowed heavily from OBS. It offers a host of social streaming features, making it extremely popular with professional live streamers and among the gaming community.

The app is free to start, but it's the premium features that make Streamlabs worthwhile. The free version includes basic layouts, live switching, donation and merchandise store setup, single-destination streaming and recording with up to one gigabyte of file storage. The premium tier (called Prime) offers multistreaming, custom RTMP streaming destinations, access to the mobile app, extra file storage, and full access to stream customization elements like themes and overlays.
Platform and device-agnostic, the software offering includes a desktop version, a mobile version, and a web-based live streaming studio called MelonApp. Each version is equally intuitive and easy to use, with a straightforward layout setup and quick integration with popular streaming platforms like YouTube, Facebook, and Twitch.
What sets Streamlabs apart from other streaming software is how it helps and motivates users to grow their audiences. The app offers tips and tutorials on how to grow your channel, encouraging users to stream more by gamifying the process. For example, performing more actions inside the app grantspoints, which users can then exchange for goods.
Price: Free to download, but users have to upgrade to the Prime version to access the full features. Currently, the price is $149 for a yearly subscription or $19 per month.
Bottom line: Streamlabs is a great solution for gamers and social streamers who don't want to spend too much time learning live production but still create a beautiful and impactful stream. Streamlabs offers plenty of tools to help boost audience reach and engagement, sell merchandise, and manage revenue, making it the top choice for career streamers.
Pros
Free to start

User-friendly UI is easy for beginners

Plenty of features for gamers and streamers

Low CPU usage on the Desktop version

Mobile and browser-based versions available

Compatible with any OS
Cons
Limited professional streaming capabilities (e.g., PTZ camera control, IP cameras and web stream input, virtual sets, advanced audio mixing)
Many features are still in beta mode
No advanced outputs like NDI, SRT, or SDI
No easy way to add remote guests
XSplit Broadcaster is professional streaming and recording software that's widely used for game and social streaming. It's designed to work exclusively on Windows operating systems.

Features include custom RTMP streaming, multistreaming, chroma keying, media file playback, custom transitions, and easy layout creation. The app's layout wizard makes it possible to create professional-looking scenes in seconds. Another notable feature, called "Connect: Webcam," lets you use your mobile phone as a wireless webcam input in your stream.
The software offers a lot of customization add-ons through its store, where you can also download extra features like a digital "white board" that lets users draw on screen, a professional audio mixer UI, an instant replay feature, and many more. You can also add your own macros and custom scripts to automate key actions.
Pricing: XSplit Broadcaster offers a free as well as a paid Premium plan, which starts at $15 per month for a subscription or $200 for a lifetime license. The free plan is serviceable for basic streaming with up to four scenes. The Premium plan offers additional features like unlimited scenes, watermark removal, streaming and recording in 4K60, direct video input from Skype for adding guests, multistreaming, and premium 24/7 support.
Bottom line: XSplit Broadcaster is an easy-to-use, highly customizable streaming software for Windows users. This is a good streaming software option for those looking for 24/7 technical support and features like multistreaming.
Pros
Easy to use

Highly customizable

Stable software

Users report great tech support
Cons
Windows only

Watermarks on the free version for streams over 720p30

Some users report high CPU usage
Lightstream Studio is a cloud-based streaming solution. This means you don't need a powerful computer to stream – just a browser and an Internet connection. There's no software to download, either.
Once you get the browser-based Lightstream Studio running, you can create unlimited projects, scenes, and layouts, adding text, images, webcams, and video clips as sources. Go live on YouTube, Facebook, Twitch, or to a custom RTMP destination. Additionally, third-party integrations are available for adding motion graphics, in-stream alerts, and comment aggregation.
Lightstream Studio supports guest hosting: you can invite up to seven participants to your live stream, arrange them any way you want on screen, move them between the live stream and a green room, and allow them to share their screen.
You can also control your stream remotely via the Lightstream mobile app, enabling you to start and stop streaming or switch between scenes.
Pricing: Lightstream offers "Gamer" and "Creator" plans. As the names suggest, the Gamer plan is well suited for streaming Xbox, PlayStation, and mobile games, while the Creator plan offers more production control with layouts, mixing, and switching. The price tag will depend on your required streaming resolution, starting at $7 per month for 720p30 streaming with the Gamer plan and up to $40 per month for 1080p30 streaming with the Creator plan. Free seven-day trials with access to all features are available.
Bottom line: Lightstream is an excellent on-the-go option for streaming games, talk shows and podcasts, virtual events, and musical performances.
Pros
No software download necessary

Easy to use and quick to set up

Light on the CPU

OS agnostic
Cons
1080p30 maximum streaming resolution (no 4K streaming)
No advanced output features like NDI, SRT, or SDI
Many professional production features are missing (e.g., PTZ camera control, IP cameras and web stream input, playlists, chroma keying, advanced audio mixing, ISO recording)
Restream is a browser-based streaming tool, which means there's no software to download or install.
The app's primary feature offering is multistreaming. Restream allows you to simultaneously broadcast live to over 30 social platforms, including YouTube, Twitch, LinkedIn, and Facebook. "Business" tiers allow you to bring in an RTMP source (from streaming software or hardware) for further distribution.

Streaming features include layout presets, logo and brand customization options, video clip playback, custom backgrounds, pre-recorded video scheduling and streaming, comprehensive analytics, and stream health monitoring. The chat overlay tool offers easy cross-platform comment aggregation, letting you read and reply to messages from multiple streaming platforms on one screen.
You can invite up to 10 remote participants to join your stream, and allow them to share their screens.
Pricing: Pricing ranges from $0 for the basic plan (featuring the Restream watermark) to $16 per month for the Standard plan, $41 per month for Professional, $83 for Premium, and $249 for the Business plan. See the Restream pricing table to compare features and decide which one is right for you.
Bottom line: Restream is a good option for those just getting started with streaming. The intuitive user interface will guide you through setting up your first stream and getting it to the right platform(s), and you can get a lot done even with the free version. For more professional productions, Restream can be an effective tool for multistreaming to many platforms simultaneously.
Pros
Friendly user interface, easy for anyone to get started with streaming

Add up to 10 remote guests

Light on the CPU

OS agnostic
Cons
Limited to 1080p30 streaming (no 4K streaming)
No advanced output features like NDI, SRT, or SDI
Limited professional features (e.g., no PTZ camera control, virtual sets, chroma keying, advanced audio mixing, color correction, custom motion graphics, instant replays)
StreamYard is another browser based-tool designed for social broadcasting. It offers an easy way to stream and record video right through your web browser. Logging in, connecting your social media accounts for streaming, and setting up your first stream is a fast and straightforward process.

You can easily invite up to 10 on-screen guests through the browser-based app and have them share their screens. Multistream to YouTube, Facebook, Twitter, Twitch, or a custom RTMP (up to three simultaneous destinations on the Basic plan and eight destinations on the Professional plan).
To create a more polished look for your stream, StreamYard allows you to add custom branding and logos, banners, backgrounds, and overlays. You can reply to social comments across all platforms in one chat window and display comments in your stream.
Pricing: You can always start by trying out the free version, which comes with some streaming limits and a StreamYard watermark on your videos. The two paid plans are Basic at $25 per month ($20 if billed annually) and Professional at $49 per month ($39 if billed annually).
Bottom line: Consider StreamYard for easy interview streaming and recording, panel discussions, and quick show-and-tell demos with a talking head and screen share. Keep in mind that this may not be the best tool for professional, polished productions.
Pros
Straightforward setup, easy to start streaming

Easy way to add guests

OS agnostic

24/7 support
Cons
Limited to 1080p30 maximum streaming resolution
Very few professional streaming features (e.g., no way to add custom transitions, virtual sets, chroma keying, PTZ camera control, advanced output like NDI or SRT, instant replay, custom motion graphics)
Limited layout customization options (limited to templates)
Telestream's Wirecast is a powerful live production tool packed with advanced features to create polished, professional live broadcasts.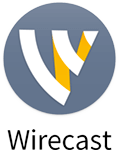 Wirecast is compatible with both macOS and Windows and comes in two versions: Studio and Pro.
Both versions include unlimited inputs, 4K encoding resolution, advanced audio mixing, individual input monitoring, unlimited RTMP output destinations (i.e., multistreaming), and multiple simultaneous recordings. Additionally, users can benefit from social aggregation tools and access to the animated lower-thirds title library and an integrated stock media library.
The Pro version is geared toward advanced remote production, featuring remote PTZ camera control, sports production tools (e.g., instant replay, live scoreboards), virtual sets and backgrounds, SDI, HDMI, and NDI output, and ISO recordings of individual sources. Additionally, you can connect up to seven remote guests via Wirecast Rendezvous conferencing with the Pro version.
Pricing: Right now, you can get Wirecast Studio for $599 and Wirecast Pro for $799. You can also take advantage of the unlimited free trial. However, be prepared to see (and hear) a Wirecast watermark over your videos.
Bottom line: Wirecast is the top choice for live streaming at the most professional level.
Pros
A professional live production tool, packed with advanced features

Great support

New features/updates constantly coming out
Cons
A considerable upfront investment

Resource intensive (consider using a powerful dedicated machine)

UI will likely be intimidating to beginner streamers
vMix is a feature-rich live streaming and production software designed for professional use. vMix supports a wide range of inputs such as cameras, web browsers, video files (with an extensive list of supported formats), SRT and NDI inputs, and more. Other production features include HD virtual sets, premade and custom animated titling and overlays, built-in pro audio mixer, PTZ camera control, live video effects, multistreaming, and multi-bitrate encoding. In addition to streaming and recording, you can also output your production or ISO sources as SDI, NDI, or SRT.

vMix offers a remote contribution tool called vMix Call that can be especially useful for hybrid and virtual event production. Use it to bring up to eight live participants into your production via a browser link. Another useful feature is "Instant Replay," which lets you create on-the-fly replays and highlight reels that are perfect for sports broadcasts. Both of these are included with the more advanced license editions.
While vMix is Windows-only software, there's a workaround for installing vMix on macOS.
Pricing: One of the benefits of vMix is its flexible pricing model. Based on your production requirements, choose from four tiers of lifetime licensing ranging from $60 to $1,200, paying only for what you need. Alternatively, you can opt for the $50 per month subscription license for the Max version instead of paying the one-time fee. There is a free 60-day trial available, offering full functionality and no watermarks.
Bottom line: vMix can be a solid live production solution for any production level, from a church production to a professional live broadcast. A great option for hybrid and virtual productions that involve remote contributors.
Pros
Exhaustive live production features

Flexible pricing model 

Remote contribution support via vMix Call

Good customer support

Professional HD production on a modest computer
Cons
Windows only (with a workaround for Mac)

Full functionality licenses are a considerable investment

UI may feel intimidating for those starting out
How to get the most out of your streaming software
Without proper technical preparation, even the best streaming software will only get you so far. Here are a few other technical considerations to keep in mind.
Network bandwidth
Always remember to test your network's upload bandwidth. No matter how great your streaming software is, your stream will be destined to fail if your Internet connection isn't up to par. A good rule of thumb is that your optimal bandwidth for streaming should be at least 1.5 times greater than the streaming bitrate.
Connecting video sources
To connect your camera or any other video source to your streaming computer, you will likely need a capture card. For easy and reliable SDI and HDMI video capture, check out our line of AV.io capture cards.
Streaming software system requirements
Consider each streaming software's minimum system requirements. Each streaming app should have a list of these available on their website. Additionally, think about whether your streaming machine will be sharing CPU resources with other processes (e.g., backchannel chat messenger, browser, email). These other apps will be drawing processing power away from encoding, which is a resource-intensive process on its own. To lower the chance of stream failure, consider setting up a machine dedicated solely to live streaming.
For added reliability, consider using dedicated streaming hardware for your productions. Hardware encoders like Pearl Nano, Pearl Mini, and Pearl-2 are purpose-built for live video streaming and recording. They are rigorously tested to ensure they deliver reliable streaming 24 hours a day, seven days a week.
This article was originally published on February 8th, 2019. It's been updated to reflect the current state of best streaming software.