Before everything changed in 2020, many companies had already caught on to the idea of live streaming as a vehicle for a range of business activities. There's evidence of this in Kaltura's 2018 and 2019 State of Video in the Enterprise reports, which chart a rise in companies using live video for things like employee training and company event broadcasting.
Then came the pandemic. Some companies found a lifeline in live streaming. No longer was live video "nice to have" as an augment to in-person activities; now it was mission-critical. Yet others remain reluctant to embrace live video, holding strong to reservations that I've heard time and again in my conversations with business owners. "It takes too long to get started," they say. "There's little room for error during filming" is another refrain. And, most pertinent for any profit-seeking venture, "the ROI of live video is difficult to prove." These concerns are not without warrant. But as with so many other projects businesses embark on, the payoffs can offset the initial pains.
The benefits of live streaming for external applications are well charted, and I have seen in my own company what value live streaming can bring both during this pandemic and outside of it. As a video production solution provider, we readily ramped up our live video production efforts to keep connected with our customers and business partners in the absence of in-person events. But even we were surprised at what an effective tool live video proved to be for growing our online following, creating real engagement, and, most importantly, building deeper relationships with customers.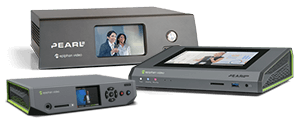 The choice for flawless virtual event streaming
You can rely on Pearl hardware encoders to help you produce polished, high-quality live streams for your virtual and hybrid events.
Get product details
Live video will remain a cornerstone of our marketing and sales activities even after the pandemic is behind us. I suspect the same will be true for a good number of companies that initially pivoted to live streaming to stay afloat.
If you're not yet sold on the concept for your own business, consider my account yet more evidence of the need to take a long look at live video and strongly consider its place both today and in a post-pandemic world.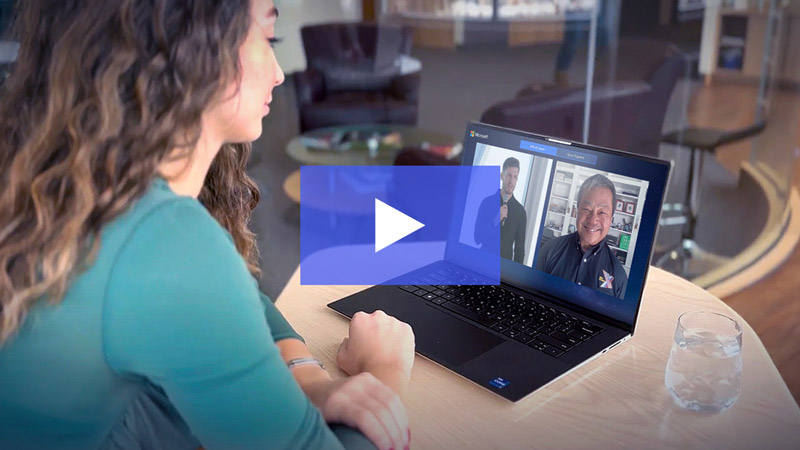 Virtual event production at Microsoft
Learn how Microsoft leveraged Epiphan Connect to elevate its global all-hands meeting into an engaging hybrid experience.
Watch video
The rapid rise of virtual
When stay-at-home orders went into effect in early 2020, businesses reliant on in-person transactions had little choice but to transition to virtual formats. Educators, fitness trainers, entertainers, and many others turned to video conferencing and live streaming solutions to keep business going. A substantial number had to scramble to find the necessary equipment and learn how to use it. No doubt many wished they had investigated such solutions sooner.
Even companies that do most of their business online and over the phone had to adapt. Those like ours depend on in-person industry events such as trade shows and conferences for opportunities to network, train partners, and market new products. All had to go virtual.
Taking the virtual reigns
Event organizers were quick to fill the void with virtual events of all kinds. We found these offered limited opportunities in terms of on-air time and live promotion. We were also mindful of the online event fatigue that can affect viewers who've had to sit through multiple live discussion panels and pitches from various vendors. For us, the solution was to handle the hosting ourselves.
We devised a series of webinars offering informative content to help attendees succeed during these unprecedented circumstances and beyond. With full creative control over the content, duration, and visual presentation, we were able to stay targeted and focused on our own messaging. We wanted to invite people in for a conversation, open doors, help them succeed. We left ample time for questions and real-time interaction.
How to build trust and engagement while generating ROI
But where to start when it comes to reaping the benefits of streaming? Going by our own experience, these steps are key.
Choose the right webcasting platform for your business. There are many options available for delivering live video, so choose your webcasting platform thoughtfully. Focus on virtual event platforms that offer real engagement opportunities, including live polls, chat, and lead capture options.
Champion engagement through creativity. By retaining creative control, you can tailor your message and content to your audience that delivers true value. Consider your customers' questions or pain points right now and use this information to instruct how you aim to engage them.
Get production assistance. Consider the assistance from live video production professionals. Professional equipment, skills, and experience could help ensure a smooth production experience and a polished video product. Ultimately, well-produced, high-quality video helps deliver your message better and generates more engagement.
Stay open, stay patient. A trusting relationship between you and the audience is what drives real engagement; however, building that trust takes time. Pay consistent attention to your live audience, address their questions and be honest with them. Over time, this care, attention, and transparency will help strengthen your brand image and develop deeper relationships with your customers.
We ran 40 webinars over nine months, averaging 360 registrations per webinar and totalled over 10,000 live views. These results are impressive especially for a niche company like ours.
We also received tremendous positive feedback from viewers. Aware of the weekly interactive event opportunity, our partners and integrators readily directed customers and prospects to our webinars. Viewers felt more confident in our brand after our product specialists answered their questions live.
Beyond views and clicks, the series generated more than 500 viable sales opportunities. These results are comparable to those we're used to seeing with in-person events, but achieved at a fraction of the cost and effort.
Virtual events are here to stay
Virtual events can never fully replace their physical counterparts. But as much as we can't wait to attend traditional events again, we also can't ignore what their virtual counterparts bring to the table: lower expenses, zero travel time, the convenience of joining an event from anywhere.
Investing in live video during the pandemic will enable businesses to host virtual events amid cycling stay-at-home orders. But there will also be much use for AV tools and knowledge post COVID. Using live video, companies will be able to broaden their reach by making their events accessible to people who can't or won't travel, or go beyond the physical capacity of a venue.
It's no stretch to suggest that the events of the post-pandemic world are likely to be a hybrid of in-person and virtual formats. For late adaptors, the best time to start planning for that post-pandemic world is now.