Streaming enthusiasts can't wait to get their hands on Epiphan's Webcaster X2 – our simplest and extremely reliable live video streaming YouTube and Facebook Live encoder.
Easy, professional-quality live video streaming with almost no setup is finally here. No more worrying about which encoding settings to choose for the best streaming results. Focus on the content you're streaming – not the set up. Epiphan Webcaster X2™ is a simple, dedicated live video streaming for Facebook Live and YouTube encoder that does all the hard work for you.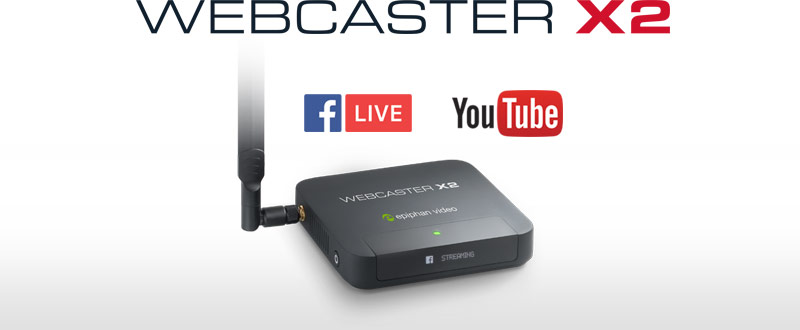 Live stream full HD content from HDMI™ cameras and mixers directly to YouTube or Facebook Live. Just connect Webcaster X2 to an Ethernet or WiFi network and choose between YouTube and Facebook Live. Then, use the code that appears on the front display to pair the device with your social media account. It's that simple! Webcaster X2 even remembers your settings for all future streams.
Here are some of my favorite things about Webcaster X2!
Webcaster X2 is small and portable, plus there's no special software to install.
It supports streaming 1080p at 30 fps to YouTube and 720p at 30 fps to Facebook Live.
Easily choose between live video streaming to YouTube or Facebook Live with only a double-click of the multi-function power button. The front display shows you which mode is selected. There's no need to attach an external monitor or keyboard if you just want to get going fast.
One-click start and stop streaming using the mutli-function power button.
You can connect an external monitor and mouse for live monitoring of your stream – or watch for viewer comments and reactions in real time.
With a mouse and monitor, you can set up more streaming options, like using a WiFi network instead of Ethernet.
You can also choose to stream to your Facebook Timeline or to any Group, Event, or Page you administer. For YouTube, you can choose to stream live now or publish to a scheduled event.
Webcaster X2 supports high-fidelity audio and full HD video. Stream from quality HD cameras, mixers, or displays with great results! Connect any wired or wireless mic to your camera for professional sounding HDMI audio. Webcaster X2 encodes your audio along with the video and streams directly to your Facebook or YouTube audience.
The first generation Webcaster X1 was a real hit! Webcaster X2 is the next step in the evolution of simple, quality live video streaming that can stream to either YouTube or Facebook Live. You choose! So if you're looking for a robust YouTube and Facebook encoder that's compact and really easy to use, Webcaster X2 truly is the simplest dedicated live video streaming YouTube and Facebook Live encoder out there!
Check out the Webcaster X2 product page here to learn more!