There are many benefits to taking your video production to the cloud (as we mentioned in our previous post). For video editing specifically, the power of the cloud is very useful for collaboration with others (often remote contributors) and for keeping your files centralized on the web. But should everyone suddenly be jumping to cloud video editing?
Cloud video editing isn't a one-for-all solution. Depending on what you need, you may need to look at different types of cloud video editors (or, it might turn out that desktop editing is what you need). We've looked at 4 distinct scenarios for using cloud video editing platforms, starting from creating the simplest videos and going all the way up to pro video making.
Why edit video in the cloud?
Pros
Easy to collaborate if you have a large team of people working on one video
Share on the web quickly (no need to download to your computer first)
Any computer will do — no need to invest in powerful hardware
Files are automatically backed-up
Save time by rendering in the cloud
Cons
Limited features for true cloud-based editing
Cloud storage and computing power usage can be costly
Difficult to preview final result in high quality
Internet speeds generally have to be good
When is cloud video editing worth considering?
1) For making short marketing and social videos
Video in social media marketing is huge right now: according to last year's study, video on landing pages can increase conversions by up to 80%. Short explainer videos for your product or service and infographic videos are great for attracting viewer attention. These videos usually have simple transitions, an upbeat soundtrack, and maybe a bit of moving text. If your company already makes — or is planning to make — short presentation-type videos for social media, you may want to consider creating these videos online (without using any local desktop software).
Online editors like Lumen5, ClipChamp, Biteable, and Animoto are perfect for these tasks. These apps are not designed for professional video makers, however, all the basic tools for creating a catchy video quickly and easily are totally there.
All you need to start editing is a web browser. No software to install, no need to get a powerful computer. Most of these cloud video editing platforms include stock photo, video, and audio libraries to help you find media for your video. You can upload your own footage too. Trim, cut, combine media, add titles, etc. The UI is very intuitive, and there are also great templates and tutorials to take you through the process.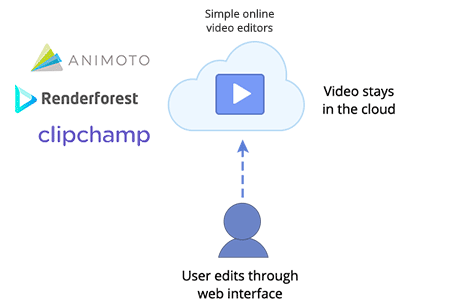 Finally, everything is saved in the cloud (safe and sound!). The cloud handles the final render and can even automatically post your video to social media (no need to download the files onto your computer and then re-upload them). Keep in mind that a lower-quality final render (like a 480p) may be included in the free version, while a high quality 1080p with no watermark will cost a few dollars to render. There are also reasonable monthly subscription options.Here is what some of these simple cloud video editing platforms can do:
Lumen5 is great for turning a blog post into a video. Driven by AI, the app can automatically turn an article into a script, helping you pick out pictures and video from a vast stock library.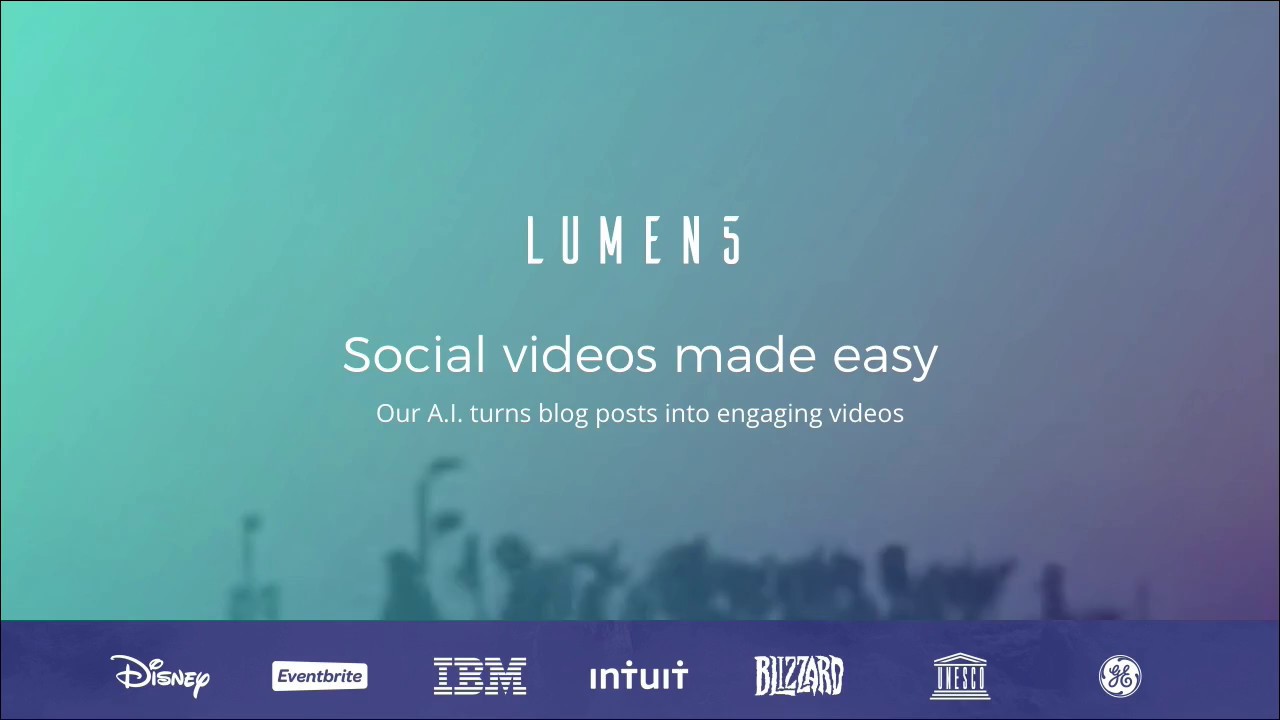 Lumen5: video creation platform driven by A.I.
Biteable has really fun social video templates. With Biteable you can quickly create campaign ads that are specifically tailored for sites like Facebook, YouTube, Twitter, Instagram or LinkedIn.
Renderforest allows you to create professional explainer/infographic videos. There is a ton of pre-made animations/scenarios to choose from. Perfect if you are planning to use more ready-made stock footage rather than your own media.
ClipChamp Create packs a lot of features: in addition to editing files, you can convert between formats, compress video, capture a video of your screen, or record a video right from your webcam. Great for trimming video, adding simple effects, including titles and text. For an additional cost, you can export (download) your video in a standard file type (.mp4, .mov, .webm). We feel this tool is a bit more advanced than the others, but still manageable for a beginner.
Animoto has great templates and makes creating photo slideshows a breeze:
Make great square videos. Easily.
You can even work with live video as a media source. Services like Grabyo and YuzzitPro ingest live video streams and allow you to and create mashups on the fly. You can add your own media as well!
2) For teams collaborating on quality online video content
If you are a part of a team that frequently collaborates on quality video content (interviews, documentaries, short films), then this next cloud video editing solution may be perfect for you. We are talking about the "YouTubers" of the world, where a group of people has input on the final video and a lot of content needs to be produced regularly. For these teams, the ability to collaborate efficiently is paramount. A full set of features, high-quality output video, and reasonable pricing are also important.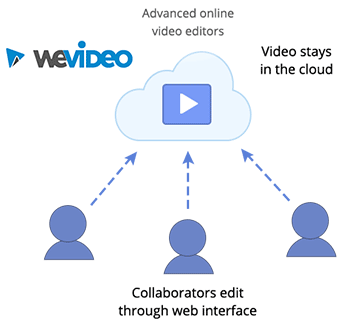 For these video content creators, an advanced cloud video editing platform like WeVideo may be a good fit. WeVideo is a powerful, feature-packed cloud-based video editing application with a browser UI. This means you can produce great videos on any laptop with a decent internet connection. There are also versions of the app that work on tablets and phones. It's perfect for small teams of 3-10 collaborators.
In addition to regular file upload (from your computer), WeVideo allows direct import and export to and from social media platforms (YouTube, Facebook, Instagram) and cloud storage like Dropbox and Google Drive. There is also a built-in feature for direct screen capture and webcam recording.
WeVideo: Collaborative Cloud Video Creator
3) For large companies and teams specializing in professional video production.
Editing high-end music videos and feature films on the daily basis? Want to both collaborate with people from all over the world and have all those advanced, desktop software-grade editing features?
The bad news: there is currently no full cloud video editing solution that supports desktop software features in a browser UI, and stores all those huge production files in the cloud, and lets you freely collaborate and edit them in the cloud. Technology is just not there yet: the amount of data that needs to be moved it just too vast.
The good news! There are pretty decent semi-cloud video editorial workflow solutions available. A good example is Adobe Team Projects, a feature for their After Effects, Premiere Pro, and Prelude Creative Cloud apps. Team Projects allows a team of people to work on a single video project together while using full capabilities of Adobe's powerful video editing apps (the 3 listed above).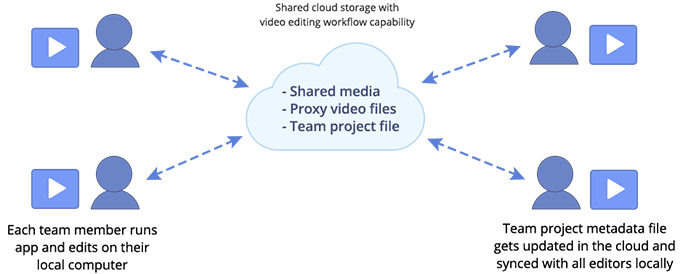 The app(s) still need to be downloaded and run on a local machine, and a physical copy of the master media files need to be made available to the editor. Only the ever-syncing team project file is hosted in the cloud. The team project file basically includes all the editorial activity metadata and file links. So no video editing is actually happening in the cloud – everything is technically done on local machines.
There is no special server that needs to be set up to use the project workflow. If shared storage is used, it needs to be rated for video editorial workflows, which cloud services like AWS, Google Cloud, Facilis, and many others do provide. It is also a good idea to use special powerful rendering servers (or "render farms") to speed up the final video render process. Adobe Media Encoder has a feature capable of rendering Team Project files remotely on a specified machine.
4) For low-touch video
Let's say you are dealing with a large volume of video which doesn't really need a whole lot of editing: maybe add a nice pre-roll, clip heads and tails, add a title or two, and that's about it. After that it is ready to be rendered and delivered to the client.
A good example of this is producing video from a multi-day conference: multiple breakout rooms are simultaneously hosting presentations that you've been hired to film and produce. You could hire a dozen technicians and a dozen editors, but there's a simpler way. You could aggregate all of that video footage in the cloud, use a cloud-based video editor to compose the final video, and deliver the final video to your client much faster.
This "low-touch video" usually assumes there are large volumes of informational video that need to be processed. This includes videos from conferences, live events, and sports practices.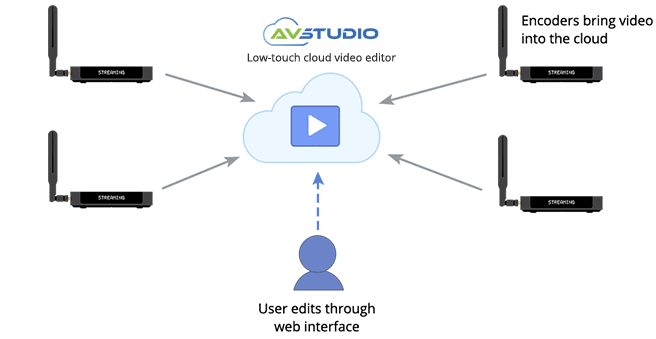 For something like this, we suggest using a cloud video editing platform like AV Studio. With AV Studio, a number of encoders captures live video and brings it all into the cloud where it could be easily manipulated. You can upload your own footage as well. The browser-based editor allows you to create scenes, compose custom layouts, crop and cut footage, add basic brightness and color correction. Working as a team (remotely) is also an option. The cloud handles all the heavy lifting (including rendering), so you can work from any computer with a browser.
A tool like AV Studio can allow producers to deliver large volumes of video they otherwise would be unable to afford. You can have 10 or 20 encoders bringing in video into the cloud at the same time. This is a great solution for those who provide video as an additional service at their venue (like hotels and conference halls). The scalability potential of this particular cloud video editing solution is truly great.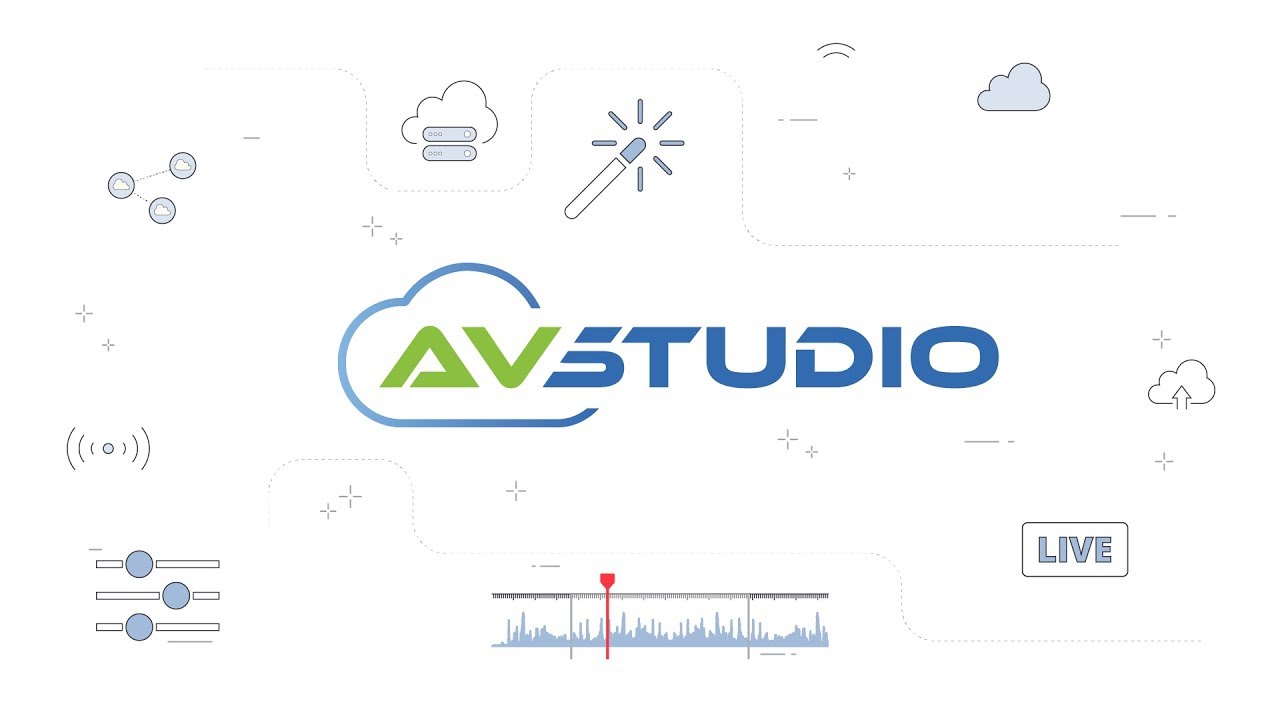 Summing it up
So, should you be making a dash for cloud video editing? First, consider the type of workflow and content you are making.
If your workflow has only one or two people who handle all the video editing, then perhaps it makes sense to continue doing this the old-fashioned way: investing in powerful hardware and professional desktop software, transferring files onto and from hard drives to work on locally, and then sharing final videos by uploading them onto the internet.
However, with video-making becoming an increasingly more collaborative process, and with video files increasing in size and quantity, keeping your editing process centralized in the cloud and paying subscription costs makes more and more sense. Remember:
We hope we were able to fill you in on the current state of cloud video editing and the solutions available. As you can see, a lot depends on the format and type of video being made. Figure out what your needs are and try out different options to see what works best for you.