Norwegian University of Science and Technology (NTNU) was looking to upgrade and expand its lecture capture infrastructure to include more classrooms. The school needed a trusted video capture hardware solution that would work well with its already deployed video content management system (CMS), Panopto. NTNU found this and more in Epiphan Pearl Mini, a reliable hardware encoder featuring seamless Panopto integration.
The challenge: Scaling video capture in an established Panopto environment
NTNU is Norway's largest university, with over 9,000 employees and 42,000 students across three campuses. In 2019, NTNU's senior IT engineer, Magnus Lian, faced no small task: he needed to equip over 700 rooms for lecture capture.
Fortunately, Lian wasn't starting from scratch. The school had an existing lecture capture infrastructure, with a small portion of rooms outfitted for recording. But unfortunately, while the deployed CMS and learning management system (LMS) served the school well, the software-based video capture solution wasn't efficient or reliable.
The PC-based software required constant hardware updates to work efficiently, which meant frequent financial investments. Even still, the software would occasionally crash, costing teachers their recorded video content. Clearly, it was time for an upgrade.
After testing various video capture solutions, it became apparent that dedicated hardware was the best way forward for NTNU, offering superior reliability over software-based solutions. So Lian began his search for a hardware solution that would work well with Panopto, the school's existing CMS.
The solution: Pearl Mini's rock-solid performance and direct Panopto integration
NTNU has so far equipped over 100 rooms with Pearl Mini hardware encoders for lecture capture. Depending on the room, Pearl Mini captures two or three video sources: an SDI camera source and a single or dual HDMI projector source. It also captures audio from the teacher's lav mic or a desktop microphone via XLR.

The IT team set up Pearl Mini to encode each source as a separate channel, sending individual 1080p RTMP streams to Panopto. This way, students can access HD ISO recordings of each video source and switch between them in Panopto as needed.
Lian's team schedules lecture recordings through Panopto to begin automatically when class starts. The teachers don't have to press any buttons: they just mic up and start teaching. Pearl Mini also records locally as a backup.
The setup includes tools that help teachers monitor the recording. Set up on every lectern, a confidence monitor displays each video source separately. The MultiViewer feature allows Lian's team to directly output individual sources from Pearl Mini to the in-room display.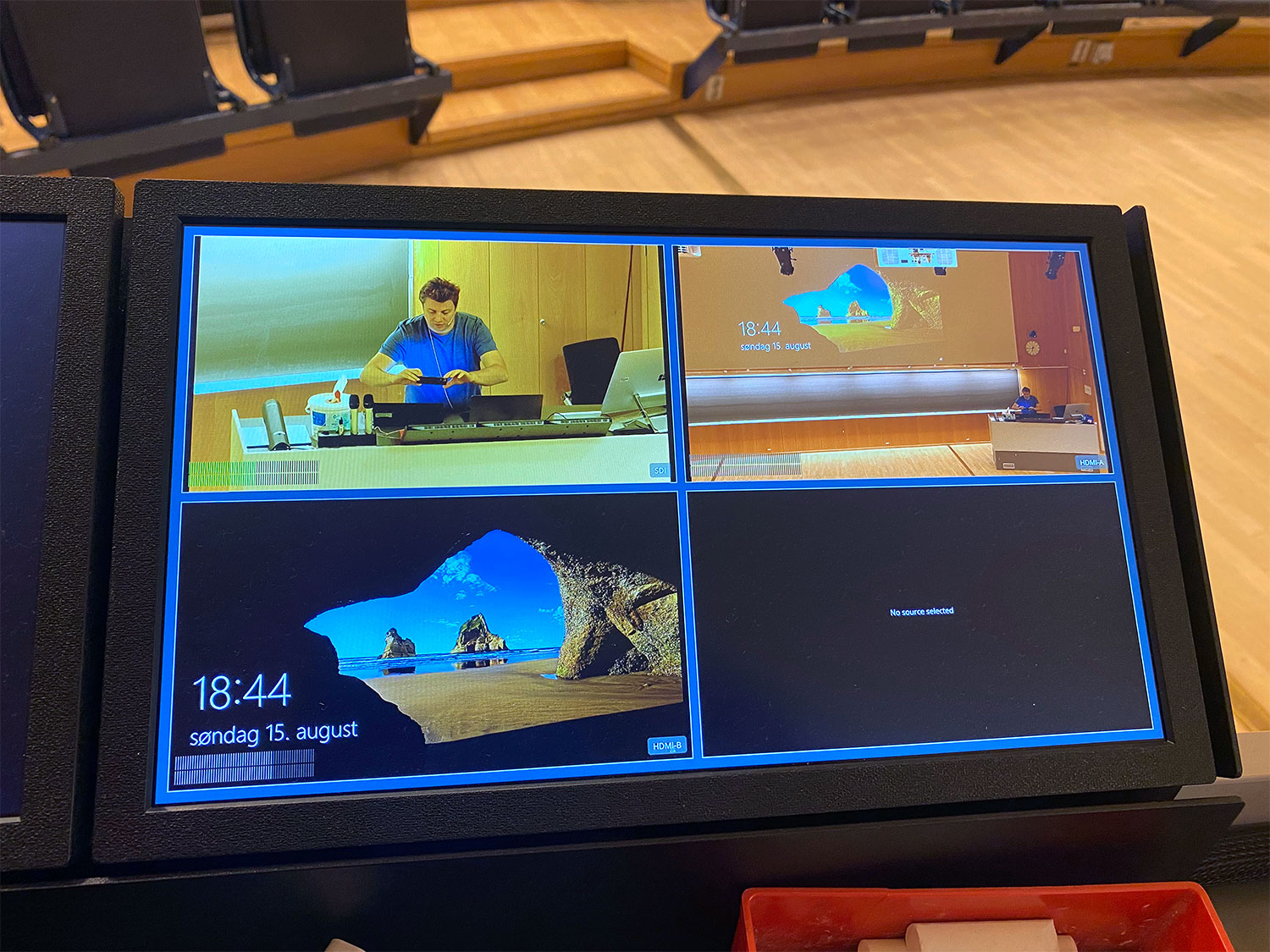 Additionally, each lecture room features a busylight that automatically turns red whenever recording is in progress, helping the institution comply with requirements set out in the EU General Data Protection Regulation (GDPR). The team uses the Kuando Busylight UC Omega, which connects directly to Pearl Mini's USB port.
The results: A flexible, easy-to-use lecture capture solution
Pearl Mini proved the perfect Panopto-integrated hardware encoder for NTNU's lecture capture needs, introducing a host of benefits appreciated by staff and faculty alike.
Peace of mind for the IT team
With a proven reliability record and consistent firmware updates from Epiphan, Lian knows his Pearl devices will keep serving NTNU for years to come – with no recurring costs and no need for costly hardware updates.
We know that hardware encoders will last longer. Pearls are easier on the encoding side, and we don't have to swap out computers all the time.
Less legwork for technicians
The IT team at NTNU takes advantage of the remote login feature to access all settings on any Pearl device on the network. Remote access saves staff the effort of going over to each device for configuration and troubleshooting. As Vegard Vestmo, an engineer and architect at NTNU, put it: "Connecting directly to Pearl through a web interface is a really easy procedure that makes my day a whole lot better."
Easy for teachers to use
With automatic recording made possible by Pearl Mini's Panopto integration, all teachers have to do is come into the room and start teaching. And with convenient source monitoring right in front of them, teachers can be confident their students will receive the right video material.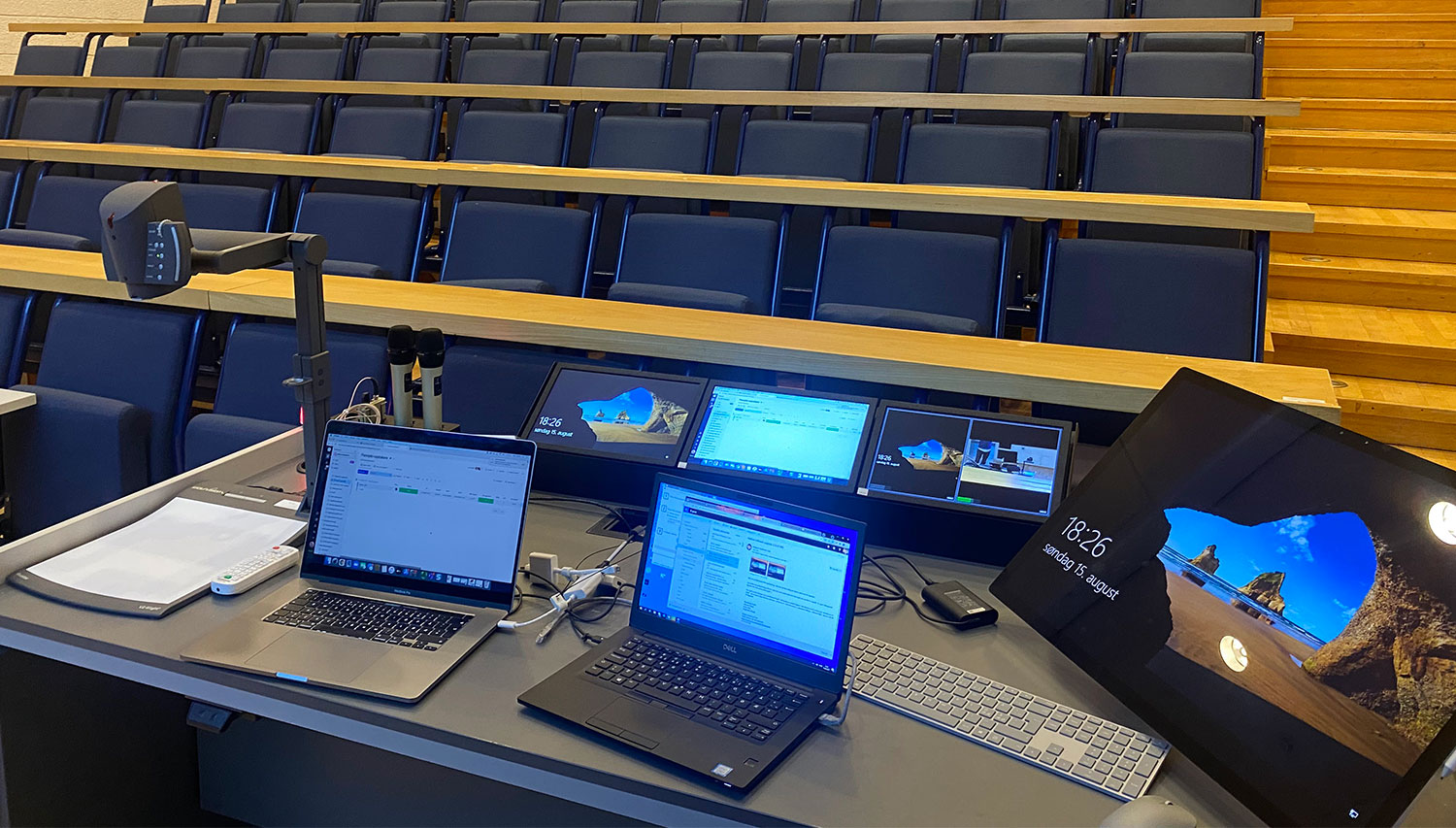 Easy recording signaling for EU GDPR compliance
It's easy to connect a USB status light directly to Pearl to let the teachers and students know that streaming or recording is underway.
The Pearls and Panopto are a perfect fit. This is an easy, scalable, and powerful solution that will give you everything you need for lecture capture on a large scale.
Equip your campus with best-in-class video solutions
Meet your school's video production needs with a lineup of flexible and scalable hardware for video capture, streaming, and recording – all centrally managed. Perfect for lecture capture, online learning programs, and more.

The lecture capture solution your school deserves
World-class educational institutions like NTNU have high standards for the reliability of lecture capture solutions. Epiphan Pearl hardware encoders offer unmatched uptime, continuous firmware updates, and award-winning customer support.
Epiphan Pearl devices integrate seamlessly with several CMSs (including Kaltura, Panopto, and YuJa), making uploading and managing your lecture capture content a breeze.
To make your IT staff's life even easier, take advantage of Epiphan Cloud, a remote device management tool. With features like a centralized dashboard, 24/7 monitoring and alerting, batch actions, and CMS scheduling, Epiphan Cloud lets you centralize hardware configuration and management.
Learn more about Epiphan solutions for education and how Pearl can become a part of your school's success story.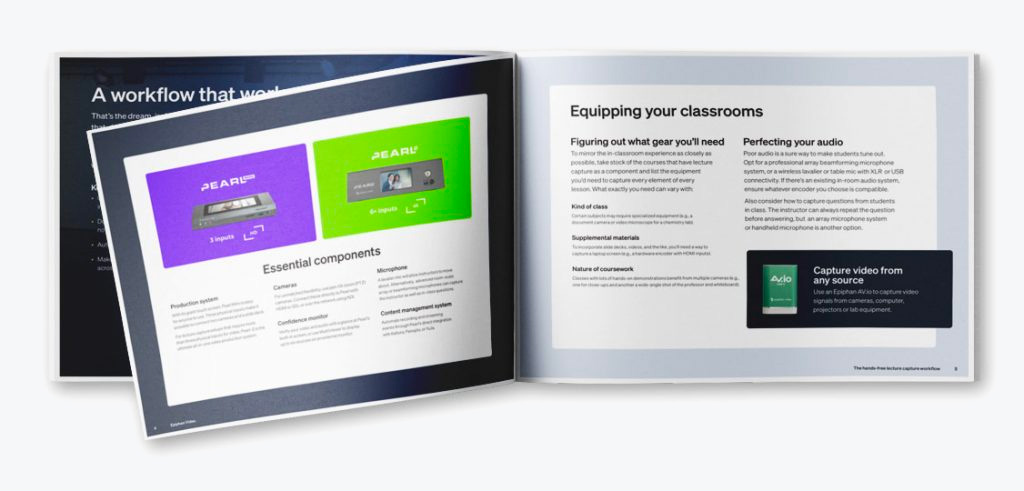 Get our lecture capture design guide
Learn how to deploy user-friendly solutions that anyone can grasp and create high-quality lecture recordings that engage your students. Download now!