Many universities today are looking for ways to remove barriers between students and successful learning – in and out of the classroom. Recently, Middle Tennessee State University (MTSU) looked to Epiphan to transform disparate classroom technology into scalable, fully-aligned solutions for enhanced learning.
The challenge: How to leverage existing technology for better student outcomes
Over the past few years, MTSU has taken great strides to elevate the learning experience for both remote and in-classroom students. Across over 400 classrooms, the university has invested time and money to add projectors, sound systems, document cameras, computers, and laptops.
To make the most of this investment, the MTSU Classroom AV team began searching for a device that could align all of these devices to record lecture content and allow students to view later or watch via livestream.
Says Dustin Smith, Service Desk Technician, "Software just wasn't working for us, so we started looking at hardware-based methods to accomplish their needs.
The team also wanted to invest in a cloud-based solution that would scale across classrooms. With a small staff of just two people, they would need to remotely control, manage, and configure the technology across the 400+ platforms.
Finally, they needed an automated system that would take human error out of the equation, saving time for the AV team and improving the experience for faculty and students.
What's exciting for me is the opportunity to choose the technology that the faculty and students get to interact with in the classroom and how that shapes their future.
Equip your campus with best-in-class video solutions
Meet your school's video production needs with a lineup of flexible and scalable hardware for video capture, streaming, and recording – all centrally managed. Perfect for lecture capture, online learning programs, and more.

The solution: Synthesizing the learning experience with Epiphan, Panopto, and Zoom
Epiphan Pearl Mini fulfilled MTSU's needs for an automated lecture-capture system that could synthesize all classroom video sources, start and stop recordings, and deliver video to Panopto and Zoom. And with cloud-based capabilities, the AV team can monitor the tech in each classroom live and remotely.
Easy to deploy
The MTSU AV team had a short time span for installing Pearl Mini, cameras, and mics. Working with Epiphan, they were able to make 428 rooms fully functional in just three months.
Says James Copeland, Director, Classroom Technology, "Every change I wanted to make or solution I needed, Epiphan had a 'yes' for that. We were able to deploy the configuration we set for one classroom out to all of them. So the deployment was phenomenal."
Works in tandem with Panopto
The MTSU team uses Pearl Mini with Panopto as their Content Management System (CMS). While live streaming to Panopto during class, Pearl Mini simultaneously records locally. Then Pearl Mini uploads that file to Panopto where it's archived in the correct folder.
"We're able to send both the camera and our device channel to Panopto, and it will actually display in two screens so students can switch back and forth between camera and computer," says Smith. "The way they integrate is really, really streamlined so we enjoy using both of them together."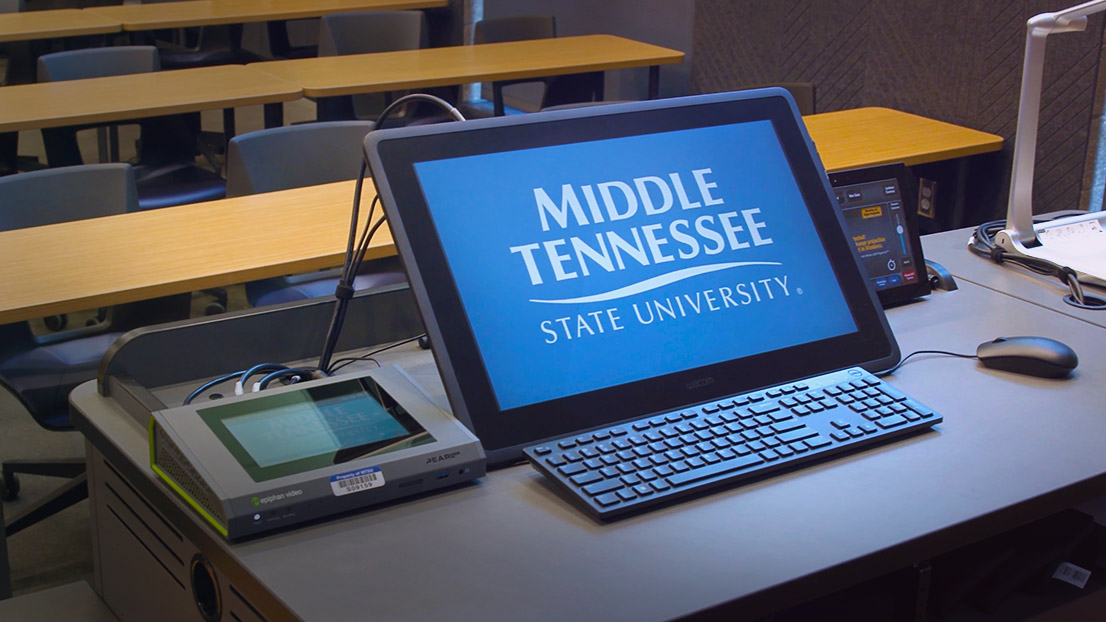 Enhances the Zoom experience
Pearl Mini's classroom capabilities go beyond lecture capture to improve learning via Zoom. Instead of using a built-in webcam, the university utilizes the rooms's cameras and microphones. Then Pearl Mini reroutes the audio and video back to Zoom. This ensures that all the students on the call can hear and see the content being presented.
Provides centralized, remote control and monitoring
One feature that has the AV team especially excited is the Pearl Mini cloud capabilities. With Epiphan Edge™, the team has full remote access, a centralized dashboard for monitoring devices, and real-time alerts about issues that arise. No more running across campus to troubleshoot on-site.
Improves student and faculty success
Pearl Mini makes recording and accessing lecture content a no-brainer for faculty and students. The one-touch system is intuitive and requires little training, allowing even the most inexperienced users to control the system with confidence. In addition, faculty can schedule recording sessions, so they don't have to worry about pressing the record button at the beginning of each class.
Using the recorded lectures, faculty can easily review their performance and improve their teaching methods. And since students can use lecture recordings to supplement their studies, many are seeing an improvement in their academic performance.
Watching the recorded lectures feels like I'm actually in class. In my case, with my hearing impairment, being able to go back and rewatch the lecture has had a really positive impact on my grades and really helped me succeed in school.
For the MTSU Classroom Technology team, the goal is to create an inclusive and immersive learning experience for both students and faculty. And if they can achieve this in a way that is intuitive for everyone and saves the small, two-person team time? Even better.
"I'd say over a year it's saved us at least a couple hundred hours," says Smith. "It's helped our classrooms become smarter and a lot more streamlined."
Established in 1911, Middle Tennessee State University (MTSU) stands as a leading public research university with a proud legacy in delivering quality education. Rooted in a commitment to accessibility, MTSU has been dedicated to shaping futures through academic excellence for over a century.


Small in size, big on pro features
Record, stream, and switch up to three full HD video inputs from HDMI™, SDI, and USB sources with Pearl Mini™.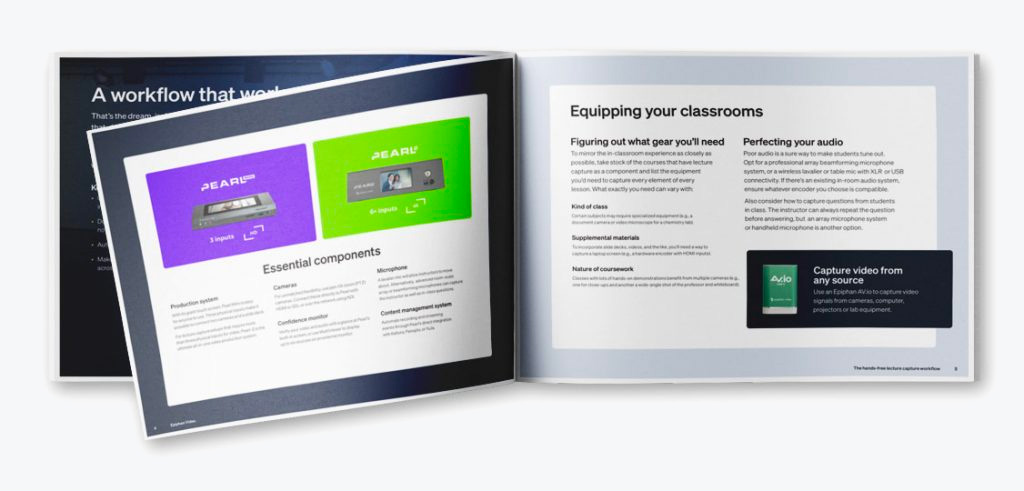 Get our lecture capture design guide
Learn how to deploy user-friendly solutions that anyone can grasp and create high-quality lecture recordings that engage your students. Download now!