Multiple source confidence monitoring with minimal CPU impact
Save processing power and do more with your Pearl system while previewing multiple video sources on the HDMI output port. With MultiViewer, the video output economizes CPU usage without lowering the frame rate of channel recordings and live streams.
Quick signal-loss detection for effective confidence monitoring live broadcasts
MultiViewer is perfect for your production control room to keep your crew on top of what's going on during a live broadcast. Instantly see that all your video sources are connected and working. And the displayed audio meters let you see at a glance if your source has audio.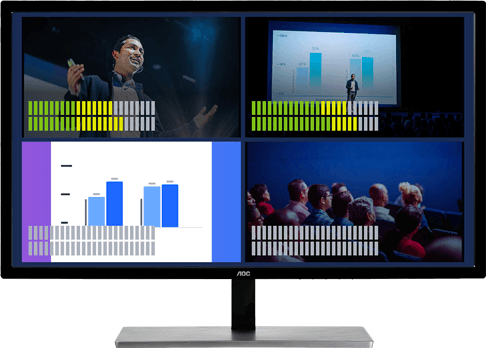 Free up more channels for your live presentations
Don't use up a channel and manually create a multiple-source layout to view on the output port – use MultiViewer. Save your Pearl channels for more important things like recording ISOs or streaming to multiple destinations at different encoding settings. Whatever you choose to do, you'll have more channels and CPU power to do it when you use MultiViewer for confidence monitoring.
Pause and extend CMS recordings and webcasts
We're making it simple for you to extend your active CMS events in five, ten, or fifteen minute intervals right from the touch screen. And for Panopto events, press pause when you need a break but don't want the event to stop. You can also mute the audio while paused and display an "event paused" image.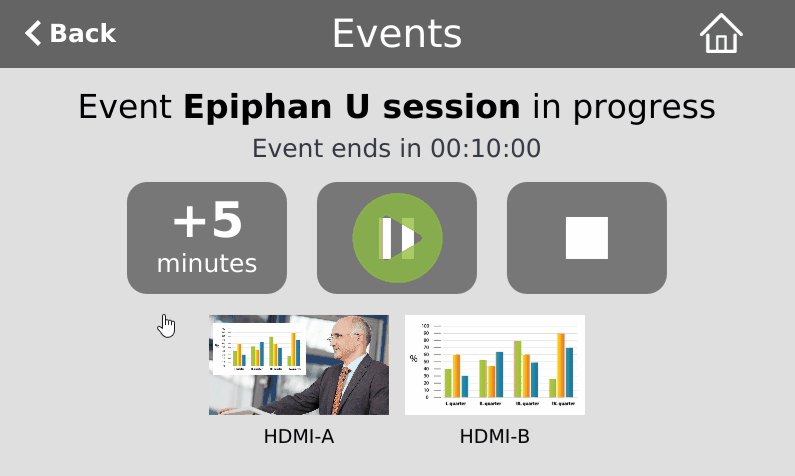 Panopto device template support
Panopto device templates are an easy way to apply custom event settings to remote recorders when you're creating new events. Adding support for Panopto's customized device templates will give you all the convenience and benefits of using them with your Pearl remote recorder.
Firmware 4.14.12 will be available on June 7.