To deliver high-quality remote video training to customers, the team at Envirosight built a state-of-the-art video production facility at the company's headquarters in Randolph, New Jersey. At the heart of Envirosight's in-house video production studio is Pearl-2, the all-in-one recording, streaming, and switching encoder. Pearl-2 captures every moment of each training session, enabling effortless switching between multiple sources for the live production and flawless recordings for post-production.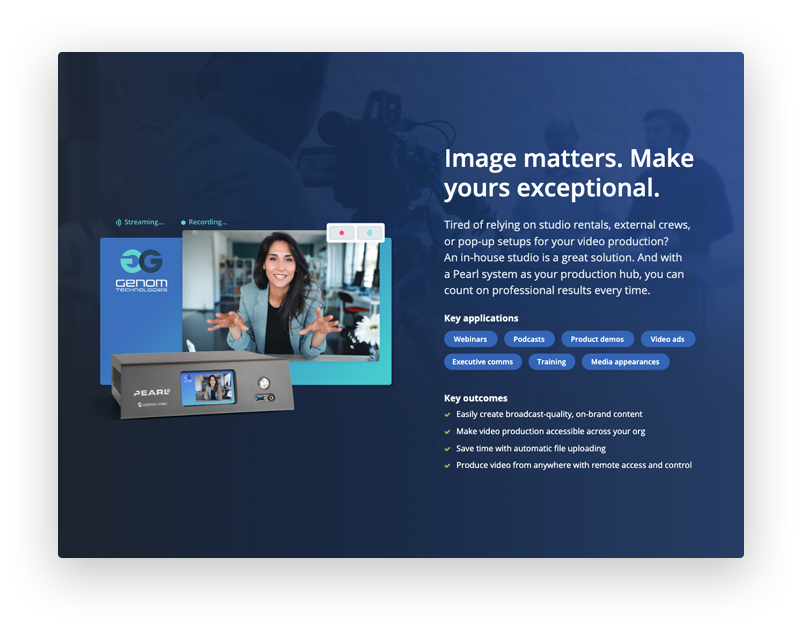 GUIDE: How to build the ultimate space for video
Our free guide can help you make the vision of a fine-tuned dedicated space for video production a reality. Inside you'll find a host of actionable tips to transform how your organization does video.
Download your free copy
The need: Convenient and cost-effective interactive production
Envirosight provides robust inspection solutions for sewer assets. The technical sophistication of the product lineup compels the company to devote significant resources to product support and training. Pre-pandemic, Envirosight frequently organized in-person training events across the United States, travelling with the demo equipment. However, restrictions on travel urged the company to rethink this model and find a way to deliver support and training remotely.
The company's initial live virtual training solution, featuring a video conferencing app, a switcher, and multiple cameras, provided limited presentation capabilities. Capturing multiple angles was essential for a clear presentation, but with this setup the presenter had to manually switch between cameras during the conference call. The interactive aspect also added complexity to the timing and flow of the presentation. At the same time, significant audio issues made it difficult for trainees to hear and understand the information.
All of these factors added up to a challenging experience for the presenter. Additionally, this initial setup lacked the polished feel Envirosight wanted to associate with its brand.
To resolve these challenges, Envirosight needed a streamlined and professional-quality production solution for virtual training. The solution had to feature multiple professional audio and video inputs and a simple, seamless way to switch between them.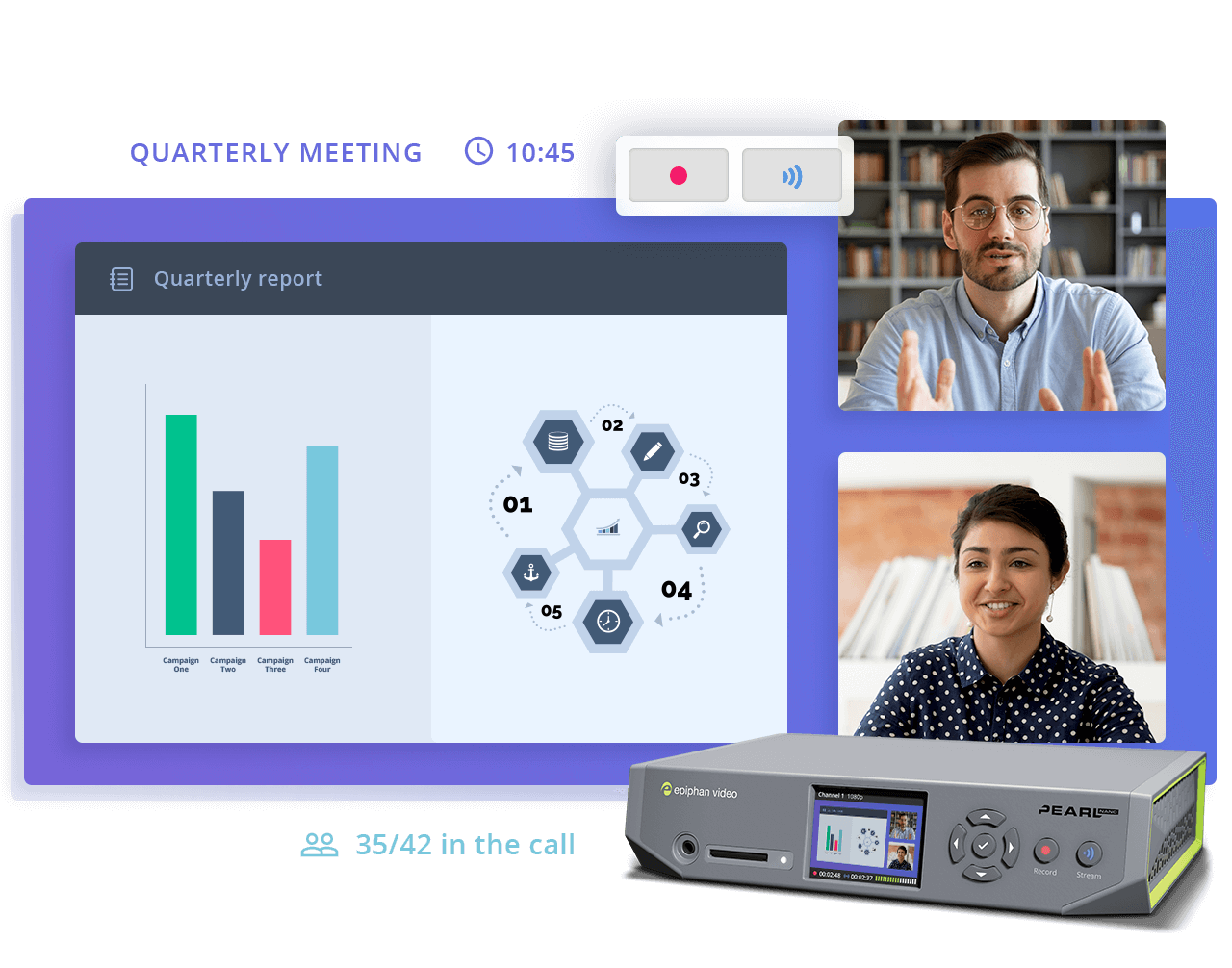 All-in-one production solutions for your organization
Equip your business with reliable and versatile Epiphan hardware encoders for onboarding and training videos, company town hall meetings, virtual conferences, and other enterprise video applications.

The solution: An in-house video studio powered by Pearl-2
After evaluating various options, the team at Envirosight opted to build their in-house video production studio with Pearl-2 at the center. Pearl-2's intuitive user experience gave the team confidence that they could master the production side independently.
Envirosight set up a video production facility with three training zones. Each zone featured multiple professional cameras, a laptop, and a microphone source connected directly to a dedicated Pearl-2 for mixing and switching.
Envirosight studio equipment setup diagram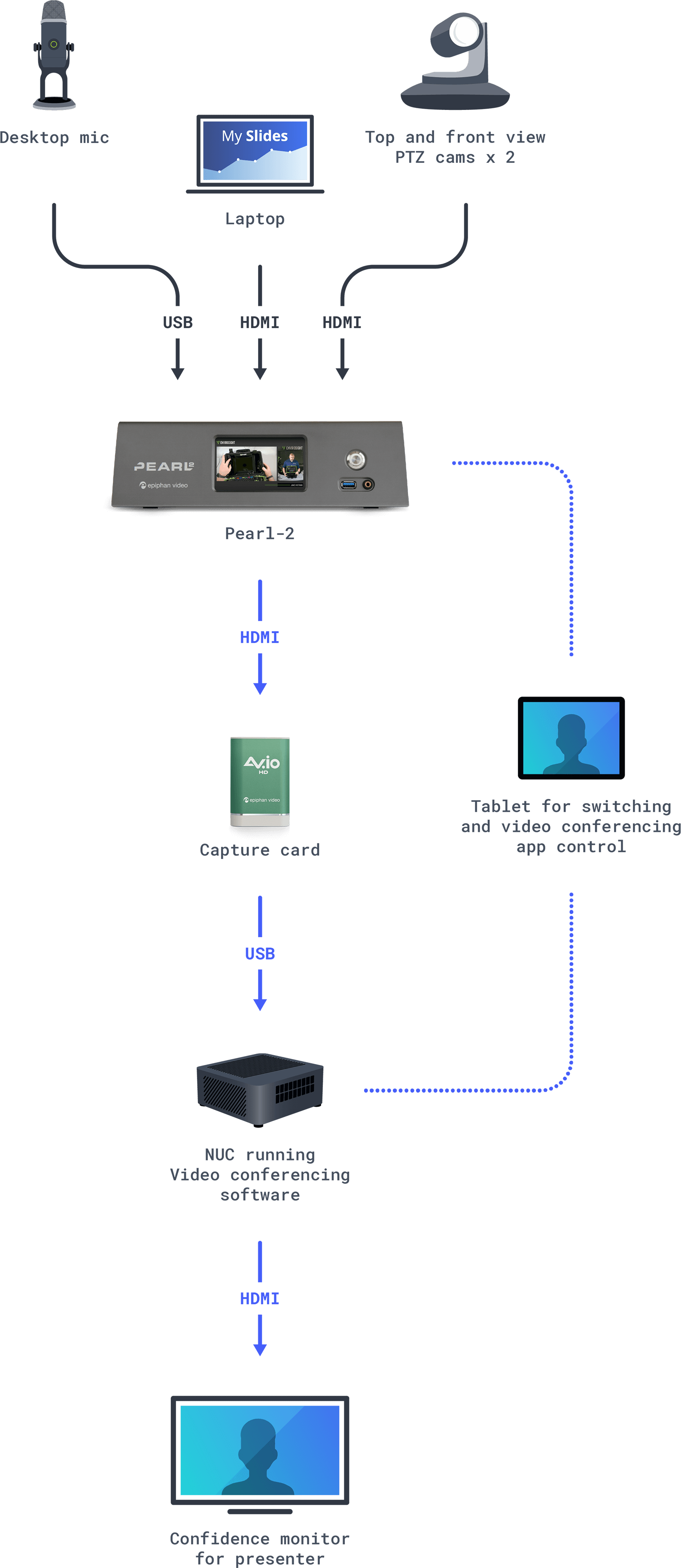 Above is a diagram of one of the zones, with similar setups in the two other zones
During live training, a team member acts as producer, switching between the various sources per the presenter's cues.
The mixed program goes to a host computer running video conferencing software via a capture card. The live attendees see a polished video production through the video conferencing app, all while still being able to interact with the presenter. Working together with the producer, the presenter can interact with the audience and answer questions in real time.
Pearl-2 simultaneously records the mixed program and all isolated camera angles (ISOs). The team at Envirosight takes advantage of the unit's flexibility to transfer files from the internal storage to a local storage for post-production and sharing.
"When we learned that we could record ISOs on Pearl, we felt like we'd hit the jackpot on content. Whether we use the footage or not, we have it, and we know that we can use it later to create fast plays or any other collateral we need. We hit record on all our ad hoc sessions, knowing that we can use this video material later on."
The result: A remote video production powerhouse for live training
The new production studio, built around Pearl-2, was the powerful and intuitive solution Envirosight was looking for.
Streamlined video creation process
With Pearl-2, content creation for the Envirosight team is effortless. Production begins at the touch of a button as soon as the presenter walks in and starts the demo. During the session, easy switching between various views and layouts guarantees clear and professional content presentation. And Pearl-2 records every moment, making the content instantly available for post-production and sharing.
"The footprint of the Pearl-2 is amazing for what it puts out. We've used every input on the Pearl-2, from lavalier and shotgun mics to PTZ and web cameras. Everything just works."
Massive financial and time savings
The Pearl-powered studio allowed Envirosight to continue engaging with customers without traveling long distances with heavy equipment. When it came to video production, Pearl-2's intuitive user interface made it easy to master the controls, allowing the team to run in-house productions instead of hiring outside specialists. Ultimately, Pearl-2 helped achieve broadcast-level quality without dipping into broadcast-level production costs.
Training scheduling flexibility
The always-on and ready-to-go Pearl-2 production studio means significant scheduling flexibility for Envirosight. The team can schedule as many online events as necessary and even organize ad hoc sessions – a far more efficient approach than planning and traveling to in-person events.
Broader customer reach
Remote training can attract a larger, more geographically diverse crowd than in-person training. Now Envirosight can engage with more customers simultaneously, without traveling a mile outside the office. After each live session, the recording becomes a branded digital asset ready for distribution.
Poised for on-premises production
The pandemic forced Envirosight to rethink how they approach product demos and training. Today, the team is fully adapted to the remote video training process. They plan to continue to take advantage of the benefits and savings the on-premises video studio and Pearl-2 made possible. "We want this to be the preferred way to do things," says Jim Adams.
About Envirosight
Envirosight provides advanced solutions for wastewater inspection, including mainline crawlers, survey cameras, and sewer inspection trucks. Since 2001, its equipment has been trusted as some of the most rugged and reliable in the field. The Envirosight team shares a commitment to essential infrastructure for healthier and safer communities, always holding themselves to a higher standard.