From employee training and eLearning to new product reveals and live webinars – video is king. All that video needs to be hosted, packaged, and available 24/7. That's where a Content Delivery Network (CDN), a Learning Management System (LMS), and a Content Management System (CMS) come in.
Organizations tapping in to the power of video understand the value that it brings to the table. Video is an important marketing tool to build brand awareness in a social media age. Video is also effective for communicating with employees and stakeholders across geographical regions. Let's look at what is a CDN and the differences (and similarities) of an LMS and CMS to help you decide what works for your video content delivery strategy.
Equip your campus with best-in-class video solutions
Meet your school's video production needs with a lineup of flexible and scalable hardware for video capture, streaming, and recording – all centrally managed. Perfect for lecture capture, online learning programs, and more.

What is a CDN?
A Content Delivery Network (CDN) is a system of networked data servers that can store copies of your original video content. Users can access the copy that's closest to them, which makes it a fast delivery system.
A CDN isn't the only video delivery solution, but it definitely has advantages for video. Say you have a single data server for all your video content. The closer you are physically to that data server, the faster the content loads in your browser. That's great if you're close, but not so great if you're located across the ocean on another continent because more distance means more delay.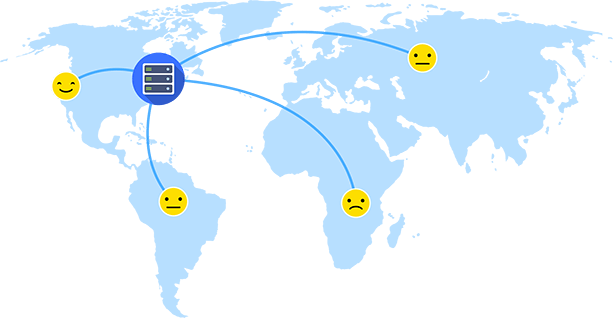 Other problems can arise with a single data server network. For instance, with many people accessing a single data server at the same time, the load on that data server increases. Increased load can cause the data server to fail, which means more maintenance costs, downtime, and not so happy viewers.
A better way is to have a CDN with multiple nodes scattered across the globe. Each node has a copy of the original video content. When people want to access the video content, they're served the copy from the node closest to them. That means faster delivery. And if a data server goes down, the video gets served up from the next closest data server. That's fast and more reliable.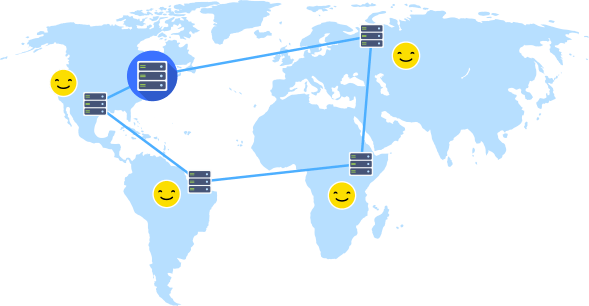 Another benefit of a CDN is that the load gets spread across all data servers so there's less strain on the data server with the original video content. With less server loading there's less maintenance and server downtime.
Many different CDN providers offer networks of data servers that span the Internet. Akamai is a global business-to-business (B2B) CDN provider that offers an excellent world-wide network. Going with a CDN provider avoids having to buy and maintain your own equipment. Even Online Video Platform (OVP) giants YouTube and Vimeo use CDNs – though which one is a bit of a mystery!
Benefits of a CDN
The benefits of using a CDN for video delivery include:
Faster delivery
Better reliability
Less data server loading, which results in less maintenance costs and downtime
Low upfront cost for equipment and less hassle when it's the CDN provider who shoulders the burden of maintaining the network of data servers
What is an LMS?
A Learning Management System (LMS) is a software application for the purpose of creating, managing, and delivering online courses. Common features include:
Managing who can access a course and tracking student progress
Automating course enrollment, notifications, exams, and course completion certificates
A course creation editor, calendars, and virtual classrooms
Tools to facilitate student/teacher interaction, real-time forums, and group emails
Support for a mix of media such as video, slides, interactive worksheets, and downloadable PDFs
Blackboard is a popular LMS found in many Colleges and Universities. Others LMSs like Accord LMS and SAP Litmos are positioned for enterprise training with features and packages that appeal to a range of businesses.
A fundamental consideration when looking at an LMS is whether or not to install an open-source LMS on your own equipment or use a cloud-based LMS. A cloud-based LMS is Software as a Service (SaaS), which you can easily access using a simple web-based browser. There's very low investment upfront for equipment and SaaS LMSs are usually easy to use and come with support.
Alternatively, an open-source LMS can be customized and integrated with existing systems using an Application Programming Interface (API) for little or no cost since the software is open source. Your specific custom requirements may demand this type of flexibility. So if developer resources aren't a problem for your organization, an open-source LMS like Moodle is worth investigating. You won't have to purchase expensive licenses to integrate the open-source LMS tool, but you'll need to maintain the LMS yourself. Another consideration is that "open-source" means other people have access to the base code, which raises some questions about security.
For a small company with few employees, a free SaaS LMS like Blackboard's CourseSites might be all you need – even if the features are limited. Check out Capterra's rundown of free and open-source LMS tools.
Benefits of a cloud-based LMS vs open-source
The main advantage of going cloud-based is not having to invest in a lot of hardware and in-house expertise. The software can be easier to use and usually includes lots of features and support.
For flexibility without the cost of additional licensing for custom integrations, a locally installed open-source LMS is the ticket.
But is a dedicated LMS always necessary? Or can a Content Management System do a similar job?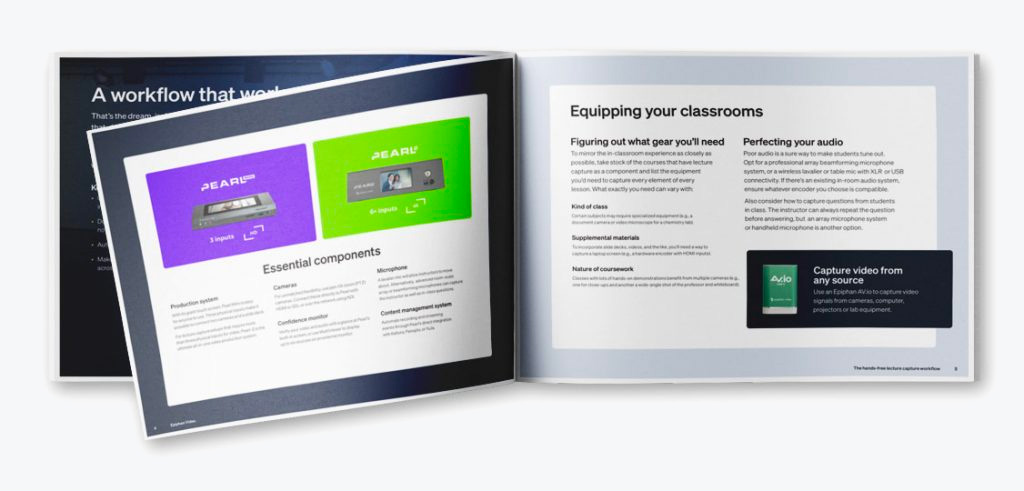 Get our lecture capture design guide
Learn how to deploy user-friendly solutions that anyone can grasp and create high-quality lecture recordings that engage your students. Download now!
What is a CMS?
A Content Management System (CMS) is software that's used to manage online content. You've heard of WordPress? That's basically a content management system for creating and managing websites.
A CMS saves you the hassle of writing all the underlying code (HTML, JavaScript, etc), creating CSS style sheets, managing users etc. from scratch! Simply use the CMS software interface and start creating content right away. With a CMS you also get superior analytical tools to make data-driven decisions about your content, which LMSs generally lack.
If you're looking for a secure private CMS to manage, record, and live stream video for training or other purposes, two feature-rich platforms to consider are Panopto and Kaltura. These CMSs let you create and upload video, schedule recordings or webcasts in advance, edit multiple-view videos, and make them accessible in video libraries for easy delivery.
Some of the many features of Panopto and Kaltura include:
Scalable video hosting
Analytical tools
Scheduling recordings in advance for worry-free lecture capture and webinars
Support for multiple source video encoders (like the Epiphan Pearl Mini)
Video editors to trim, live switch between video sources, annotate, and incorporate slides or images
Media-rich video course creation with embedded interactive quizzes
Secure, branded video portals and public facing video libraries
Integration with existing LMSs to make video files available during course creation
Do you need a CMS if you have an LMS?
The answer depends on your video training and delivery needs. CMSs like Panopto and Kaltura integrate with popular LMSs such as Blackboard and offer scalable video hosting and analytics. They also have easy-to-use video editors so you can create media-rich video courses without an LMS. However, for more advanced course management like enrollment, student tracking, and grading, you're going to need a dedicated LMS or some LMS/CMS combination.
What about YouTube and Vimeo? Are they an effective CDN/CMS?
Both YouTube and Vimeo are video hosting platforms that offer some degree of content management. They provide global access to their content, but it's not clear if that's over their own network of data servers or some other CDN.
YouTube offers some limited video content management features including playlists for organizing videos, as well as a basic video editor where you can also set the privacy. It's not much, but it may be all you need for basic video content delivery. A drawback is that viewers have to put up with a cluttered interface that's branded for YouTube and, of course, all the ads.
Vimeo offers more flexible "paid" options to manage your content like embeddable playlists, customized portfolios, collaborative reviews, and the ability to create secure portals using your own domain. Most importantly, there are no ads on Vimeo.
As a CMS, Vimeo offers more than YouTube. Plus with Vimeo you can upload new versions of a video and keep the same URL. YouTube can't do that, which is a complete nightmare to manage if you're embedding video players and linking to videos from your website. However, if you're planning to do live streaming, you need Vimeo's Premium plan. In YouTube, anyone can live stream to their channel for free.
Wrap it up
People expect video to be a part of their higher education and corporate training. Video on Demand (VOD) can mean huge savings on the cost of delivering training.
All that video content needs to be managed and delivered. The delivery network could be as simple as a video hosting service like YouTube or Vimeo, or a CDN like Akamai with global reach. Whether you're training needs require a full-featured LMS or a CMS that offers simple but effective course creation features, using video to reach today's audiences is no longer an option.
I hope this article helps you understand the differences (and similarities) between a CDN, LMS and CMS. If you're interested in video recording, switching and streaming gear for lecture capture and live event production, take a look at our Epiphan Pearl-2 and Pearl Mini all-in-one video production systems. Pearl offers a flexible range of video and audio inputs and comes fully integrated with Panopto and Kaltura for an easy lecture capture and live event production experience.