Secure Reliable Transport (SRT) and Network Device Interface (NDI) are both free AV-over-IP solutions that offer high-quality, low-latency video transport, yet they serve different applications. Let's explore the differences between the two and when to use one over the other.
SRT
What is SRT?
SRT is an open-source video transport protocol that enables high-quality, low-latency video delivery across the public Internet. It allows control over latency to adjust for changing conditions on any given network. Built into SRT is a two-way backchannel that carries essential performance information during streaming. This allows the protocol to detect and address issues like packet loss, jitter, and other threats to quality.
Requirements for SRT streaming
To send and receive an SRT stream, you'll need an SRT-compatible encoder and decoder. This could be an app, software, or hardware appliance.
SRT technology is responsible for the transport of data, not video encoding. It's codec-agnostic, which means it relies on other codecs for efficient video compression. That's why SRT streaming requires modest bandwidth: 2–8 Mbps is generally sufficient to stream in high quality.
Benefits of using SRT
Delivers low-latency, high-quality video reliably across the Internet, allowing easy and cost-effective contribution from remote locations
Easily traverses firewalls between the source and destination, minimizing the need to engage a network administrator
Offers robust security (up to 256-bit AES encryption)
When to use SRT
SRT streaming is an excellent solution for remote video contribution over the public Internet. For example, you can conduct remote interviews or bring on remote guests for a virtual event via SRT. The guest would need an SRT-capable encoder, such as an SRT contribution phone app or an SRT hardware encoder like Pearl Mini.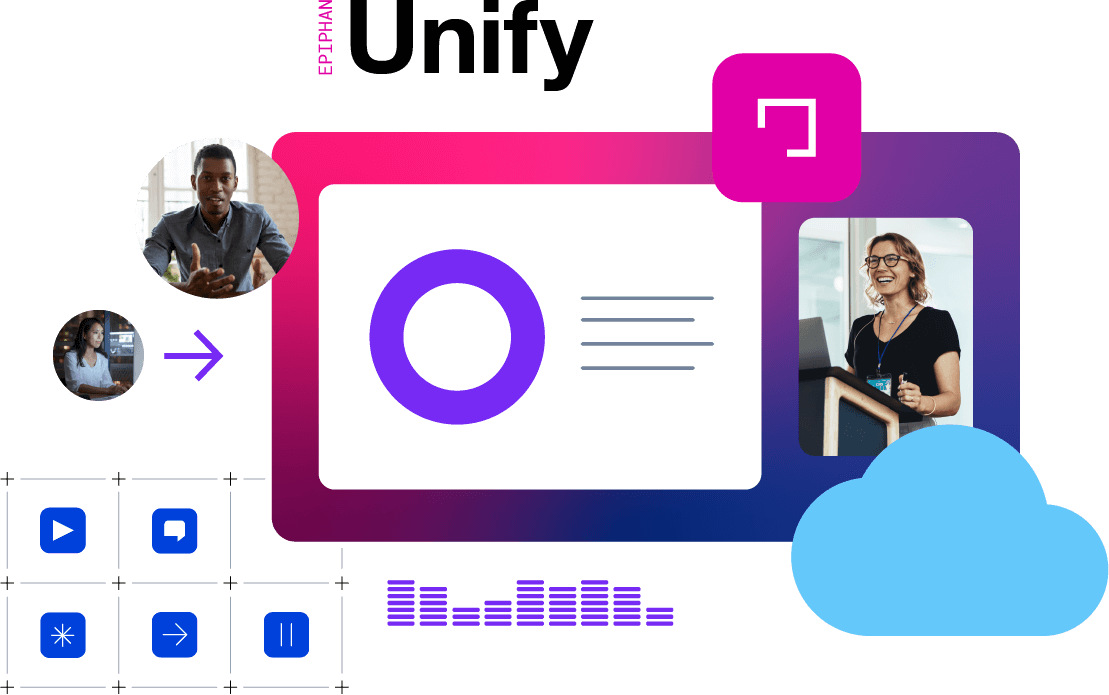 Leverage SRT in the cloud with Epiphan Unify
Bring in SRT signals in 4K from anywhere, whether that's best-in-class Pearl video production systems or any other SRT encoder or camera. Elevate your content with custom branded layouts and record, restream, switch, and mix with Epiphan Unify as your single virtual hub.
Discover Epiphan Unify
NDI
What is NDI?
NDI is a software standard that allows you to transmit and receive broadcast-quality video with low latency over a local area network (LAN). Using a single LAN port, you can access multiple audio and video devices on the network.
Requirements for NDI streaming
The main requirement for NDI streaming is for the sending and receiving devices to be on the same network. Some devices such as PTZ cameras are "NDI-ready," which means they become discoverable on the network as soon as they are connected to it. Other devices may require additional setup. For example, cameras with an HDMI or SDI out will need an NDI converter, while most computer screen capture applications will require a free NDI conversion tool.
NDI technology uses a special codec and transport method to achieve nearly lossless image quality with no latency. This also means that NDI requires very high network bandwidth. For example, a single 1080p NDI stream at 30 fps needs at least 125 Mbps of dedicated bandwidth.
Until recently, these high bandwidth requirements meant NDI-based video workflows were only plausible over stable local networks. Then NDI 5 came along.
NDI 5
The release of NDI 5 introduces a feature-rich set of tools that make NDI-based video production and contribution possible over the public Internet. For example, the NDI Bridge tool connects two remote NDI networks together, while the NDI Remote tool allows anyone to contribute live audio and video from a camera phone or a web browser using a URL.
Benefits of using NDI
Nearly lossless quality with no latency
All video sources are readily accessible from anywhere on the network, making remote production workflows within the same studio safe and more efficient
Eliminates SDI/HDMI cables and switches, offering cost-effective video production over LAN
With NDI 5 fully unrolled, producers will be able to connect to virtually any piece of audio or video equipment in the world
When to use NDI
NDI (versions 4.x and lower) is an efficient way to stream and produce video over local networks. NDI 5, on the other hand, was developed specifically for sending video over the public Internet.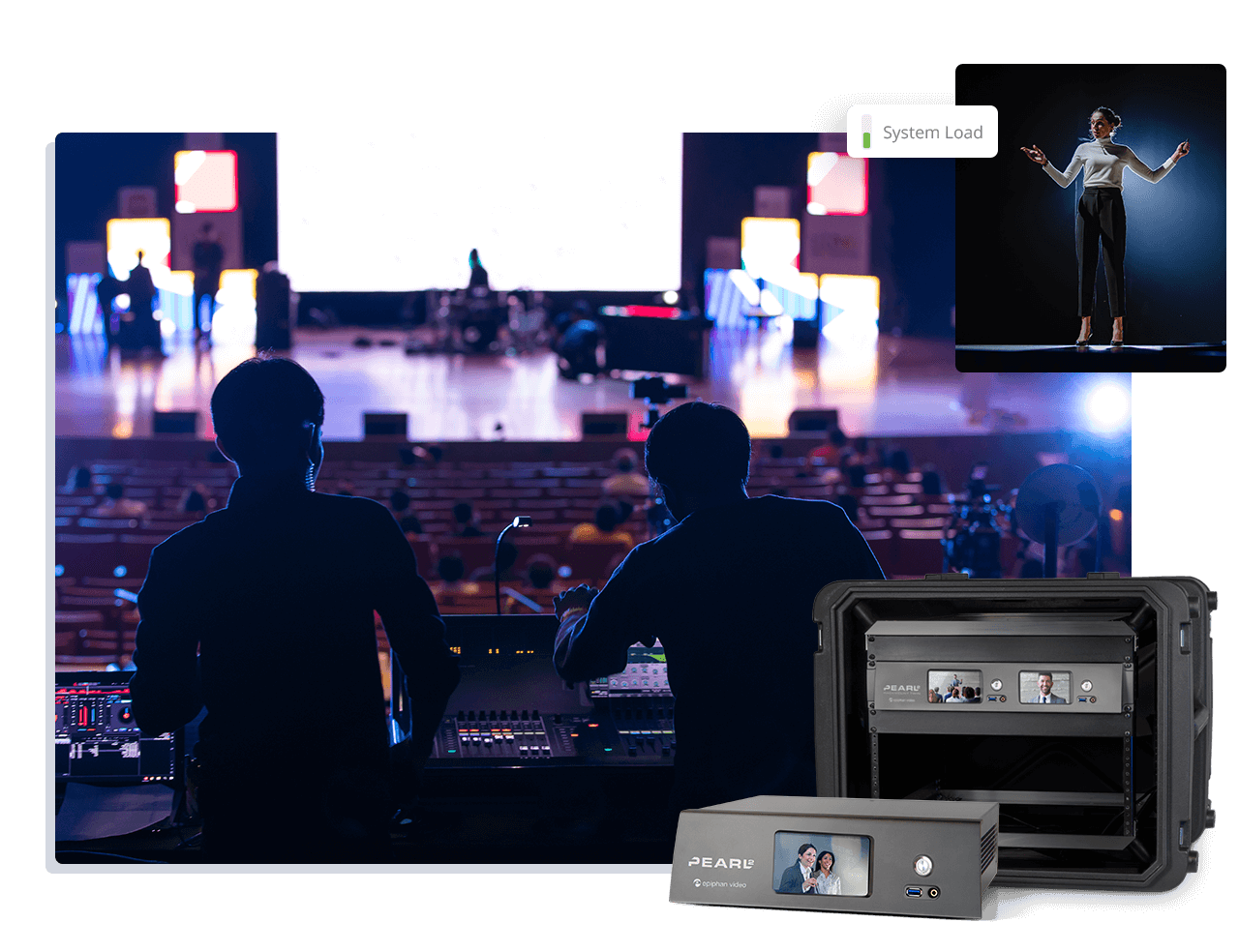 Solutions you can stake your reputation on
Built for pro AV, Epiphan's rugged and reliable hardware encoders let you capture, stream, and record with confidence. Wherever your production teams take them, Epiphan Edge's configuration and monitoring streamline management.

SRT and NDI: Joint applications
Sometimes it makes sense to use both SRT and NDI. For example, consider a large production studio that receives remote video contributions. This could be a TV studio conducting a remote interview, a hybrid conference event, or a government hearing featuring remote testimonials. In this case, it would make sense to bring in the remote video contribution over SRT and use NDI to transmit video locally inside the studio.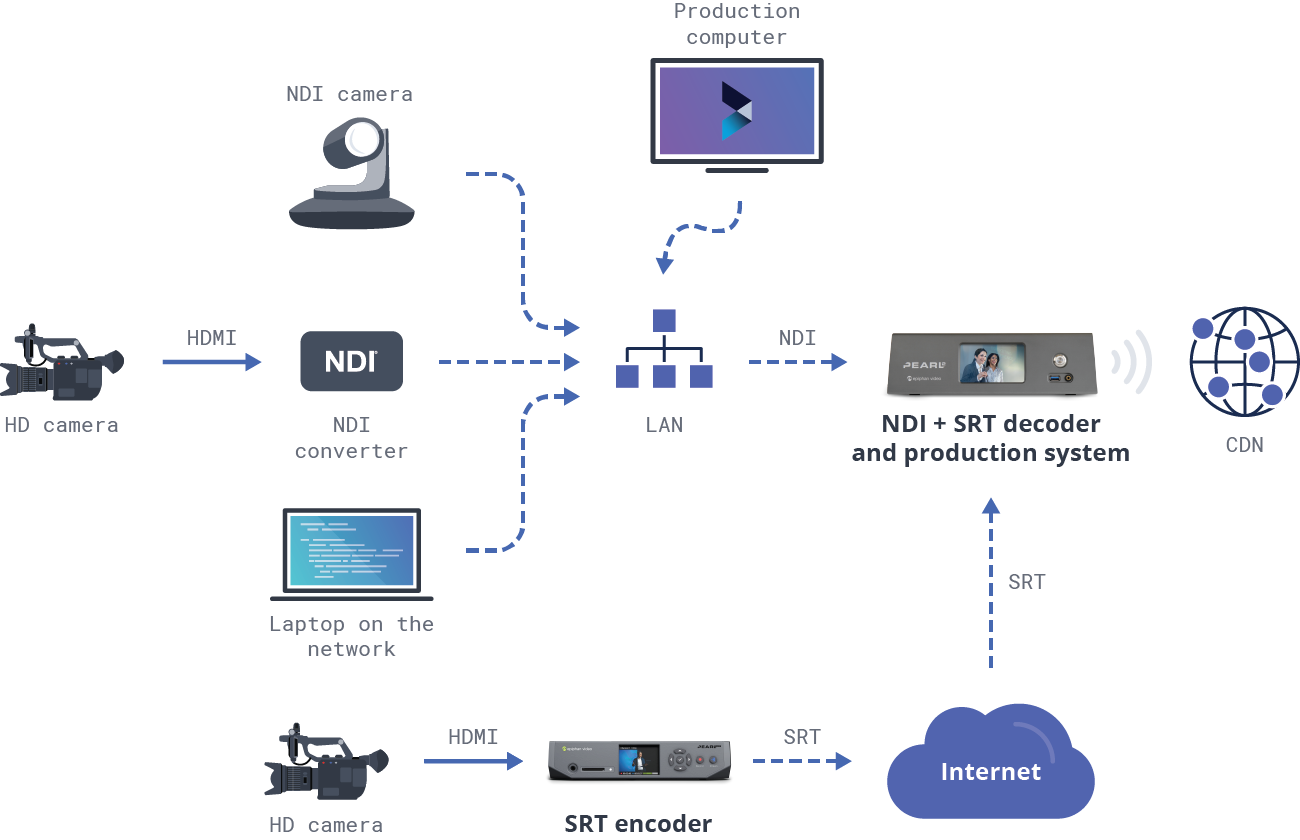 Choose reliability for your SRT and NDI productions
Epiphan offers robust solutions to support such a production environment. If you are looking for a reliable SRT-capable contribution encoder, look no further than Pearl Nano, the easy-to-use and compact encoder, perfect for shipping to remote contributors. On the production end, you can receive all your NDI and SRT sources, switch between them, and produce a polished live stream using Pearl-2, the all-in-one streaming, recording, NDI- and SRT-capable encoder.