Images that are processed in forensic science come from many sources. These are security video, crime scene photographs and fingerprint images. With Epiphan's video grabbers, like AV.io HD, it's easy to capture forensic images and evidence from any such DVI, HDMI or VGA source, including magnifying devices.
Sirchie® Finger Print Laboratories is a fully integrated manufacturer of quality products for the worldwide law enforcement community. Sirchie is retrofitting an image-capture solution for a magnifying device so the foresnic results can be viewed on any notebook computer.
Epiphan's video grabber worked right out of the box.
The magnifying device outputs to VGA, so Sirchie used the Epiphan's video grabber to achieve a simple, high-quality solution. Dyer Bennett, Director of Development and Technical Service at Sirchie, explains why he chose to use the Epiphan device as an add-on component to the existing hardware: "It is an easy way for us to set up capture from a VGA or other signal without having to build a capture device from scratch."
Bennet says that his team considered using a different video transfer device but found that it did not offer the quality that AV.io HD* does.
"The Epiphan video grabber worked right out of the box," he adds. "I was impressed that all necessary cables were included, too. This is an ideal solution for our application."
More Information on AV.io HD
AV.io HD is a compact pocket sized, external, low cost DVI to USB, HDMI to USB and VGA to USB video grabber capture device capable of capturing output from virtually any VGA or DVI source and unencrypted HDMI source (including HDMI audio) —such as a Windows PC, a Macintosh OSX, a Unix machine, an em­bedded system, a medical device, scientific or lab equipment, and more.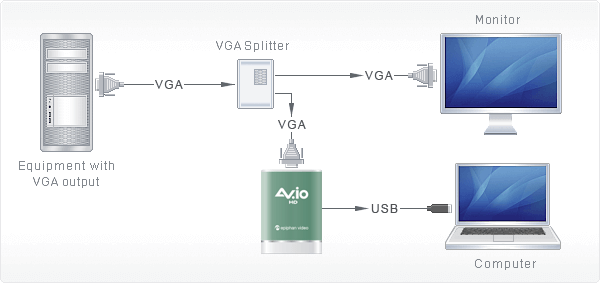 *This implementation initially used VGA2USB, but AV.io HD is a drop-in replacement that supports better resolution, better frame rate and adds support for DVI and HDMI capture!