Does streaming and recording a live event feel intimidating? Get this: it doesn't have to be.
By applying a few simple techniques to your next live event you'll create a professional, high-quality live video stream.  Follow these best practices to make the most of your live streaming event.
1. Create a powerfully dynamic presentation using multiple capture sources
Truly high quality live video productions contain at least two camera angles as well as multiple other video sources that are switched seamlessly to ensure a professional and engaging live stream. Don't have two cameras? Simply crop out part of your main shot to create a "virtual" zoomed-in second camera shot.
Epiphan note: Use Pearl's touch screen or intuitive web interface to switch seamlessly through multiple camera angles and create cropped layouts. No need for external switchers!
2. Keep your audience glued to the presenter with a manual camera focus
Are you are live streaming an event or presentation where the presenter stays on a stage? Set your camera's focus manually to prevent it from hunting/changing focus when the presenter moves from one side of the stage to another or when someone (e.g. audience member) walks in front of the camera or raises a hand.
3. Imbue your stream with professional flair using company branding
Branding elements such as logo overlays, customized backgrounds, or text overlays contribute to a higher quality viewer experience. If you are streaming an event with a speaker, use a text overlay to include the name of the event and the speaker somewhere in the video. If you don't want to distract the viewer by placing overlays, show the branding content between presentations or in intermissions.
Epiphan note: Our streaming and recording products allow you to apply custom branding elements to your streams, including logos, text and customized backgrounds.
4. Create a valuable sense of flow with pre-show and post-show content
Begin live streaming a few minutes early so that participants can join a little ahead of time.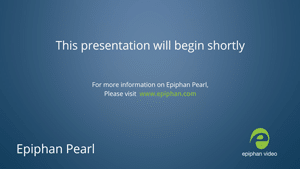 Rather than showing a live camera feed of people walking about and setting up, prepare an image (or video clip) that clearly indicates the event title and start time. This is also a good time to highlight event sponsors. Similarly, for postshow, finish with a photo or clip that re-iterates the event title and includes any follow up information (such as slide downloads or presenter contact info) and sponsors.
Epiphan note: Video switching capabilities of the Epiphan Pearl let you display pre- and post-event information and switch on the actual event video once it begins.
5. Add versatility to post-production by recording in original resolutions and at high bitrates
Although your event requirements may be for only a 720p picture-in-picture layout of the slides and a presenter together (at say 2 Mbps), be sure to record both the slides and the presenter camera (or cameras!) separately at 5 or 10 Mbps and full frame size from the source. Doing so allows you additional freedom to develop repurposed collateral after the event, such as a slides-only video for attendees or creative marketing material for your marketing channels.
Epiphan note: All Epiphan streaming and recording products are able to record video at original resolution and high bitrate.
Apply these five tips when streaming your next live event and you'll be well on your way to creating dynamic, professional, engaging and flexible streams and/or recordings that are sure to impress your audience.
Of course, there are certainly more than just five best practices for streaming live events! If you'd like to get more live streaming tips, download our guide "Top 20 live streaming and recording best practices".