Providing recorded surveillance video as high quality images and videos is a vital requirement for security monitoring services. However, as part of an overall security monitoring architecture, security control rooms should also capture and record display sources such as computer displays from systems under surveillance, as well as operator display consoles that are part of the security command and control system.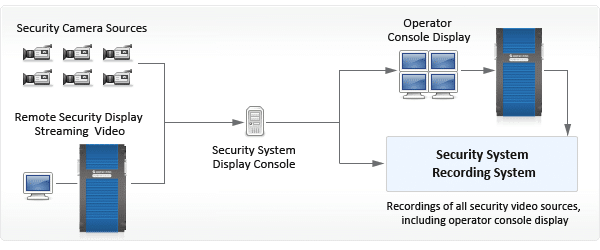 Click here for more information on VGADVI Broadcaster
Installing a highly sophisticated video surveillance program that records the incident with cameras, system display monitors, as well as the security operations center's actions gives a complete record of actions and reactions, minimizing liabilities in protecting people and assets.
Modern technologies from Epiphan are used to complement camera source recordings by converting computer displays, system displays and operator consoles into virtual camera source feeding the central recording system. This enables security control centers to monitor situations and comply with requirements to prove they fully and properly responded to alarms.
Integrating VGADVI Broadcaster with Omnicast
For example, Broadcasting solutions from Epiphan are used in such security applications as an integrated part of the Omnicast™ digital video surveillance systems developed by Genetec™. Genetec is a leader in the security industry providing innovative solutions for video surveillance, access control and license plate recognition. Genetec has developed Omnicast – their IP video surveillance system. Omnicast, as a flexible open architecture system allows users to keep their own hardware and comes with built-in security features. Genetec's security platform Omnicast features a unified interface providing simplicity of operation to multiple sources of video monitoring.
Epiphan's VGADVI Broadcaster contributes to the efficiency of the Omnicast system by expanding its ability to also record multiple computer and display sources such as the operations display console, thus providing video evidence of the operator's actions during an incident. VGADVI Broadcaster simply connects to the VGA or DVI display output from the operator console or another display source in the system being monitored and transmits the display as an H.264 video stream to the Omnicast server as if it was just another video camera source.
When reporting an incident, the operations center can now show the recordings of the cameras, and all computer displays in the systems being monitored.
Building this surveillance and recording capability with Omnicast and VGADVI Broadcaster is straight forward. Once the correct .cam configuration files are installed with Omnicast, VGADVI Broadcastercan be easily found on the network by its IP address using the Omnicast Configuration Tool. Additional video parameters such as frame size, frame rate and others can be configured through the broadcaster's web interface.
Once VGADVI Broadcaster is integrated into Genetec's video surveillance system, it delivers a high quality video source of the console display to be recorded by Omnicast. Recording of the operator console is non-obtrusive, and the operator does not need to know it is occurring.
Epiphan's products are used to show that the security operations center reacted to the alarm with the appropriate procedures, providing evidence of the control room's operator's actions and reactions as another video source to the central recording systems.
Note: Older versions of the Omnicast software may refer to VGA Broadcaster Lite. The VGA Broadcaster Lite product has been discontinued and replaced with VGADVI Broadcaster, a substitute broadcaster with more features and higher performance. VGADVI Broadcaster is also certified by Genetec.