Capture, stream, and record in Full HD
VGADVI Broadcaster captures, combines, and streams audio, Full HD video, and SD video from DVI, HDMI™, VGA, DisplayPort, S-Video, and composite sources. Quiet and portable, VGADVI Broadcaster is convenient to transport and won't distract or add noise while streaming or recording.

Out of the box and ready to stream
Once you've configured VGADVI Broadcaster, there's no need for a separate computer or any other additional equipment; just power it on to start streaming and encoding. With automatic configuration enabled, the device will analyze your source stream and automatically choose the best possible frame size, bitrate, and aspect ratio for the output stream.
Roughly the size of a paperback novel, VGADVI Broadcaster is convenient to carry around. And with no software to install, you can bring VGADVI Broadcaster with you and stream and record from just about anywhere. Power over Ethernet (PoE) simplifies setup even further by eliminating the need for AC power.
Key features
Capture HD video sources including computer monitors, RADAR displays, and ultrasound monitors, as well as SD video sources like camera feeds
Work with VGA, DVI, HDMI, S-Video, composite, and RGB component signals
Enjoy 1080p HD video capture at 30 fps and resolutions up to 1920×1200
Manage and control locally or over the network
Stream sources as synchronized, timestamped streams, or as part of a multi-source layout with custom branding
Stream directly to set-top boxes, smart TVs, and electronic signs via MPEG-TS
Remotely access streams through a web browser, media player, mobile device, or set-top box
Record streams to local storage and download later
Connect your sources
VGADVI Broadcaster packs video capture, scaling, encoding, recording, and streaming capabilities into a single device.

Audio and video inputs
HDMI, DVI, VGA, S-Video, and composite video inputs for capturing up to two sources at their native resolutions and frame rates
3.5 mm analog stereo audio input
DVI-I port for capturing signals from DVI, HDMI, or VGA sources
S-Video port for capturing signals from S-Video and composite sources

Outputs and network ports
DVI-I video output, 3.5 mm stereo audio output, RJ-45 PoE port, and USB 2.0 port
Built-in signal converters and output connectors for pass-through of both DVI-I and audio input sources
Audio output port for monitoring audio input quality with a headset
DVI-I port for monitoring HDMI, DVI, or VGA projectors or displays
Flexible streaming and recording
Record and stream simultaneously
VGADVI Broadcaster can record your stream to internal storage (8 GB) in common and easy-to-use MPEG-TS or MOV formats. Manage file sizes by configuring the device to start a new file at a certain time or file size – all without missing a frame. Should storage space run low, the device can automatically delete the oldest file and replace it with the latest recording.
Expand your storage
Store files on the device itself or automatically transfer recordings to an external USB storage device or local network storage via FTP, RSYNC, or CIFS to save on space and enable 24/7 recording.
Encode with popular codecs
Support for the most widely used video codecs (H.264, MPEG-4, MJPEG) and audio codecs (MP3, AAC, or PCM) eensures maximum compatibility with popular media players like VLC and Adobe Media Player. Tailor video frame rate, encoding bit rates, and key frame interval to suit your specific requirements.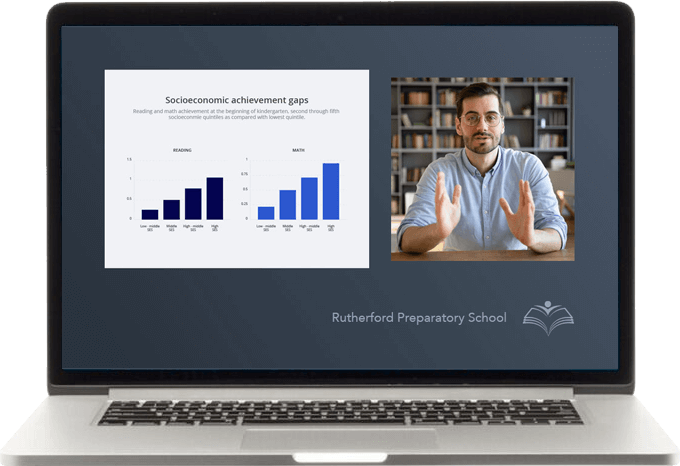 Customize your video program
Display one or both video sources in a custom side-by-side or picture-in-picture layout, with VGADVI Broadcaster automatically scaling any inputs to match your settings. You can even use a corporate color as a background and add overlays such as your company logo, a timestamp, and the presenter's name.
If an input signal is interrupted for any reason during streaming, VGADVI Broadcaster's custom no-signal image option can keep your audience engaged.

Choose your platform
With support for a broad range of streaming protocols, VGADVI Broadcaster can stream video to media players, content delivery networks, and multicast networks via FLV, ASF, MJPEG, and other industry-standard formats. Media players, smart TVs, set-top boxes, digital signs, and other sources can play live streams and saved recordings via UPnP or SAP.

Easy CMS and LMS integration
VGADVI Broadcaster easily integrates with content management systems like Kaltura and Mediasite, and learning management systems such as Blackboard and Moodle.

Monitor on the go
Monitor your VGADVI Broadcaster from your smartphone or tablet with the EpiphanConnect app, available for iOS and Android devices. Perform basic actions like checking video signals and audio levels, starting and stopping recordings, and disk space from the mobile-optimized interface.