Portable and rugged SDI-to-USB capture card
SDI2USB 3.0 makes it simple to capture and record uncompressed video at up to 60 fps from 3G-SDI, HD-SDI, and SD-SDI sources. Just connect your SDI input to your SDI2USB 3.0, and your SDI2USB 3.0 to your Windows-based computer via USB. Then use the included Epiphan Capture Tool for easy preview and recording.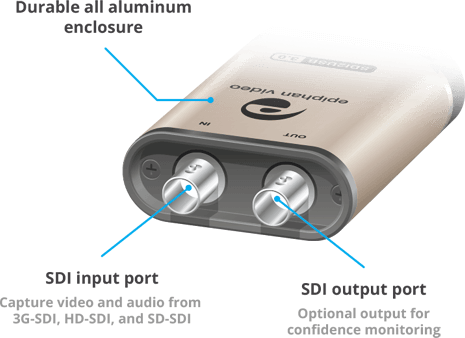 Flexible SDI input
SDI2USB 3.0's input port can capture video signals from 3G-SDI, HD-SDI, or SD-SDI sources, including embedded audio.
Convenient SDI output
Connect a monitor or projector to the SDI output port to display your SDI signal in high resolution, providing a convenient confidence monitor for your recording session.
Maximum usability and durability
A rugged yet lightweight design makes this USB capture card convenient to carry from your office to the boardroom, the lab – wherever you need to capture and record SDI video. Fully powered over USB, SDI2USB 3.0 doesn't require an AC power connection. And with no fans or moving parts, the device runs quiet, so it won't add any audio interference to your recordings.
Capture up to 60 fps via USB

Record uncompressed SDI video to your computer or laptop in beautiful Full HD at 60 fps.

Use for live production

Transfer SDI video content from a professional-grade video mixing console to a laptop or desktop computer.

Record your way

Choose to record your SDI video source as a single video file or a series of individual graphic files.
Works with YUV and RGB color space
Enjoy true 24-bit color and consistent frame rate performance regardless of video content. Capture flawless, uncompressed SDI video in YUV 4:2:0 color formats.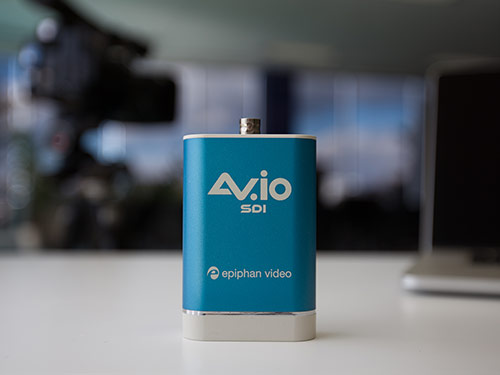 Free capture tool and drivers
All Epiphan USB capture cards include our free capture software and drivers, which interface seamlessly with a range of industry-standard encoding and streaming software. Firmware upgrades are also available free of charge; your Epiphan video capture device will notify you when one is available for download.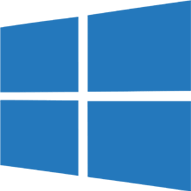 Windows application support
In addition to the free Epiphan Capture Tool, SDI2USB 3.0 works with numerous third-party applications for Windows including Direct Show. It'll also work with any application that uses these multimedia frameworks, such as Windows Camera, VLC, Wirecast, OBS, vMix, XSplit, Skype, and Google Hangouts.
What's in the box?
SDI2USB 3.0 comes with all the cables and connectors you need to capture 3G-SDI, HD-SDI, and SD-SDI signals.